The center of any business is customers, and delivering a satisfying customer experience means increasing profits, eventually. So how can you maintain a seamless business relationship at your Magento store while the complicated tasks vary across multiple teams and members? The key to excellent customer satisfaction lies in a comprehensive CRM platform.
In this article, we will walk you through all the best Magento CRM software that can unify all customer-centric activities to enhance the productivity and efficiency of your Magento business. 
What is CRM?
As you might know, CRM stands for customer relationship management. A CRM is a system that helps you track and manage your relationships with customers. CRM software will keep track of data, user interaction, and business notes about your leads and customers with the ultimate goal of delivering an excellent customer experience, thus increasing profits and sales.  
Also, using a customer relationship management system also helps your Magento store unify sales, marketing, and customer service for better business management. It consolidates data of your sales leads and customers in one place from multiple teams. Therefore, a CRM can be accessed and edited by anyone that relates to the sales activity of your business.     
Why does your Magento store need a CRM?
Magento stores, especially those working in the B2B industry with a long sales cycle, can benefit greatly from a comprehensive Magento CRM software. The highlighted reason is that CRM can simplify your business process by integrating all customer-related activities into one central platform.
Store and manage customer information: Instead of distributing and communicating customer information amongst multiple business divisions, a CRM platform contains all up-to-date information that anyone can access and update. 
Keep track of customer interaction: Omnichannel retail has encouraged customers to interact with your business through multiple touchpoints. CRM software takes care of storing all leads and customer interactions across multiple sales channels.    
Boost productivity: All sales, marketing, and customer success activities can be unified with a CRM platform. Thus, a CRM makes it easier to establish a workflow or process for multiple teams to follow. Plus, it reduces time on all the manual work and tedious paperwork tasks. 
Features of a Magento CRM
A CRM software works as an all-in-one tool that streamlines sales, marketing, and customer service activity at your Magento store. Thus, a Magento CRM needs to possess all features to enhance the productivity of all these functions.  
Customer service
Store customers' information. Organize all contacts in one place. 
Track customer interaction with your business. 
Maintain and organize all support tickets and issues in one view.
Create a collection of ready-made responses to commonly asked questions.
Automate customer service processes with ticket reply, status, priority, and assignee. 
Segment customers and agents into groups. Direct tickets to the corresponding support groups. 
Collect meaningful data and insights.
Sales
Pass on leads from marketing to sales seamlessly.
Easily view the deal pipeline and track/move the deal easily. 
Emails, calls, notes, and lead progress are tracked chronologically. 
Identify the most qualified leads. 
Attach relevant documents to deals, contacts, companies, and emails.
Marketing
Streamline all marketing channels: social, email, SMS, site message, etc.
Design email templates and run email marketing campaigns at ease. Track email opens and campaign performance. 
Customize landing pages to capture potential leads. 
Increase web engagement with custom popups, signup forms, coupons, and surveys. 
Integrations
Integrate with third-party apps and services. 
How to integrate CRM with your Magento 2 store
There are two ways you can integrate a CRM with your Magento store:
Third-party integration service: There are many third-party services that can help you integrate CRM with your existing Magento 2 stores, such as Zapier. However, these third-party integration services often charge a monthly fee, which might hurt your profit severely if your Magento business is small or still developing. Bear in mind that you can always rely on a Magento integration service and let them handle the CRM integration process for you.
Magento 2 CRM extensions: These extensions have been designed specifically to connect the CRM platform with your Magento 2 store. The extension synchronizes every update in the customer database automatically from your store to the CRM platform. The fee varies from free to around $400, but you only need to pay it once.
As you already have to pay a monthly fee for the CRM service, we believe going with the second option will save you a huge amount of money in the long term. Thus, in this article, we only selected the best CRM software that can easily integrate with your store using a Magento 2 extension. To save you time, we've also examined the best Magento extension for each CRM integration so you don't need to look for a suitable extension yourself.   
Best Magento 2 CRM integrations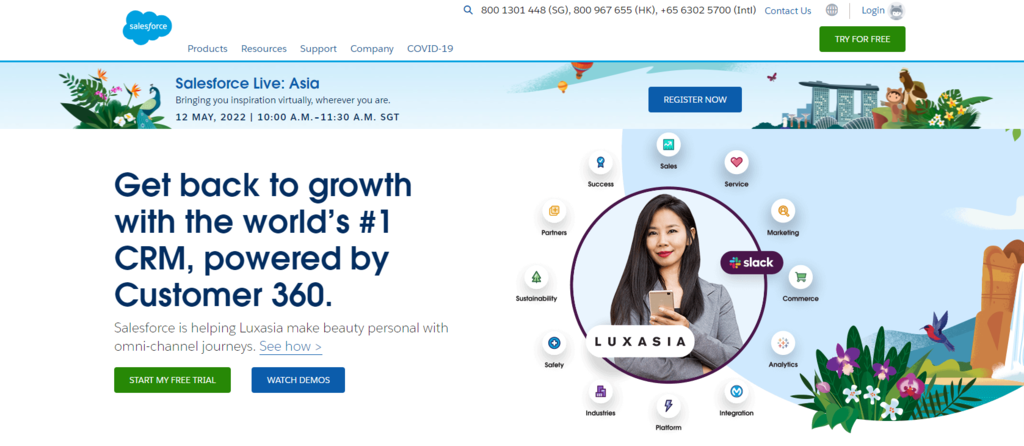 One of the most advanced and professional CRM integration for your Magento 2 store is Salesforce. While many CRMs are easy to use and accessible for small businesses but fail to serve as your business grows, Salesforce introduces a comprehensive set of CRM solutions that can assist any business size and model.
Salesforces comes with every tool and feature needed to manage a seamless customer relationship process at your Magento store. Plus, it holds many advanced features that a normal CRM software hardly possesses, such as marketing automation and workflow creation, task management, and opportunity tracking.
Besides the basic Magento CRM features, Salesforce also offers 4 clouds available, which are Sales Cloud, Service Cloud, Marketing Cloud, and Commerce Cloud. Each one of these focuses on one specific aspect of your Magento business, such as sales & marketing management and further development. 
The numerous Salesforce features might seem to be overkill for small and middle-size businesses, but it can be a great Magento CRM option if your store aims at expanding and scaling fast.      
Pricing: 
Essentials: $25/user/month
Professional: $75/user/month
Enterprise: $150/user/month
Unlimited: $300/user/month 
Pros – highlight features:
Straightforward and intuitive. Easy to use. 
Complete control of customer details: activity history, key contacts, communications, etc.  
Advanced CRM features compared to other CRM software: advanced marketing automation, account, and contact management.
Automate workflows: create automatic email alerts and auto-assign tasks for team members. enhanced reports and dashboards.
Customize interface as wished using point-and-click tools or code for more in-depth customization. 
Customize email templates. 
Log in from multiple devices. View and update customers' data with ease. 
Various third-party app integrations.  
24/7 customer support. 
Cons:
High pricing compared to other solutions.
Additional fees for add-ons. 
Overwhelming options for small teams and businesses. 
Recommended Salesforce Magento CRM extensions: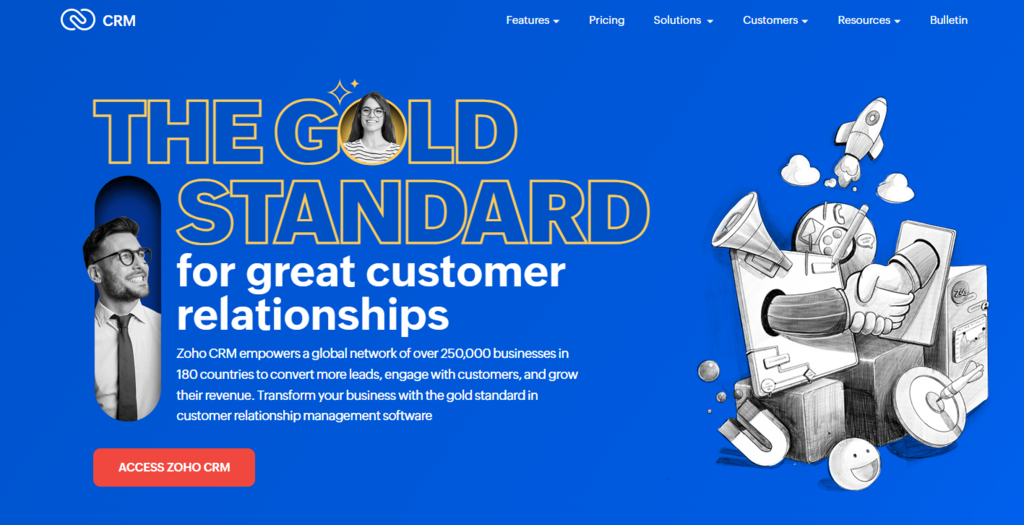 Another worth-considering Magento CRM option for business relationship management at your store is Zoho. Since being founded in 2005, Zoho's main target is small and middle-size companies, meaning that they understand too well all the problems your business might encounter. Thus, they offer a complete set of tools and features to help your Magento store grow exponentially.  
Zoho CRM provides the most basic yet best-in-class CRM functions, from storing customer information to automating business processes and getting real-time reports. They even utilize AI-powered sales assistants to help you control and automate your workflow to the next level.   
With the aim of bringing the best CRM solutions at an affordable price, Zoho's system is simple and straightforward to use with a minimal learning curve. There are various training programs, consultations, and onboarding to help you get started smoothly, so don't hesitate to give Zoho a try.  
Pricing: 
Standard: $14/user/month
Professional: $23/user/month
Enterprise: $40/user/month
Ultimate: $52/user/month
Pros – highlight features:
Omnichannel communication: Reach customers across multiple channels: telephone, email, live chat, social media from Zoho dashboard.
Get real-time notifications when visitors interact with your business. 
Automate the sale and marketing process. Streamline lead nurturing process.
Automate post-email activities.
AI sales assistant finds patterns to suggest workflows. 
Analyze and optimize workflows with in-depth reports.   
Set rules to trigger instant actions and follow up better with workflows.  
Get real-time reports and insights on sales performance and track KPIs for future predictions. 
Difference pricing that suits every business needs. 
Cons:
Requires some customization to get started.
The available forms aren't optimized for conversions. 
There are some complaints about their customer service. 
Recommended Zoho Magento CRM extensions: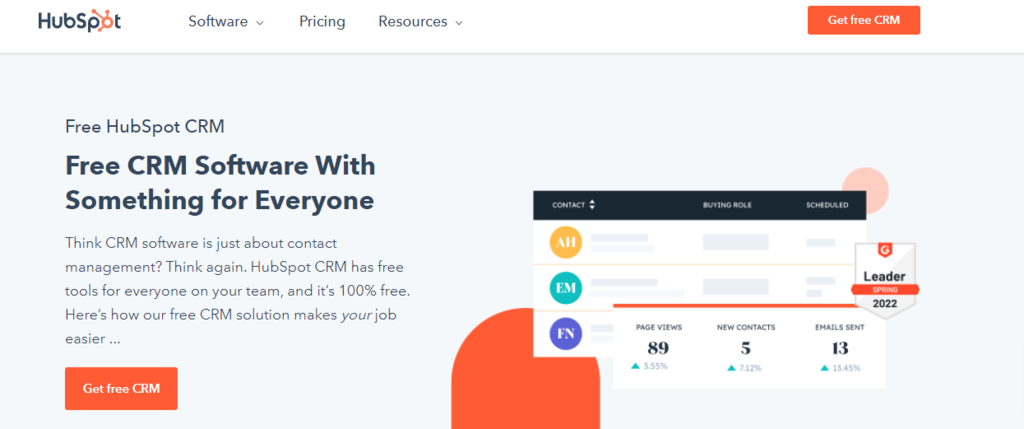 HubSpot is one of the rare Magento CRM systems on the market that offers a free version that truly works. The free plan offers a powerful all-in-one business solution that triumphs all sales, marketing, and customer service aspects at your Magento store. 
As HubSpot's motto is 'there's no better way to grow", its CRM software offers a scalable solution that can grow along with your business. The available tools ranging across different departments can be mixed and matched to fit your business situation, making it a truly customizable CRM platform.   
Whether your Magento store only receives a few orders per day or you have to manage thousands of new customers monthly, HubSpot CRM takes minutes to learn and allows you to track every detail of your business relationships. Plus, you are able to follow and handle customer support issues and the sales pipeline – all in one place.  
While HubSpot's paid plans can get expensive, you should enjoy the free HubSpot version until your business goes over the capability of the free plan and subscribe to the premium versions later. If you are looking for a Magento CRM integration that can leverage your business growth in all aspects of business operations, not just contact relationship management, HubSpot CRM is definitely a good option you can consider. 
Pricing: 
HubSpot presents 6 different packages that help boost productivity in 6 business functions, marketing, sales, service, CMS, and operations. They claim that these are "products that are powerful alone, but better together". Depending on your business size and requirements, you can choose to subscribe to each plan or go for the CRM suite that covers all 6 functions altogether.     
Each HubSpot Hub comes with a different plan & pricing that you can subscribe to independently. Otherwise, you can sign up for the CRM suite to enjoy all the features together at a discount rate with the below pricing: 
Starter: $50/month
Professional: $1,750/month
Enterprise: $5,000/month
Pros – highlight features:
Intuitive interface. Hundreds of available features can be accessed easily. 
Manage all customer communications, including tickets and emails from one inbox.
Get an up-to-the-minute view of the entire sales pipeline on a clean, visual dashboard.
Organize and track calls, emails, meetings, and notes. Create tasks to remind important deadlines.
Free ads management tools. Available forms and landing pages to convert visitors into leads.   
Live chat and chatbot builder. 
Automate connect management. Track activity and performance. 
Create and send bulk emails for free. 
1,000+ app integrations. 
Customize the CRM solution to adapt to your next phase of business growth. 
Cons:
No customer support on the free plan.
Easy to go over the capability of the free plan. 
Complicated pricing plans and options. 
Recommended HubSpot Magento CRM extensions: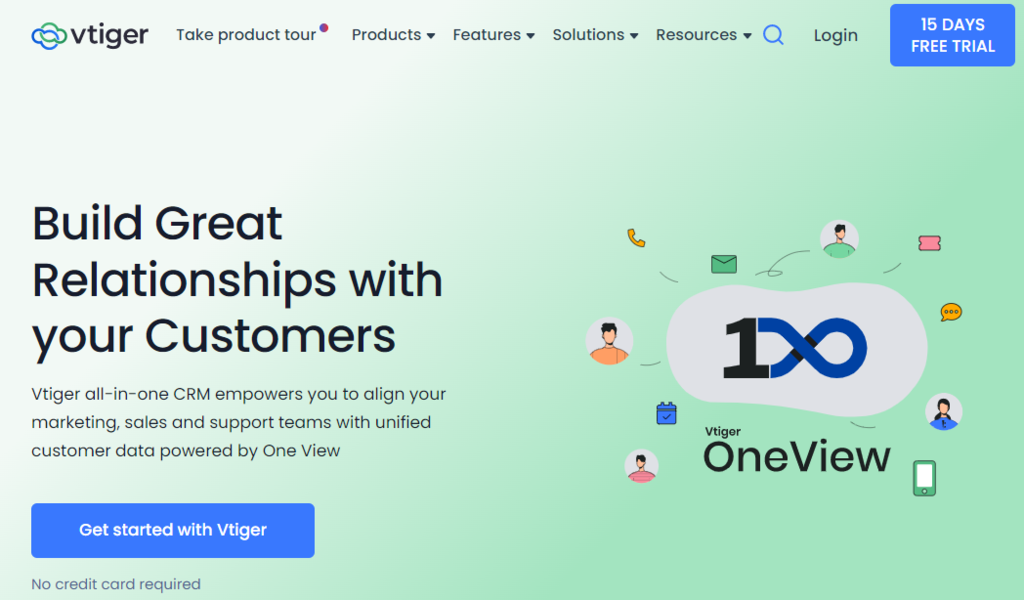 Receiving a 4.3 star out of 5 on Trustpilot, Capterra, and G2 with hundreds of good reviews from users, Vtiger is another compelling Magento CRM solution for your online store. Vtiger assists you in all stages of the sales process, from capturing leads to collaborating with teammates and streamlining meetings. 
Focused on assisting small businesses in sales and customer support services, Vtiger doesn't offer a comprehensive set of business management tools, but rather focuses on the core functions making up an effective CRM platform. 
You can deliver exceptional support by engaging with leads and customers across multiple channels from one dashboard. Plus, Vtiger supports you in effortlessly building a marketing pipeline that streamlines all marketing activities and provides an outstanding sales experience for potential customers with the sales tool your team already utilizes. 
Their mobile application comes in handy to help you view meeting details, record calls, and take notes for review. Vtiger also offers a forever-free plan so that you can experience its core functions before getting down to the right Magento CRM software.    
Pricing: 
Professional: $42/user/month
Enterprise: $58/user/month
Pros – highlight features:
Simplified platform setting up process. 
Engage with customers through multiple channels. 
Get a complete view of all transactions the customer has had. 
Advanced lead routing and segmentation. 
Track progress with advanced automation and AI-driven insights. 
Manage marketing activities across all channels. 
Align marketing and sales on a common view. 
Leverage powerful social and email marketing capabilities to engage prospects.
Responsive 24/7 support. 
Cons:
Basic business management features. 
Not ideal for big businesses with multiple sales pipelines. 
Recommended Vtiger Magento CRM extensions:
Vtiger allows you to connect its CRM software to your Magento 2 store without using any extension, which can save you some time and money. You can refer to the detailed guideline here to learn more about Magento CRM integration with Vtiger.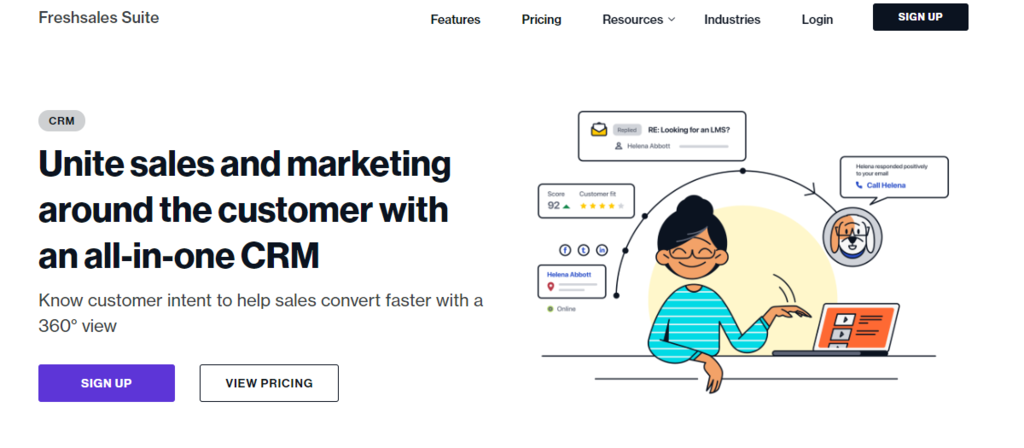 Freshsales Suite is an all-in-one CRM solution that puts the central focus of your sales and marketing efforts around your customers. 
Building with efficiency at this core, Freshsales CRM has advanced workflow automation and sales intelligence features. From lead segmentation to follow-up emails, they have many automation tools that can boost the productivity of your sales and marketing teams significantly. 
If your team is in need of a Magento CRM integration that can automate and leverage the sales and marketing activity, Freshsales Suite is definitely your platform of choice. This is a lightweight and simple CRM package for SMBs that want to start and scale in no time.    
Pricing: 
Free
Growth: $18/user/month
Pro: $47/user/month
Enterprise: $83/user/month
Pros – highlight features:
Deliver seamless customer engagement across multiple channels with a single customer view.
Identify the best leads that are most likely to convert to close deals faster. 
Set up visitors' personalized journeys based on actions.
AI-powered chatbots to chat in real-time with visitors. 
Tailor email templates & campaigns to generate cost-effective leads.
Create multi-channel nurture campaigns to target potentials. 
Get a campaign analytics breakdown to understand the market and business situation better. 
Dynamic forecasting to improve revenue predictability. 
Cons:
Lacking some essential reports and organizing elements. 
Customer support only available on weekdays.
No reports for the free plan.
Recommended Freshsales Magento CRM extensions: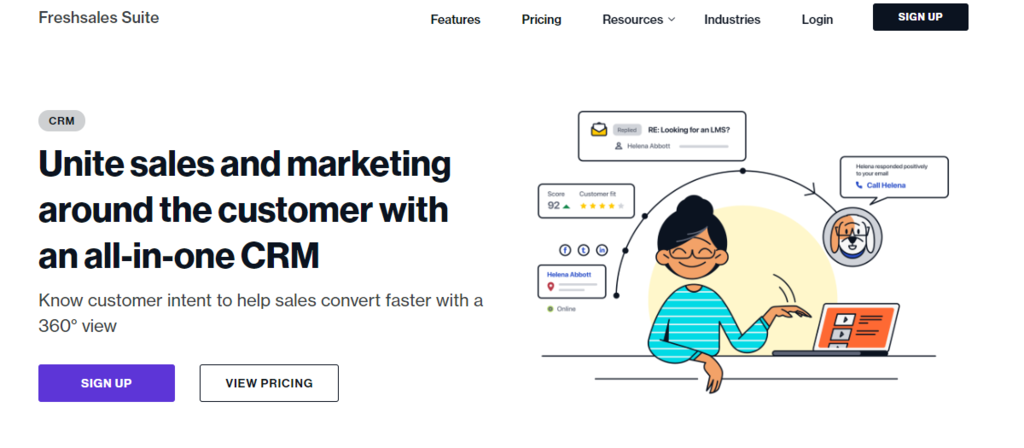 AgileCRM is an all-in-one CRM solution that is destined to support small and midsize stores to automate and simplify their business operations. This software aims at connecting your sales, marketing, and customer service teams into one place, thus leveraging the process and enhancing productivity at your Magento store. 
Built with love for growing business, AgileCRM designs its platform the way your business can make the best out of all services. It helps you save time on all the tasks you need to finish daily, from store contacts to sending personalized messages to the target audience. 
Even with the free plan, you and 10 members of your team can experience a variety of CRM features that are often included in other paid CRM versions. Though the number of contacts is limited to 1,000 for the free version, it's enough for you to test the platform to decide if this is the true Magento CRM software you need or not.   
Pricing: 
Free
Starter: $14.99/user/month
Monthly: $49.99/user/month
Enterprise: $47.99/user/month
Pros – highlight features:
Affordable pricing plan. Intuitive user interface for beginners. 
Comprehensive CRM solutions for small and growing Magento businesses. 
Single page contact management. Track stages of all deals and keep sales process on track.
Share and automate meetings with scheduling, invites, and follow-ups.  
Manage projects with drag-and-drop task lists. 
Ready-made templates to build high converting & mobile responsive landing pages. 
Comprehensive email marketing features: newsletter, analytics, tracking, follow-up emails. 
Enable self-service portal to handle customer queries. 
Powerful ticket features to resolve customer queries. Assign conditions to prioritize tickets.
500+ apps available for integration. 
Cons:
No phone support for the free plan. 
Non-responsive customer service team. 
Inconsistent automation features. 
Recommended AgileCRM Magento CRM extensions:
AgileCRM possesses a built-in Magento plugin that you can access with your Magento store with ease. There's no need to install any additional extension.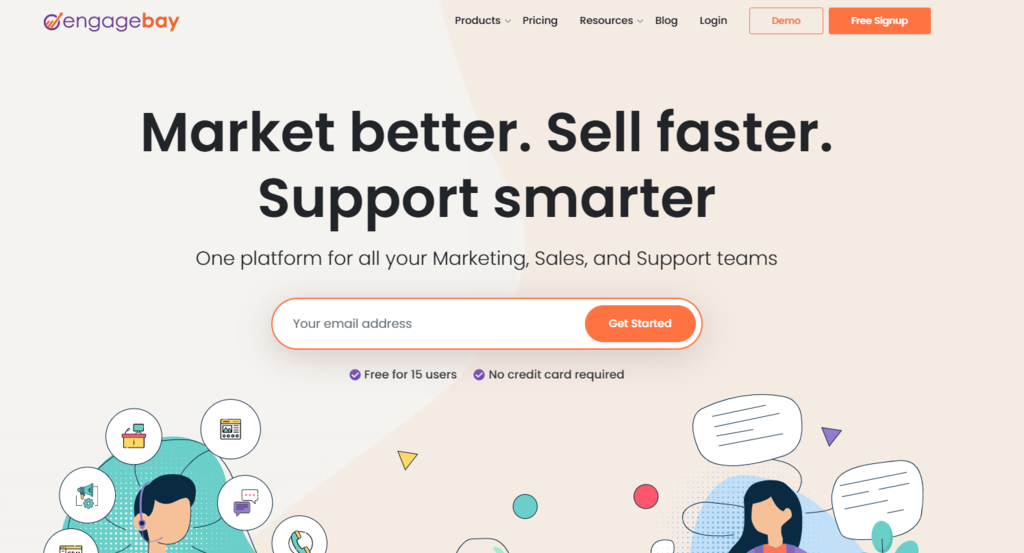 Want to find a single and lightweight Magento CRM solution for your small Magento business? Engage Bay will be the solid option you should think about to handle all the complicated and unnecessary business operation tasks. 
EngageBay is an all-in-one sales, service, and marketing automation hub to help Magento businesses streamline sales operations with ease. Similar to HubSpot, EnageBay offers 2 packages, Marketing Bay and CRM & Sales Bay that offer specific solutions for each team at your store. Nevertheless, you can choose to subscribe to the all-in-one package to enjoy the comprehensive solution.  
Though the software interface seems dated and hard to follow at first, once you get used to how this CRM software functions, you can soon utilize all the available features. Plus, many users review that customer support is very responsive when you contact them, so don't hesitate to ask for support.   
Pricing: 
Free
Basic: $14.99/user/month
Growth: $49.99/user/month
Pro: $99.99/user/month
Pros – highlight features:
Facilitate better alignment between marketing and sales teams. Update leads from marketing to sales team seamlessly. 
Maintain and organize customer contacts in one place. Track all emails, calls, notes, and lead progress. 
View sale pipeline and track the status of deals.  
Powerful sales reporting module. Draw powerful insights to streamline sales process. 
Identify qualified leads, track engagement, and decide on agents to follow up. 
Schedule meetings for groups.
Cons:
Non-intuitive dashboard that requires some learning to get started. 
Lack of documents and guidelines to troubleshoot problems. 
No SMS functions integrated. 
Recommended EngageBay Magento CRM extensions:
You can install the free CRM Magento Integration that is officially developed and released by EngageBay for Magento 2.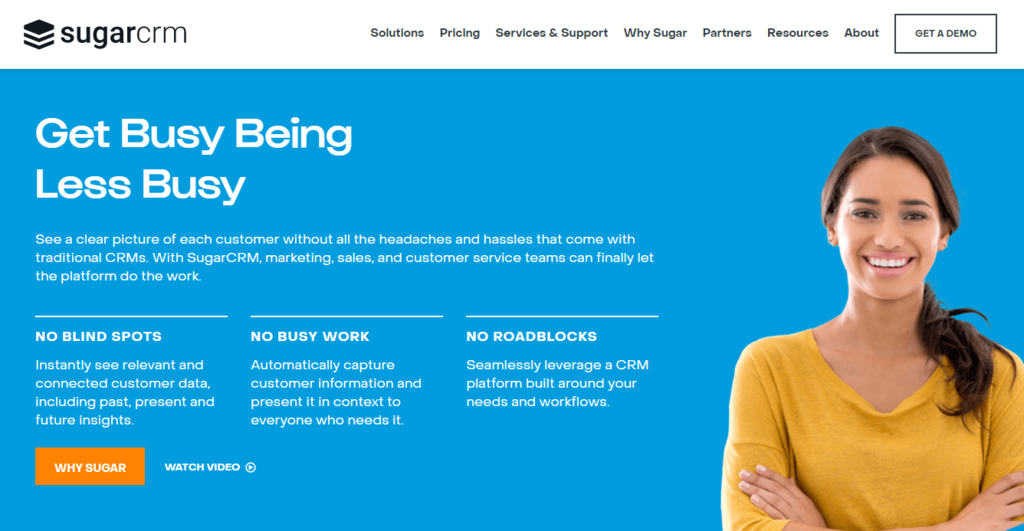 Get busy being less busy with SugarCRM! Claiming to be the complete CRM solution that can save you all the "headaches and hassle that comes with traditional CRMs", SugarCRM unifies all marketing, sales, and customer service tasks into one place, and they let the platform do the work for you.   
SugarCRM is a full-featured CRM software that's built to reduce the time and efforts your team members spend on all the manual work related to business operations. They break down CRM into three primary categories: Sugar Market, Sugar Sell, and Sugar Serve focusing on the three most essential parts of any CRM. Therefore, its business management features seem to be the best Magento CRM solution for mid-level enterprises.   
Initially, SugarCRM operated as an open-source solution, so the customizable possibilities are endless. It has an open application programming interface (API), a mobile software developer kit (SDK), and responsive mobile apps for iOS & Android. 
Pricing: 
Sell Essentials: $69/user/month
Sell Advanced: $112/user/month
Sell Premier: $189/user/month
Pros – highlight features:
Provide customers with rich omnichannel support.
A powerful console intelligently prioritizes customer issues by SLA, priority, and severity.
Automatically route customer tickets to the right person.  
Enable self-service portal and knowledge base to help customers resolve issues on their own. 
Effective marketing automation: predicts leads' likelihood of converting to marketing qualified leads and flags prospects to prioritize.
Multi-channel marketing platform: email marketing tools, social media management capabilities, AI-driven predictive analytics. 
AI analysis to help create dynamic, multi-phase, highly-targeted marketing campaigns.
Map out each individual customer journey to keep track of customer interaction and information.     
Cons:
Lack of user-friendliness across the platform.
Require a minimum number of users for each pricing plan, thus increasing the platform cost. 
Overwhelming features that may require a tech team to handle. 
Recommended SugarCRM Magento CRM extensions:
Satisfy your customers with the best Magento 2 CRM
While multiplying profits is the ultimate goal of any business, customers should be at the heart of all your operational processes. An excellent Magento CRM integration can help you streamline all marketing, sales, and customer service, thus delivering a seamless and excellent customer experience that can make them stay. We hope that our article can help you make an easier decision when choosing the best CRM software for your Magento store. Satisfy your customer first, and you will see increased sales in no time!