Consider using Magento to build a website for your B2B company? Read our evaluation of what Magento offers for the B2B business model. Then you can find if it's the right platform to boost your digital sales channel and beyond. 
Magento Open Source vs Magento Commerce
Why should you care about this? Because there is a huge difference between the two when it comes to B2B eCommerce. 
Magento Open Source does not support any B2B features by default, while Magento Commerce does. 
Let's take a brief look into two different Magento versions: Magento Open Source and Magento Commerce. 
Magento Open Source: In Magento Open Source, you will gain 100% free access to its source code. From this source code, you can create a powerful website with amazing features and full scalability. The biggest drawback of Magento Open Source is that the platform requires strong technical skills to develop. 
Magento Commerce:

Magento Commerce is an upgraded version of the open-source one targeting larger enterprises. If an open-source platform means that users have to take care of everything from scratch, Magento Commerce operates as a PaaS (Platform-as-a-service). For PaaS, Magento will manage certain aspects of your website, such as hosting, security as well as customize your site for your needs. The website can also reach its ultimate potential of functionality and scalability. Magento Commerce's pricing is from $22,000/year. 
So, does it mean that if I want to choose Magento for my B2B business, I need to pay at least $22,000 per year? No, not at all. We will get into this right now in our detailed reviews of Magento's B2B features and prices.
Read more: Magento Open Source vs Magento Commerce – full comparison
Magento Open Source for B2B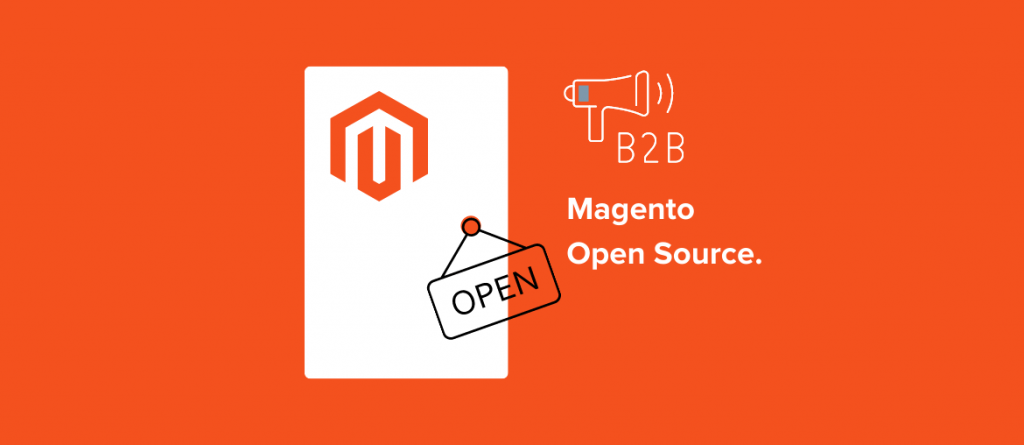 Does Magento Open Source support B2B features?
No. Adobe (Magento) company does not include any B2B features for the open-source code of Magento. However, thanks to its impressive capability of customization, users can go for extensions to add B2B functions to their websites. 
Check out these websites! They are developed from Magento Open Source with the touches of B2B extensions.
Want a similar website? Let us help you!
Let's get down to detailed B2B extension features for Magento Open Source and more helpful info. 
B2B extensions for Magento Open Source: an overview
There are over 150 extensions for B2B on Magento Marketplace, but it's not everything yet. You can find hundreds of other great ones from third-party developers on the internet. Also, these extensions greatly vary in price and functionalities. Therefore, you have abundant choices to find a good collection of B2B extensions to benefit your store. 
Let's dive into what B2B features extensions for Magento have to offer:
List of B2B extension features for Magento Open Source 
Sales Reps: let your sales representatives consult your customers on your eCommerce site, monitor their work productivity, let customers choose their salesman from the front end.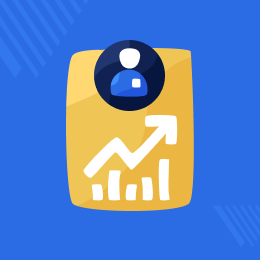 For example, the B2B Sales Representative for Magento 2 plugin of WebKul allows users to message a sales rep directly from product and category pages. For the admin end, the manager can view message history, and previous contacts. Moreover, the sales rep can create quotes for customers. 
Store credits for B2B store: Convert refunds into store credits to encourage further orders. Store credits can also be used for pre-paid balances so that B2B merchants can purchase within a controlled budget. Additionally, sales reps can offer discounts by store credits to avoid complicating the accounting process. 
Multiple wishlists: customers can create many wishlists that are specialized for different vendors, campaigns or anything, which helps them follow their procurement plan more effectively. 
Negotiable quote: Hide price, motivate your customers to make a negotiation
Shared catalog

: require your customers to log in to see the price and catalog personalized for them and other pricing tactics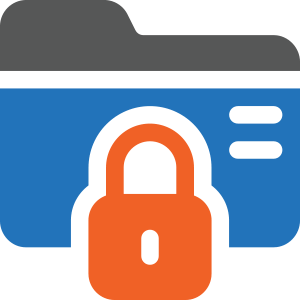 For instance, the Private Catalogue for Magento 2 by Aheadworks lets you display different pricing and catalogs for different logged-in customers while showcasing another public catalog for general visitors. Users can also adjust products right on the catalog pages without checking each product page and duplicate private catalogs to deliver different catalogs faster. 
Custom payment & shipping

: choose payment & shipping methods based on customer groups, addresses, products, etc.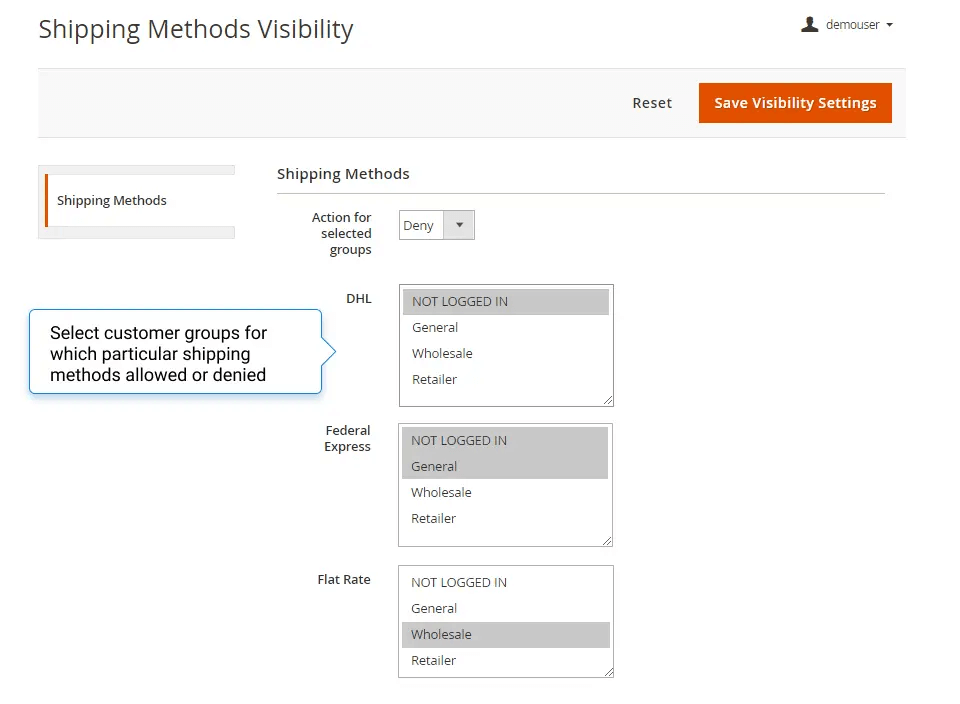 Let's take the Shipping & Payment By Customer Groups from Amasty for a clear demonstration. The extension lets you decide whether to apply certain shipment methods (delivery companies, flat rate) and payment methods (credit card, check, etc) for different customer segments. Store admin, for example, can apply Freeship for the loyal customer group to nurture stronger relationships as well as encourage general visitors to register. 
Custom promotions: boost sales by setting special promotions for customer groups based on order history or price volume
Company account: enable multiple users and hierarchical roles for a company account so that your B2B customers can manage their team buying tasks.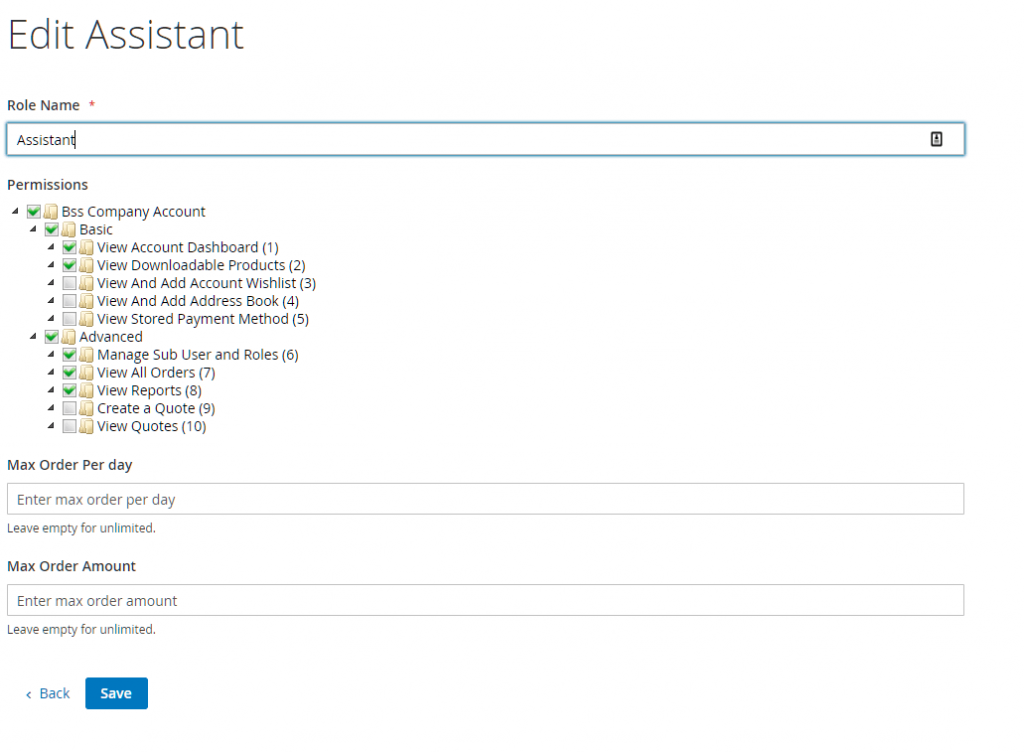 For example, with Magento 2 Company Account extension by BSS Commerce, wholesale customers can set new roles, control actions allowed for each role and assign them to their respective subordinates. For website owners, they can create a customer account right after a registration form is received, then have an email sent directly to your customer. 
Bulk orders: allow wholesale customers to buy in bulk easily by uploading CSV or XML purchase lists or typing SKUs. 
Table category view: compare all products in a table. Your customers can change product quantity and add products to the cart while comparing. 
Quick orders: create a one-time product list and modify it for future orders to save time.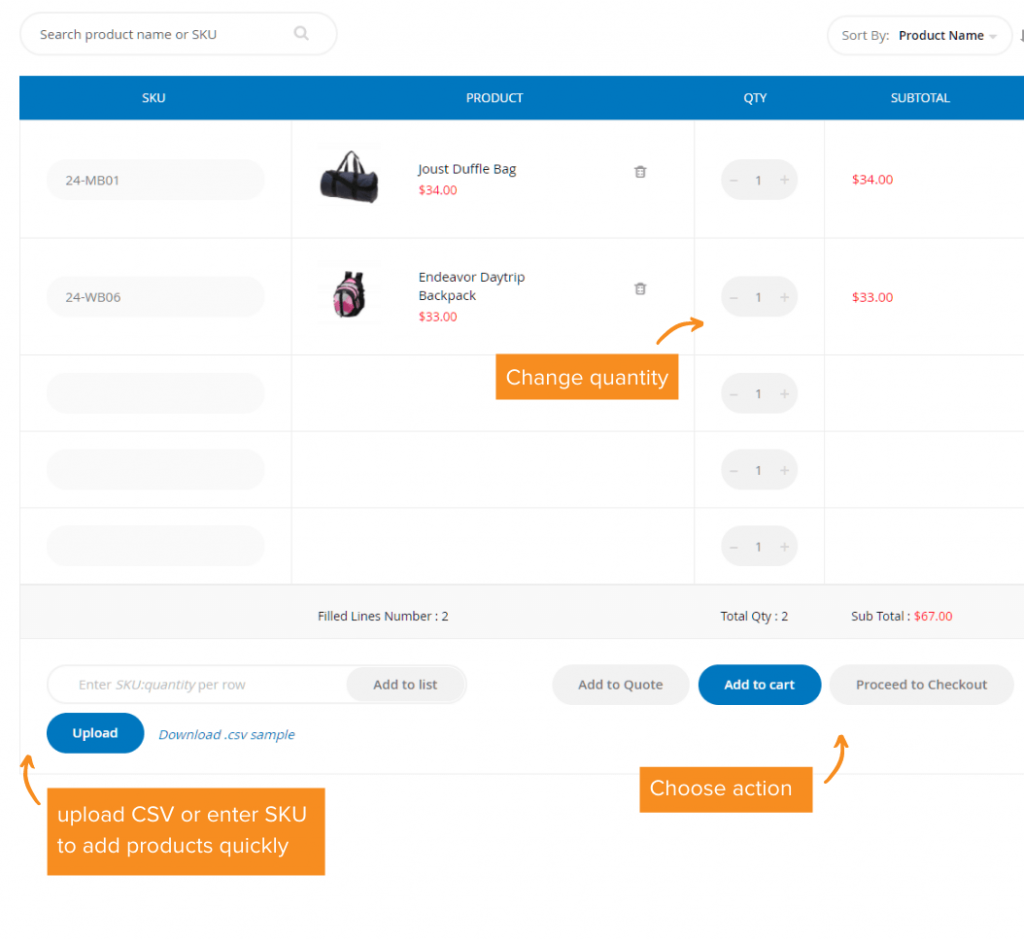 Quick & bulk orders feature (extension demo store by BSSCommerce)
Advanced search: conveniently search products by entering SKUs, attributes or categories, auto-correct typing errors and suggesting products. 
ERP integrations

: automate data exchanges with ERP software to use data most and enhance customer services.

Multi-vendor marketplace

: turn your store into a multi-vendor store. You can add as many vendors as possible, manage the vendors' products & transactions, decide if vendors have the right to manage their orders and provide different commission rates. 

Multi-warehouse inventory: Create multiple warehouses, monitor stocks, choose to ship products from your preferred warehouses and more. 

Monitor stock from multi-warehouse from one table (Multi-ware house inventory extension/ Amasty)
Product attachments: attach PDF files into product pages for viewing and downloading so your customer can read products' detailed information.
These are pretty much all essential B2B eCommerce features already. Decent, right? These extensions are sufficient for you to run a lead-converting B2B store without any trouble. Apparently, since a website requires multiple features to function as a B2B website, it's a good idea to opt for an all-in-one extension to save time and cost.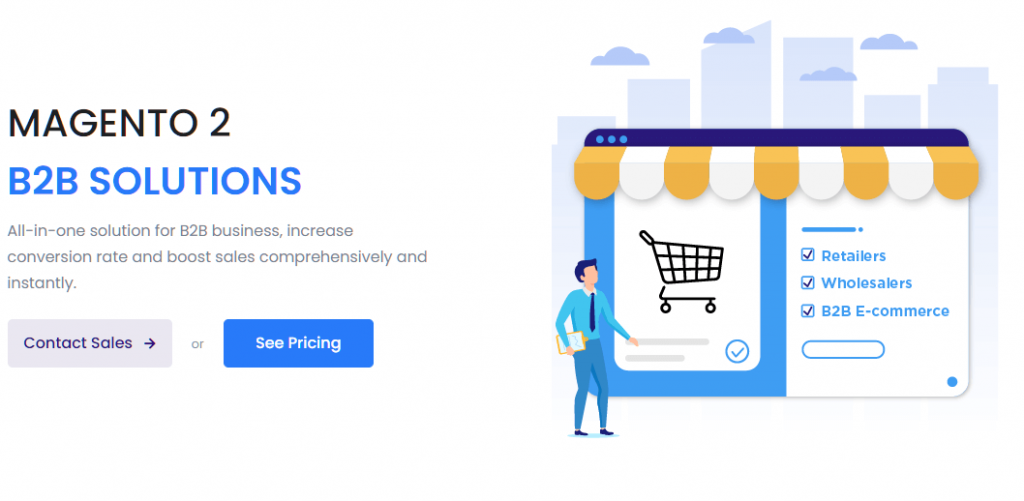 Mageplaza's B2B Solution is one of these extensions. A single extension package includes a company account, advanced tier price, quick order and 18 features more with one-time installation. 
Finally, these are only the most prominent features. There is always more to explore so you can optimize your sales and customer experiences further. 
Should I worry about integrity?
No. Developed by reliable third-party providers, Magento extensions are well-tested to integrate with Magento platforms as well as its different versions. You are also provided detailed guides to install those extensions independently.
While there are also free B2B extensions, most key features are offered in paid extensions. Since you have paid a handsome amount of money, customer support is responsible for any integration troubles when you install their products. In fact, some companies offer a 3-month trouble-free guarantee, while others provide you with an installation and troubleshooting service.
How much does it cost to build a B2B website with Magento Open Source?
Let's say you are a B2B SME owner without any experience in coding. In this case, you have to rely on outsourced technicians to build your Magento digital store. Then, the cost can be broken down into these factors:
Hosting cost: $5 – $120/mo
Domain: $10 – $20/year
Theme: $0 – $500
Development: $5,000 – $100,000
B2B Extensions: free to about $1,500/extension.
So in summary, to build a B2B website for SME companies with Magento Open Source, you may spend from $5,600 to more than $100,000 for first-time installation, then you have to pay a fee of  $70 – $1,500/year for hosting and domain. Please note that this price does not include budgets for marketing and website maintenance. 
Our verdicts
Taking pricing into consideration, the cost of using Magento Open Source for B2B websites (if hiring developers) falls into the middle range. It is more cost-saving than Shopify Plus, BigCommerce Enterprise or other PaaS ERP-integrated platforms for large enterprises. On the other hand, it is definitely not the most affordable. Platforms like CS-cart, Pepperi or Shift4Shop could offer less than $5,000/year. 
However, remember that for Magento Open Source, you only need to pay a one-time fee for development, whereas you have to pay monthly/yearly for these aforementioned SaaS platforms. So in the long run, Magento Open Source is not that costly after all. 
Read more: How much does it cost to build an eCommerce website?
Magento Open Source for B2B: Pros + Cons
Pros:
B2B business owners can gain great benefits from Magento's overall advantages and its wide collection of B2B extensions:
One-time fee: Development and extension are paid once and for all so it's affordable in the long run. 
Robustness: Magento has reliable source code with many built-in features for basic eCommerce pages.
Scalability: Adobe does not tell any numbers regarding how many products and categories the platform can handle. However, it's widely acknowledged that Magento can easily store a lot of products (250.000 – 300.000 SKUs) and category pages. In fact, for an experiment, Magento can run a million SKUs without problems. Merchants can also import products in bulk without any issues. 
Highly customizable
Mobile-friendly
Blazing speed and amazing customer experience: powered by Progressive Web Apps. Magento is known to be a pioneering platform in using PWA. 
Cons:
Increased budget for extension: You have to spend money on third-party extensions for B2B features
Time-consuming: It takes at least a month to develop a basic Magento website.
Self-hosting

: you need to manage the hosting by yourself or pay more for a managed hosting solution. 
Magento Commerce for B2B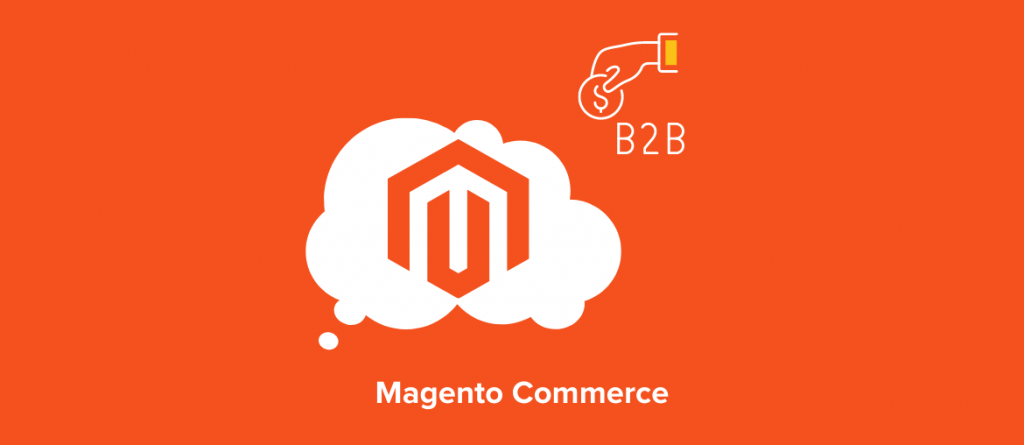 Compared to Magento Open Source, Magento Commerce costs a lot more. It's evident that the service is meant for enterprise-level businesses. Magento Commerce provides much greater scalability, reliable cloud hosting, multiple protections and plenty of features. 
If you are from big B2B company and wish to find out if Magento Commerce is the right option, let's take a look into its features & pricing, as well as understand how these features & pricing fit your business. 
Magento Commerce's highlighted features for B2B purpose
Magento Commerce has designed its own specific solutions for B2B companies, with highlighted B2B-specific features as the following:
Sales Representative: Set up a sales representative for a company account. A sale rep can handle several company accounts
Self-service tool: merchants can easily make a purchase, manage their company's sub-accounts, quotes and credits
Negotiable Quote: trigger customers to click the "get a quote" button to negotiate further.
My Quote: display all quote requests in the same dashboard that are linked to detailed information
Fast Reordering: Purchase new orders based on the list of previously bought ones. 
Flexible bulk and per-unit pricing: Show different price options based on purchase volumes
Shared catalog: create specific catalogs and pricings for different customer groups
Store Credits:

Store admin can use store credits to refund, and customers can use the credits for later buying. Store credits can also be used for gift cards instead of promotion codes. 

Company Accounts: Let users create hierarchical sub-accounts, assign permissions to each role and manage all buying activities, use the company store credit to purchase
Quick orders:

customers can order by entering SKU or product name or importing a list of products

Gift Card:

display gift cards in negotiable quoted, requisition lists, and catalogs.

Purchase order:

enable payment for a purchase order for an authorized customer. You can set choose the countries of the customers to that the payment is applied for, and the Minimum/Maximum Order Total. Customers can choose this option among other payment methods, and pay for their order upon invoice's receipt. 

Approval rules: decide which company users/roles can use purchase orders and how much they can buy. 
Requisition lists: Set up how many requisitions lists a customer account can create (2- 999 requisition lists).
Multi-site support: personalize content and customer experiences for different brands, geographies, audiences and channels partner
Drag-and-drop merchandising and content tool

: design attractive pages without developers' assistance. 

Support for shipment and in-store pick up
Amazon channel management: automate and synchronize products and order data between the Magento site and Amazon Marketplace so you can monitor all data in one dashboard.
B2B/B2C hybrid store optimized: Magento Commerce is perfect to manage a website for both B2B and B2C customers in one platform.
Our verdicts
Magento Commerce offers an abundant number of built-in features which are enough for a B2B business to roll. Although it still lacks some B2B functionalities such as multi-vendor marketplace or a quick solution to reordering, companies in need can easily upgrade with extensions.
Magento Commerce Pricing
| | |
| --- | --- |
| Revenue (USD) | License fee (per year) |
| < 1M | $22,000 |
| 1 – < 5M | $32,000 |
| 5 – < 10M | $49,000 |
| 10 – < 25M | $75,000 |
| 25 – < 50M | $125,000 |
Magento Commerce's pricing is based on company revenue with the smallest cost of $22,000/year and no sales percentage. Before reaching any conclusions, let's compare Magento Commerce price to its equivalent competitors:
| | | | | |
| --- | --- | --- | --- | --- |
| Magento Commerce | Shopify Plus | BigCommerce Enterprise | SAP Commerce | OroCommerce |
| $22,000+/year – $125,000 + /year | $24,000+/year +0.25$ sale volume* | $4,800 – $180,000/ year* (referential price) | $100,000+/year (referential price) | $45,000+/year (referential price) |
*platform cost is paid monthly. We change into a yearly fee for easy comparison.
From the comparison, it can be said that Magento Commerce is actually an affordable option among popular eCommerce platforms for large-scale B2B enterprises. 
Magento Commerce for B2B: pros and cons
Pros
Affordable compared to platforms for large enterprises
Rich B2B functionalities from both on-platform features and extensions
High security
Great for international website
Great scalability at the enterprise level
Endless power to customize
Plenty of themes to choose
No need to purchase hosting
Cons:
Need to buy an extension to operate the multi-vendor model
Starters may find it challenging to learn the platform at first
Pricey for SMEs, low-investment startups
The bottom line
It's Magento's reliability, scalability, and customizability that makes the platform stand out among its competitors. In conclusion, Magento is a great platform for B2B purposes even though there are some differences between B2B functionalities for the Open Source edition and the Commerce one.  
Magento Commerce has rich built-in features and affordable pricing compared with other platforms for large enterprises, which makes it perfect for massive B2B companies.
Magento Open Source does not include B2B features, thus, merchants need to buy B2B extensions. There are plenty of decent B2B extensions on the market to help your site perform amazingly. Furthermore, developing a Magento Open Source's website for B2B, though seems to be costly at first, has proven to be budget-friendly and sustainable eventually.