Hi there,
It is SimiCart – the closed buddy of all Magento merchants who always dream about an innovative e-solution to jump to the brilliant milestone in their sales revenue.  So we also call them ambitious merchants. It is true. And if you are also among those merchants with the big dream like that, then your investing time here is the rightest decision of you.
Let us tell you why you should keep going here.
As mentioned before in the introduction of Magento iOS app landing page, we made a promise to you, do you still remember? That's right, we are going to whisper to you about our new landscape. This is where you will have the most comprehensive look into the insight of Magento Android App built with SimiCart. In the end, you can get enough motivation to own an app which can make your dream come true. Now, let us show you the new landing page "Magento android app" with full of great things awaiting ahead.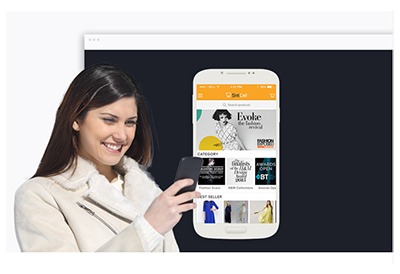 Magento Android App page is

Where every feature of a Magento android app built with buddy SimiCart will be displayed in the most detail. You can call this page an overview page as it will show you the review on all aspects needed for an extremely sales-boosting and customers engagement – boosting app, and how SimiCart will help you gain such factors to become the dominant shopping app in this competitive market.
Magento Android App page aims at
Supporting Magento merchants with fuller information about what SimiCart can do  to help you own the most desirable app. Revealing more detail about such features that SimiCart can offer you. Giving you the precious chance to experience the trial demo of SimiCart totally free.
Magento Android App page looks like
Nice image, niche design and detailed information. All in one page. You can view it easily with comfortable mood. We are sure you will get what you want there.
Magento Android App page address
The link to the page is: https://www.simicart.com/magento-android-app.html
For any related questions, please leave them in the comment. We are very glad to give you a help.
SEE ALSO: Wondering how to improve your sales team's power? »