Figuring out how Magento's backend works can be a bit baffling for all store owners. This is especially true for the case of the Magento 2 website, store, and store views. It's confusing to understand how they are different from each other and how you should configure your backend with them.
This article explains their differences in simple terms and their most common use cases so that Magento store owners can understand without a headache.
What are Magento 2 Website, Store & Store View?
In Magento 2, the website, store & store views are referred to as "scopes", which determine where your configuration changes take place.
Why does Magento need to have so many scopes, to begin with?
These scopes help Magento store owners create different websites, as well as different versions of one website within one backend.
As a result, business owners can deliver better-personalized experiences to different audiences, manage multiple stores more effectively and sell internationally at ease.
If you are planning to create several websites or stores, these scopes will be so helpful for you.
What is their relationship?
Website, store and store view are hierarchically connected with each other. Each change in the parent will affect its children.
You can see their order in the pyramid below.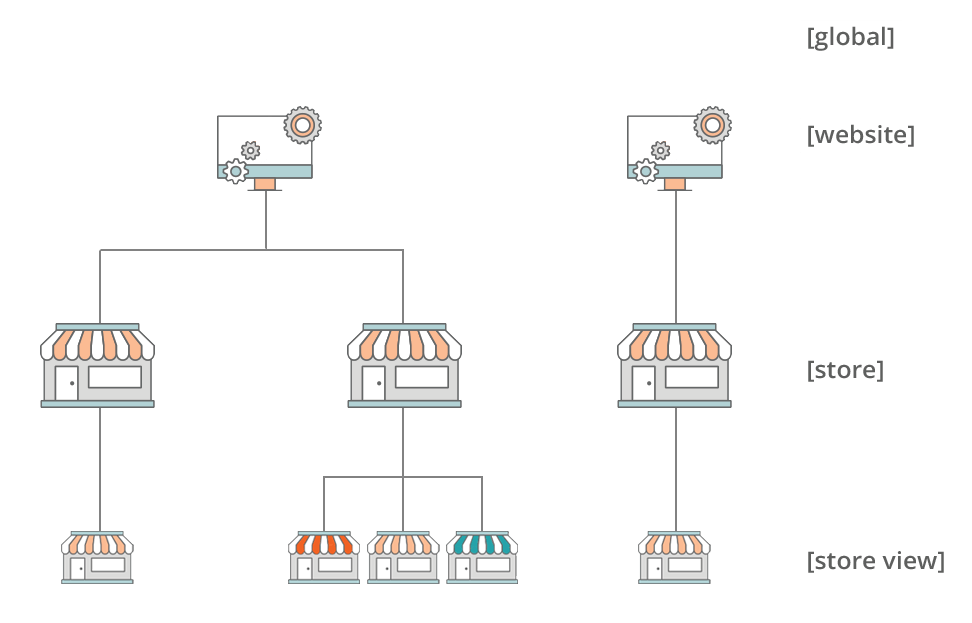 These scopes affect where in the hierarchy to apply settings for content elements, backend (e.g. payment method, shipping), and database (e.g. product, category, attribute). Therefore, understanding them helps you configure your Magento store(s) easier.
Now, let's get into their differences.
Magento 2 Website, Store & Store View: the difference
Global
Global is the broadest scope that sits on the top of the hierarchical chain. For a new Magento website with no previous configuration, the out-of-the-box settings are the global view's settings.
There are 3 setting options that can be used on the global scale:
Stock settings
Price: Set the same price for all websites and stores
Customer data: unify all customer data from websites and stores into a big database
If you modify the global setting, changes will be applied to all stores and websites.
Also, a Magento backend can only have one global view, which you can not duplicate or remove.
Website
By default, there is 1 website (a.k.a the main website) upon installation. You can add more websites with different IP addresses and domains, for example, cat.com and dog.com.
What can you configure within the Magento "website" scope?
Unlike the global scope, it's unable to change stock options in the website view. This means all websites share the same inventory & inventory configurations.
However, the website scope lets you configure more detailed settings than its parent – the global scope. These include creating different payment and shipping methods for each specific website.
Let's take a deeper look at what features all websites share and separate from each other.
Shared features
Separable features
Stock options
Payment methods
Shipping methods
Product price
Tax class
Base currency
Customer base. (One customer account can be used across all websites or for one website alone, which depends on your settings)
Significantly, the website scope allows Magento merchants to create and collect info from different customer bases easily.
Moreover, configuring within the website scope lets you apply these settings to all stores and store views beneath it in the hierarchy at once. For example, you can set the same price for all stores that belong to a website simultaneously.
Magento multiple websites: use cases
Thinking of creating multiple websites in your Magento backend? If you fall into one of these categories, it's a good idea to do so.
You have different brands with unique domain addresses.
You sell to distinct customer groups (e.g. B2B and B2C). It's vital for you to separate these groups for data gathering and marketing optimization. Also, pricing will be varied for each group, too.
You sell different product types (e.g. seed milk and fashion), and it is crucial for them to have separate payment methods (e.g. subscription and one-click checkout) and/or delivery options.
You are selling internationally. With multiple websites, the shipment method, payment method, the base currency, and tax class can be optimized to serve customers of a country specifically.
Magento multiple websites: an example
G-SP, a Sweden-based company, uses Magento's multiple website features to create different experiences for their wholesale and retail customers. 
For in general, multiple websites in Magento needs to have different domains, G-SP had to rely on SimiCart's experts to customize so that they share one domain.
As a result, they are able to set different tax rates, and product pricing, and collect data from the two target audiences separately.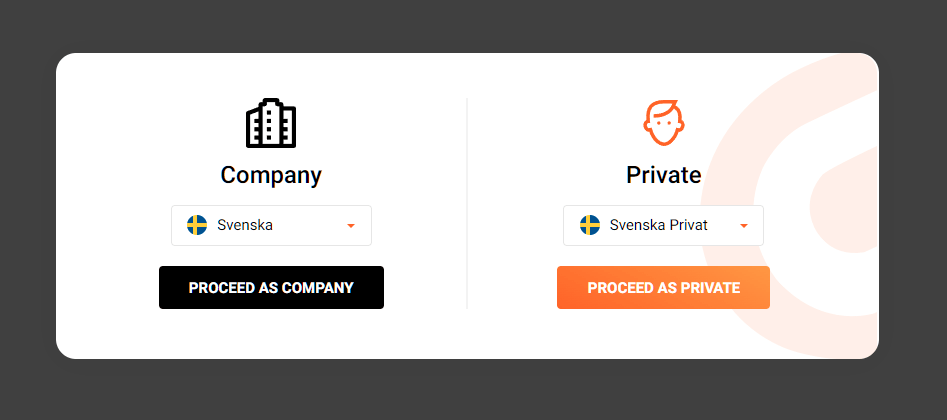 Store
Under the same website, there can be several stores. A store serves as a container for products and categories.
What can you configure within the Magento "store" scope?
You can assign different products for various stores.
Also, you can import one product to different stores, although the price for that product must stay the same across all stores. Changing the price in one store will automatically change the price of the other store under the same website parents.
For sibling stores of a website parent, here are what they share and differentiate:
Shared features
Separable features
Everything shared in their parent website,
+
Payment method
Shipping method
Tax options
Product prices
Currencies
Customers
Products
Magento multiple stores: use case
The Magento multi-store functionality works like a charm if you have various product types, and want to display different catalog products & designs accordingly.
Magento multiple stores vs multiple websites
It's common for many Magento merchants to have different product types and want to separate them for better navigation. Both multi-website and multi-store let you achieve this goal. However, it can be confusing whether to choose to add a new website or a new store.
It depends on whose features fit your business better: multiple websites or multiple stores?
The best advantage of multiple stores over multiple websites is to have all of your products displayed under the same domain.
This is because in general, each website requires a base URL. Thus, your customers need to navigate to another site when they click to browse a different product type.
However, it's unable to change price, tax class, payment, and shipping methods to each store specifically. Thus, if you need to have these features specifically customized, you should create multiple websites.
Multiple websites
Multiple stores
Different domains
Can set price, tax, payment, and delivery options for each website
Can have different customer bases
Same domain
Can not set price, tax, payment and delivery options for each website
Share the same customer base
Store View
Store view, the smallest unit of the pyramid, is mainly in charge of language and currency.
What can you configure within the Magento "store view" scope?
Shared features
Separable features
Everything shared in their grandparent website scope
+
Everything shared in their parent store scope
+
Root category & products
Language
Currency
Theme & Layouts
Main menu
Certain product attributes such as tax classes or name
Certain system configurations
While product information is set up within the global view, some product attributes such as tax classes and names can be configured in the scope of store view.
Magento multiple store views: use case
Show different languages and currencies
The most prominent reason to use store views is to translate page content and show local currencies to customers in various countries.
For each specific store view, you can choose which currency your products will display in. The pricing is converted based on the primary currency (i.e. base currency) that you have set up within the website scope.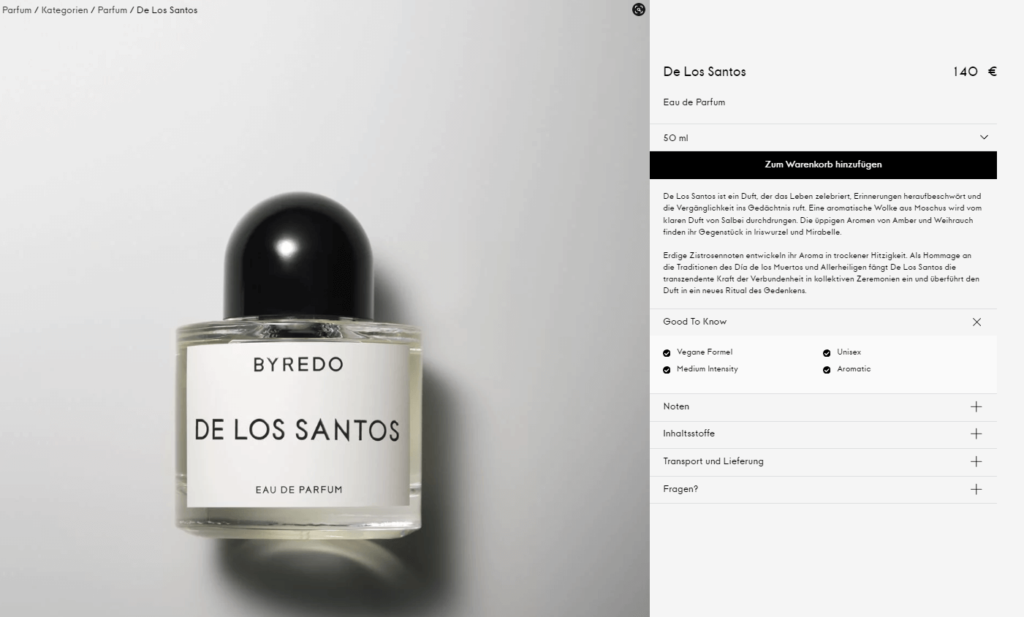 Display different main menus
To understand everything to its core, let's take a look back at the "store" scope and the concept of "root category"
Each store is equivalent to a root category which is the highest level of catalog in Magento. Your top navigation menu and its subcategories (Magento regards all of which as "subcategories") originate from this root category.
As it may be confusing where category configuration takes place, it's worth noting that the "store" scope is only responsible for the root category. Modifying your actual product categories (or subcategories – as Magento put it) can be done with the "store view" scope.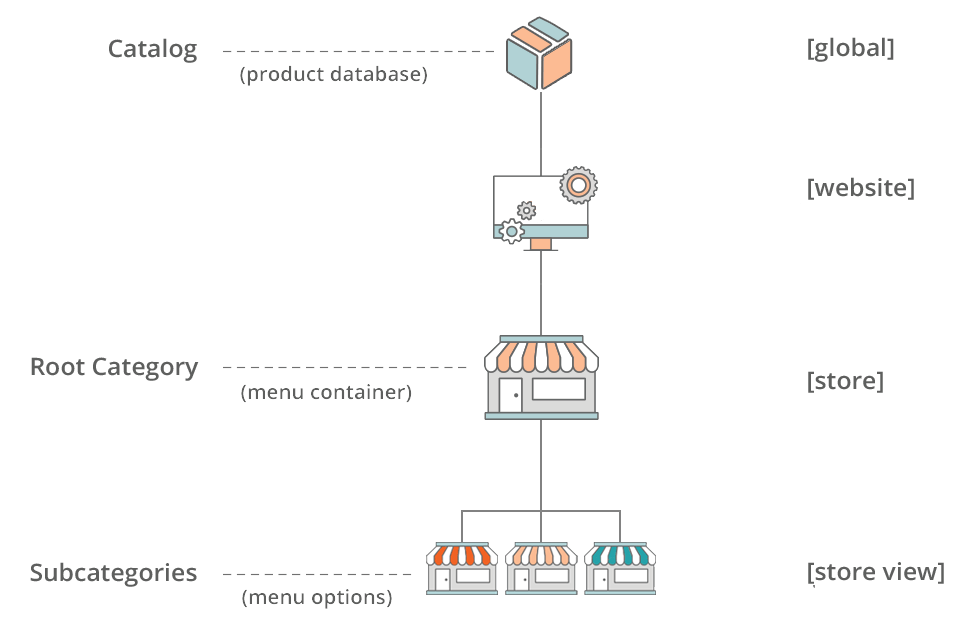 While all store views share one root category and the same products, you can create different sets of categories for each store view. Thus, each store view can have a distinct main menu and its branches.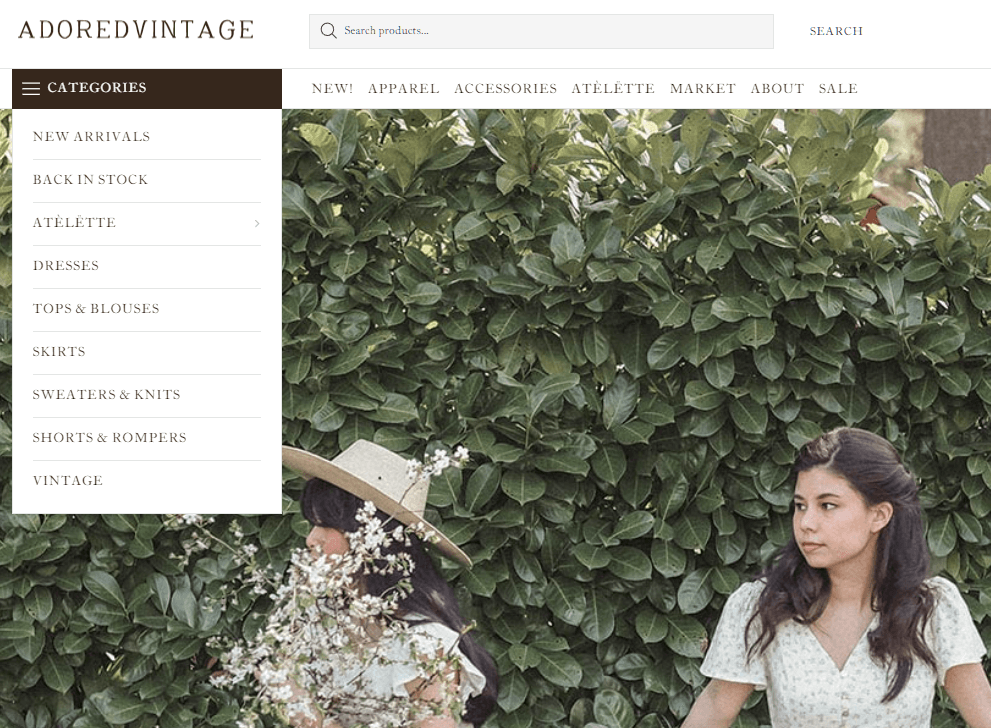 For instance, you can create a collection of newly-arrived items and feature it in the top menu of a specific store view.
Use unique theme designs for each store view
The store view scope enables you to craft different designs to appeal to different customer groups, which gives relevant user experience and maximizes sales potential.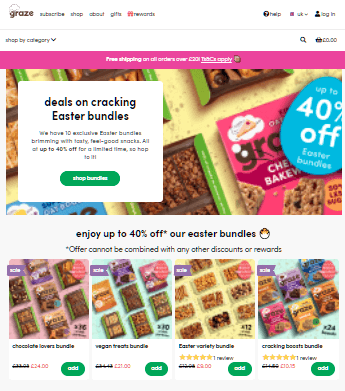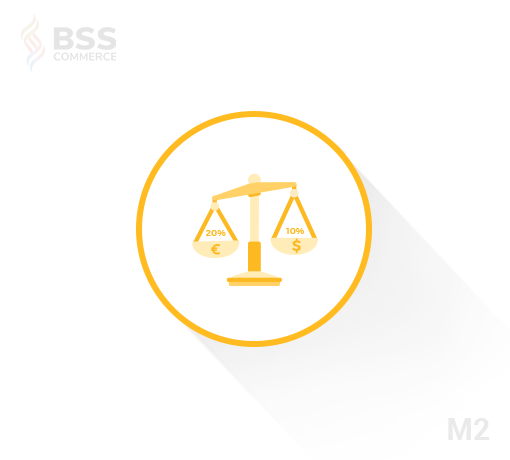 The Magento 2 Tax per Store View extension enables administrators to modify the Scope of Tax Class attribute at the Store View level. Thus, your ecommerce store is able to charge different taxes for the same product per store view.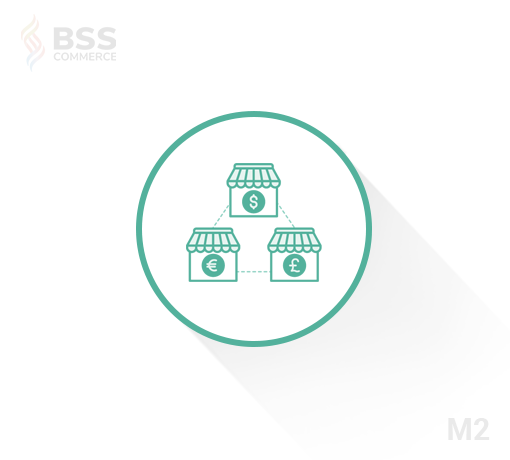 Magento 2 Multiple Store View Pricing
Multiple Store View Pricing for Magento 2 allows administrators to set up different prices for same product on each store view of Magento store and supports setting up base currency per store view easily.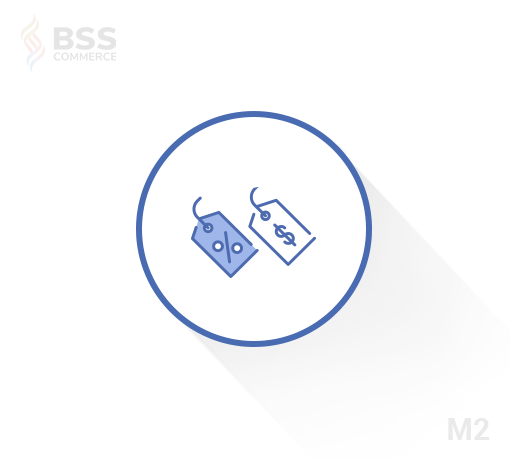 Magento 2 Catalog Price Rule per Store View
Magento 2 Catalog Price Rule per Store View is a feature that allows you to set up different catalog price rules per store view so that customers on each store view will get particular promotions.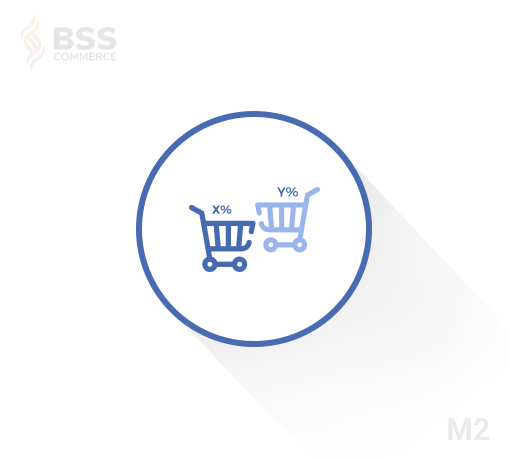 Magento 2 Shopping Cart Price Rule per Store View
By using Magento 2 Shopping Cart Price Rule per Store View extension, store owners might offer specific promotions to their local customers in order to persuade them to buy more and increase sales.
A common way of using Magento 2 website, store and store view
To maximize international sales, many Magento stores use multiple websites, then create a respective store and store view for each website (as shown in this structure).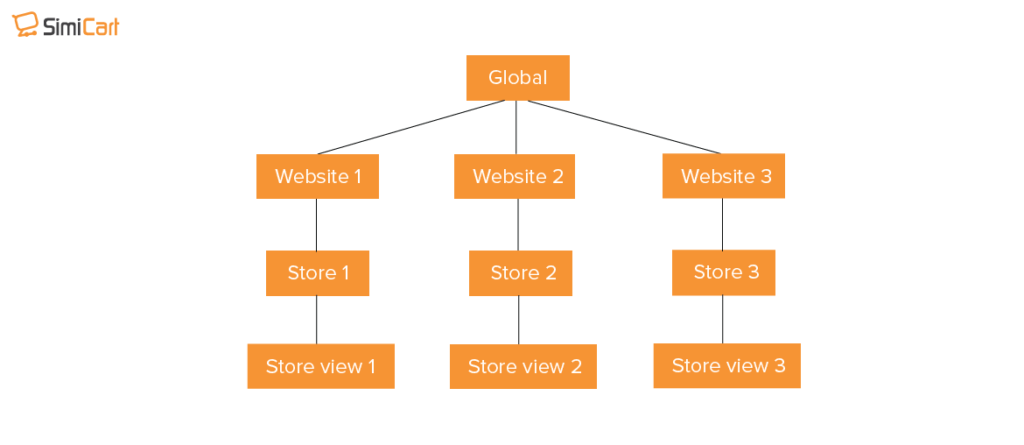 Thus, they can configure everything: from payment methods to catalog designs to currency settings, which results in a highly-localized website for each country.
Takeaway
Website, store, and store views allow merchants to create different versions of their eCommerce websites without having to use several administrative backends. This is one advantage of Magento compared with SaaS platforms like Shopify or BigCommerce.
TL;DR, here is the takeaway to help you get back to your configuration right away:
Website, store, and store view are connected in a parent-child relationship, with the website being the biggest scope while the store view is the smallest scope.
Any change in the parent will affect its child scope.
Multiple websites can have different prices, payment methods, shipping methods, tax classes, and base currencies
Multiple stores can have different products and categories
Multiple store views can have different languages, currencies, and themes.
>> Read more: How to set up multiple stores and domains in Magento 2