What is Magento 2 platform?
Magento is a platform for eCommerce business, written in PHP. Following the step of its ancestor Magento 1, Magento 2 is rich with extra outstanding features. Thus this version has seen significant success since published in 2015.
According to BuiltWith, 87,142 live websites are currently running on Magento 2.
More and more businesses are opting for Magento 2 to build their online stores. In case your website is still on Magento 1, or another eCommerce platform, and you're looking to migrate to Magento 2, here is our honest review of Magento 2. We will go into details regarding the platform's pricing, features, ease of use, performance, customization, security and support.
Magento 2 Review
Editions and Pricing
Magento 2 provides two editions – Open Source (formerly known as Community edition) and Commerce (was called Enterprise edition) to meet the diverse demands of businesses. The Magento Commerce Cloud is an all-in-one cloud solution optimized for Magento websites and packed with even more features than the Commerce edition.
You can download the Open Source and install it for free. However, there is still the cost of hosting, domain and other fees to be covered. With the Commerce edition, hosting is already included.
The Open Source edition is great for small-scale businesses and makes Magento competitive with other platforms like Shopify and Woocommerce.
For the pricing of Commerce and Commerce Cloud plans, you can see from the table below. The pricing for these editions is calculated depending on the business's average gross sales per year and would start from $22,000 per year. With the Commerce Cloud, enterprises can get their data backed up in the Cloud for better security.
Although the prices are high, businesses would still be willing to pay as long as they think it helps to accelerate their sales.
| | | |
| --- | --- | --- |
| Average revenue per year | Commerce | Commerce Cloud |
| < $1,000,000 | $22,000/year | $40,000/year |
| $1,000,000 – $5,000,000 | $32,000/year | $55,000/year |
| $5,000,000 – $10,000,000 | $49,000/year | $80,000/year |
| $10,000,000 – $25,000,000 | $75,000/year | $120,000/year |
| $25,000,000+ | $125,000/year | $190,000/year |
Additional costs
Whether it's the Open Source or Commerce edition, additional costs like hosting, domain, themes and extensions should be expected.
Here are other costs that a business needs to cover aside from Magento's licensing.
Hosting
$10-25 (shared hosting)
$2000-$4000 per month (dedicated & cloud hosting)
Developer
Agency: $25+/hour
Freelancer: $10+/hour
Inhouse team: $60,000 per year
Theme
$29-$499 (one time)
Extension
$0-$299+
Ease of use
Magento is an open-source platform, meaning an eCommerce store on Magento can be customized to your heart's content. On the other hand, to be able to design your dream store with Magento, it requires an intermediate or advanced level of web development. If you have little knowledge of coding and plan to set up a Magento store yourself, it can be an exhausting process. Businesses often hire a team of developers to build their store on Magento.
However, with Magento 2, there have been significant improvements to reduce the effort required for coding. For instance, Magento 2's Commerce edition offers the Page Builder tool, letting you design the page content with drags and drops.
The Admin board's interface is also more user-friendly and easy to navigate with a modern look. You can effectively manage products, customers, orders, CMS pages and create sale reports, and so on.

Features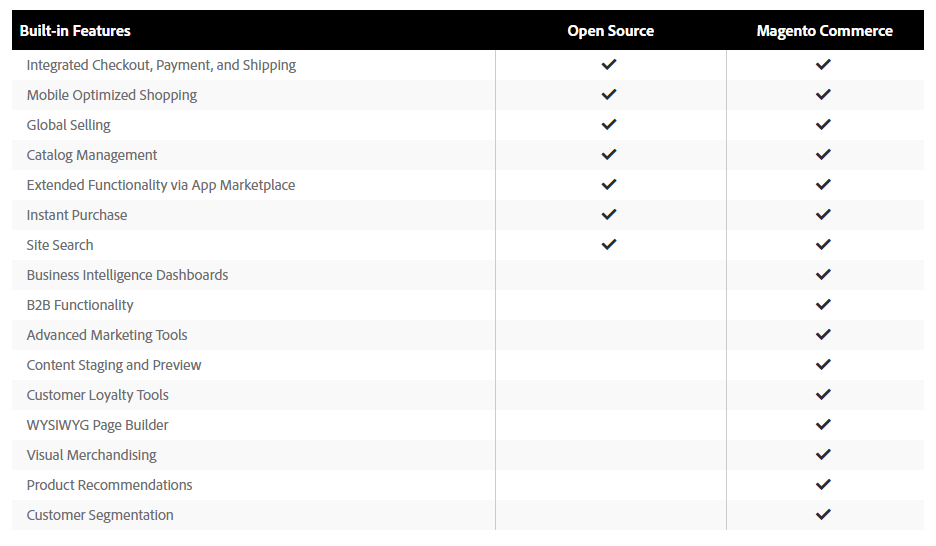 Magento 2 provides an all-around solution for businesses to expand, whether they are using the Open Source or Commerce edition. By having the essential features built-in, Magneto 2 reduces the workload of installing many extensions like you'd have to do with other platforms.
We will look at the key features that Magento 2 offers its users.
Inventory & catalog management
– Create and configure different types of products (virtual, downloadable, …)
– Automatedly assign products to specific categories based on their attribute sets
– Set rules for product sorting
Features in Magento 2 allow stores to reach out to customers and manage sales data more effectively:
– Automatically sync catalog changes
– Create Google Merchant Center and Google Ads accounts from Magento Admin
– Performance reports
Enterprises which sell in multiple countries the out-of-the-box features of Magento 2 extremely useful and takes the entire operation to a new level:
– Manage multiple stores with one account
– Sell in multiple currencies
Magento 2 is built with more advanced analytics features for more detailed reports:
– Automated and regularly updated reports
– Execute advanced analyses with the report builder
– Google Analytics can be integrated
Magento 2 also improves its marketing tools to ensure so that stores be just as competitive with businesses on other platforms:
– SEO tools: URL rewrite, sitemap, search terms, …
– Email marketing
– Newsletter
Checkout and payment are designed to seamless and secure at the same time:
– Support one-page checkout, guest checkout
– Show tax and shipping estimates in the shopping cart
– PayPal and Authorize.net integration
– Add custom payment to checkout
Magento 2 has options to make shipping and tax calculation easier than ever:
– Offer free shipping and different types of discount
– Support fixed product taxes
– Integration with global shipping carriers
Magento knows that mobile commerce is the trend, and they wouldn't be left behind. Magento 2 offers outstanding website performance on multiple devices, mobile included.
– Mobile-friendly checkout
– Responsive theme
– PWA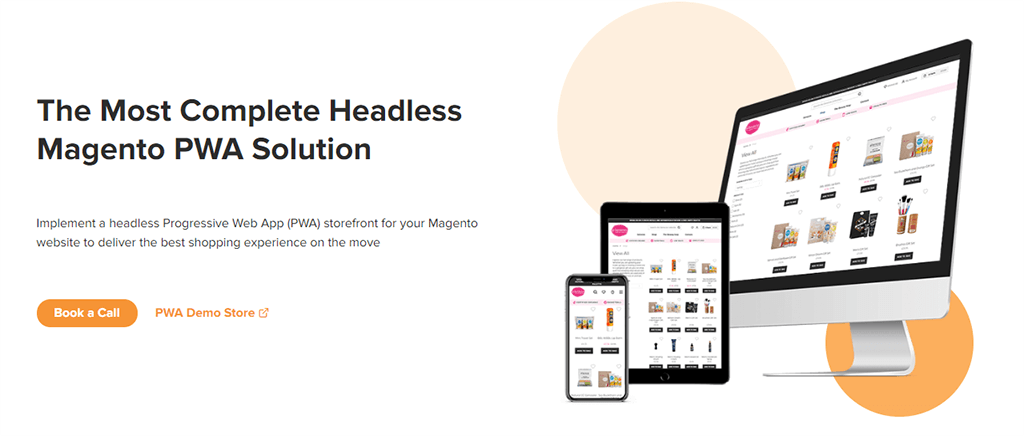 Magento Commerce edition comes with more out-of-the-box features like B2B functionality, PCI compliant, loyalty tools, visual merchandising, … that put its performance on another level compared to other eCommerce platforms.
Performance
Many surveys indicate that even a 1-second delay can lead to a 7% decrease in the conversion rate. Speed is one of the key players which decide whether a customer's experience is a positive and negative one, and Magento 2 sure has their eyes on minimizing delays.
Magento 2 shows an excellent performance in terms of page load time and query processing time. It's 20% faster than Magento 1's load time.
Magento 2 supports new technology like PWA to ensure that their websites have the highest speed, responsive design and can even work offline. These features give businesses great advantages in providing a seamless customer experience.
Scalability is also a strong point of Magento 2. The platform is designed to serve businesses of all sizes, so scalability is an aspect they need to nail. Websites on Magento 2 can handle sudden spikes of traffic and a large number of orders smoothly. Its features also allow the management of multiple stores, which is extremely useful for global brands.
Theme & Customization
Magento platform provides a lot of space for customization as an open-source platform. You can customize anything with Magento 2, from the store theme to some modules in the backend.
Magento 2's default themes are Luma (demonstration theme) and Blank (for custom theme creation). With Luma, users can already see how Magento 2 can offer a neat and eye-catching storefront. For more themes, you can look them up on Magento Marketplace and ThemeForest. The theme's elements can be customized to show how the business wants their online store to look like before processing the installing step.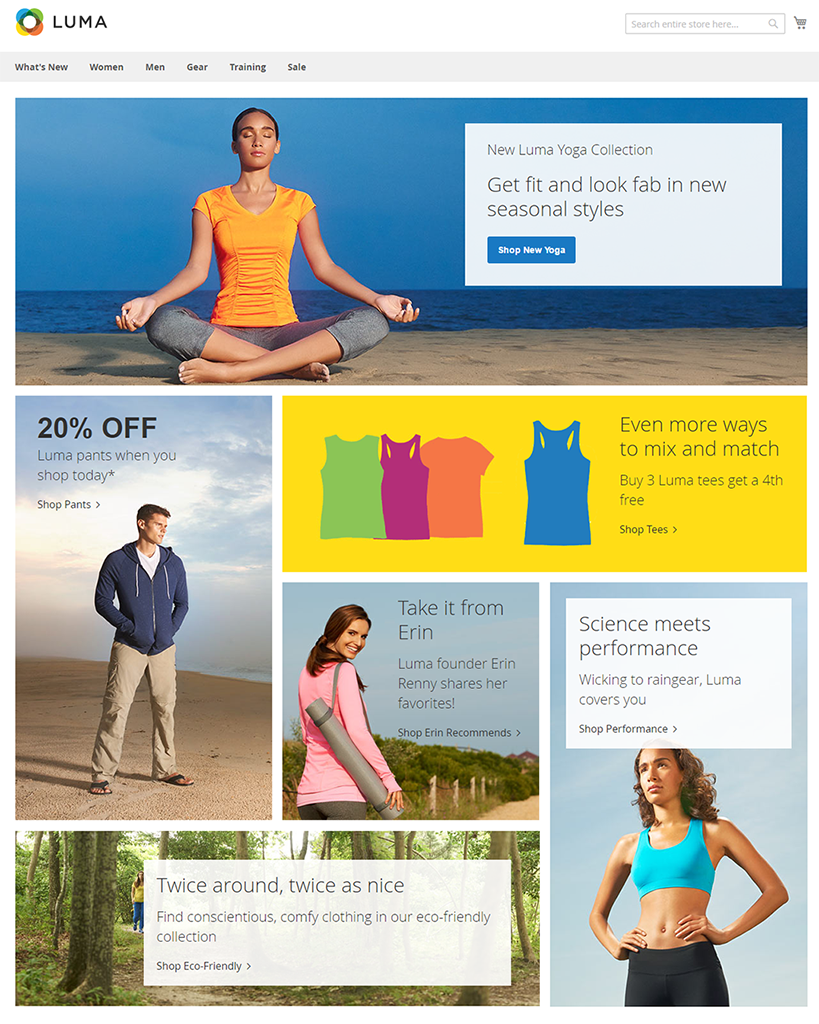 The installation step requires coding experience with PHP and some languages like CSS and JavaScript so that the theme can be installed and customized to maximize its potential.
With Magento Commerce, the customization is made easier with the Page Builder tool. Elements can be allocated with this drag-and-drop feature.
As mentioned, Magento's degree of customizability goes beyond theme and page content. Businesses can set different languages, create product catalogs with detailed item descriptions, add configurable images and features, etc. These are not something any eCommerce platform can offer.
Security
Magento targets main customers which are medium and large enterprises, and for them, security is their top concern. Magento 2 is built to implement the highest level of security to protect websites from attacks. Updates and patches are released regularly to ensure the platform's security standard.
Note that while Magento Commerce websites are PCI compliant, this is not the case with the Open Source edition. It'd be up to you to ensure that your website is PCI compliant and has an SSL certificate.
Some safety methods provided by Magento 2 include:
– Advanced Encryption Standard
– Two-factor authentication
– Google reCAPTCHA
– PCI compliant (for Commerce edition)
– Signifyd automated fraud detection tools
– Magento Security Scan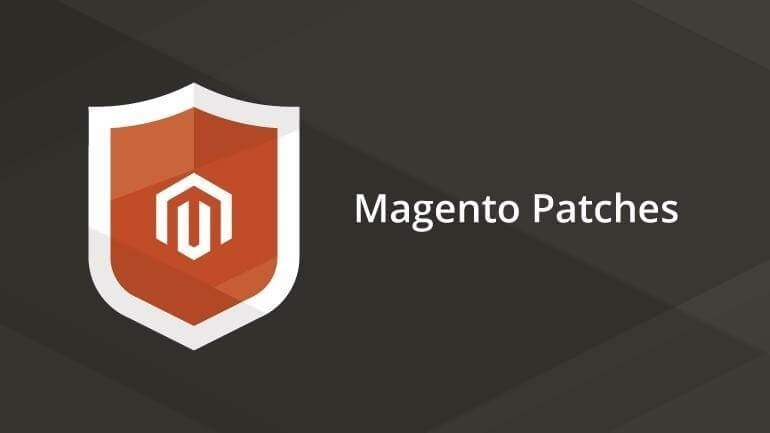 For businesses using the Commerce edition, they can access the Security Center. However, this will set you back somewhere between $1000-$5000.
Support
Those on Magento Open Source would need to solve the problem on their own as there is no live chat, phone, or email support. Technical support is available if you are using the Commerce Commerce Cloud edition.
The common case is that you can try accessing Magento's guide and knowledge base to read tutorials from Magento-certified partners, asking help from the community forum, or hiring a developer to fix the issue for you.
Extensions
With the introduction of Magento 2, comes the publishment of updated extensions to be more compatible with the new Magento. Most of the current extensions on Marketplace now support Magento 2.X version.
There are about 5000 extensions and plug-ins for Magento. They can come in free or paid plans. You can find a large number of free and useful extensions for your store.
Wrap Up
In brief, Magento 2 is a powerful eCommerce platform. It is built to meet the demands of businesses of all sizes. And its rich and out-of-the-box features continue to make Magento one of the most favorable and reliable in the market.
Of course, the drawbacks are that Magento isn't an easy platform to work with as it involves web development knowledge, and charges big numbers for the Commerce edition. In case you still have your eyes on Magento, the Open Source edition is an excellent choice with essential features included and requires less investment.
If you need help to build your website on Magento, don't hesitate to contact us. SimiCart is the first solution for Magento to be listed by Google as a qualified agency to build optimized and mobile-friendly PWA storefronts. Your online store will be in good hands with us!
---
Is it helpful?
Let us know if you liked the post. That's the only way we can improve.