During the Digital Technology era 4.0, it has become very common to visit websites to find information, and surely at least once we have come across popups. With the benefits of attracting potential customer clicks, popups are becoming a marketing trend for any platform.
Especially, advanced capabilities in the Magento 2 popup plugin make creating a popup easier. It may be altered so that it looks well on your website. It requires no IT expertise to set up or change it because it is simple to use.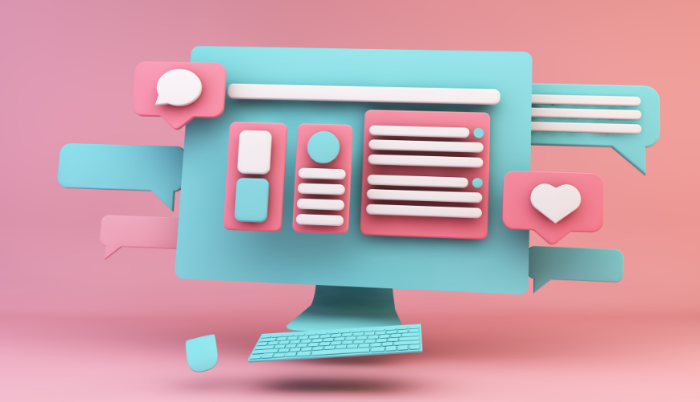 What is Magento 2 Popup?
Popup is a small ad dialog box of various sizes that automatically pops up when a user opens a browser or visits a website. Content is usually advertising news, announcing an upcoming event or offer, or providing some useful information about a company's outstanding products or services.
Popup has a long history of being associated with disturbing and distracting Internet users. If anything continues interrupting their online experience and making them have to pay attention to its look or even content, no one will feel comfortable. Thus, Magento 2 Popup creates solutions to deal with these issues
It's likely that your website will be abandoned once the clients determine that the Magento 2 popup is unpleasant and bothersome in this day where everything can be done online with only a few clicks.
The fact that popups display rampant and out of control is often annoying for users. But you may accomplish amazing results if you, as a savvy Magento store owner, know how to employ popups in a controlled and strategic manner.
Using popup extensions for Magento 2 in a way that does not bother and interrupt clients is what is meant by being moderate and sensible. For instance, the Magento platform's pop-up windows may be utilized to block users, show promotions, highlight marketing messages, or even gather user email addresses.
Benefits of Magento 2 Popup 
Why are popups used in marketing plans so frequently? During the execution of the marketing strategy, in addition to the well-known information channels, pop-ups are tools that connect with customers effectively.
Let's find out more important benefits of Magento 2 Popup.
Draw customers' attention
Magento 2 Popup highlights fresh information by using an appealing design. Besides offering one-time offers that are then turned off, Magento 2 Popup attracts customers with a second popup and presents a secondary offer. 
Support branding strategy
One of the other benefits of Magento 2 Popup is that it helps you assert your brand by attracting special attention to your company's featured products and supporting several branding events. In addition, they help build a familiar, friendly identity for customers.
Increase user's engagement
With diverse popup features such as subscription popups, Yes/No forms, contact forms, social sharing forms, etc., Magento 2 Popup encourages customers to interact on the webpage. Similarly, it improves the popup with trigger marketing actions such as message sending and downloads. 
Expand customers and prospect list
In addition to attracting customers' attention, Magento 2 popups also help you to conduct customer information surveys. The collected data helps your business to better understand customer insights, thereby offering development plans and expanding the "potential customer circle".
Improve conversion rate
Last but not least, Magento 2 popups help promote your conversion rate. With an easier understanding of customer insights through the Magento 2 popups, you can expand to upgrade products and services, in addition to adding incentives for customers at the right time. Reaching more customers also increases the number of successful contracts being signed. 
Top Magento 2 Popup Extensions
One of the ways to create the most professional Magento 2 popups is to find a suitable extension. 
Magento 2 Popup not only helps you raise conversions, but also encourages consumers to place larger orders when the appropriate extension is loaded.
So where can you locate the top Magento 2 Popup Extensions? We've hand-picked the top extensions available in a market flooded with muddled, artificial choices.
If you are having trouble choosing a reputable provider to cooperate with, please refer to our list below.
As a reputable supplier with 10 years of operation, BSS Commerce has a lot of Magento 2 extensions. With the conversion benefit of popups, Magento 2 Popup is one of the most preferred extensions of BSS.
With diversity popup features, you can customize according to your choice with BSS's extension. If you are looking for a suitable Magento 2 popup extension, don't miss this product.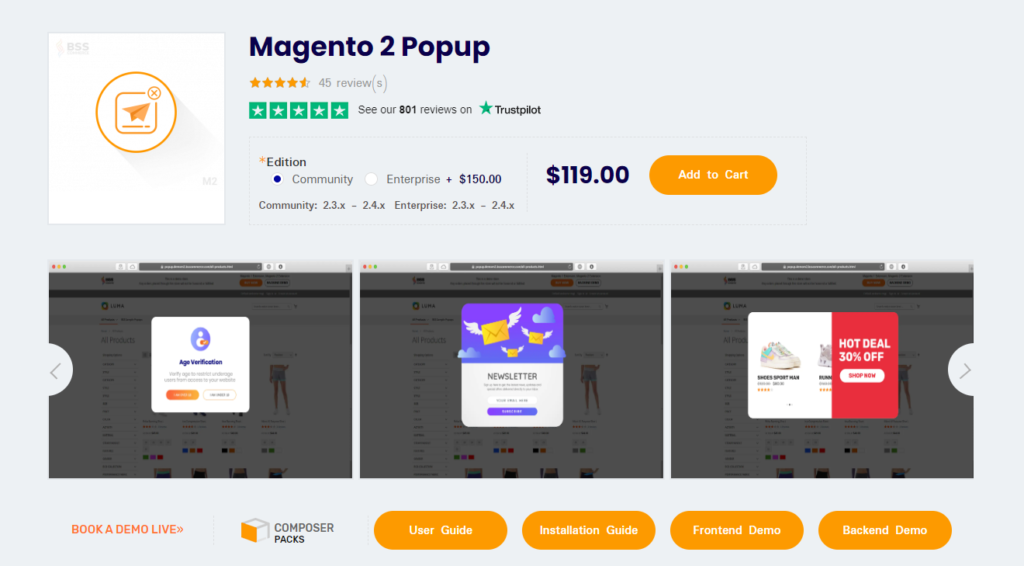 Highlight features:
Create different types of popup
Set up display rules and pages
Target popup to customer groups and store views.
Visible on pages up to 6 positions
Offer 6 fascinating animations for pop-up
Config valid date, cookie expires, timer for popup modal display
Responsive on all devices
Free REST & GraphQL API support 
Support Magento 2 exit intent popup
5 hottest Popup templates ready to load and further customize
Price: $119
Compatibility: 2.3.x – 2.4.x
Customer support: 
One – time payment
Free 1 Year Support
Free Lifetime Update
Free Installation
30 – Day Money Back
With the slogan: "Build Your Powerful Marketplace For Any Business Industry", Magenest specializes in providing extensive products with a diverse customer base in many fields.
Therefore, this company's Magento 2 Popup Extension will flexibly fit into whatever industry your business is doing.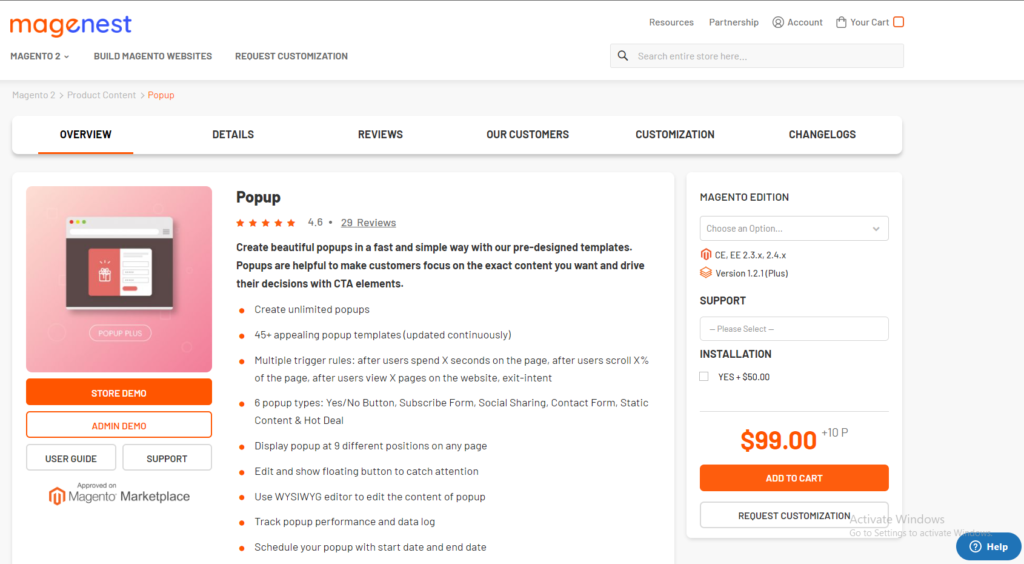 Highlight features:
Create unlimited popups
45+ appealing popup templates (updated continuously)
Multiple trigger rules: after users spend X seconds on the page, after users scroll X% of the page after users view X pages on the website, exit-intent
6 popup types: Yes/No Button, Subscribe Form, Social Sharing, Contact Form, Static Content & Hot Deal
Display popup at 9 different positions on any page
Edit and show floating button to catch attention
Use WYSIWYG editor to edit the content of popup
Track popup performance and data log
Schedule your popup with start date and end date
Responsive on mobiles
Compatible with Alothemes
Price: $99
Compatibility: 2.3.x – 2.4.x
Customer support: 
Free lifetime software updates
30-day money-back guarantee
Verified by Magento Marketplace
One-time payment without hidden cost
By calculating time and predicting customer habits, Magento 2 Exit Intent Pop-ups appear at appropriate times, keeping customers on your site longer.
With the experience of providing many Magento 2 Extensions before, Mageplaza is a reputable supplier trusted by many customers.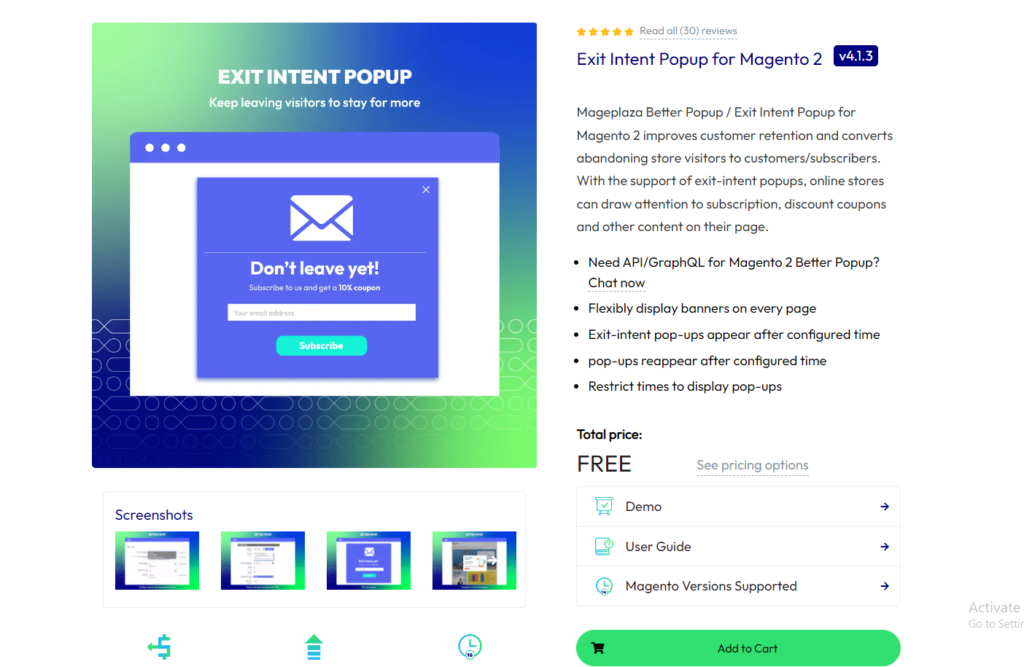 Highlight features:
Boost email list with subscription box popup
Exit Intent Popup
Highly customizable popups
Premade popup templates
Exit-intent Popup, Spin to Win
API/GraphQL for Magento 2 Better Popup
Flexibly display banners on every page
Exit-intent pop-ups appear after configured time
pop-ups reappear after configured time
Restrict times to display pop-ups
Price: Free
Compatibility: 2.2.x, 2.3.x, 2.4.x
Customer support: 
60-day Money Back
Extensive Support Timeframe
Install via Composer
Frequent Updates
As a supplier who is always ahead of the trend, not afraid to change to bring the best products, Aheadworks is one of the suppliers with many years of experience in the industry.
Popup Pro for Magento 2 will provide you with the best quality popups and professional data analysis capabilities.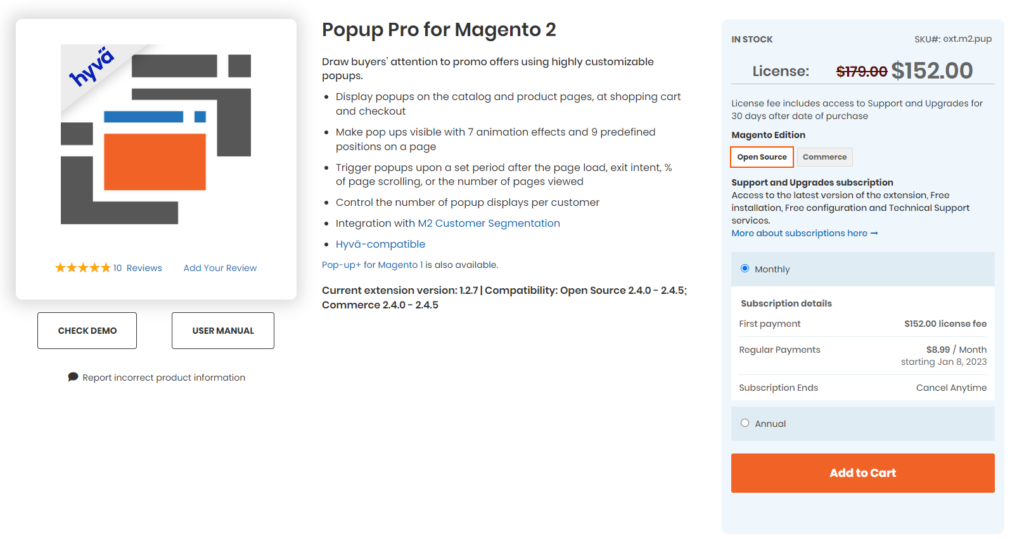 Highlight features:
Display popups on the catalog and product pages, at shopping cart and checkout
Make pop ups visible with 7 animation effects and 9 predefined positions on a page
Trigger popups upon a set period after the page load, exit intent, % of page scrolling, or the number of pages viewed
Control the number of popup displays per customer
Integration with M2 Customer Segmentation
Hyvä-compatible
Price: $152
Compatibility: 2.4.x
Customer support: 
30-day Money Back
Free Installation
30-day Free Support
Lifetime right to use
Despite being a relatively new service provider, Mage Array has already been successful in gaining clients' trust and business through a number of projects.
Mage Array Magento 2 Popup extension will give your website adaptable popups with a fantastic user interface that grabs visitors' attention.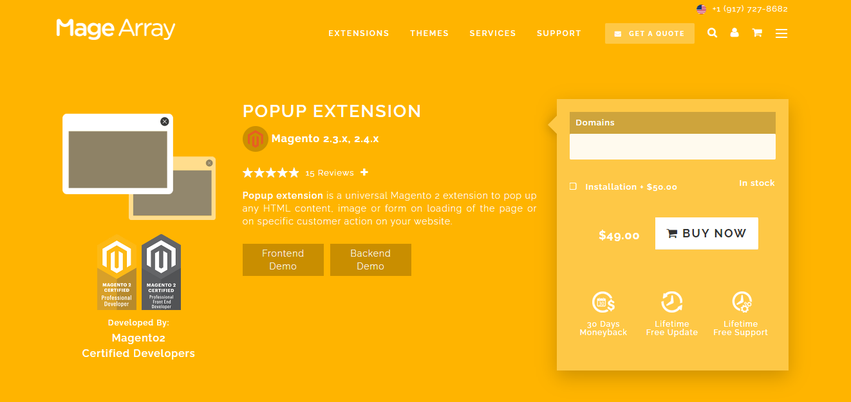 Highlight features:
Set Any content, Anywhere, Anytime.
Image Link : you can set redirection link for the image so, through popup directly redirect on another page. 
Popup Size : You can specify Height and Width of Popup. 
You can configure effect for Show Popup and Close Popup. 
Fully Configurable. 
Background Opacity : You Can specify background opacity through admin side setting. 
You can set own time for a cookie. 
The popup is responsive, width is auto adjustable fit to screen for mobile, tablet. 
Start Date and End Date. 
Price: $49
Compatibility: 2.3.x, 2.4.x
Customer support:
30 Days Moneyback
Lifetime Free Update
Lifetime Free Support
The product from Land of Coder is among the popup extensions you should think about for your website.
With the constant exploration and release of new features, Popup extension for Magento 2 will surely meet all your requirements for the most effective popup.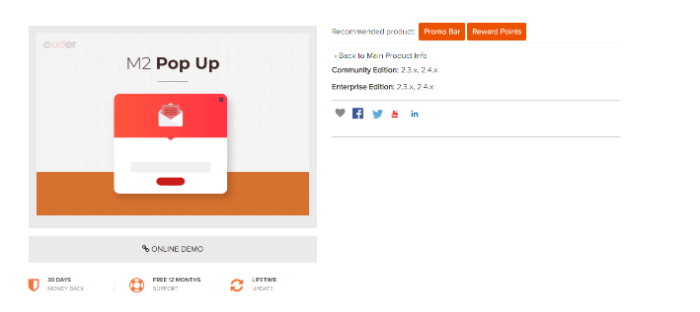 Highlight features:
Receive constant new templates update with every future release
Assist Magento store owners in keeping track with data log and pop up performance
Comprising multiple pop up-triggering rules for managing moderately-used and well-controlled pop-up
Support Yes/No verification under the form of pop up
Support Contact form under the form of pop up
Restrict popup display from customer groups
Send dynamic coupon codes to subscribers via emails
Support popup social sharing
Support popup for a subscription form
Support static content under the form of pop up
Support lifetime custom cookie for the popups being used
Highly responsive with all devices being used FEATURED
Magento 2 Pop Up Extension is available for both B2C & B2B Business
Price: $59
Compatibility: 2.3.x, 2.4.x
Customer support:
30 Days Moneyback
Lifetime Update
Free 12 Months Support
The Magento 2 Popup Widget Extension is the ideal option if you don't have a lot of money to spend on extensions but still want to make effective popups.
Mageworx's product offers all the tools you need to make popups quickly, with support for all popup types and a ton of pre-built templates.
Highlight features:
Support of all popup types
Widgets for popups with dynamic content
69 ready-to-use popup templates
Highly customizable popup windows
Advanced popup timer and triggers
Behavioral customer targeting
Cart display conditions
Email subscription widget and integration with 12 popular email services
Advanced popup usage analytics
Price: Free
Compatibility: 2.0.x, 2.1.x, 2.2.x
Customer support:
60 Days Moneyback
100% Unencrypted
Customer-first
Since it was established in 2008, Plumrocket has been in a unique position to provide unparalleled customer support. You can have complete faith in the extension that this provider offers.
With an approach that has never been outdated, the Magento 2 Newsletter Popup Extension boosts your business by increasing email subscriptions and engaging new customers by offering special deals and promotions.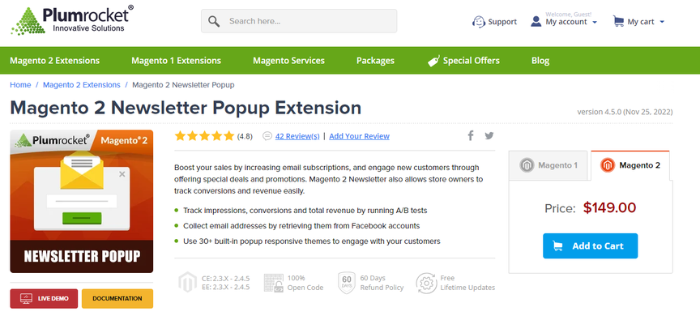 Highlight features:
30+ Built-In Newsletter Popup Responsive Themes
Facebook Email Address Collection
Offer Discount Coupon Codes for each new Subscription
Track Impressions, Conversions and Total Revenue
Sophisticated Display Settings, Restrictions, Animations, Triggers and more
Seamless Integration with CRM & Email Marketing Platforms
Full History of User Interactions
Collect only Legitimate Email Addresses
Drive Sales by Showing Instant Discount in Popup
Use Newsletter Subscription Widgets to Collect Emails
Compatible with Custom & Third party Magento 2 themes
Price: $149
Compatibility: 2.3.x, 2.4.5
Customer support:
100% Open Code
60 Days Refund Policy
Lifetime Free Update
CynoInfotech is a web development company that has expanded over the years thanks to clients who outsource their work. Trusted by previous offerings, this provider is increasingly evolving their service with innovative features.
Easy Newsletter popup Magento 2 extension to make a lightbox popup that enables you to advertise new products, limited-time deals, or show videos to your customers, the Magento 2 extension is highly recommended.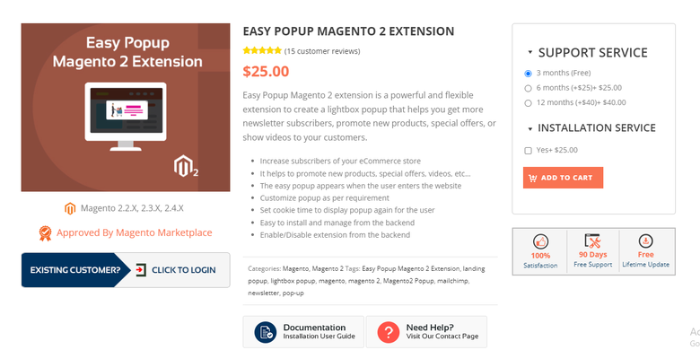 Highlight features:
Increase subscribers of your eCommerce store
It helps to promote new products, special offers, videos, etc…
The easy popup appears when the user enters the website
Customize popup as per requirement
Set cookie time to display popup again for the user
Easy to install and manage from the backend
Enable/Disable extension from the backend
Price: $25
Compatibility: 2.3.x, 2.4.x
Customer support:
100% Satisfaction
90 Days Free Support
Free Lifetime Update
Amasty is one of the leaders in the Magento development market with more than 12 years of operation, accumulated insights, and many successful projects. This vendor's pop-up extension product certainly won't let you down.
With the criterion of not letting any customers be abandoned, Exit Intent Popup provides a solution to display popups at the right times, keeping customers on the site longer.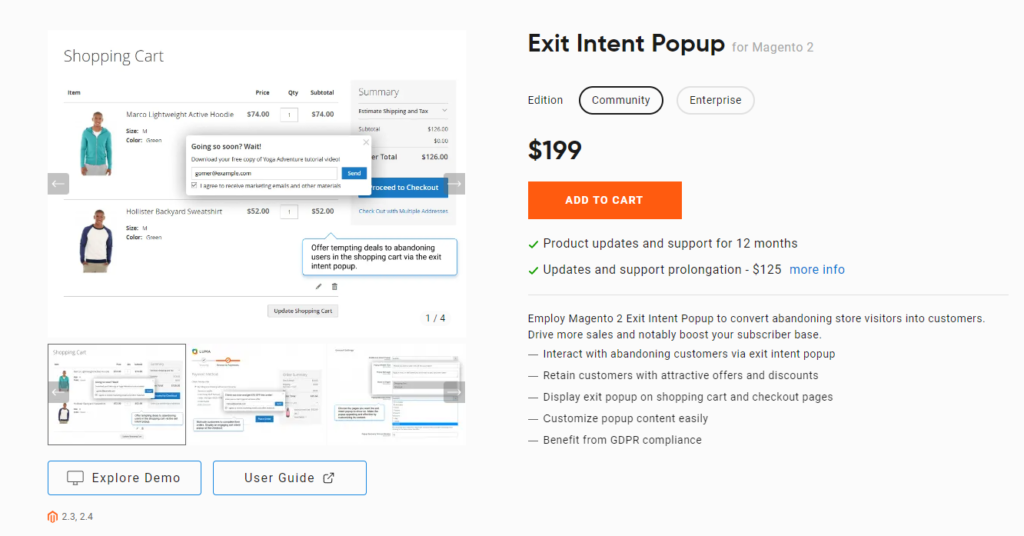 Highlight features:
Interact with abandoning customers via exit intent popup
Retain customers with attractive offers and discounts
Display exit popup on shopping cart and checkout pages
Сustomize popup content easily
Benefit from GDPR compliance
Price: $199
Compatibility: 2.3.x, 2.4.x
Customer support:
Product updates and support for 12 months
Updates and support prolongation – $125
Although only expanding Magento's horizons since 2017, Meetanshi has quickly mastered this market and gained recognition.
Magento 2 Popup is an extension of a highly-rated company with various types of popups. The features of this extension make it possible to work flexibly to meet all customer requirements.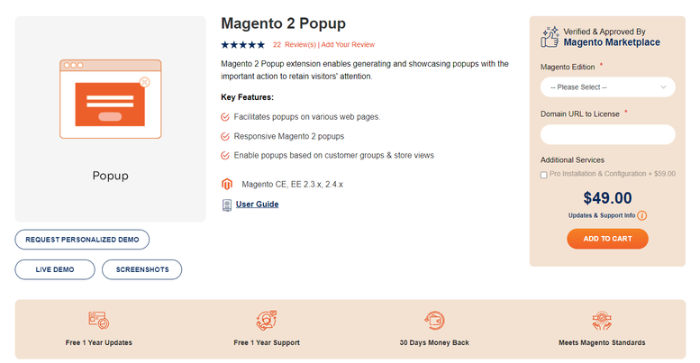 Highlight features:
Facilitates popups on various web pages.
Responsive Magento 2 popups
Enable popups based on customer groups & store views
Price: $49
Compatibility: 2.3.x, 2.4.x
Customer support:
Free 1 Year Updates
Free 1 Year Support
30 Days Money Back
Meets Magento Standards
With a mission to build powerful and easy solutions for customers, Welt Pixel provides friendly extensions. If you do not know where to start, the popup extension solution that this provider offers will be the optimal choice for your website.
In addition, Newsletter Popup Extension also provides the ability to customize your own popup design, suitable for each company's campaign.

Highlight features:
Page level display – option to display popup only on homepage or on all other pages.
Well Timed Display – Using time delay triggers will increase newsletter engagement rate.
Display after a specific number of visited pages – allow user to engage with your website before asking for a subscription will increase the subscription rate.
Show only on Desktop or both Desktop and Mobile.
Popup Lifetime – dont's hassle your customers. Popup will not be opened again until the Popup Lifetime period expires.
Select action that disables newsletter popup – From close button vs. Close button or click outside popup window.
GDPR Compliant with native Magento cookie accept – if not accepted the newsletter will not show up.
Price: Free
Compatibility: 2.3.x, 2.4.x
Customer support:
30 Days Money Back Guarantee
Free Lifetime Updates
As a part of Rock Technolabs, MageAnts specializes in Magento extensions. They are interested in professionalism, thoughtfulness, and dedication to each customer.
Through the use of email marketing, the Newsletter Popup for Magento 2 extension assists store owners in increasing lead generation, increasing brand awareness, driving sales, and updating their customer group. By allowing website visitors to sign up for your store's newsletter with this newsletter subscription service, store owners can increase sales by attracting more email subscribers.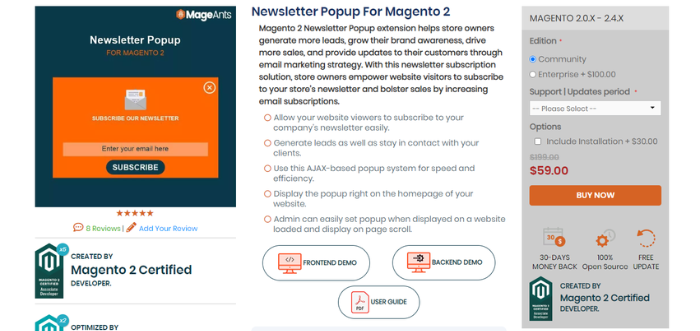 Highlight features:
Allow your website viewers to subscribe to your company's newsletter easily.
Generate leads as well as stay in contact with your clients.
Use this AJAX-based popup system for speed and efficiency.
Display the popup right on the homepage of your website.
Admin can easily set popup when displayed on a website loaded and display on page scroll.
Price: $59
Compatibility: 2.0.x – 2.4.x
Customer support:
30-days money back
100% Open Source
Free Update
Solwin is well-known for being fully responsive to any projects they help customers with. Thus, you can completely trust the services this company provides to customers.
The Advanced Newsletter Popup Magento 2 extension allows store owners to display newsletter popups on the store when customers visit the site with a custom field and custom message.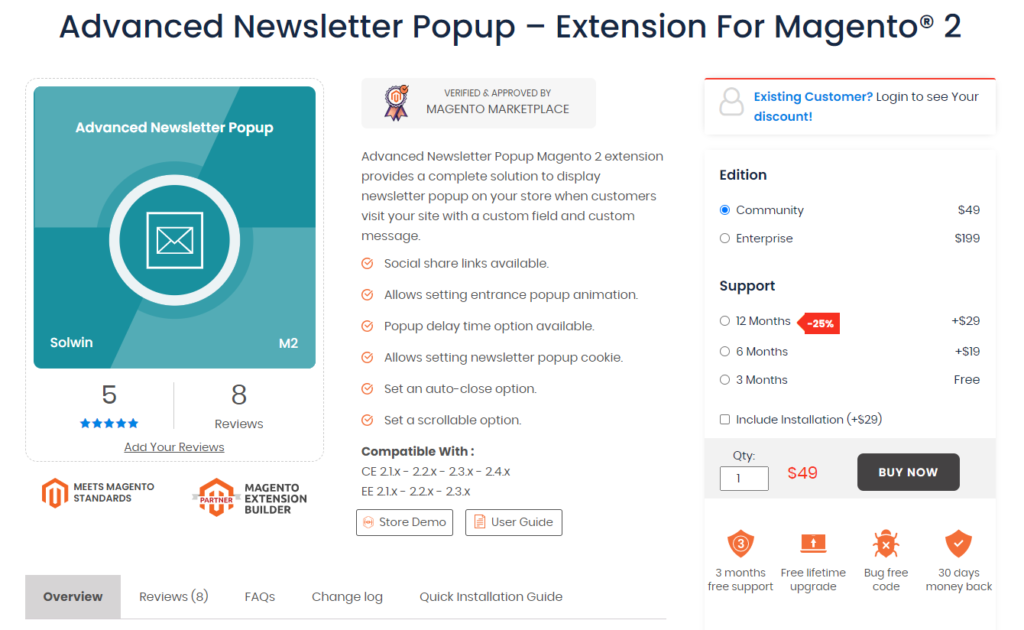 Highlight features:
Social share links available.
Allows setting entrance popup animation.
Popup delay time option available.
Allows setting newsletter popup cookie.
Set an auto-close option.
Set a scrollable option.
Price: $49
Compatibility: 2.1.x – 2.4.x
Customer support:
3 Months Free Support
Free Lifetime Updates
Bug Free Code
30 Days Money Back
Having just entered the Magento development market, Magezon has already won the appreciation and trust of customers. With the goal of providing easy-to-use technology products, you can choose this company's extension for easy installation.
Popup Buider for Magento 2 is an easy-to-use yet powerful tool to create amazing and highly-targeted popups for your websites. You'll be impressed by how flexible it is to control the popups' look & feel as well as where and when to display them. This way, right content can reach the right customers at the right time, thus increasing conversion rates.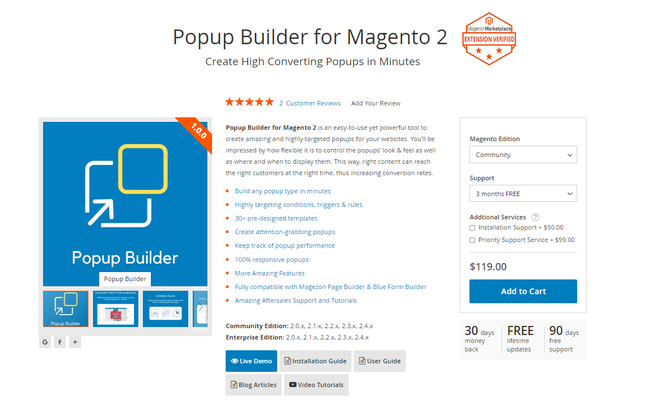 Highlight features:
Build any popup type in minutes
Highly targeting conditions, triggers & rules
30+ pre-designed templates
Create attention-grabbing popups
Keep track of popup performance
100% responsive popups
More Amazing Features
Fully compatible with ​Magezon Page Builder​ & ​Blue Form Builder​
Amazing Aftersales Support and Tutorials
Price: $119
Compatibility: 2.0.x – 2.4.x
Customer support:
90 Days Free Support
Free Lifetime Updates
30 Days Money Back
Conclusion 
We hope you have a good idea of how to choose a suitable Magento 2 Popup Extension.
Besides Magento 2 Popup, to promote your Magento website, you can also consider other articles like How to Create Promotions in Magento 2.
Thanks for reading!