CMS page builder provides complete control over your Magento site, as you no longer need to rely on tech experts to modify different details of your store facade. Moreover, you will have the ability to build the exact store you envision, something that mainstream themes can not meet. This article will explore the best updated Magento 2 page builders that are suitable for different budgets and various Magento store types. As a result, you can find your ideal solution to launch and update eye-catching storefronts fast and easy-breezily. 
Magento's native page builder reviews
Magento has long been known to be a code-friendly platform, yet with the new page builder tool introduced, non-tech-savvy users now have power over their store designs more than ever. In fact, the page builder is not new, but it was exclusive for Magento Commerce before becoming available for the open-source version in late 2021. 
However, how well does the tool perform compared to the already-existed page builder plugins for Magento? Is it powerful enough to build your ideal website? Let's find out now. 

User-friendliness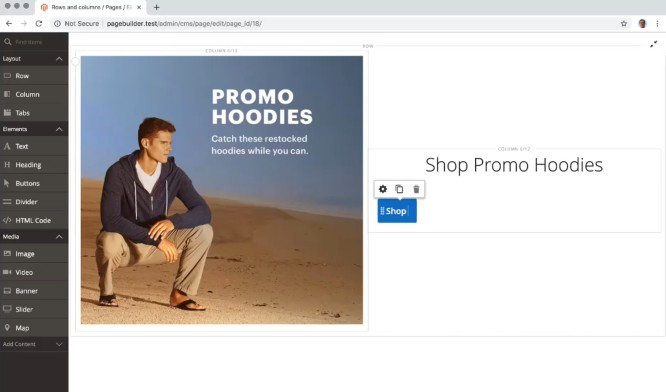 Drag and drop
Live preview
The Magento page builder tool is committed to delivering a code-free experience for all store admins. You can easily drag and drop all elements from the panels, change text in-line, elements' size and make plenty of adjustments intuitively. 
The user interface is easy to navigate, not to mention that video guides and comprehensive documentation are available to help you get familiar with the tool. 
Building functionality
Add row, column, tab for layouts; add text, heading and buttons for elements; add image, video, slider, banner, map for different media types.
Advanced customization features for moving, hiding, duplicating, setting border and alignment, etc
Add basic HTML code
Parallax scrolling effects
Mobile-responsive
Block 
Product listing in grid or carousel layouts
Edit PWA studio content
Dynamic block (Magento Commerce only)
Product recommendation (Magento Commerce only)
Magento 2 page builder comes with a robust set of content types, from which you can create endless looks for your eCommerce website. It's also equipped with the HTML code feature. This allows you to add snippets of HTML, CSS, and JavaScript to embed logo, font, button or banner from a third-party provider. 
Moreover, the block function lets users add pre-made blocks to a new layout and change some advanced settings. This function is especially handy if you need to build lots of pages. 
Other useful feature
Now it's effortless to create a page in advance and schedule for its launching using the Magento 2 Page Builder's content publishing tool. This flexibility grants store owners better time management and no-hassle content management, especially during promotional events. 
Pros
Free
Content publishing tool
Robust with the great customizing capability
Easy to use
Helpful documents and video guidelines
Cons
No pre-made themes
A limited number of elements
Only available for Magento Community 2.4.3 onward 
Some functions are restricted to the Commerce version
With the new built-in page builder, members of the Magento Community do not essentially need to find an extension for a code-free website building experience anymore. 
However, chances are that you have already experienced the tool and faced some limitations. Otherwise, store admins of Magento 2.4.2 downward can not access the page builder, thus, are unable to edit their storefronts without codes. 
No matter who you are, here are the best Magento 2 page builder alternatives, which are either free or paid. 
Our pick for the best Magento 2 page builder alternative
Tapita is our proud side project, which is dedicated to bringing a truly easy-breezy page building experience for Magento & headless PWA storefronts. The tool's comprehensive functions let you drag-and-drop beautiful sites with no coding experience needed. It also enables custom CSS/Javascript codes for unlimited flexibility.
One more thing, Tapita uses API to pair with your store instead of connecting with it directly, so you can replace, change and remove the storefronts anytime you like without affecting your site's core layouts and structures
How is Tapita better than Magento 2 page builder?
40+ pre-built templates for instant site-building
Better customization with more elements and add more flexible custom CSS/JavaScript that can change any layouts and styles.
Device-specific styling so you can create a pixel-perfect look on any device. 
Switch between pages designs or remove storefronts easily without risks
Save designs into blocks and quickly reuse them later. (for Magento default Page Builder, this function is available for the Commerce version only)
Lazy-loading is automatically applied for fast speed.
Compatible with PWA Studio & ScandiPWA & Vue Storefront for headless frontends.
Free help and support to install
>> See full comparison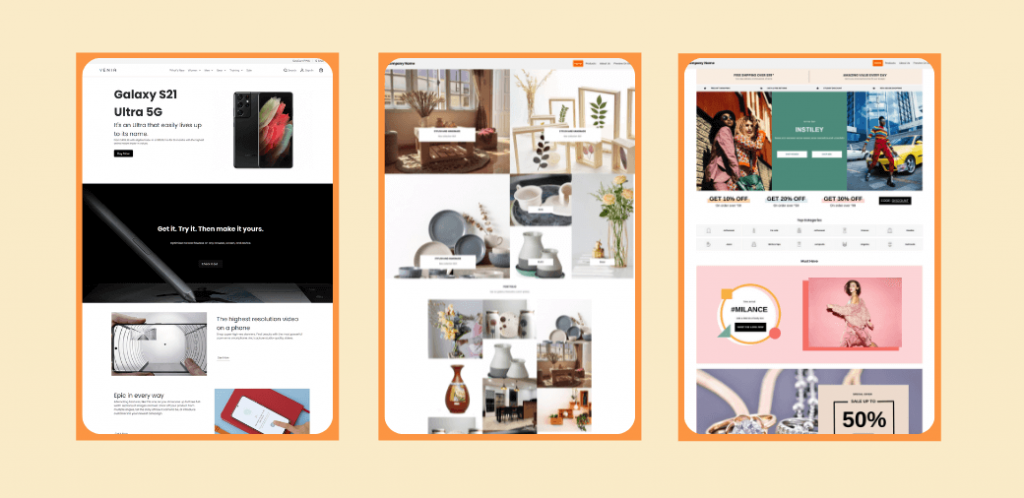 Pricing
FREE: no watermark, no elements restrictions, responsive
Standard: $29/mo
Premium: $49/mo
Interested in Headless PWA? Read more: 
Best free alternatives to Magento Page Builder

MageSuite is a pack of free and open-source modules for Magento 2 including a tool for page construction. The tool enables you to combine various components with some simple mouse clicks to create professional looks for homepages, category pages and product detail pages. 
How is MageSuite better than Magento 2 Page Builder? 
More elements such as hero carousel, daily deal teasers, etc
Custom HTML to configure your components
Work with existing CC components
Work with existing CMS pages
CMS page grouping: enable redirection to another CMS page in the same group when store views are switched, which is useful for multi-language stores
Add-on useful tools for marketing, administration, security, etc
Cons
Require a little tech know-how
Themes are not available
Unable to create other pages besides homepage, category page and product page
Download: GitHub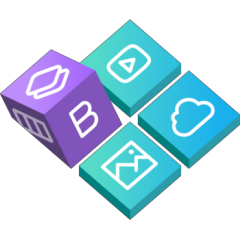 Bootstrap, a free platform to create stunning CSS themes for a wide variety of CMS platforms from Joomla, Drupal to Magento, is familiar with all coders. N1ED extension lets you use Bootstrap editor to build your beautiful Magento site with a great font icon library and an image editor. 
Given its attractive free plan for building a whole website without any restrictions, N1ED is a worth-considering choice for effortless storefront-making.
How is N1ED better than Magento 2 Page Builder?
Fonts Awesome icons and font visual customization
Bootstrap editor
Image editor for cropping, resizing, adding text to create banners
Drawbacks
Confusing pricing
No pre-built templates
Lacks elements for some advanced functions such as product labels
Pricing
Free
SaaS: $5/mo
Studio: $7.5/mo
Premium: $14.9/mo
Best paid alternatives for a stunning and powerful Magento storefront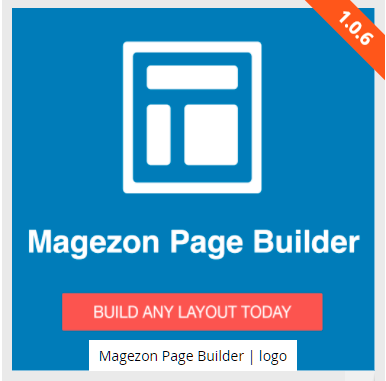 The page building tool by Magezon empowers you to drag and drop a fast and beautiful website with the help of templates, icon libraries and 50 elements. Moreover, MageZon runs a 30-money back program so you can confidently test if it meets your requirements. For coders, the plugin also gives endless possibilities to customize their site by adding CS and developer API. 
How is it better than Magento 2 page builder? 
Pre-designed templates
Many elements
Custom CSS, Cache support, developer API
Customize layouts for each device specifically
2 fonts icon library
Plugins integrations with coming soon page plugin, advanced page plugin, landing page extension and more. 
Drawbacks
Accordion issues: detailed information under the accordion tabs are hidden. This issue is pretty critical because visitors may miss your information in your product tabs.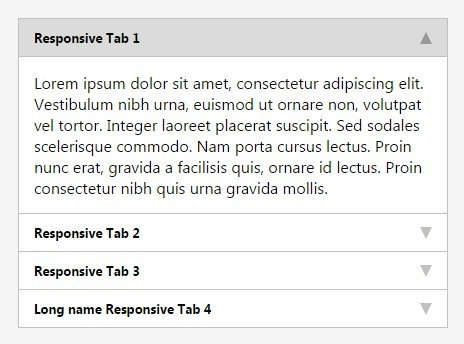 MageZon claims that their extension works well with major Magento themes, but poor compatibility has been reported.
Pricing: $149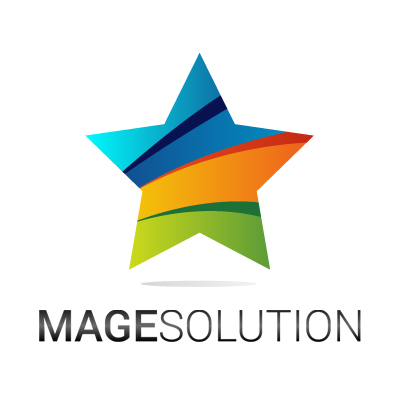 The CMS building tool by Amasty focuses on functionality as it provides tons of helpful and fascinating elements from basic to advanced ones. Besides, the solution can save store admins some time for page layouts management. Merchants can import any layouts to their stores and restore any old page versions. 
How is it better than Magento 2 page builder? 
More elements (30+)
Import/export pages, remove and restore any previous changes
Product description and category landing builders
Animation effects
Special product labels: deal products, new products, top-rate products, etc
Elements for infographics and presentations
Add profiles from social networks, display the latest social posts on the site
Drawbacks
Lacks code-level customization 
No pre-built templates
Extra cost for long-term supports
Pricing
FREE
Premium for Magento Community: $129
Premium for Magento Commerce: $499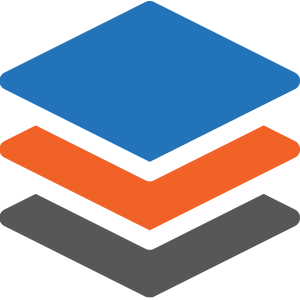 Buildify is a comprehensive page building tool for Magento 2 that lifts you out of the heavyweight of coding. It comes with an impressive list of over 70+ templates and a wide range of widgets to build everything intuitively and flexibly. Also, the widget template function is convenient if you need to build lots of page layouts. You only need to make the templates once and apply them to multiple layouts. 
How is Buildify better than Magento 2 Page Builder?
40+ Pre-built templates
Social media widgets
70 theme widgets
Custom HTML/CSS/JS supported
Search widgets easily with finder
Drawbacks
No content publishing tool compared with Magento 2's native builder
Pricing
$39/monthly or $390/yearly

DragDropr is a sound alternative for better control over responsive designs. The drag-and-drop tool lets you design specific styles for each mobile, desktop and tablet interface. Furthermore, the fully-edited pre-made content blocks open a variety of customization possibilities. 
How is Dragdropr better than Magento 2 Page Builder?
200 pre-designed content blocks
SEO-friendly
Responsivity control: hide or show certain photos on specific screens. Adjust template for each device specifically
Drawbacks 
Customization capability is limited compared to other page building tool
A limited number of templates
Pricing
$19/ month
$118/ month
$198/ month
Conclusion
We hope that our article helps you quickly spot out the Magento 2 Page Builder you are looking for. 
While some of them are instant purchases, the others are free or offer free plans/ free trials. For example, Tapita enables you to build a responsive homepage and a regular page with all elements for free so you can experience how easy it can be. If you are still unsure, take your chance to try as many tools as you can. 
Need style inspiration and more resources to build a gorgeous storefront? Check our best eCommerce website template, tips and resources.