Checkout is the final step of the buying process, which is really important, particularly in Magento and in e-commerce in general. However, there is a high rate of shoppers abandoning their carts and leaving the checkout page. According to recent reports, one of the main reasons leading to this problem is the long and complicated checkout process. Customers have to fill in the information in too many steps without knowing how long it will take. Because of this bad situation, online businesses may lose valuable customers and money they could have made. To enhance Magento's current multi-page process and make it faster, many Magento 2 providers have introduced an approach called One Step Checkout, which helps gather all steps into only one page.
This post will show you how beneficial it is and suggest a list of the top 10 Magento 2 One Step Checkout Extensions for your consideration.
What is Magento 2 One Step Checkout?
One thing that irritates customers in the checkout process is being unaware of the total cost they need to pay for the order and how much information they need to write down. This problem happens in almost every e-commerce site's default functionality. The Magento platform provides a default checkout section containing two steps, and expectedly, the second one is hidden until buyers finish filling in the first.
On the contrary, quickly guiding shoppers through the checkout process, the Magento 2 One Step Checkout is an add-on that includes all of the order information within one page: shipping or delivery addresses, total costs and quantity, product details, payment methods available, and delivery options.
The extension enables store owners to provide users with faster checkout, tailor the page to suit business needs, and enhance order finishing possibilities.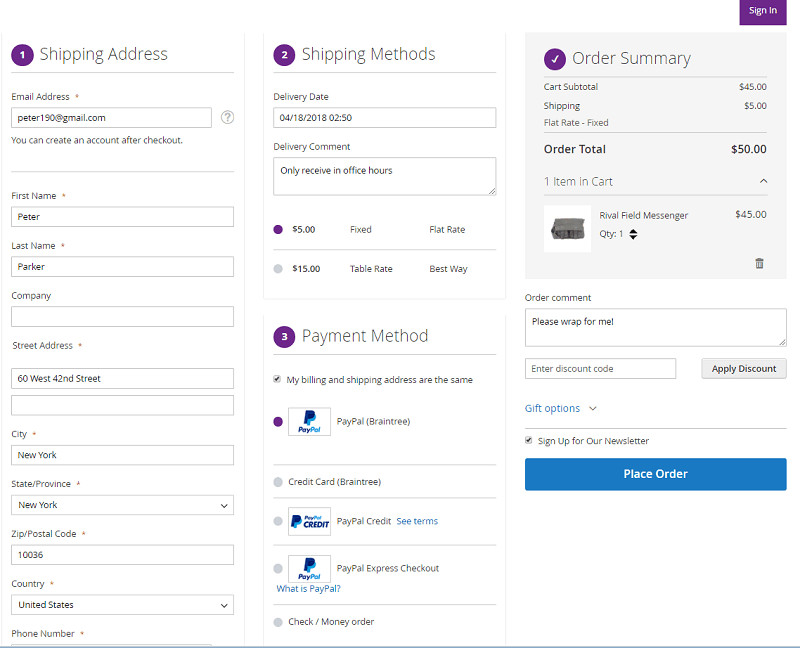 Some of its key features:
One Step Checkout allows you to put all sections together in one place. The purpose is for customers to have a clear view of what information they need to fill out and how far along they are in the ordering process. Through this, customers can see the total cost after including shipping fees and applying coupons.
Furthermore, they are able to see the estimated delivery date and allowed payment methods. Some one-step checkout extensions enable information to be automatically filled in and geolocation detection for customer convenience.
This extension also allows store owners to analyze conversion rates and the performance of each checkout category and send emails to customers for abandoned carts and promotion offers. High customization ability is also a plus point of One Step Checkout since you only need to do the drop-and-drag in the layout builder.
Why you should move from Magento default checkout to One Step Checkout?
Faster and highly converting checkout
According to studies from the Baymard Institute, merely improving the checkout design may raise conversion rates by 35.26%. The time consumers spend on an e-commerce site is short before they switch to another. So, if businesses can shorten the time it takes to move from one step to the next by putting all the information on one screen, customers will have more time to decide and will only be one click away from completing the order. This is what Magento's One-Step Checkout is all about.
Also, with fewer pages, loading time is much faster on both desktops and mobile devices. Customers can save time and effort, while store owners can increase their conversion rate accordingly.
Reduce cart abandonment
According to Statista (2022) on Reasons for Cart Abandonment, 17% of US online buyers abandoned their orders solely due to a too-long or complicated checkout process. So if businesses concentrate on improving this aspect, they can save a lot of possible ordering.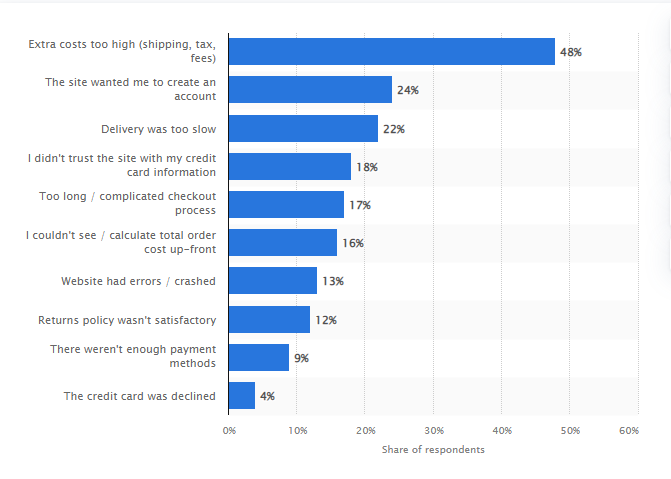 With Magento One Step Checkout, customers won't have to transport through so many pages for order placement. They would understand what it takes to finish all the procedures in advance and not feel discouraged by a troublesome process.
Especially, cutting all the pages to the checkout click pushes buyers one step closer to possessing their desired products. This sense of ownership makes them more likely to purchase the products, preventing cart-dropping in the middle of the order.
Improve customer experience
Ensuring the best customer experience is a significant aspect of any e-commerce business. As mentioned above, displaying all the checkout information together on one page reduces overall loading time and avoids hidden information. Additionally, this extension has remarkable compatibility with different payment and shipping methods. Customers will feel more content when they can order the products quickly and effectively. And surely satisfied customers are more likely to revisit the store.
And thanks to Magento One Step Checkout, buyers can control their orders effectively by choosing the suitable delivery date, applying discount coupons, registering for necessary notifications, and easily inserting information once with auto-filling functionality.
Highly customizable checkout page
Unfortunately, the default checkout page in the Magento platform cannot be easily customized, especially by admins who have little coding knowledge. Meanwhile, Magento 2 One Step Checkout Extensions are available to modify the checkout page and offer more options. All you have to do is add or delete specified fields, rearrange their display order, and configure possible delivery dates and timing. You can adjust the design and custom checkout page themes as well to suit your business flow. Plus, One Step Checkout Extensions can enhance functionality by integrating with gift cards, store credit and refund, reward points, payment & shipping restrictions, or social login.
10 Best Magento 2 One Step Checkout Extensions
For quick checkout, all information is displayed on a single page. BSS one-step checkout for Magento 2 allows consumers to finish the checkout process without having to navigate to a separate payment page.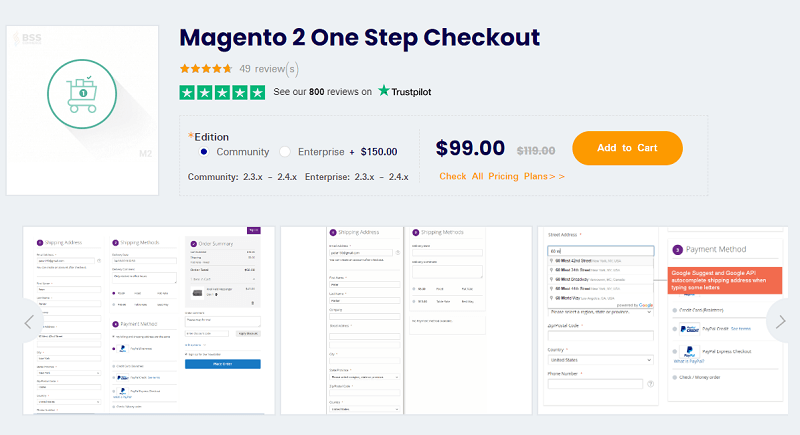 Highlight features:
Streamline the checkout process in one page
Automate filling order information
Compatible with a variety of popular payment methods
Lightning setup with unlimited customization capacity.
Elastic checkout with multiple addresses and automatic GeoIP detection.
Work well with GEOIP, Order Delivery, Checkout Custom Fields, and Guest-to-Customer extensions.
Compatible with Hyva theme
Price: from $99
Compatible with Magento 2.3.x – 2.4.x, CE, EE
Amasty's One Step Checkout Pro Extension for Magento 2 lets you customize the checkout page. Customers can benefit from a more convenient and faster purchasing experience, improving their satisfaction. This ensures an increase in completed orders, leading to a sales boost.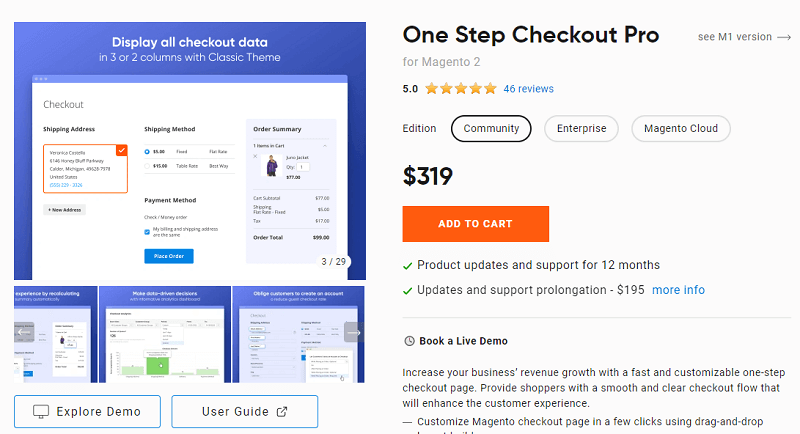 Highlight features:
Compatible with Hyva theme
Simplify the native Magento 2 checkout process into one clear step
Customize Magento checkout page in a few clicks using a drag-and-drop layout builder
Support multiple payment and shipping methods
Display delivery date and time options
Increase average order value by offering extra service fees
Automatic geolocation detection
Price: from $319
Compatible with Magento 2.3.7 – 2.4.5
Demo: here
Aheadworks' Smart One Step Checkout Extension for Magento 2 simplifies the checkout process for clients. It helps to increase conversion rates while minimizing cart abandonment rates, increasing store profit significantly. Responsive checkout designs and ajax updates are two of the most essential advantages of this extension.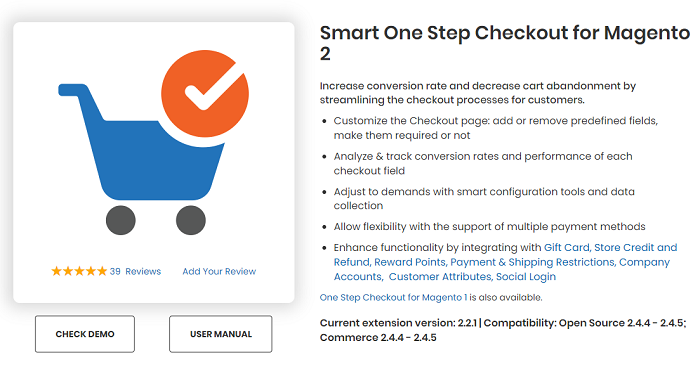 Highlight Features:
Analyze & track conversion rates and performance of each checkout field
Customize the Checkout page: add or remove predefined fields, make them required or not
Allow flexibility with the support of multiple payment methods.
Adjust to demands with smart configuration tools and data collection
Enhance functionality by integrating with Gift Card, Store Credit and Refund, Reward Points, Payment & Shipping Restrictions, Company Accounts, Customer Attributes, and Social Login.
Price: from $237.00
Compatible with Magento 2.4.x, CE, EE
Demo: here
Onestepcheckout.com has built an extension to allow merchants to modify the checkout process in any way they wish, regardless of their technical knowledge and programming skills. Over 1,000 shops, including Nestlé, Everlast, Maxi-Cosi, and Acer, have trusted this extension.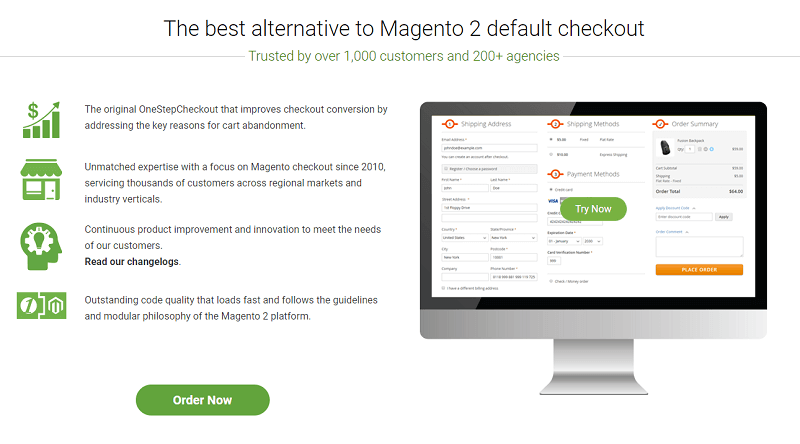 Highlight Features:
Checkout on a single page above the fold
Country auto-fill with GeoIP localization
Auto-update prices and totals when changing quantity, shipping/payment method
Responsive on mobile devices and tablets
Possibility to modify the quantity or remove items in the order summary
Auto-update available payment methods when the user chooses the shipping method
Compatibility with third-party extensions
Price: from €485 (~$513)
Demo: here
Mageplaza's Magento 2 One Step Checkout extension allows for speedier checkout with no page reloading. You can easily convert visitors into buyers with the conversion rate increasing by over 30%. You can remove the need for customers to be redirected within the site.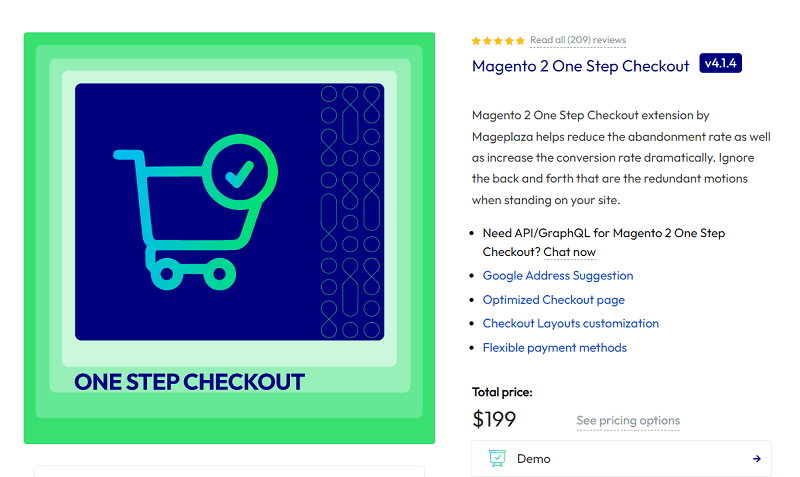 Highlight Features:
Google address suggestions
Display all information on one page and remove unnecessary fields.
Improve user experience by providing multiple payment methods.
Easily change the layout and color of the checkout page.
Compatible with shipping & payment methods and third-party extensions.
Send emails to customers for abandoned carts and offer discounts.
Customize the checkout page by adding custom checkout fields.
Win customers' trust by showing trust badges
Quick cart to see all the cart information, apply coupon codes, and quickly proceed to checkout.
Price: from $199
Demo: here
CMSmart's extension can impress customers by allowing them to check out in under 3 minutes. Merchants could also use useful customization tools to edit, change, and modify any field block. This will reduce customers' purchasing time and decrease abandonment rates while raising conversion rates.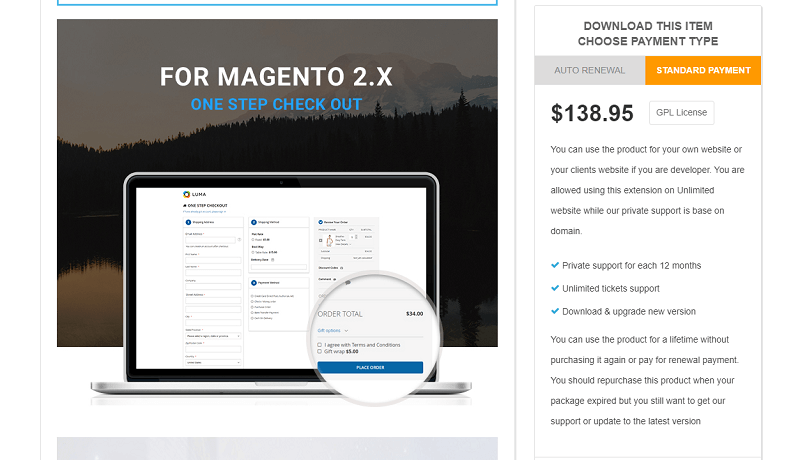 Highlight Features:
Checkout on only one page
Support multi-store and multi-shipping methods
Choose the date and time to receive the products
Using Ajax technology
Auto-fill address by Google suggestions
Price: from $129.86
Compatible with Magento 2.x
Demo: here
This FireCheckout extension is designed for merchants who wish to have a significantly quicker checkout process. With regularly improved new features, it helps enhance and sustain excellent customer experience, which you can expect a boost in conversion rate in return.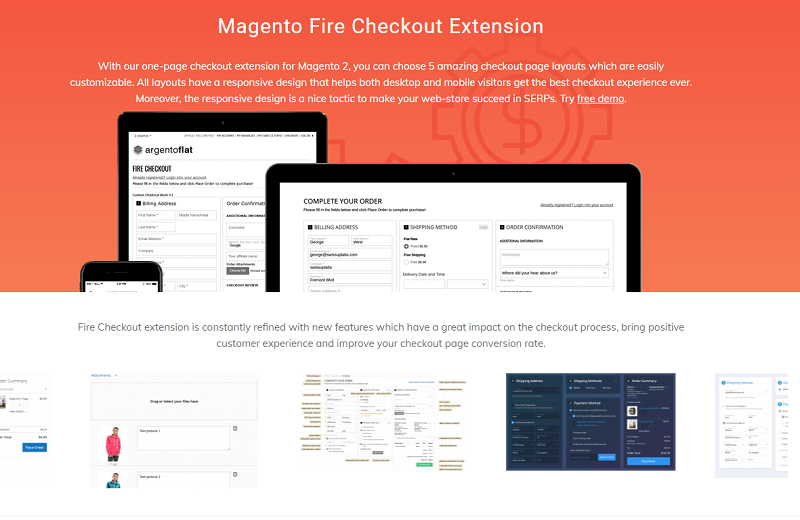 Highlight Features:
5 customizable page layouts.
1-click checkout for registered customers.
Guest checkout.
Checkout-Success Page tool to create a Thank you page and CMS blocks.
Address Field manager.
Auto-detecting location via IP and postal code autocomplete.
Multi-language.
Price: from $189
Compatible with Magento 2.x
Demo: here
The MageTop Checkout extension is simple to install and has a huge area for customization. It presents a three-column display checkout page to allow customers to finish faster in one step. They don't have to navigate to different pages for payment, quantity, shipping address, and other sections. Therefore, making their shopping experience much better.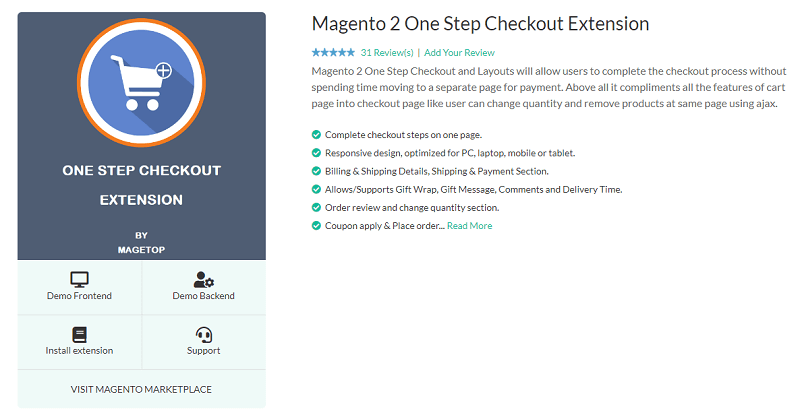 Highlight Features:
Let users complete checkout with a single step.
Smart Google address suggestions help users to fill in the details quickly.
Add various payment methods to improve user experience.
Manage checkout page setup from the backend.
Easily play with the color and style of the checkout page to attract customers.
Price: from $99
Compatible with Magento CE, EE 2.2.x, 2.3.x, 2.4.x
MageDelight's Magento 2 One Step Checkout Extension combines all checkout steps and provides clients with a seamless checkout experience. As a result, the user will not depart the website, which helps store owners lower abandoning rates.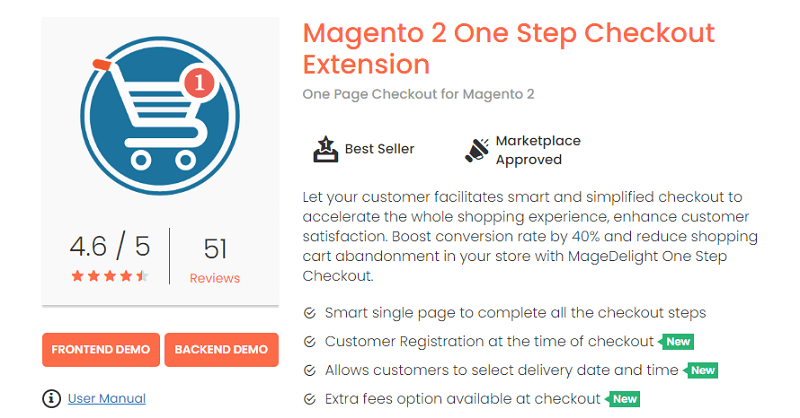 Highlight Features:
Only one simple page to complete all the checkout steps
Allows customers to select delivery date and time
Extra fees & discount coupon options available
Allows you to write a gift message for the order or specific product
Drag & drop facility available to swap the checkout steps
Autocomplete by Google will help you auto-fill address and other respective details
Price: from $199
Compatible with Magento CE, EE 2.2.x, 2.3.x, 2.4.x
Mageworx One Page Checkout Suite aims for a clean, well-visualized, and user-friendly extension that any retailer could simply get hooked up with and adore. They could save ordering time and customer satisfaction with such convenience.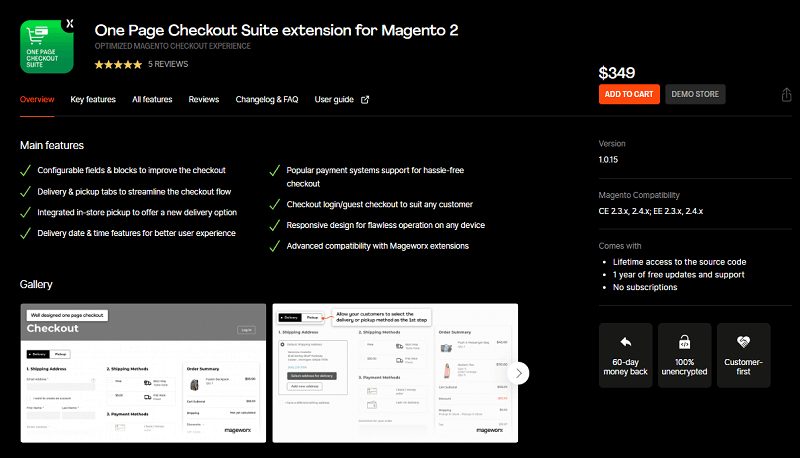 Highlight Features:
One-page checkout.
Store Locator & In-Store Pickup.
GeoIP functionality.
Customizable delivery date and time layout and payment and shipping methods.
Guest checkout.
Price: from $349
Compatible with Magento CE, EE 2.2.x, 2.3.x, 2.4.x
Things you should pay attention to when installing One Step Checkout extensions
As gathering all the forms into one page, the Checkout display can be intimidating and overwhelming for customers. In some cases, they even get confused and have to be more cautious about submitting mistakes, making the checkout process turn out to be longer. 
So store admins must be careful with the layout and should organize it to be "cleaner" and more structured with easy guidance
Regarding the loading time, with everything on one page, it might take some time to load all the sections and forms. If your checkout page takes longer to load, it can be discouraging and seriously affect your efforts to provide the best shopping experience for customers. 
Therefore, make sure you can maintain a fast page response when creating a one-step checkout process.
In conclusion, if you are looking for a solution to enhance conversion rate and minimize cart abandonment for your Magento stores, One Step Checkout is an excellent choice for you. It is not only easy to install and customize but also compatible with various payment and shipping methods. However, there are still some notes you need to keep in mind to utilize One Step Checkout properly and make the most of it.
Hope this post is useful and we wish you the best of luck!