What is Hide Price Extension?
Hide Price is a part of the various Magento 2 extensions, that allow enterprises to hide product or service prices. With this feature, businesses could manage price display on their websites in order to approach to each customer. By analyzing customer data, this extension helps your store to display a suitable price to your audience by products, categories, and customer groups. 
Additionally, this extension can help you replace the prices display with "Add to Cart" with diverse call-to-action messages, say, "Login/Contact for price." In this way, Hide Price helps screen potential customers who have a direct need for the store's products. Moreover, direct access to customers through messages helps you provide customers with better care to give advice.
Pros and Cons of Magento 2 Hide Price Extensions
In reality, hiding or showing prices on an online store is one controversial question in the eCommerce market.
On the one hand, Magento 2 Hide Price Extensions with potential customer selection benefits are trusted and used by many businesses.
On the other hand, this tool is "estranged" by businesses because they think that hiding prices is "a barrier" between them to reach more customers.
Let's look at both aspects of Hide Price Extension and make the right choice for your website.
Pros of hiding prices on your website
Limited competitors exploration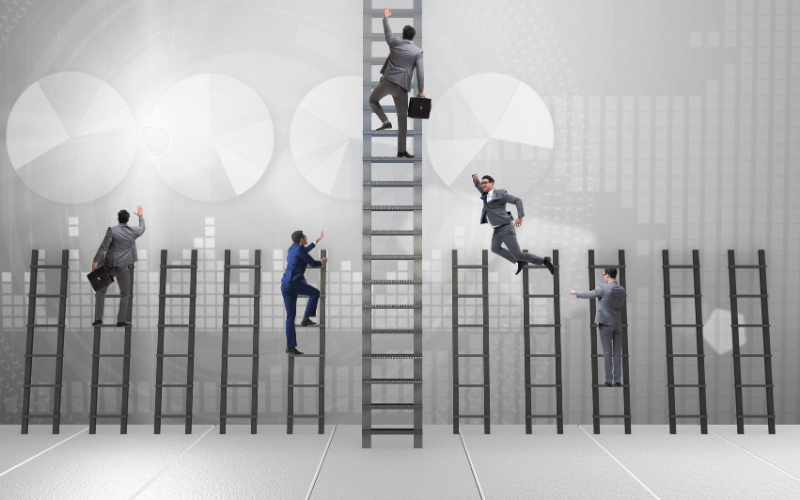 One of the benefits of hiding the prices of products on your website is to limit competitor exploration of similar product prices. Prices are invisible not only to prospective customers but also to competitors. As a result, competitors cannot probe your prices to change their prices or make a special offer to compete with you.
Customized prices
With price hiding, you can easily offer different price options for each customer. For example, for retail customers, you can mention a suitable price same as the market price, while for customers who buy in bulk you can adjust the price so that it is beneficial for both parties.
In addition, with the Hide Price extension, you can also give an estimated price display for each product, this helps customers know the approximate price range in your store.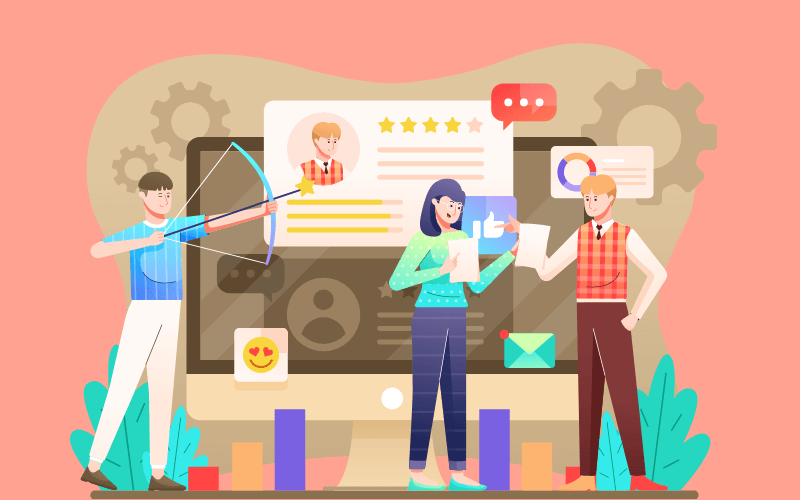 Getting closer to your customers
Inboxing to ask for prices will make customers learn more about your products. From there, you will also have the opportunity to consult, persuade and learn the needs and preferences of guests.
Besides, through direct consultation, you can easily take care of customers during product usage time and turn these customers into familiar customers by introducing new products to them.
Thus, the probability for customers to buy will be higher than if you let customers freely view the sales article without doing anything.
Cons of Hiding Prices on your website
Non-transparency
If you don't show prices in your store, visitors can't analyze them and make decisions immediately. Similarly, customers cannot compare your product prices with other stores without contacting your store manager.
Additionally, if you hide the price from the product page and replace it with the Request a Quote button, users might believe that your things are out of their price budget.
All of the above factors can be frustrating for any customer who doesn't have a lot of time for private communication. Moreover, hiding prices can make customers think your business is non-transparent.
Disbelief
Nowadays, with the appearance of so many online stores, customers are more careful in choosing a reputable store because of fear of online fraud. Therefore, establishing trust with customers is extremely important.
However, hiding prices on your website can lead to customers' suspicions about meeting any hidden and unexpected costs, leading to a loss of trust in your store.
Missing potential customers
Finally, while every website is aiming for the fastest loading speed to provide the best shopping experience, hiding the prices of products interrupts this "speedy experience". It takes users many times to go through another transaction to find out the cost of the item they wish to purchase.
"Pushing one more button" to contact the seller directly to know the price, which can sometimes be frustrating for customers who don't have time and leave. As a result, a number of potential customers leave your store and continue searching for another store's products.
9 Best Magento 2 Hide Price Extensions
Surely, after reading the above analysis, you already have your own basic knowledge about the concept of hiding prices.
Now, if you want to find yourself a Magento 2 Hide Price Extension, don't miss the list of the 9 best extensions, this blog shows.
With 10 years of experience in the market of providing extensions for Magento, BSS Commerce is definitely a reliable supplier if you want to choose an extension to hide prices.
Magento 2 Hide Price by BSS Commerce lets you hide prices from multiple specific products; various chosen categories; selected customer groups and numerous specific customers.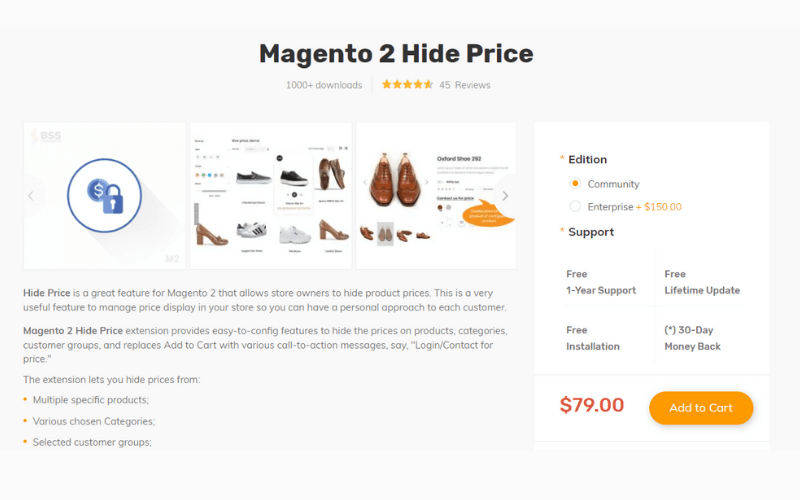 Highlight Features:
Hide the price of specific products, categories, and specific customers
Hide price & Add to cart separately
Support REST API for Data Transfer;
Compatible with Hyva Theme, Porto theme & the Fastest and Infinit of Codazon
Add the advanced version Call For Price extension.
Allow applying hide price for child product of the configurable product
Price: $79
Compatibility: 2.3.x, 2.4.x
Customer supports:
Free 1-Year Support
Free Lifetime Update
Free Installation
30-Day Money Back
Mageplaza offers a wide range of the most feature-rich modules for online merchants and developers seeking high-quality extensions for their Magento 2 stores.
With High Price extension, this provider brings a great solution for Magento 2 businesses to control price visibility. The enhanced feature helps customers to contact stores directly and supports admins in easily managing product prices.
Highlight Features:
API/GraphQL is available for this extension
Auto-hide price by rules
Hide prices for viewers
Customers groups to access the price
The detailed report of price requests
Price: $129
Compatibility: 2.2.x, 2.3.x, 2.4.x
Customer supports:
60-day Money Back
Frequent Update
365-day Support
Amasty is a products company always strives to create easy and understandable extensions for users. With this supplier's dedication to customers, you can trust their products to develop your website sustainably.
In order to make your pricing policy maximally flexible, Hide Price provides features that help manage prices displayed depending on customer groups and customize button texts and messages.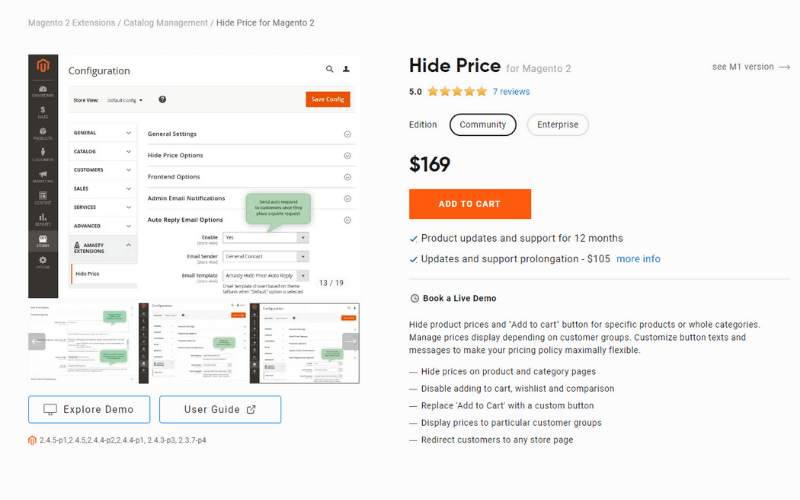 Highlight Features:
Hide prices on specific product, and category pages
Disable add to cart, wishlist, and comparison
Custom button to replace 'Add to Cart'
Gather customer's data with a pop-up
Redirect customers to any store page
Price: $169
Compatibility: 2.4.5-p1, 2.4.5, 2.4.4-p2, 2.4.4-p1, 2.4.3-p3, 2.3.7-p4
Customer supports:
Product updates and support for 12 months
MageMe is known as a provider of quality extensions and quick support to customers. Thus, you can completely trust this supplier's years of experience in providing quality products.
The Hide Price extension for Magento 2 lets you achieve your requirements at no customization cost by offering a simple set of controls.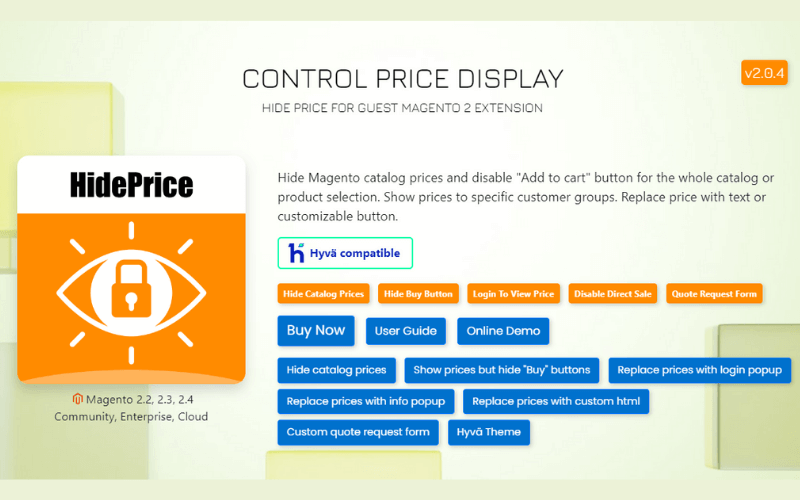 Highlight Features:
Disable direct sales
Hide Magento catalog prices
Hide the "Add to Cart", "Add to Wishlist" and "Add to Compare" button
Hide price, show custom HTML text or alert button instead
Multi-store configuration
Hide prices for selected categories and individual products
Price: $99
Compatibility: 2.2.x, 2.3.x, 2.4.x
Customer supports:
1 year of support and updates
With 8 years of experience in providing Magento extension products, MageComp is confident in its quality products. As a result, they build a long-term trustworthy relationship with their customers.
Magento 2 Hide Product Price Extension by MageComp allows the store owner to hide product prices and 'Add to Cart' button for guest or non-registered users and specific customer groups. This can help manage the visibility of product prices for website users and encourage them to register on your store.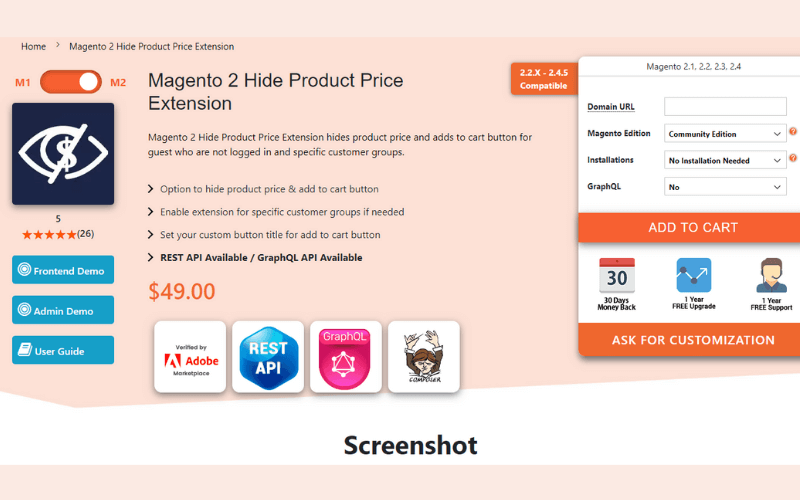 Highlight Features:
Option to hide or show product price
Add to cart button instead
Customize button title
REST API Available / GraphQL API Available
Hide price for a specific group of customers
Price: $49
Compatibility: 2.1.x, 2.2.x, 2.3.x, 2.4.x
Customer supports:
30 Days Money Back
1-year of Free Upgrade
1-year of Free Support
AheadWorks is a provider with a slogan that brings innovations to life with top-notch extensions, templates, and themes for Magento 1 and Magento 2 ahead of trends in eCommerce.
Catching up with the Hidden Price trend of online stores, Hide Price is a quality product full of features launched by this company. The extension provides a flexible pricing approach by hiding prices from specific products, or customer groups.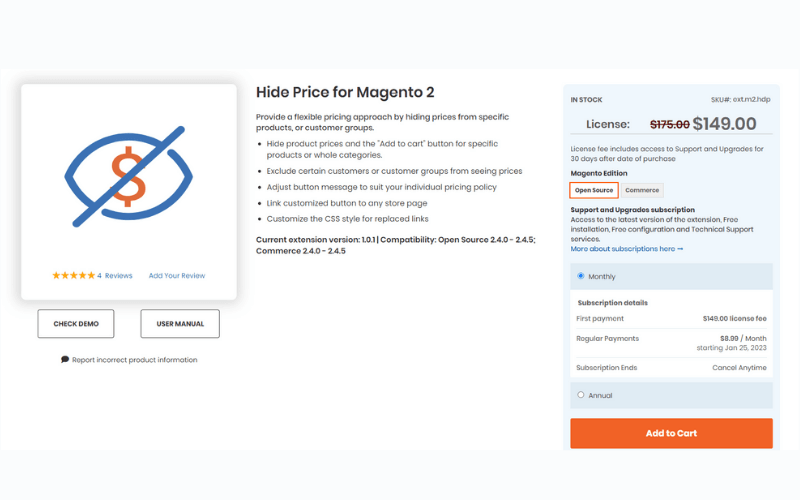 Highlight Features:
Hide product prices or the "Add to cart" button for specific products, categories, and customer groups.
Limit certain customers or customer groups from viewing prices.
Custom the button message to suit your individual pricing policy
Link customized button to any of your store page
Adjust the CSS style of the replacement links.
Price: $149
Compatibility: 2.4.0 – 2.4.5
Customer supports:
30-day money-back
Free Installation
30-days Free Support
Lifetime right to use
FME is one of the best Magento developers, with a reputation for quality and professionalism. This supplier's product will not satisfy you in terms of quality.
The Magento 2 Hide Price extension allows you to control price visibility on any product & category page. Replace the price tag and 'Add to Cart' button by custom text, link, image, or a quote form. Create rules to restrict price display by specific products, customers, customer groups, countries, and store views.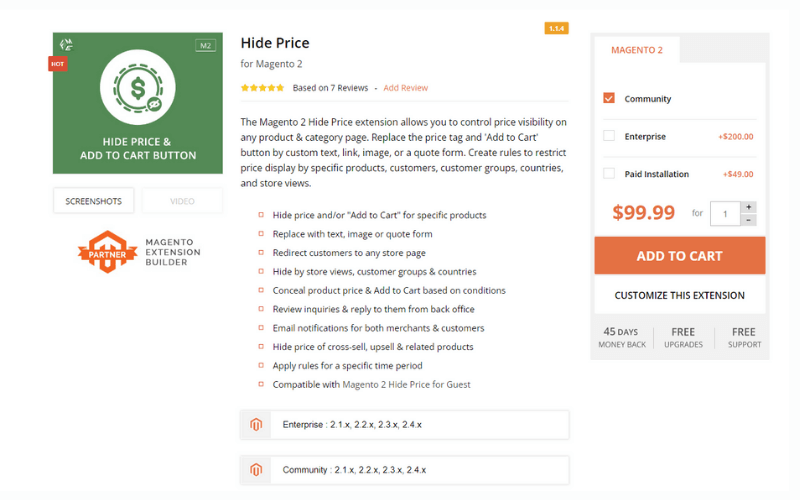 Highlight Features:
Hide price and "Add to Cart" for specific products and categories
Replace price products, "Add to Cart" with text, image, or quote form
Redirect customers to any store page
Hide based on store views, customer groups, and countries.
Back-office inquiries are reviewed and responded to.
Email alerts are sent to both businesses and customers.
Hide the cost of cross-selling, up-selling, and related items.
Use rules for a certain time frame.
Price: $99.99
Compatibility: 2.1.x, 2.2.x, 2.3.x, 2.4.x
Customer supports:
45 days money-back
Free Support
Free Upgrades
Since its establishment in 2010, XTENTO has provided high-quality Magento extensions and integrations to thousands of customers worldwide, ranging from small enterprises to huge corporations. Therefore, you can completely trust the products this company brings
Hide Price & Call For Price extension allows you to take full control over price display settings and "add to cart" functionality. Enforcing pricing policies has never been easier with all details being configurable and fine-grained settings. Flexible, powerful, and easy to use.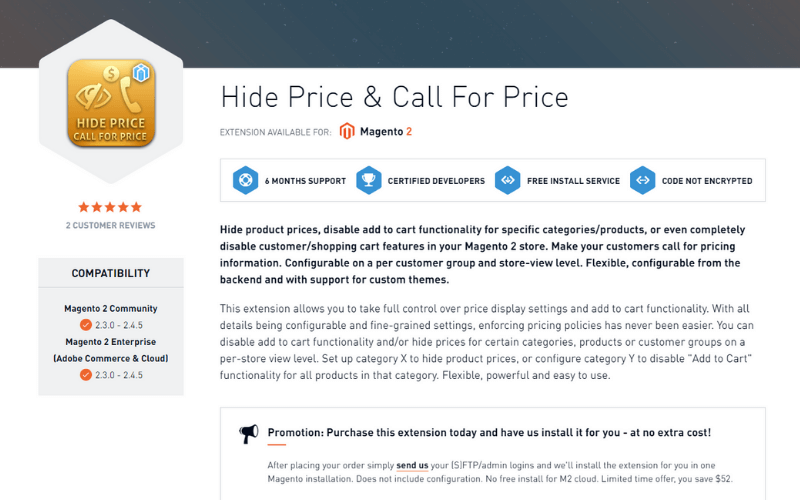 Highlight Features:
The most powerful and flexible combined Hide Price, Call For Price, and Not 2 Order extension available can be implemented
Disable/ Replace price/add to cart with customizable buttons/text/custom images
Hide product prices for a certain customer and direct them to register
Configurable by the shop, customer group, category, and even product.
Ability to completely deactivate customer registration, shopping cart, and checkout.
Price: $129
Compatibility: 2.3.0 – 2.4.5
Customer supports:
6 Months Support
Free Install service
Having just entered the Magento development market in 2017, Meetanshin has won the appreciation and trust of customers. If you want to add a hidden price feature to your store, Meetanshi's products are definitely not a bad choice.
Magento 2 Hide Price extension hides the product price and "Add to Cart" button for the customer groups and categories to provide a personal approach & organize private sales in Magento 2 stores.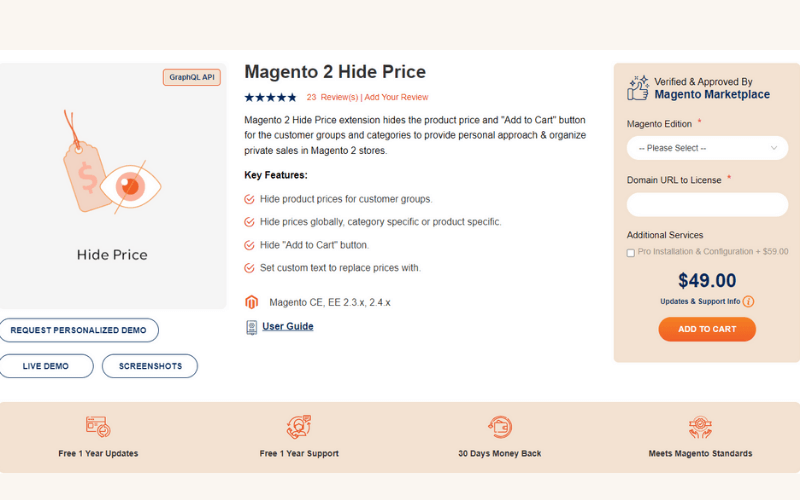 Highlight Features:
Hide product prices for customer or customer groups
Hide prices globally, a specific category, or product
Hide the "Add to Cart" button
Set custom text to replace prices/ buttons with
Price: $49
Compatibility: 2.3.x – 2.4.x
Customer supports:
Free 1-year updates
Free 1-year support
30 Days Money Back
Meets Magento Standards
Conclusion
Despite varied reviews, Hide Price is a Magento module worth considering.
Hopefully, this article's list of the top 9 extensions will assist you in selecting the best Hide Price extension for your store.