It's been a while since the last release and we're all too eager to see what Adobe has in store for us regarding their development of the Magento platform—both the Commerce and Open Source edition.
And boy, did they deliver this time with their huge number of changes and fixes in this 2.3.3 Magento release. Within this release alone, there are over 170 functional fixes to the core product and over 75 security changes. And that's not to mention over 200 contributions of the Magento community members, whose works range from minor code optimization to fundamental changes to features such as Inventory Management and GraphQL.
First-ever security-only patch
Security fixes are now more conveniently accessible. Heeding their userbase, from Magento 2.3.3 onwards Magento will be shipping a security patch along with the official Magento version. This will make it easier for developers whose security concern is of utmost importance to apply security fixes and delay other quality and performance changes to a later time.
As you might notice, the security-only patch is projected to be based on the latest prior version, which will, in turn, enable more flexibility for users. By projecting the update path this way, users will be able to go on without an official path for at least six months.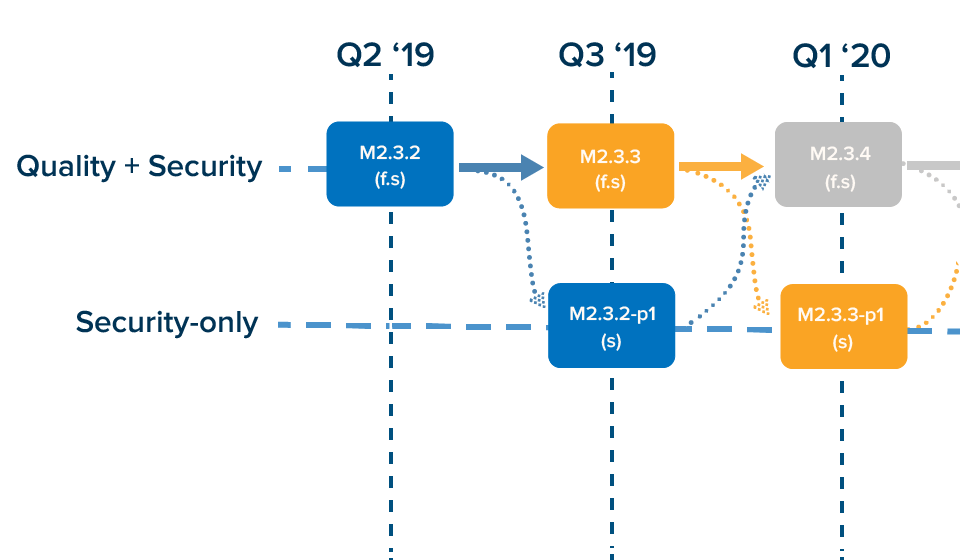 Magento 2.3.3 release highlights
1. Significant performance improvements
Performance, after all, is what the majority of us are after. Here's some changes that can radically improve your page's loading speed:
1.1 Non-critical CSS elements can now be moved to the bottom of the page.
By default, this option is disabled but with Magento 2.3.3, you can now choose to enable it by heading over to Stores > Configuration > Advanced > Developer > CSS Settings > Use CSS critical path. This will move non-critical CSS elements to the bottom of your page, enabling the essential elements of your storefront to be rendered more quickly and in turn driving more revenue to your store.
1.2 While custom fonts are waiting to be loaded, readable system fonts are now displayed instead.
While sounding insignificant, this is actually a major change for stores that use large CSS files and abundant numbers of fonts.
1.3 Refactored jQuery/ui library
The jQuery/ui is now separate widgets that can be selectively loaded by core modules. This will significantly improve the performance of various store features such as the category loading,
2. Major security improvements
Magento 2.3.3, although itself being a minor patch, comes with improvements comparable to that of a major patch. There are over 75 critical security fixes in this patch alone and that's not to mention other enhancements such as:
2.1 Compatibility changes in accordance with the new PSD (Payment Service Directive) regulation
With the new PSD (also known as PSD2/Revised Payment Service Directive) regulations recently went into effect, affecting almost all transfers involving credit card or banking institutions, it's no wonder that immediate compatibility changes are called for. The specifics regarding this change are as follow:
Through the cardholderAuthentication request field, Authorize.net is now able to provide 3D Secure verification on 3rd party websites such as CardinalCommerce.
Upgraded Braintree payment methods. In compliance with the new requirement for supports of native Braintree 3D Secure 2.0, Braintree has upgraded all its core integration API to the latest version. Thanks to these implementations, Braintree transactions can now also be verified by using the new & native 3D Secure 2.0 service.
In order to comply with the new PSD regulations, the Cybersource and eWay payment modules have been taken down. For use of these features, the official Marketplace extensions are recommended as viable alternatives.
2.2 Security and core code improvements
Besides major enhancements to the XSS (Cross-site scripting) protection, this release also brings changes to address the current need to ward off remote code execution (RCE) and other types of vulnerabilities as well.
3. Platform upgrades
PHP 7.3.x, PHP 7.2.x and Varnish 6.2.0 are now supported on Magento 2.3.3
Components of Zen Framework 2 have been moved up to the Active/LTS versions.
4. Infrastructure upgrades
The overall quality of the framework has been drastically improved with this update. These improvements can be noticeably seen in the following modules:
Catalog
Sales
Customer
UI
Checkout (One page checkout)
UrlRewrite
Additionally, the WYSIWYG editor has also been upgraded to TinyMCE v. 4.9.5​.
5. Improvements to merchant tools
With Magento 2.3.3, the first admin that logged into the admin panel can choose to collect data from the new reporting of user actions and events. By allowing Magento to collect your user data, the data can be further sent to Adobe Analytic for analysis and reporting.
User data that can be collected are
Pageviews
Save actions
General changes to Magento mode
More information regarding the new user data collection feature can be accessed via the Store Admin.
6. GraphQL
Added functionality and coverage for various GraphQL features have been included. Specifically:
GraphQL now supports Braintree, Authorize.net, and PayPal. For more details on how to set up these payment methods using mutations, see GraphQL Magento DevDocs.
Added supports for gift cards
Store credit can now be managed with the new mutations (applyStoreCreditToCart & removeStoreCreditFromCart)
Configurable products can now be added to cart with the new mutation (addConfigurableProductsToCart).
7. Google Shopping ads Channel
Magento products can now be advertised and sold using intergration of Google Shopping ads Channel. For more details including a how-to-install, see Google Shopping ads Channel DevDocs.
8. More news and changes to extensions from your famous vendors
Amazon Pay
Amazon Pay is now in compliance with the new PSD regulations for the UK and Germany.
dotdigital
Better bundled and custom product sync for product catalog
Improved abandoned cart communications
Klarna
Sending of customer information can now be disabled.
Added new options for supports of B2B transactions in select markets.
Added supports for PayBright, a Canadian payment coverage.
Vertex
Vertex flexible field, which allows for sending of additional information to the tax machine, is now supported.
Customizations of Vertex connection's fields are now enabled.
Yotpo
The new platform for management of user-made contents, Yotpo, is now integrated within the Admin Panel.
9. Magento Shipping
Bundled products and pre-packaged options are now supported.
Improved batch-order processing, carrier integration, preview of shipping methods and checkout.
For a more detailed description of the new features, check out Magento Shipping on Devdocs.
10. PWA Studio
New hooks and refactored components have also been added to Peregrine. For more technical details, see PWA Studio.
We've written a great post about Magento 2 PWA Studio Setup Guide. Don't miss it!
11. Resolved issues
Magento 2.3.3 comes with hundreds of fixes in the core code, of which cart & checkout, customer, payment methods, code optimizations and infrastructure fixes take the majority.
How to download Open Source Magento 2.3.3 release and security-only patches
To download Magento 2.3.3 on the Open Source Edition, you first need to head over to the download site. By clicking on Select your format, you will see that there are various options for you to choose from. Once you're done deciding on your download option, click on the Download button.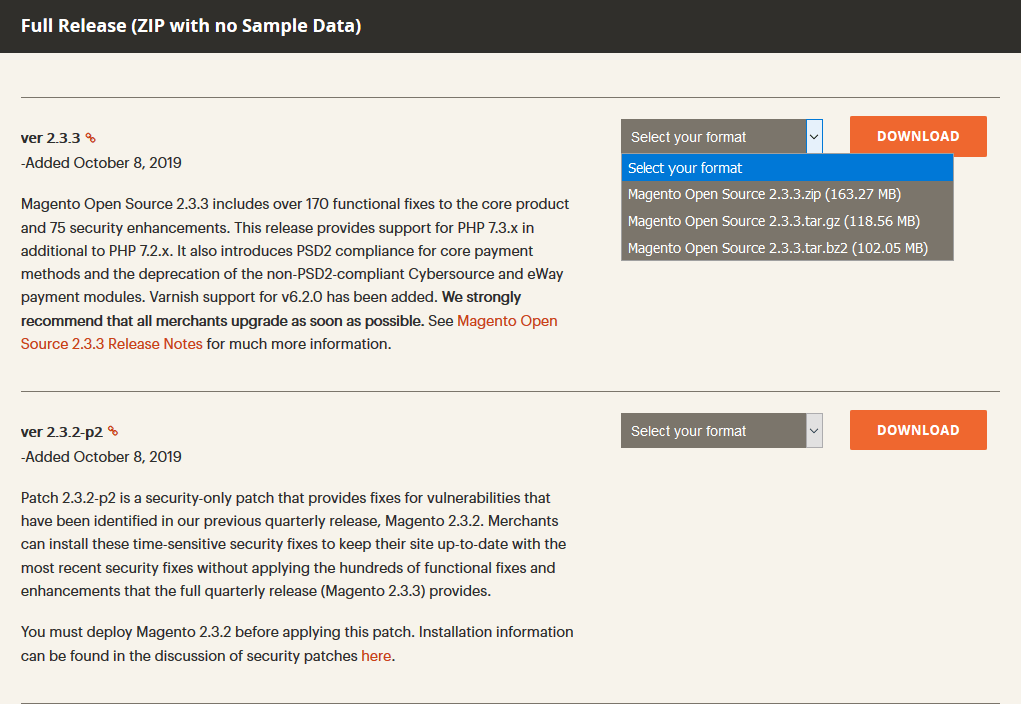 How to install Open Source Magento 2.3.3 Release and security-only patches
Your best way of installing Magento patches and security-only patches is through Composer and/or command line. So don't miss these helpful guides!
Is it helpful?
Let us know if you liked the post. That's the only way we can improve.