The last few years were a time when the mobile commerce (mcommerce OR m-commerce) industry witnessed a kind of unprecedented growth. According to App Annie's State of Mobile 2019 report, the total time mobile users spent in shopping apps was 18 billion hours in 2018 [1]; and Cyber Monday alone generated $2 billion dollars [2], over half of which came from mobile devices. These are all promising statistics that might nudge your business in a more proper direction, and there's plenty more where that came from:
Statistics of Mobile Payments
80 percent of consumers in the US have never used a tap-to-pay method, whereas the opposite is true for 80% of consumers in the U.K and Australia [5]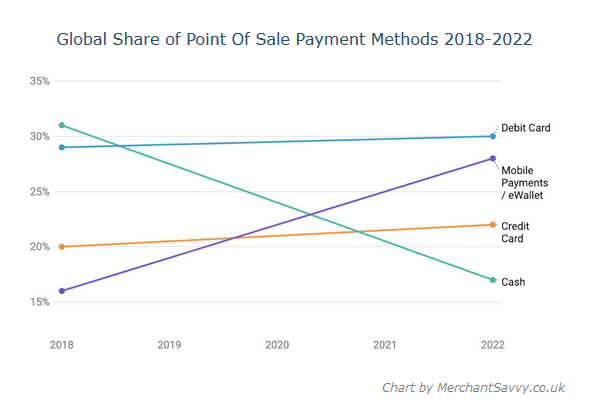 In terms of pure user numbers, Chinese tech firms are dominating the world with Alipay and WeChat, followed by which are Apple Pay and PayPal.
| | | |
| --- | --- | --- |
| Company | Active users | Latest figures from |
| Alipay | 1.2 billion | Alipay (Q3 2019) |
| WeChat | 1.151 billion | Tencent (Q3 2019) |
| Apple Pay | 441 million | Loup Ventures (Q3 2019) |
| PayPal | 305 million | PayPal (Q4 2019) |
| Samsung Pay | 51 million | Juniper (2018) |
| Amazon Pay | 50 million | Evercore ISI, Investopedia (May 2018) |
| Google Pay | 39 million | Juniper (2018) |
Source: MerchantSavvy
Mobile payment is expected to replace credit and debit cards after decades of being the preferred method. This, of course, shouldn't come as a surprise for you since mobile payment has the advantages of being quick, wireless and effortless. For modern customers, all you'd ever need to carry along with you is a smartphone with 3G/4G connection and you're good to go.
Statistics of mCommerce Retail
The mCommerce world is growing at such a rate that's never seen before. Marketers are now expecting mCommerce to be the main channel for online shopping since as much as 87% of shoppers engage in online product search before buying.


Statistics of App Users Patterns
As the mCommerce grow in its market share, it's becoming increasingly important for eCommerce store owners to make their store responsive to all kinds of screens and devices. And while smartphones are becoming the main devices for browsing of products, it's still not delivering adequate conversion rate compared to tablets and desktops.
Statistics of Mobile Search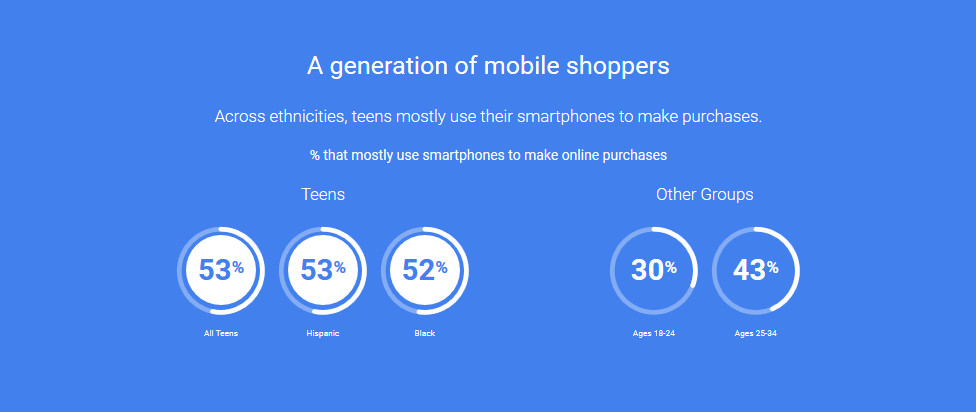 The Latest M-commerce Statistics
The time for Mobile Commerce is now and it's critical. Every day you're not implementing the best approaches in your store is potentially thousands of dollars lost.
For instance, a retailer with annual revenue reaching up to $20 million could see a $1.4 million loss in revenue simply by delaying their implementation of Progressive Web Apps (PWAs) for 1 month, and another $6.8 million if they decided to delay it for six months. PWAs are essentially a free revenue boost to businesses, which is why it's the current trend among eCommerce retailers to mass adopt PWAs into their business, making it the new go-to approach for developments of responsive, mobile-first online stores.
Recommended reading: What is a PWA? 

It is thus that you should always try to keep up with the industry and find out for yourself which current practices are the best and most suitable for your business. Your new initiatives, of course, should have statistical data in mind and not rely solely on a hunch.