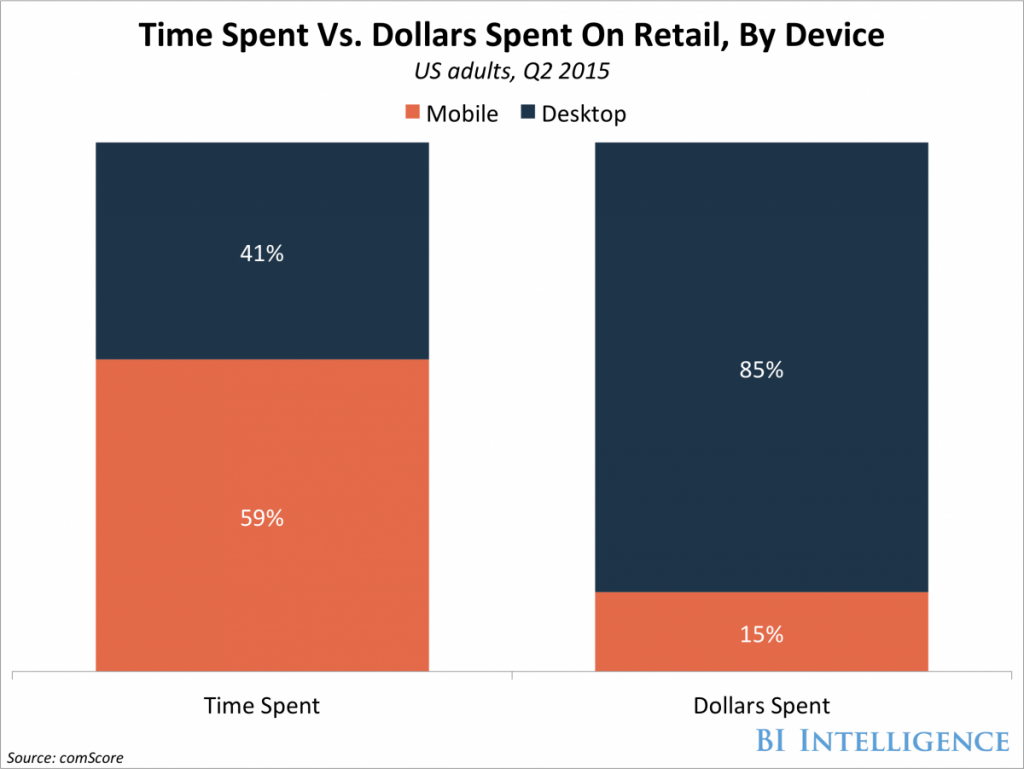 M-commerce or mobile commerce is a rising method of commerce in the recent years. It allows transaction on mobile devices and hence opens a new way for people to exchange goods and services. The success of mobile commerce can be proven by so many important indicators. According to Business Insider, US Adults are spending 59% of their time on mobile devices compared to 41% on desktop. But they only spend 15% of their money on mobile devices. If history has taught us something, it's that the things have been underrated are the things with the most potential. That's why BI Intelligence forecasted that by the year of 2020, 45% of the $632 billion in total e-commerce sales will be occupied by m-commerce. That makes it 809% growth in just 6 years.
There is some rational reason for this insane increase in mobile spending, most of them involve the substantial advantage of m-commerce:
Convenience – you can buy whatever you want with just a few tap on your smartphone's screen.
Flexible accessibility – you can access the shop on mobile devices which mean anytime and anywhere.
Easy connectivity – you can connect to the internet and buy stuff as long as the Wifi/3G/4G signal is on.
If you ask me why it is so great? I would say the roots are amazing m-commerce features. And my advice for you is you should make it the first criterion to consider while choosing your mobile app builder.
Related articles: From E-commerce to M-commerce, the revolution you cannot miss! »
Maximize profits by leverage M-commerce features

In order to boost your retail activities, you should learn to make the most of the features that mobile commerce offering. We can divide them into 3 main groups as follow.
Marketing features
Push notifications: It is one of the most powerful functions to keep customers engaged and informed. The notifications pop up on the screen even when you are not using the app or the screen is locked. This m-commerce feature is still useful when there is no available Internet connection. One benefit plus, you can customize the content for notifications and send them to all customers or specific lists.
Reward Point: a Rewarding customer is a must-have action every business does. You can have many customers return to your business by allowing them to save lots of reward points for the next purchase on your app. That way, you can create a huge army of the loyal customer to strengthen your business.
Wishlist: Help your customers remind themselves about what they really really want to buy. Once you use Wishlist feature, you encourage your customers to come back to your mobile store again and again. They save their dreamed items for special occasions then return to check the wishlist later. When they are able to get it, both you and your customers are happy, it's a win-win situation. There are mobile app builders on the market that do not support this feature and that is a gigantic loss for them and their clients.
Shopping app features
Order tracking: This feature acknowledges your customers of the status of their shipment or a proof of delivery. While order tracking on the eCommerce website is useful, this feature on mobile shopping app is a huge convenience since the customer can use any of their spare time to check where are their ordered goods. As a result, customer satisfaction will increase substantially.
Bar/QR Code Scanner: QR and Barcode appear at every corner of the modern world like in-store displays, packages, and leaflets. This feature helps customers come directly to the product for easy viewing in the most convenient way.
Payment: The most important thing in buying – selling is payment. That's why the mobile app needs to support as many payment methods as possible. Some of them can be listed as follow: Paypal mobile, Paypal express, 2 Check out, Iplay88, etc. And if you are a local business, your mobile app needs to be able to support local payment method as well.
Integration features
Integration with the eCommerce platform: It will help you manage your business efficiently both website and mobile app in just one gate. The most popular platform now is Magento, follow by  Shopify, WooCommerce, etc.
Social networks integration: It allows your customer to share their thought on a product, which will spread its presence quickly – viral marketing. I would say this one is one of the essential m-commerce features.
Google analytics integration: Google analytics is the best analytics tool so far for internet business. To figure out how to improve conversion rate, you need to understand customers' behavior through detail report on app downloads, conversion rate, time on site… the mobile app which is integrated with Google Analytics can help you track app performance and understand customers' insight.
So far I have been listed the most important features of m-commerce. Bottom line, you have to use those features wisely along with other marketing efforts in order to maximize the profits from your business. Please wandering around on this blog to get more advice about mobile commerce.
See more about mobile commerce features HERE.
SEE ALSO: How to create mobile app for magento 2 ecommerce websites »
SimiCart