First of all, thanks to supporting Simicart for a long time, we know we need to improve so many things to be the number one mobile app builder. Seeing that one Magento shopping app could not be complete without plugins, Simicart is very pleased to offer the list of the most wonderful Simicart plugins for your sales app. Track all of them and choose for your own app the most suitable ones to promote your business performance.
Where to find the list of Simicart plugins?
One thing to remember is that Magento merchants need to install Simicart before getting any plugins for their apps.
Popping up is the page containing all the plugins that Simicart can offer. Then scroll down or click on button All Plugins, there will appear all types of plugins that you need along with all price levels next to the "All Plugins" button.
Now, let's discover in detail!
#1. The first kind of plugin is Payment plugin. There are 9 payment gateways that Simicart is currently supporting. The purpose of them is to provide both the seller and the buyer with convenient gateways to navigate checkout process which guarantees the payment right and obligation of customers as well as sellers.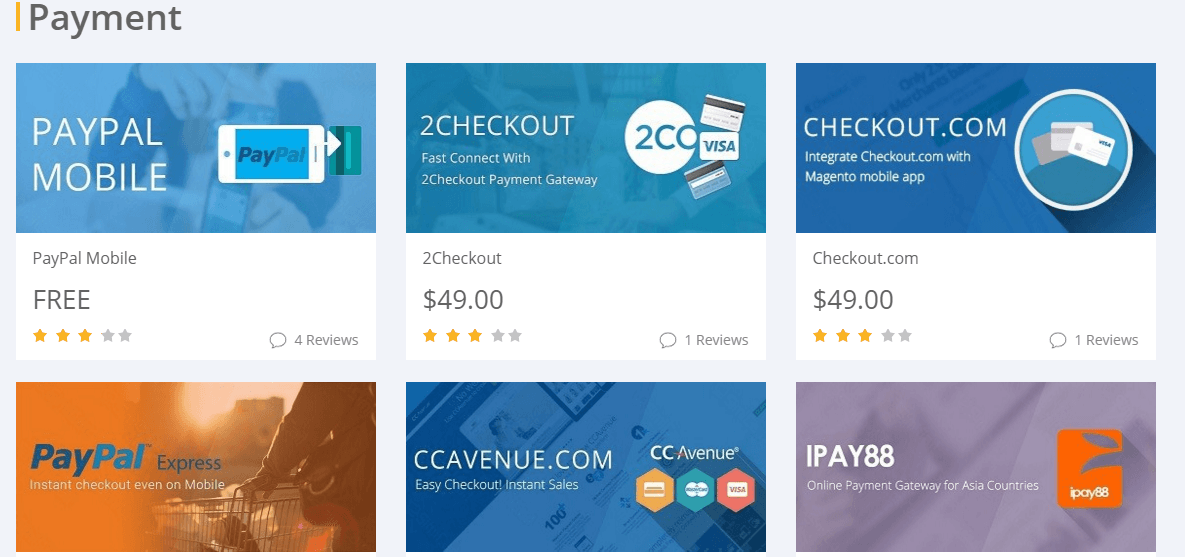 Almost all the payment plugins support Android and iOS operating system – the two most popular platforms. So you won't be worried much as most customers use smartphones running on these two systems. Moreover, the installation of it is very simple and easy to follow. Once setting up already, you will see the navigation is also not too complicated, so customers and sellers can track the data thoroughly.
#2. The second kind in the list of SimiCart plugins is Rich content which includes Product labels, Store locator, App analytics, European checkout and Video plugin. All of them are $49 except for free European checkout.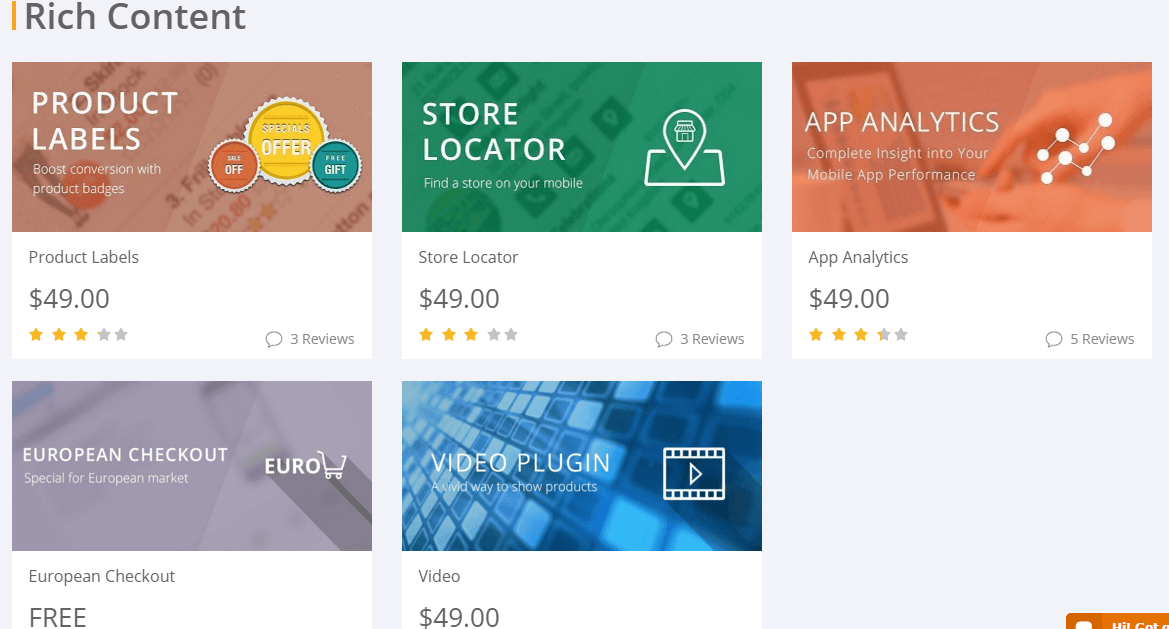 Rich content is where you can find a high-quality concept to customize your sales app. For example, with Product label, you can easily configure product label condition, catalog or set priority for each label. With App analytics, it is directly connected to Google analytics allowing the owners to track sales, a number of customers or products sold….easily and exactly.
#3. The third kind of plugin that Simicart support is the theme plugin. Sure, your app could not be completed without a suitable theme. Luckily, Simicart has been trying to offer the two most unique themes: Matrix theme and Zara theme.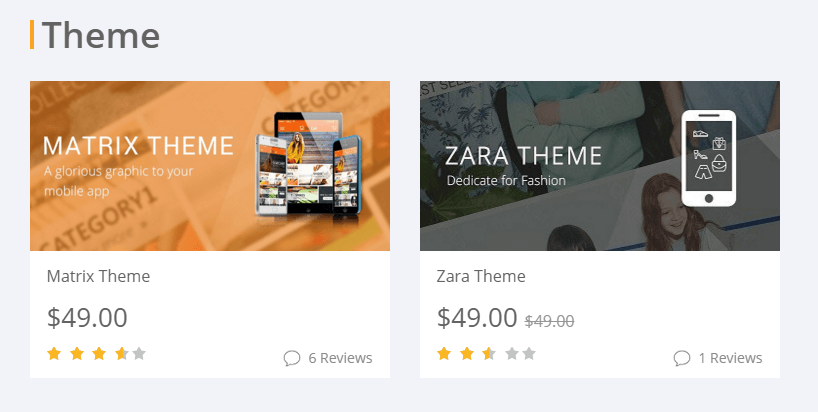 You may also like reading this topic: Benefit Of Building Magento Shop App With Available Template
Actually with available themes, you can definitely attract more customers, thereby boosting more sales in a short time.
#4. Last but not least is User experience plugin. With 7 available products, at the price of 49$ even free checkout information management. All the plugins here deserve to be adopted by successful Magento merchants.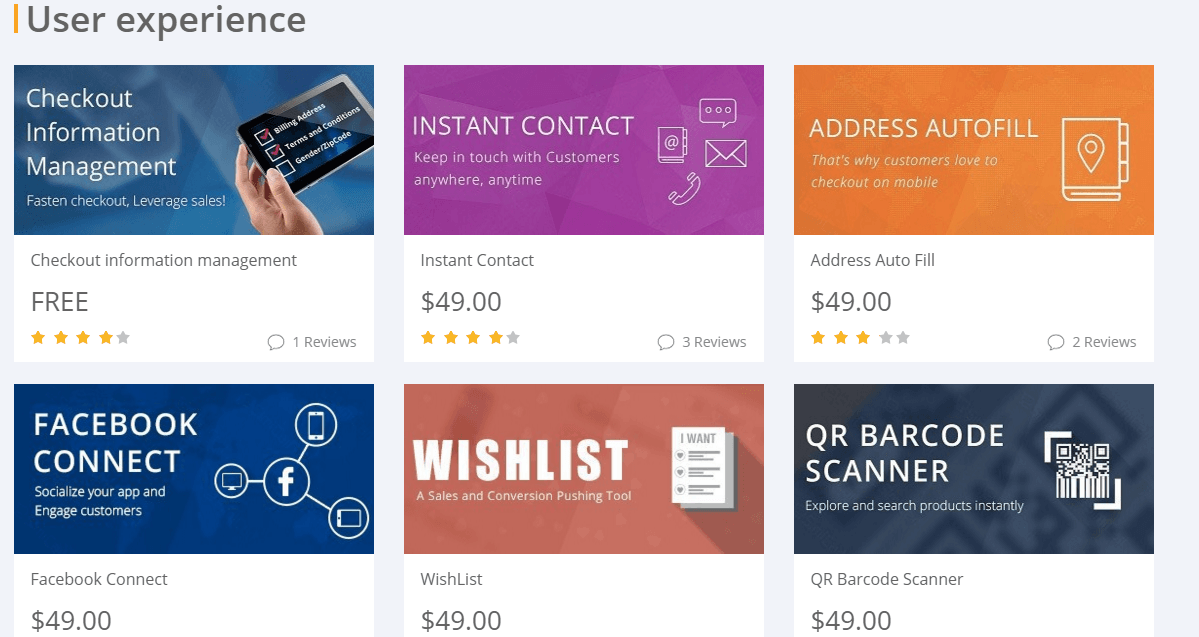 Get access to these products, as you can see, some kinds of special products like instant contact, wish list, facebook connector are so important to an app. Whether an app could become dominant depends on how you use these plugins. To manage the checkout information well, try free checkout information management. Want to socialize your app, try Facebook connect. Wish to instantly contact customers, try instant contact plugin. For more detail, you can check here:
In short,
With the useful list of Simicart plugins, your shopping app will become the most desirable app you have ever had. Spending about $50 for each plugin after installing Simicart, it seems to be achievable for even the startup in Magento commerce. So do not hesitate to adopt one of them to get success.
SEE MORE: