If you want to promote the products on your web store, there are many ways to do that and one of them is marketing through social networks.
Magento Mobile gives us the possibility to enable the users of our magento app to share the product links from our website through their private profiles on Facebook, Twitter and LinkedIn, and that way we can get more visits on our web store and possibly increase the sales.
Getting ready
We can choose if we are going to enable link sharing for all available social network options inside the Magento Mobile app (Facebook, Twitter, LinkedIn) or just some of them. In order to do that, we need to create an account on each social media site and configure it for our magento app.
How to do it…
1. Set up a Facebook account for Magento Mobile integration:
First of all, sign-up at Facebook and activate an account if you haven't one already. It is probably best to create a new account with the name of your web store rather than a private account.
Log in on Facebook with your credentials and visit the next link in order to create a Facebook application that will communicate with your Mobile app: https://developers.facebook.com/apps.
Click on the Create New magento App button in the top-right corner of the screen:

The Create New App dialog is shown. Just enter the name of your app in the App Name field, for example, My Webstore Application.  Leave the other fields as they are and press the Continue button, as shown in the following screenshot:

You need to enter a security check code in order to continue, so in the next dialog, just enter the characters into the text field as they appear in screenshot shown and press the Continue button.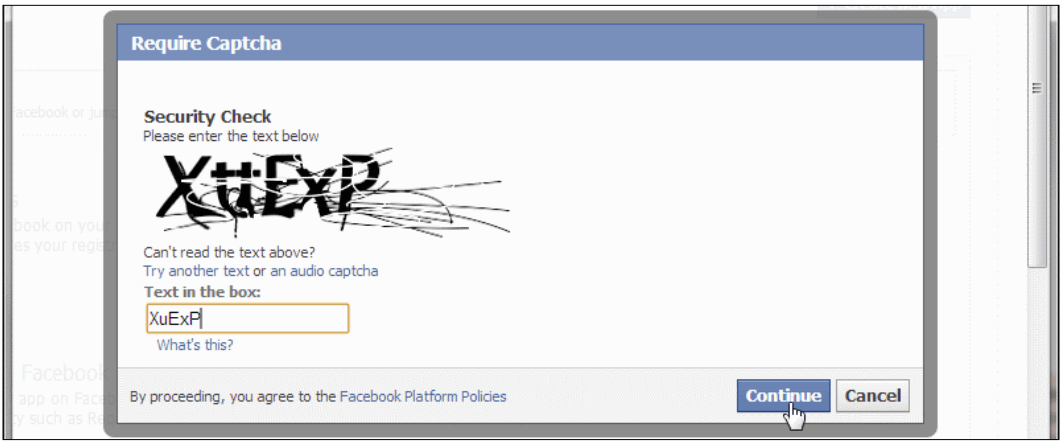 Congratulations, you have just created your Facebook App. With the App screen shown as follows, find the text value App ID somewhere on the top-center of the screen, near the App Name value, and copy the App ID value in memory, or write it down.

2. Enable Facebook integration through Magento Admin Panel:
Log in to your Magento Admin area and navigate to Mobile | Manage Apps.
Click on your Magento Mobile application created earlier to open the Edit App screen.
On the Edit App screen, navigate to Social Networking, as shown in the following screenshot:

Locate the Facebook API tab in the middle of the screen and set the Enable Facebook value to Yes and inside the Facebook Application ID field, paste
the App ID copied from your Facebook app page.

Click on the Save and Continue Edit button to save new settings.
P/s:
SimiCart is a solution that helps Magento Merchants build mobile shopping apps.
Magento merchants: Our solution is specially designed for Magento platform so you can get all the best features of Magento to apps. If you use a solution for every platform you'remissing many good things.
Mobile shopping apps: You will have apps that are coded separately and specifically for iPhone and android. Your customers can search and download your shopping apps from Google Play and Apple stores. And again, such tailored apps will bring the best user experience!
Some of useful posts you can consider:
Lesson 9: Configuring payment methods on Magento mobile app