Magento mobile install – How to do it … ?
Depending on the Magento mobile version on which the website runs, it may be necessary to install and set up the Magento Mobile Admin Panel extension in order to be able to start creating your own Magento Mobile application.
Magento Enterprise and Professional versions 1.10 and higher and Community Edition 1.5 and higher already have this extension built-in, so extra installation is not necessary. In this task, we will first determine if the Magento Mobile Admin Panel extension is already included in our Magento mobile installation and then explain how to install it if it is not present.
How to do it – Magento mobile install…
1. Log in to Magento Admin Panel and determine the Magento version:
Visit http://yourstore.com/admin and log in with your existing admin credentials.
After successful login, on the bottom of Magento's Dashboard panel, we can see the currently installed Magento mobile version. For example, Magento ver. 1.6.2.0 or similar as shown in the following screenshot: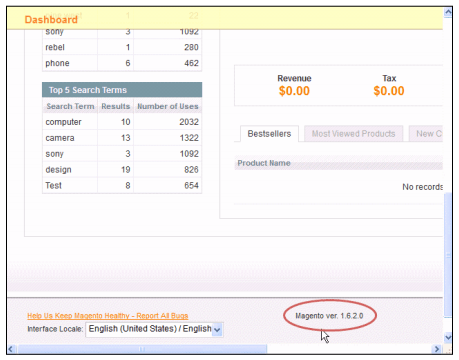 Magento mobile install – installing and configuring Magento Mobile Admin Panel
If the installed Magento version is Professional or Enterprise, it will be written near the top left Magento logo image; otherwise, Community edition is installed.
2. Check existence of the Magento Mobile extension:
We can find out if Magento Mobile Admin Panel is already installed, looking at the main horizontal menu—there should be a menu item named Mobile:

3. If the menu Mobile is not present, you will need to install this extension by following the next step.
4. Install the Magento Mobile extension, if it is not installed:
1. Register the account and log in to Magento Connect:
Open your favorite web browser and go to http://www.magentocommerce.com/magento-connect/ in order to download the Magento Mobile extension.
We can find the link LOG IN in the upper-right corner of the screen. When we click on LOG IN, a pop-up form will be shown offering fields for
logging in as an existing user and the Register button for a new user. If you do not have an account on Magento Connect already, just click on
Register and on Register form, fill in and submit the required information.
2. Get the extension key from Magento connect:
Open the Magento mobile extension link, http://www.magentocommerce.com/magento-connect/magento-mobile-6497.html in your browser.
Click on the Install now button and choose an appropriate option foryour installation:
‰ Magento Connect 1.0: For Magento versions older then Professional/Enterprise 1.9 and for Magento CE older then 1.4.2.0 RC1
‰ Magento Connect 2.0: For other Magento versions
Check the I agree to the extension license agreement field and click on the Get Extension Key button. Next, click on the Select Key button and copy the key in the clipboard.

3. Install the extension through Magento Connect Manager:
Log in to your Magento Admin Panel and in the main menu, click on System | Magento Connect | Magento Connect Manager.
The Magento Connect Manager Log in screen will be shown, where you need to enter your Admin credentials in order to log in.
After you log in, just paste the key from the clipboard into the provided input box and click on the Install button.
The extension will be automatically installed and ready to use.
How it works…
The installed Magento Mobile Admin Panel provides a nice user interface in the Magento admin area for creating your own mobile applications through Magento Mobile install. On newer Magento versions, it is included in the Magento installation by default.
Magento Connect is Magento's official place for all kinds of Magento extensions, and Magento Connect Manager is used to make the extension install process easy and accessible to all users, not only to developers.
There's more…
It's also possible to install magento mobile this extension manually, and more detailed directions are described on the Magento Connect extension's overview page.
If installing manually, we have to choose a proper extension version (depending on the Magento mobile installation version) for download, and compatible versions and download links are also provided on the Magento Connect extension's overview page.
Of course, in the case of manual installation, you must have at least FTP (File Transfer Protocol) access to your server's Magento mobile installation in order to manually copy the extension files there.
* SimiCart is a new product of Magestore – the top 3 Magento extension provider. It is mobile app platform that helps online merchants create Mobile Shopping App automatically for both iOS (iPhone, iPad) and Android.
So you don't have to be a coder to build your mobile app! Do you want to see your app in store in the next Monday? Get Free Magento App now!
SEE MORE: