Continuing with the series of Simi sales tracking, in this article, I will reveal to you more about its secret. If after looking through the first article about how Simi sales tracking helps to track "order status" of fashion store, you get more excited and longing for more interesting things about this magical application, then you should really spend time with this article.
In the last post, I mentioned a mobile shopping app built on Magento platform, and today, I will focus mainly on an online Magento web store.
And no matter what you sell, provided that you sell them on a Magento store, you will have a great chance to take Simi sales tracking. Seeing that the control of the huge data on computer is so complicated, plus the significant increase in the number of smartphones leading to high possibility of using phone by users, Simicart is proud to introduce Simi sales tracking to let the store owners stay updated with all the necessary information about his/her products, customer data, shipment,….right on their smartphones anywhere at any time.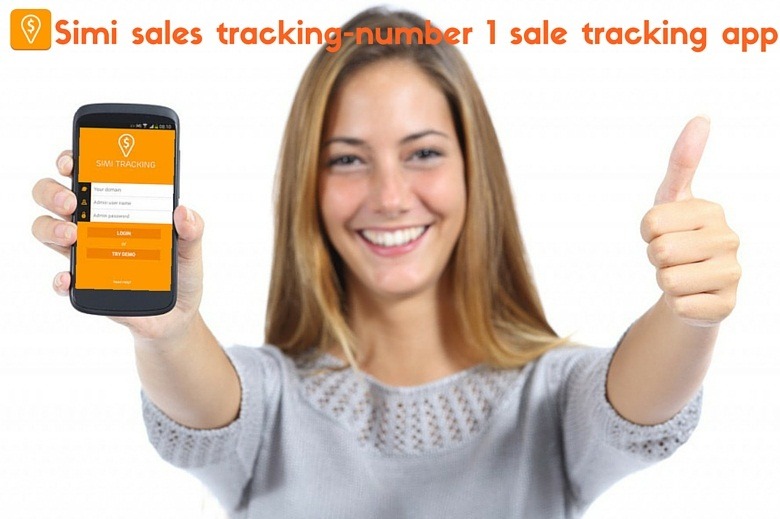 As I mentioned, with Simi sales tracking, you can easily get details of customer information. It is, in fact, an important part in e-commerce businesses. To know your customers is to know which ways to serve them best: from answering their question, inform them of a place of delivery to the method of payment or shipping,…everything. So with Simi sales tracking, you will be the one understanding the customers the best.
Stay updated with customer data with Simi sales tracking – mission completed!
What store owner has to face with? – lack of customers updates when being far away
In running an e-commerce store, you will see how hard to control the list of customers that navigate on your store, especially when you are out and cannot hold a big laptop with you.
You also know that the dashboard of Magento website(app) is quite complicated, without a laptop, you cannot keep up with the updated data easily. But you have to go out for a long time, how can you deal with tracking the sales without your laptop? Open your smartphone, but no, it's so hard to check it on a mobile device, I'm sure. Then how to deal with it?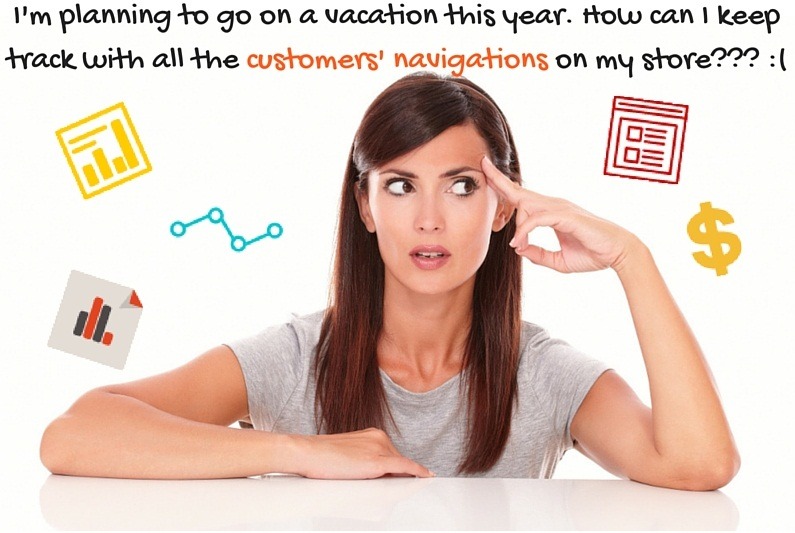 Don't worry, there comes the fabulous measure for this problem. Such an app like Simi sales tracking will replace the Magento dashboard on PC to appear with a different version right on your phone (optimized interface, nice design, and simple navigation).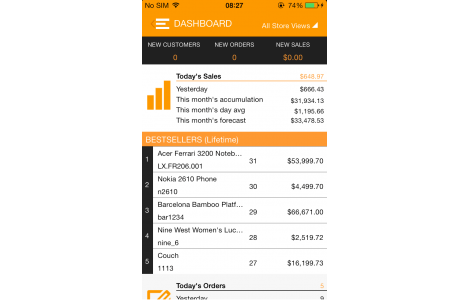 From now on, you will never drop any important data of customers visiting your store just by opening a simpler version of the dashboard on a mobile phone even when you are so far away from your PC or laptop.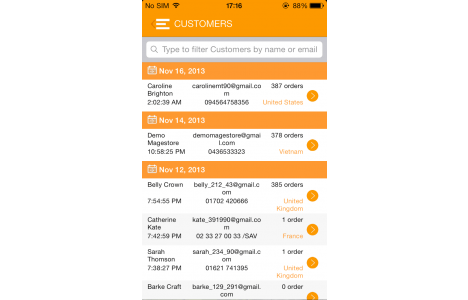 The detail of customers including the date, contact, the total order of customers,…are also recorded in an extremely clear page, you just need to tap on the orange button on the relevant customer order, then the next page will show you in detail all the information of customers, so you will be always up to date.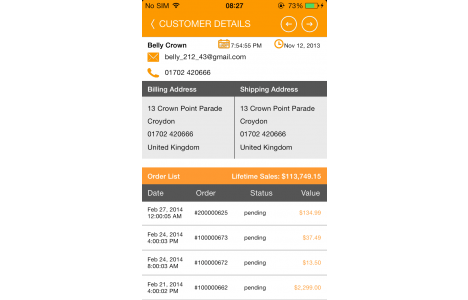 So, fly away and enjoy your holiday while still updating every data of customers with Simi sales tracking.
Other problems? One more problem that most of the store owners have to face with is that you may not know whether such orders with those customers have been completed or not. The problem emerges again while you can not open your laptop now.
Stay calm and open your magical app Simi sales tracking, click on Order section and check whether such orders are Complete, On hold or Cancelled,…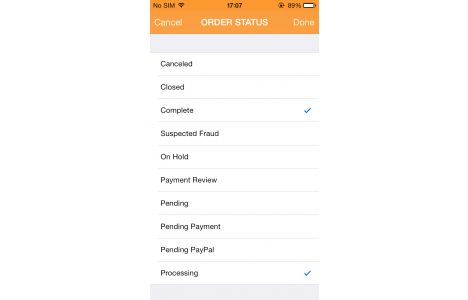 Look at the details to check whether your customer is served with the right item at the right place and right time.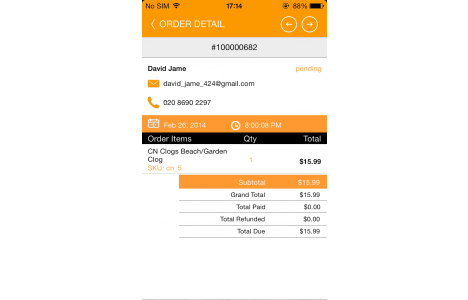 Just with a simple navigation, now the whole world is in your hands. So it's time to get engaged with a more modern way of tracking all the things of your store.
See? Now, you can totally be confident about tracking information of customers coming to your Magento store. Even more than that, from such customers' data, you can draw a long-term strategy to provide the best customer service for them, simultaneously, raise the customer engagement and loyalty naturally.