Apps are now an integral part of our daily micro-moments, with people spending an average of 30 hours per month in them, according to Nielsen. The App Store is a beast and there are people download apps every day. Let's uncovers SEO app's secret in App Store through: App Store Optimization
#1 SEO App in App Store With App Store Optimization
App Store is a beast!
How to make mobile users reach your app via App Store or how to increase the app search is one of the biggest problems for iOS developers with more than three million apps on the major App Stores.
The App Store Search is used by most people to discover new apps or find apps that they've heard about. They express their intent by typing into the App store search box. If you want to enable users to find your app easily using the search box, you would need to have app title and description that match the users keyword search terms. This will strongly communicate your message as well as showcases your app to the relevant audience.
How Important is SEO App with App Store Optimization (ASO)?
If you're not using ASO to increase your app's search ranking, you're missing out on the largest discovery channel available to your app. The goal of ASO is to drive more traffic to your app's page in the app store, so searchers can take a specific action: downloading your app. Moreover, Apptentive reports that 63% (iOS) of app customers report browsing in the app store to discover new apps. Sound great?
App store optimization (ASO) is a powerful weapon for mobile app to rank higher in app store via search – the number one discovery method for mobile apps. Hence, It's one of the cheapest and most efficient ways to perform mobile app marketing.
It is extremely important to present your app to the right audience. SEO App with ASO, you can make sure your mobile app shows up for relevant search queries. As a result, you will get organic impressions and installs.
What are the mechanics of ASO?
Exactly, what you can do with ASO comprises 5 factors:
Main Factors:
App name
Keywords
App description
Secondary Factors:
Ratings and reviews
Screenshots
There are 2 important steps to ASO: optimizing your keywords and tracking your competitors. The most basic and important part of app store optimization is to find the right topics or keywords that would describe what your target audience is looking for.
Finding the right keywords is an extremely important task. Right keywords can really be a gold mine for your app as it will bring you organic installs, while the wrong keywords could keep your app completely buried along millions of other apps making it harder to be found. Be aware that there are about 1.5 million app available in App Store.
Be Curious? Let's explore the secret of about 3 most important elements: App name, Keywords & App Description
#2 The Right Way to SEO App With ASO – Take Action Now!
1. Choose an App name adapt to high-ranking searches
Here are also some best practices from the experts in ASO about optimize the App name:
Keywords in the Title: Worth It?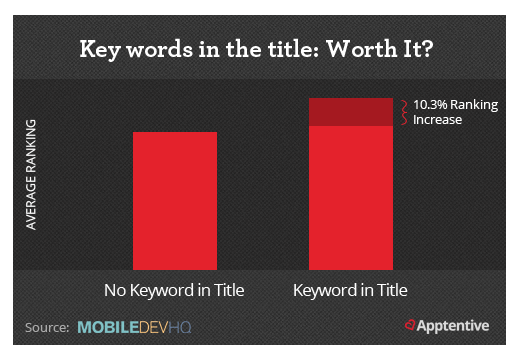 A recent survey of Apptentive measured the impact of keywords in the title — discovering that keywords in the title affected the ranking of the apps by 10 percent. So keywords in the title: worth it? The results of the answer are clear: Yes!
Don't stuff — Be descriptive and try to make the title natural and fluent. Only add the most important keyword into the title, don't stuff too many keywords.
Remember the 32 Character Limit — Though you get a 100 character limit, only the first 32 characters of your app's title are displayed in the app store results. Cut them short and communicate the punch line within the 32 characters.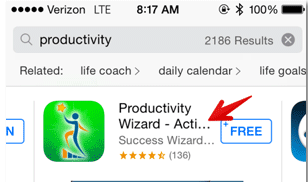 Brand name in app name— Forget your company name if you think not many people know your brand — App stores have a defined area for the company name, so don't add it again in the title especially your brand is not famous enough. However, follow your brand name with a few descriptive words if your brand is famous. Navigational searches come from people who already have a particular app in mind and enter the name directly into search, like "WhatsApp"…etc
Choose URL-safe characters that display on all devices. This means no symbols like ★ or ✓
Put Change on Hold — Once the app gains momentum, it will be referred and cited with the name that reviewers and website found it on the website. Keeping the title consistent increases reach. Stick with initial title, and even if you have to change it avoid experimenting every other week month.
Avoid FREE — If your app is free for download, the app store knows. You've told it, and it will let the searcher know it's free. No need to waste space.
Make it descriptive, creative & unique
2. Keywords
To improve your search rankings, you need to know which keywords are relevant and used most often by your target audience. Moreover, the title and keywords can be modified easily which means that you can regularly optimize them.
Remember never leave spaces in between words – Here's an example:
Avoid spaces before and after keywords — magento, mobile, app [WRONG]
Avoid sentences — magento mobile app [WRONG]
Write Right — magento,mobile,app
3. Writing your app description for ASO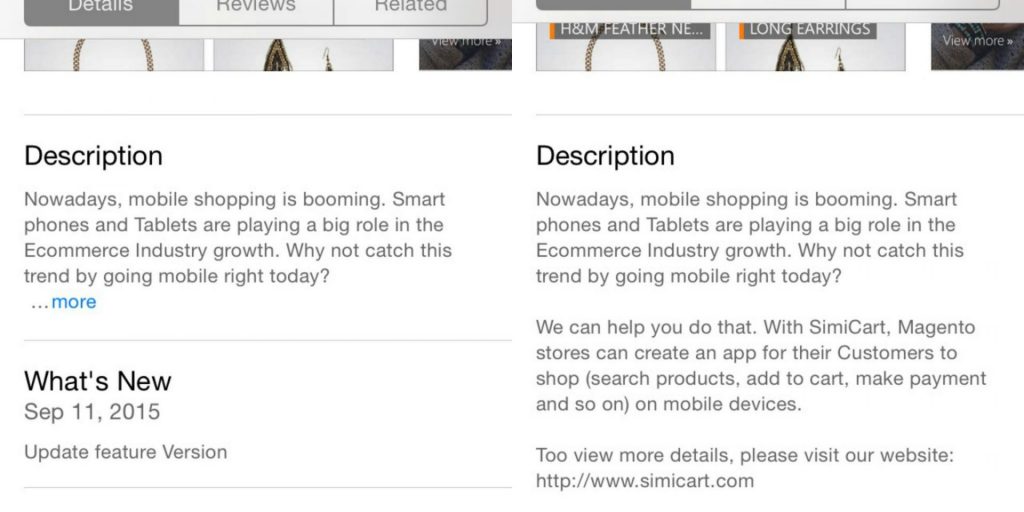 Description is not very important- Truth Description is very important. Here are some tips for writing ASO descriptions:
Avoiding Keyword Stuffing — You can stuff keywords into the title and description. But it won't get past the app store algorithms; rather it will simply have your app rejected and suspended. And even if you can stuff right now, it will hurt in the long run. Who knows?
Use all the 100 characters — Don't waste the opportunity to elaborate your title. Be descriptive, it's a waste not to use all the characters.
Focus on the first three lines, and not on keywords — Focus on describing and selling your app. Once the user clicks the app they will see the first few lines (depending on their screen size, it's likely the first two to here lines of the description). Remember that keywords don't affect search-ability, hence you should focus more on delivering the app experience or benefits.
Write good copy — Make your description easily consumable and readable.
Add a Call to Action —Give them the next step, the motivation to click to read more, remind them what to do but keep it short "Download Now and…" "Tap install for…" etc.
#3 Conclusion
To reap the rewards of ASO, you need to invest time and effort. You can also use other methods to SEO App in App Store such as Google AdWords Keywordfor extra suggestions. Google searches differ from App Store searches but you might get some interesting suggestions.
You may not be creating the world's next Flappy Bird or a billion dollar Uber. However, with sufficient effort and enough savvy, you can create an app that will get found, will get downloaded, and will make you successful.
Be FREE to share your experience or ask me anything in the comment below!
SEE ALSO: Does The Mobile App Affect The Google Rank of Your Website? »