How to use Instagram hashtags to make people love your brand
With an average of 95 million photos posted each day, Instagram is an emerging platform that might potentially divert the current course of the social media industry into that of a visual-based one.
To best take advantage of the current trend, it's recommended that marketers such as yourself should adopt the current best practices in order to stay ahead of the market.
Utilize Hashtags to get higher like-to-followers ratios
Hashtags are there for a reason — it's there to make your brand's content more easily recognizable among thousands of other industry-related posts. And just because it's easy to use, doesn't mean most brands are using it the right way. Utilized correctly, hashtags can drive more engagements for your Instagram posts and more followers to your account, thus increasing the like-to-followers ratio: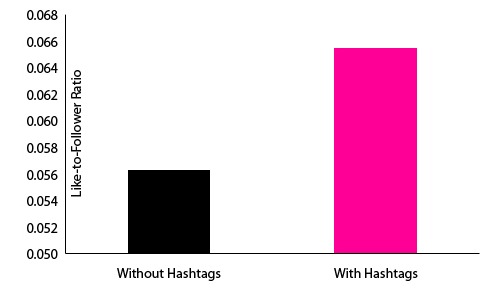 So how can I use hashtags for my business?
As with Twitter, Facebook or other social networks, hashtags are used to categorize your content and to mark your brand. With the right hashtag on your posts, you're much more likely to reach new users and be discovered in the Explore tab.
Here is the list of the most common hashtags with positive effects on like-to-follower ratio is dominated by reciprocity and nature references.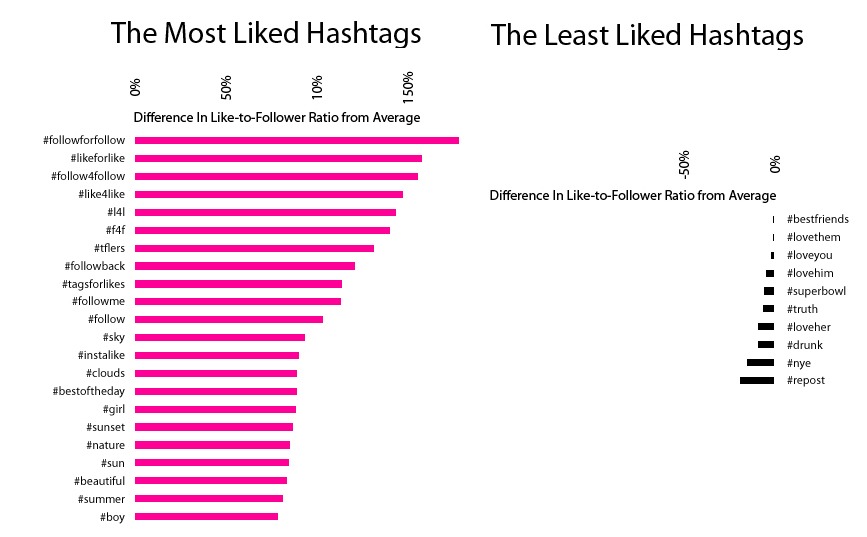 Looking at the list above, you can be correct to say that none of those apply to your products and brand, since using the right hashtags is a challenging matter even to more popular brands. To find out which hashtags have the potential to drive more engagements, followers and conversions, it's important that brands such as yourself do a careful analysis and research of your current hashtag performance in order to produce hashtags that not only best fit with your brand but must also be trending and regularly searched by people from your industry.
Fortunately, there's always online tools to help you with this research process. Two currently popular and free tools which should meet most of your needs are Webstagram or IconoSquare.
For example, say you want to find relevant, related and popular hashtags for women's accessory brands. Let's use Websta and search the following hashtag #WomensFashion.
The search bar on Instagram is so well-programmed that suggestions for related hashtags, along with views for each suggested hashtags are displayed as you search.
However, it should be noted that popular hashtags are subjected to change and not one of them is unaffected by the needs of the users, which is why it's crucial for brands to keep on analyzing the current best way to utilize hashtags that are beneficial for the growth of your business.
Tip #1: Use variants of hashtag
Brand Keyword Hashtags (with brand MensFashion)
#mensaccessories #mensgoods #mensfashion #fashion #mensstyle #menswear
Product Category Keyword Hashtags
#happysocks #corgisocks #socks #sockswag #sockgame #sockswagg #happysockday #sockwars #funsocks #happysockday
Tip #2: Use hashtags based on context
Popular hashtags are a great way to build brand awareness. Popular hashtags you can use, including:
#photooftheday: Choose a behind-the-scenes photo of your company and share it as the photo of the day.
#selfie: Take a selfie while your company is working and share on your Instagram account.
Themes can be a lot of fun. Here are a few to consider for your business:
#motivationalmonday: You can add some positivity to your feed by enjoying a motivational Monday for a good working week.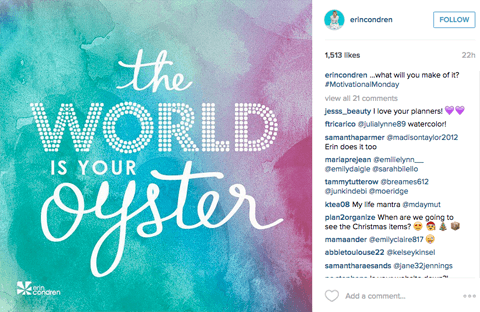 Sometimes, you can share quotes or life lessons, for instances:
#instaquote #quoteoftheday
Remember to create a plan for your posts throughout the week using this hashtag.
Tip #3: Drive traffic to your blog
Use these following hashtags to promote a new blog post or showcase your Instagram audience what you're working on:
#blogging: While you're writing a new blog post, screenshot a photo and then add it on your Instagram with using this hashtag.
#newblogpost: You've just published a new blog post, share your featured image on Instagram and add this hashtag. It will direct people to your blog via the bio.
#instablogger: This is another tag to add to your blogging hashtags.
Working together with other partners to build your brand's values
Obviously, you can't stay an independent business forever. Brands are starting to reach out to other brands with the same goals for an easier time developing marketing and business initiatives.
Take SweetGreen, for example. SweetGreen promotes their brand's values by indicating to their followers that all their source ingredients are local, organic and are provided from trusted partners. Since their values align with that of their partners, together they create almost a common brand identity whose mission is to help provide children with healthier, safer food.
Needless to say, brands with noble goals are often perceived as "good", which in turns can drive more revenue to your brand.
Leveraging the power of Instagram Ads
Instagram recently announced that they upgrade just a few of the advanced features that store owners are expecting.
More opportunities to convert viewers into customers
One drawback of Instagram is that it's strict about where your links can be placed. You can put a live link in your bio, but Instagram links, in general, are unclickable. While this helps to decrease spam, it's a big challenge for any businesses that try to convert viewers of any type to customers. In our more recent versions of Instagram, customers can now have the option to take direct action to ads appear on their feeds.
An exemplary ad campaign from Nintendo
More Targeting Capabilities
In order to reflect more of the things that users are interested in, Instagram uses more data from Facebook data instead of relying soly on age, gender and country. For example, say you're running a coffee shop and want to target 20-year-old males in the US. With accesses to more diverse targeting options, Instagram can deliver ads to a majority of 20-year-old, coffee-addicted males out there. This is called hyper-targeted ads which are becoming more and more common nowadays thanks to social media platforms such as Instagram.
Compelling and meaningful stories with Carousel Ads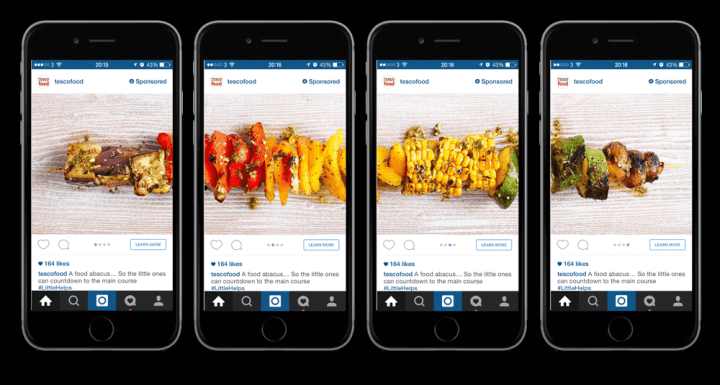 Store owners now have more flexibility by allowing viewers to swipe left to see additional images. This way, you can add elements of storytelling to your advertising campaigns without the worry of overcrowding the user's newsfeed.
For example, Samsung used the Carousel ads to tell the story of the enhanced camera capabilities of Galaxy S6 and Galaxy S6 Edge. Each image is a mini photography tutorial and highlights a different camera feature.
In conclusion
Instagram is becoming an increasingly popular channel for emerging eCommerce stores of any kind due to its listed benefits and visual-oriented nature of the platform. With all these aforementioned tips and tricks, we hope that you can better optimize your current campaign and be able to gain more revenue for your business.