Mobile App is a big part of e-commerce trend in the world. These statistics from mobilThis shows that the global mobile payment transaction volume in 2017 was 780 billion U.S. dollars and is expected to surpass 1 trillion U.S. dollars in 2019.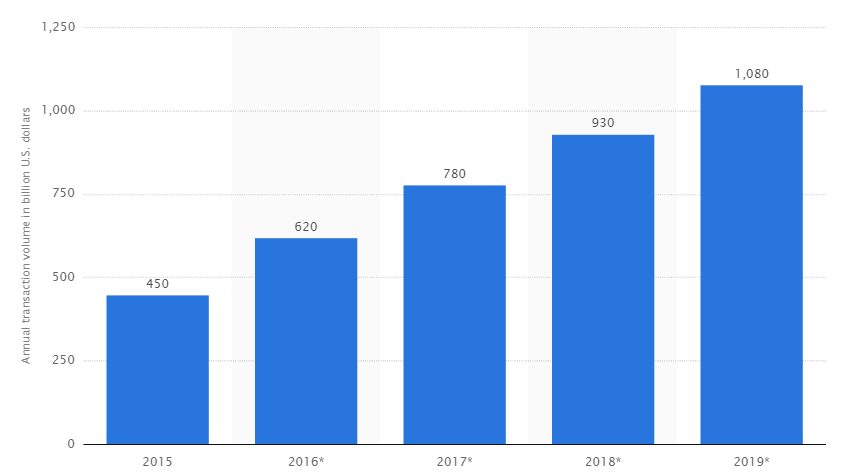 The spread of mobile devices like smartphones and tablets has lead to the strong growth of mobile commerce. In 2017, mobile e-commerce spending in the United States amounted to 101 billion US dollars. The possibilities to shop on mobile devices or specially designated mobile apps are plentiful: online market leaders eBay and Amazon offer designated mobile shopping apps and sites and brick-and-mortar stores such as BestBuy or Target are also catching up. In many physical stores, mobile devices can also be used as a payment method by using NFC technologies to scan digital wallets. One of the early players taking advantage of mobile payments is Starbucks – as of the third quarter of 2017, mobile payments accounted for 30% of Starbucks transactions as the giant coffee chain posted $5.7B in revenue.
Therefore, many stores now have their own app to catch up with the m-commerce trend.
If you don't know how to convert your Magento store into a mobile app, this post is a useful resource for you. Now, let start to learn How to convert Magento website into Mobile App.
There are 2 common ways to create your Magento Mobile App:
1. Hiring a Mobile Development Company
Pros:

Create a unique app.
Have the source code to customize by yourself.
Create as many features as you want.

Cons:

Takes time. Sometimes, you must wait about 3 months to finish the app.
High cost.
Difficult to integrate with Magento.
2. Using existing solution
Pros:

Quick. You only have to wait 1-3 days to have your app.
Cheap.
Integrate and connect easily with Magento.

Cons:

Fewer features.
Less customization.
Each above way has its own advantages and disadvantages. However, there is still a special way to get the pros of 2 ways: SimiCart – The complete solution to create a Magento mobile app. With SimiCart, you can gain all the below pros:
You will have your UNIQUE apps because SimiCart provides many themes & templates for you based on your business.
Integrate & Synchronize easily with Magento because Simicart has been working with Magento for 5 years.
Provide great customization to help you have all features you want.
Price to build Magento app is 20% cheaper than other solutions.
Wait only 2-3 days to have your own app.
Lifetime support & update.
Sounds interesting, right? If you want to have the best way to convert your Magento website to a beautiful mobile app, SimiCart is the best choice.
SEE MORE: