Those days, when the two terms "E-commerce" and "M-commerce" become increasingly familiar and take greater and greater effects on our life; so does the term "payment gateway". Payment gateways are the bridge that connect online merchants, banks and customers. However, do you know exactly how a payment gateway works?
1. Payment gateway – what is this?
To make it easier to imagine, let's think about the credit card terminals that you encounter in physical stores. A payment gateway is no more than the online equivalent of it. The main job of a payment gateway is to validate your customer's credit/debit cards details in a secure way, make sure the funds are made available for the payment and get you paid. Payment gateways are essentially required when accepting a credit card transaction online. As a result, if you are running a mobile app, you cannot miss this part. 
2. How a payment gateway works?
Payment gateways fulfill a vital role in the e-commerce transaction process, authorizing the payment between merchant and customer. Every time a customer places an order from an online store, the payment gateway follows four simple steps in the payment gateway process to finalize the transaction: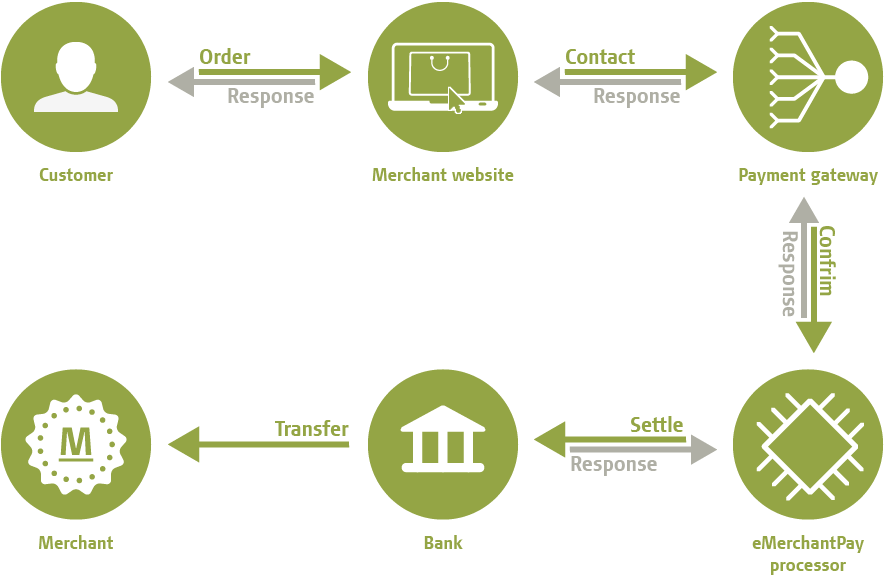 a. Collection
Your customer chooses the product or service they would like to buy and then provide the payment page their credit card details. There, his or her credit card details are sent from your mobile app's checkout site to the designated payment gateway. 
b. Authentication
Your payment gateway then takes this information and sends it to your bank account. By offloading this information straight away there is no need to store the details anymore and therefore, you have instantly reduced the risk of a hacker obtaining access to this extremely sensitive information. 
c. Authorization
The payment processor sends the transaction data to a card association. Once the bank receives the authorization request, they will decide whether to approve or to decline it. Then, the bank will send the response back to your payment gateway, from which your customers also receive their payment status. At this point, you will know whether the sale has been carried out successfully or not and you can start shipping the ordered products or services. It only takes less than a minute for all these steps to be finished. 
d. Settlement
At last, the transaction data is verified by your bank and the money from the sale is deposited into your account. When the actual payment will arrive in your account will depend on your payment gateway – it can be as little as real-time or as long as 21 working days. 
You can see more about how a payment gateway works in this video
[youtube https://www.youtube.com/watch?v=bNV7RGj71zk]
3. Wanna find an optimizing payment gateway for your mobile app? Remember 2Checkout
In the previous sections, you have been aware of how a payment gateway works to make you millions of dollars; now, you probably want to know which payment gateways can get you the most profit, right? At this point, I can assure that 2Checkout Plugin by SimiCart with +50 thousand sellers served around the world and 300+ fraud rules built over 14 years of experience since founded, is the best Payment Gateway for your mobile shopping app.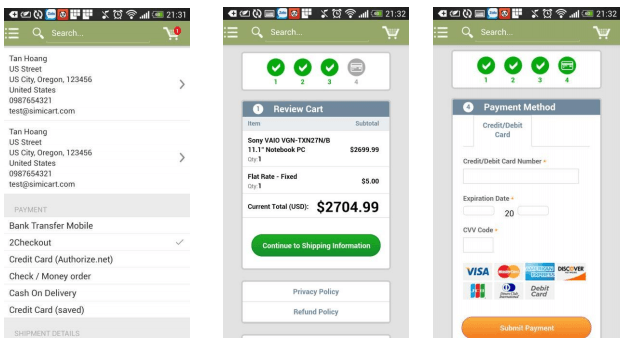 Both Android and iOS supported

2Checkout.com integration

Different Magento Community version (1.4, 1.5, 1.6, 1.7, 1.8 and 1.9) compatibility
PRICE: $49 (*)
(*) You have purchased SimiCart before.
RELATED POST:  5 reasons why 2Checkout plugin is the best Payment Gateway for mobile shopping app