Continuing the series of the mobile shopping app speed important role towards mobile shopping app experience, this article will reveal to you the second part whose main topic is how to speed up mobile shopping app to enhance the mobile shopping experience.
Actually, whether the loading speed of a mobile shopping app is fast or not depends much on the code of such app. However, it is more than that. Besides code, there are various things that should be involved in optimizing mobile app speed. Keep track with the following data to be updated.
How to speed up mobile shopping app to enhance mobile shopping experience
Choose a smart mobile app builder
Though you can freely hire a mobile shopping app development company, choosing a suitable mobile app builder is also a very important task, especially when you are holding a Magento web store and wish to turn it into a mobile version.
Though coding skill is very important in speeding up a mobile app, with Simicart, you will not have to worry about coding anymore. You can immediately publish a mobile store with just 4 steps. And with all the great features in building shopping app, Simicart is worth being utilized to bring about a fast speed and smooth mobile sales app.

several major advantages of M-Commerce are clear to consumers.
No coding skill – it means that your app will receive the fixed setup of technique and all the setup is optimized to make the best of the app. So be happy when using it, you will find the app run so smoothly. You can find the demo apps of Simicart here to experience the great features of it.
Simplify the mobile app interface
Of course, one app with the complicated interface, messy images and making people feel dizzy is a big failure to a mobile app developer. You should know that to speed up mobile shopping app, there should not be too many big image data because they can slow down the speed of your app.
If you have a Magento shopping app integrated with a Magento website, certainly you should also use small, simple but well-designed images on the website, so when being turned into an app, they can fit the screen of the mobile apps and bring about the best experience for users.
Once again, you should know that Simicart also provides a great variety of useful plugins including available templates. They are all designed to match all the requirement from mobile devices. You can totally take advantage of them to guarantee the speed of your app is always fast as customers' expectation.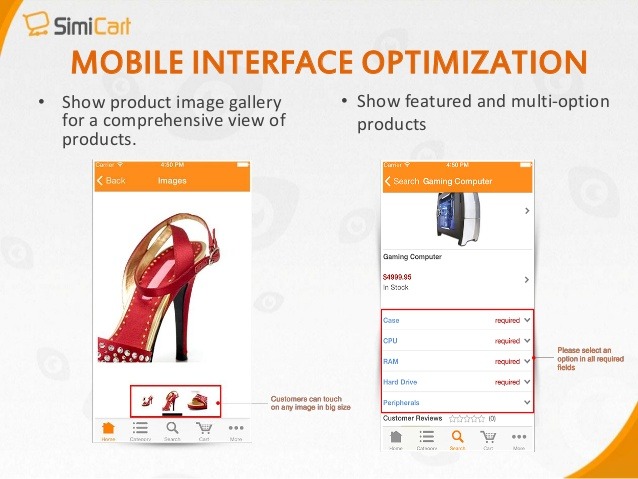 Update plugins usually
Actually, when you ignore the plugins update, this can make your app load slowly as time flies. But sometimes, when you update them too often, this can cause conflict among them. Therefore, you should keep in mind that updating the plugins, interface,…usually is the key that help your app always up to date and can make the loading speed improved significantly.
In the end,
Optimizing a mobile shopping app speed sometimes does not depend only on the above things but on the speed of Internet connection as well. So be sure your internet connection is good before considering the above problems. In general, to make the best of the mobile shopping experience, it is highly recommended that you should care about all the aspects including the speed of the app and master the ways to increase the speed of it to make users always feel satisfied with your app.
Read more :