Looks like 2020 has been treating us well. Just recently—late February to be specific, Google recognized us as a qualified Progressive Web Apps Development Agency. This news has been a long time coming but we feel that it's still a cause worth celebrating, especially for our PWA team here who've been working way too hard.
https://developers.google.com/web/agencies
What does this mean?
This means that Google found our works exemplary to their standards and worth featuring on the global map. Mind you, the bar is already high as-is but we think we did a pretty good job with optimizing our PWAs to its fullest potentials.

SimiCart is the first and only Magento development company in the list
We are proud to say SimiCart is currently the only Magento development company in the list of qualified PWA agencies.
In the eCommerce field, or to be more specific, within the Magento community in particular, there are few PWA providers with as many successful live PWA projects as we do. So naturally, it didn't take long before Google saw our work submissions as exemplary to their standards and listed us on their list of globally qualified PWA agencies.
This is an indirect result of the fact that our company, through changes, still keep our early days' motto which is to value our customer's satisfaction above all else, and thus all of our projects are catered to our customers' needs and all our solutions mapped to our customers' goals. As a side effect of this work ethic, we always treat our customers' complaints as criticisms for our own improvements.
See us on the global map
Maybe it's time you should see for yourself where your favorite solution provider is on the global map. Located at Hanoi, Vietnam (the map incorrectly shows us at HCM city), we're one of the very few recognized PWA Development Agencies in the Southeast Asia region.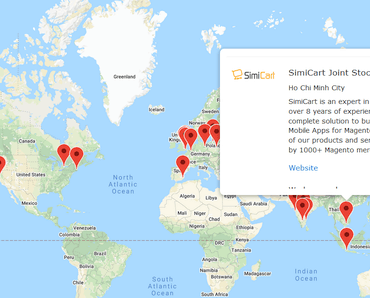 Stay tuned!
2020 is projected to be an ambitious year for us, and this is only our starting point. At the beginning of this year, we introduced a brand-new Homepage module for Magento PWA Studio for your customizing convenience so don't forget to check it out!