We all know that native apps are the best at retaining and strengthening the loyalty of your business's existing customers with unlimited engaging native features – while no other mobile platforms can. In terms of mobile experience and overall performance across devices, the native app will always be the king. But how about customer acquisition? Native app may not be the number one source for attracting new users due to its app discovery problem.
The barrier to app adoption
Submitting apps to the marketplaces like Apple App Store, Google Play Store is the only way to distribute them to end users. With today's over-saturated app marketplace, it's getting even harder for an app to get installed. People are now less willing to go through several steps to download one single app. From loading the app store, signing in, finding the desired app to accepting permission to install it, every step causes the app to lose many potential customers until the wait is over.
The cost to acquire a new customer continues to rise when native shopping app becomes a pain to discover and download. Understand native app's challenge, Google has introduced Instant Apps, a new technology that changes the way users discover and interact with mobile apps.

First look at Google Instant Apps
At Google I/O Developer Conference 2016, Instant Apps are announced as a new Android feature to ease the limit of native apps. Instant App gives users instant access to your native mobile app on Android phone without installing them from the Play Store. With one tap on the link, it takes only seconds for users to experience native app in a beautiful interface, high performance and great capabilities. Instant apps make experiencing native app just as convenient as browsing a website. This feature is now the fastest way to deliver app content to end users – without installation on their devices
How Instant App works
Instant App is not a separate and fully-functioning app like native app. It's the upgrade to your existing Android app, more like a demo for customers to instantly try out before installing the full version. Instant App is where your brand demo the best features of your native app in a fast and convenient way to new users and prompt them to download it.
To enable instant access, Android app has been split into smaller modules. When the URL is clicked, only the necessary modules to display on-demand instant app is downloaded and launched immediately, just as quick as loading a webpage. Then if users want your app added to their home screen, they just need to install the full app. When it is downloaded and installed on their devices, tapping on the link will launch the native app instead.
Until now, Instant Apps have been available on the latest Android devices from Android 6.0, across over 40 countries and soon expanding to other devices and countries as well.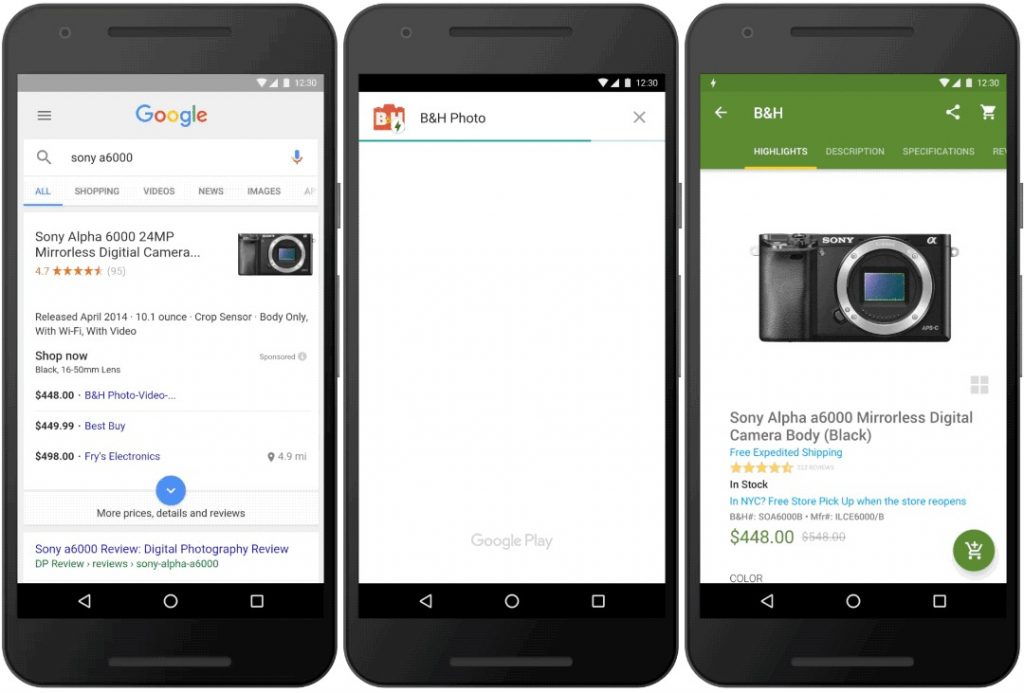 Evolution in-app sharing and discovery
Until now app marketplace is still the most popular method of app discovery and app marketers primarily rely on these marketplaces to promote their apps. However, that might soon change with the widespread of Instant Apps. The time-consuming process of installing apps from Play Store that discourages users from adopting new app is no longer a problem. Since the introduction of Instant App, this barrier of install friction has been removed. Instant app reduces the hard work of app marketing for businesses by providing a new way to promote their shopping app. It has the power to instantly unlock native shopping experience for new users who don't have the app installed on their devices.
Like a native app, Instant App embraces the high-converting features in a stunning interface while loading fast on any Android devices, which delivers an impressive shopping experience to your new users. With all the strengths of native apps, instant appise powerful at converting new visitors into loyal customers of your brand. To maximize its conversion rate, make sure your instant app is designed to bring out the best it has to offer. Once users are exposed to the value and usefulness of your app, customer acquisition and engagement will increase as a result.
Instant app provides businesses unlimited possibilities to connect with a large audience on mobile. With this functionality, your Android app is now accessible for a huge number of mobile shoppers from any location supporting URLs like search engine results, emails, messages, post and comments on social media, forums,.. What's more, Instant App is beneficial for user-to-user sharing, which is among the most effective ways to acquire new customers for your shopping app. Use a share button to prompt user to share your instant app URL with others. Instant App can impress them with a seamless experience in which even users without app installed can view app content instantly. As a result, people are more likely to engage with your app and your chance of converting customers is higher than ever!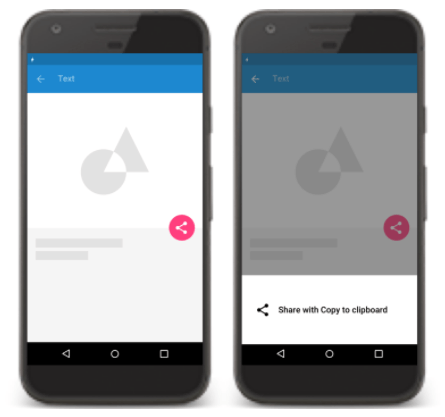 Source: Android Developers
With all of its benefits for both customers and brands, Google Instant Apps have quickly rolled out to over 500 million devices and this number is still growing fast. Businesses have already seen an increase in acquisition and conversion since the launch of their instant apps. As mentioned in Google's developer blog post, Jet – the shopping app owned by Walmart, have its conversion rate increased by 27% with the release of Jet Instant App.
SimiCart is motivated to exclusively provide Instant App
Instant App is proven to have much potential, especially for shopping apps. Investing in this technology today can be a huge win for your brand in the long haul. Understand its unlimited potential, SimiCart has become one of the very first providers to bring a truly pioneer experience with Instant App. We make this feature available for purchase in all packages to keep our customers stay on top of the competition.