Hey, merchants… Have you ever heard about a Store Locator? It's a plug-in that help to locate the nearest store and get direction. This is a must-have feature on your mobile shopping app to bring convenience to customers. In this article, I will talk about why mobile apps need to install store finder and how to get Store locator of SimiCart to help customers locate the nearest store and get information.
Store Locator: Why is important?
Here are the facts that will disclose the importance of Magento store finder:
Nearly 80% of customers using the mobile phone to search a store.

60% of customers has used Magento store locator to find the nearest stores and get store's information.

Helping managers to manage store location and get database from customers
See more about Magento store locator and its benefits: Want to help customers to find a store? Let's try Store Locator 
You also can find SimiCart Store locator Plug-in here.
How to install Store Locator of SimiCart
After purchasing SimiCart store locator, merchants can do as follow:
1. Download the Magento Store Locator connector
2. Click "Enable" cache in  System/Cache Management
3. Use FTP client to upload or copy all folders in the zip package to your Magento site root folder
4. After uploading, refresh the cache
5. If you can see the extension tab, it is installed correctly
6. If you click on the extension tab and get denied access, you need to log in again.
7. Open the app and test again
How to use Store locator of SimiCart
1. Tap on "More" on the left menu to find Magento Store locator and get direction to Store List page
2. On Store List Page, users can see the list of stores, detail of each store including image, address, distance and store's location on the map.
3. When tapping on a specific store, users will be directed to a specific store page and see the store's address and contact, working hours… and they can get direction to the store by touching "Get directions"
With some simples steps, your customers can use Store locator of SimiCart to find your store easily and quickly. Store locator of SimiCart is a necessary tool to optimize your mobile app and bring convenience to customers by giving them direction to the nearest store.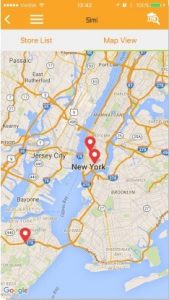 To summary
A store locator is a useful feature for a mobile shopping app which supports both in bring convenience for customers and operating of your business. To install and use store locator of SimiCart, merchants can follow the guide from SimiCart with some simple steps to start using the locator finder. Your customers will be satisfied with the store locator function on your mobile app and this will help them to purchase easier and quicker.