Free shipping for ecommerce store or not? This is a controversy. One side says that business owners shouldn't consider them to be a perk for their customers. But other says that whenever possible, free shipping is a necessity for retail online. It's a useful tool for improving customer service and encouraging consumers to spend more. In my point of view, free shipping is a must!
Do you believe that all shipping affect a huge part in customer's buying decision even can work well as a sales driver. The shipping processes can cause evil for any online retailers if it isn't in the position to meet customer's demand. People love shopping online because everything is all cheaper and more convenient.
They don't like waiting so long to get them. If shipping costs significantly increase the final cost, it can kill your online business. It is now the possible reason that all most of online businesses offer free shipping, next-day shipping and so on.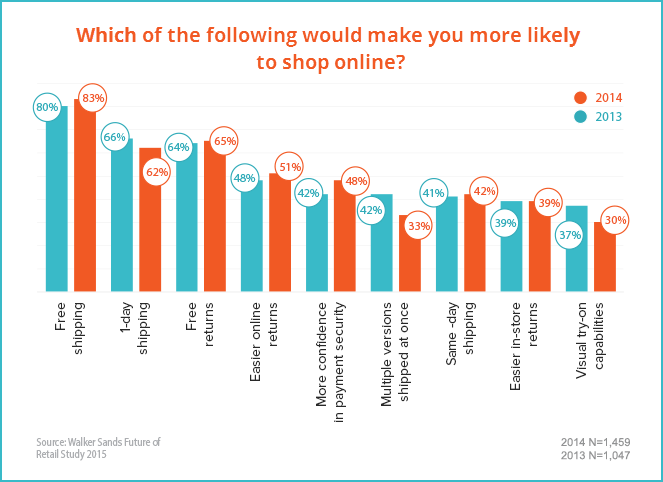 Use Magento mobile shopping apps to improve your sales!
According to a study that is recently made by Comscore, 58% of customers buy more items to their e-commerce transactions with free delivery. So what does this mean for retailers?
From drawing a conclusion after working with thousands of client, we want to give audiences perspectives why retailer must provide free shipping for ecommerce store. Here are 3 reasons.
Free delivery makes your ecommerce store more competitive in the marketplace
In the competition to taking customer's mind, the winner is who is known most popular by the customer. How can you get this position? Or compete with price strategies or compete with differentiation strategies. In case, with e-commerce industries, two strategies is essential but the first one seems to be easier to apply for e-commerce stores. Here is an effective way to partly reduce the price.
Consumers always expect free shipping to be available at many retail sites. Either as a bonus for buying a certain number of items or as an automatic feature. Not all of shoppers expect it, but they instantly choose stores that provide free shipping service when they are searching sites to shop at. According to recent data from Accent, 88% of consumers would be more likely go shop at online shops that were promised free shipping.
??? Great Tips To Speed Up Mobile Shopping App By 80% To Enhance Mobile Shopping Experience
Free shipping increases order value
As a basic rule of psychology, the customer is more likely buy when promotions are offered. These all encourage customer to take an action. Moreover, free shipping also instantly increase your order value. This is evident that shoppers spend 30% more when free shipping is available. When any store offers us free shipping or a promotion, we feel that we are being treated in a special way. This stirs up positive emotions towards the merchant and will thus be more likely to spend more. And the most important thing is the positive relationship has been established between customers and merchants.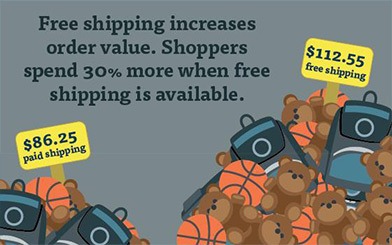 ??? How to enhance in-store shopping experience with mobile app?
Free shipping will increase the volume of your sales
Today, convenience is the most important factor that make e-commerce industry rocket in a few recent years. The main purpose of any e-commerce stores is to provide the consumer the best shopping experiences. According to Compete's survey, 93% of the responses said that free shipping is the biggest stimulation to buy online. Shipping services is a way help customer more convenient. You and I no one has to come mortar and brick store for go shopping. Just call and wait to receive it in the comfort of your own home. Whether you are shipping domestically or internationally, all unexpected costs will deter even the most loyal customer away from future purchases.
For examples, it makes sense when you think from the point of view of your customer. Why I have to pay $10 for shipping. Instead of, I could spend it to buy more an item and get both shipped for free.
Shipping costs normally greatly increase the final price paid. An item costs $25 and the shipping costs are $5. It raised the price by 25%. Price savvy consumers are always searching the ways how to save money. The easiest way is hunt bid deal like coupons and promotions program or free shipping for cutting their final costs.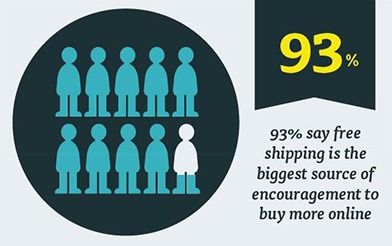 ??? The Magic of Push Notification: how to make use of it
9 ways you can offer Free Shipping for e-commerce store
Here are 9 commonly-used ways
1. Free shipping regardless of the items included or the order value. This is often viable with consignment with small and light weight products.
2. Free Delivery with minimum thresholds. Not much more common for retailers. Setting minimum order value is a way to encourage larger orders.
3. Free shipping to certain locations. Taking it a further step, many retailers are now offering free ship to store where consumers can pick up merchandise at their local brick and mortar store.
4. Free shipping on certain items. It's quite common especially high-margin items.
5. Free delivery at certain times of the Year. Many retailers choose this way rather than all year round. Normally they offer it only during the holidays when their competition is more aggressive and consumer's demand are at a peak.
6. Bake shipping fees into product price (not recommend). In the competition of price, it's easy to lost customer when customers are searching information regarding price and they see that the price of your competitor is lower.
7. Loyalty Programs. It's used as an extra incentive to encourage repeat purchases. This policy offers free shipping to their loyal customers. This can be a great way to create the longer-term relationship with customers and the perfect way for customer caring.
8. Free shipping on returns. For example, if you're an apparel or footwear retailer, this one is particularly appealing for buyers.
9. Flat-rate shipping. It really isn't free, but by offering flat-rate shipping, you will encourage larger orders. However, maybe it becomes a barrier to who just want to buy small items or quantities.
??? Store Locator: Let your customer find you easily via mobile app