Buyer's remorse or the feeling of regret a customer experiences after making a purchase is not something new, especially in the age of online shopping. For online shoppers, this emotional state has become too common due to the fact that the real product they receive is oftentimes different from the product description and images on the shopping site. Therefore, it is increasingly essential to give online customers a true sense and visualization of products in order to prevent buyer's remorse and thus, greatly reduce return rates at your eCommerce store. Ecommerce product configurator is made to satisfy this growing demand.
What are product configurators?
Ecommerce product configurator is an interactive software to let online users customize the product based on certain available configuration options and characteristics such as colour, size, text, image, texture, and more. In other words, eCommerce product configuration visualizes the product according to customers' real-time customizations to help them have an accurate image of their products. This is also a smart tool for customers to design their own customizable products if your business provides this service.
For example, if your online store is selling bicycles, you can display a visual configuration of the bike and provide multiple color options. With a few clicks, customers are free to customize the color of the bike to see which one matches them the most.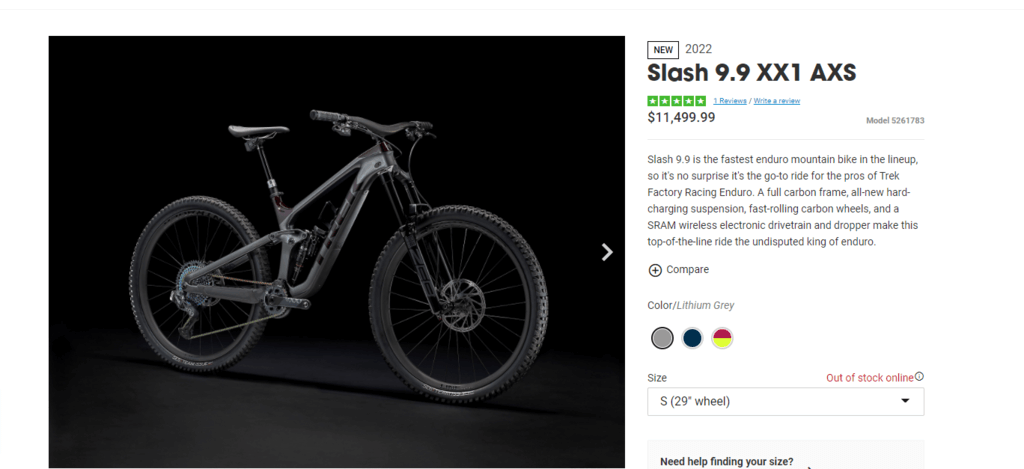 Online product configurator is an essential tool for any eCommerce business to help potential customers get a comprehensive demonstration of their wanted items when shopping online, which helps them to easily make a final decision on the purchase.
Benefits of visual product configurators
Ecommerce product configurator is becoming more and more common thanks to its undeniable benefits:
Reduced product returns: Effective product configurators help users to truly visualize the product, so you can expect that customers already have a vivid picture of real products with specific details. It's a high chance that they will not be disappointed with the items once they receive them.
Excellent customer experience: As online customers use eCommerce product configurators to make a product they consider ideal, they will feel a sense of satisfaction with their orders. Any foreseen issues related to product features might be removed, which significantly enhances customer satisfaction at your store.
Better inventory management: If you are selling customizable products, there is no need to store a huge number of available inventory, as each item might be customized according to customers' configuration. However, bear in mind that the long manufacturing process might lead to canceled orders if you keep customers waiting for too long.
Higher conversion rates: Customizable products are made based on customers' designs and preferences, meaning that they are one of a kind in the market. Customers tend to easily make a purchase and pay more for these unique and limited products.
Types of eCommerce product configurators with examples
1. Static 2D
2D product configurators demonstrate a flat and static visualization of online products. Since this type does not support a 360-degree view for users, they might find it difficult to view the product from different angles. 2D visual product configurators support customers to switch certain customizable elements such as colours or materials. Static 2D is the most common type of visual configurator, especially for configurable products.
Obag, a personalized handbag and accessories brand from the US has made the best out of 2D visual configurators to make a splash on the handbag market. There are more than 12 handbag models available for users to select, and they can use the online product configurator to customize the bag as desired, including the bag's body, handle, interior, and trim. There are many options for each product part that gives customers what they need for every occasion.
Another example of the static 2D configurator used in eCommerce brands is Surania, a well-known swimsuit producer from Spain. Surania gives customers many available options in terms of shapes, sizes, and fabrics to design their own swimsuit. Customers can select the fabric for each product and each item is divided into smaller parts that can be customized with various filters.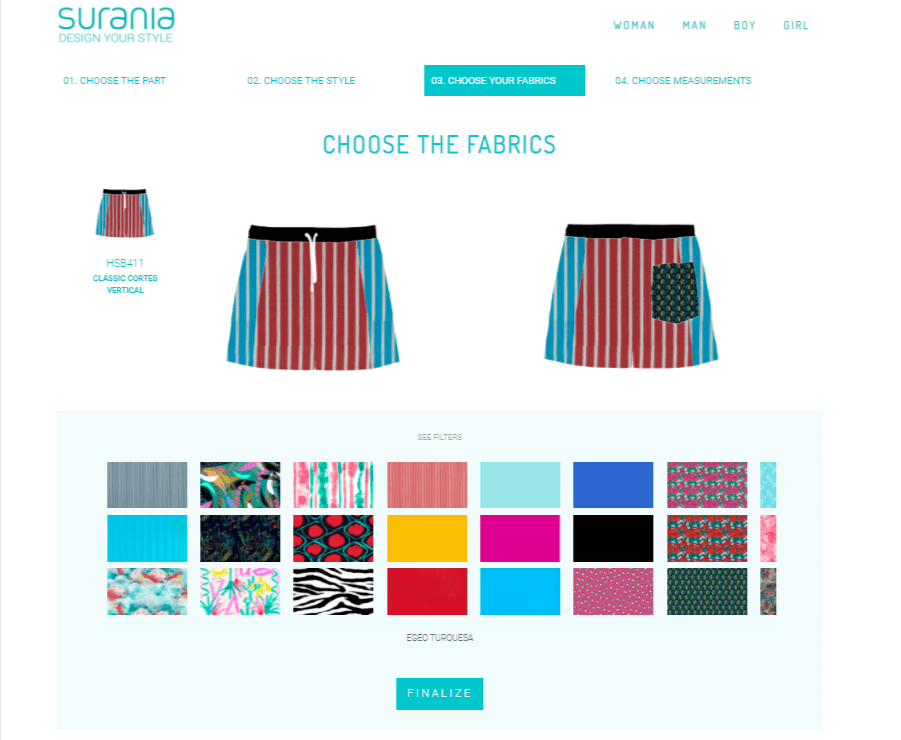 2. Interactive 3D
Interactive 3D product configurators use responsive design to help viewers get a 360-degree view with a 3-dimensional rendering of products from every angle. Along with that, customers can still select different customizable elements to design their favorite items just like they do with a static 2D configurator.
Interactive 3D has been gaining massive popularity in recent years for online furniture sales. As furniture purchase is oftentimes expensive, it's better that customers can visualize the furniture just as they see it with their own eyes.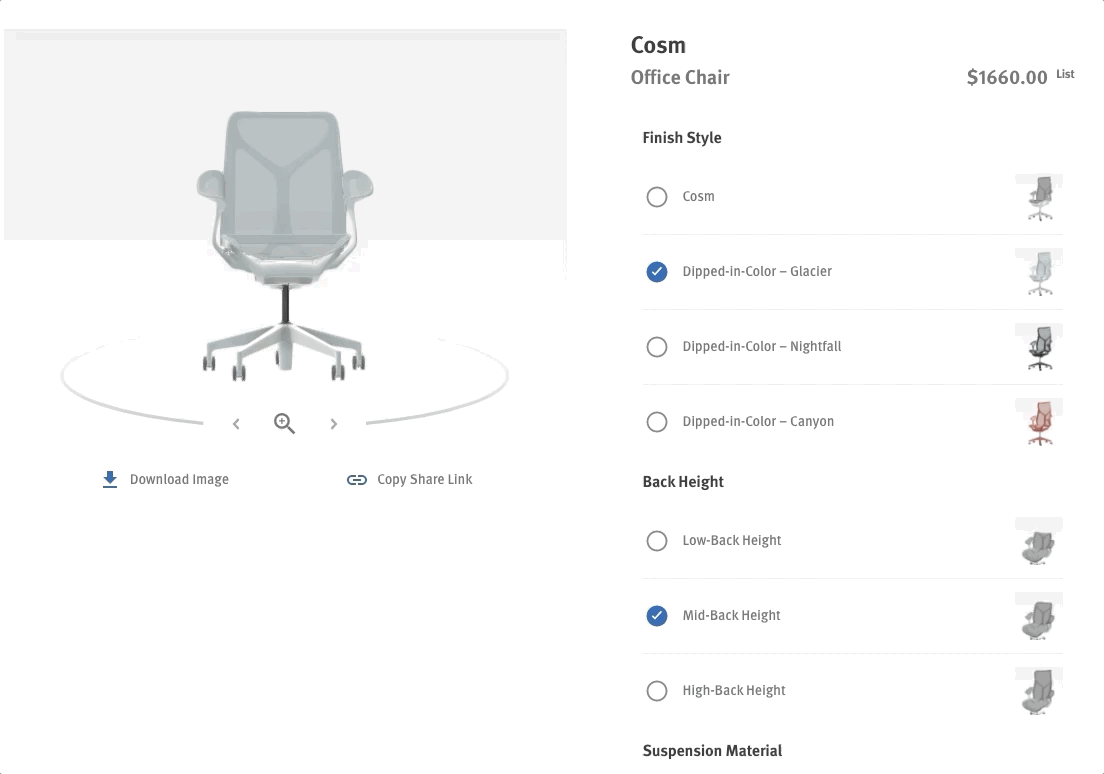 Steelcase is a United States-based architecture and furniture company. As the main business focus is to deliver high-end office furniture solutions, Steelcase has soon employed interactive 3D configurators to leverage the online shopping experience at their e-store. Steelcase product configurators allow customers to design their own favorite furniture with either 2D or 3D models to help them visualize the product to each small detail. Their 3D model works surprisingly well without image distortion and customers can view the furniture in all aspects.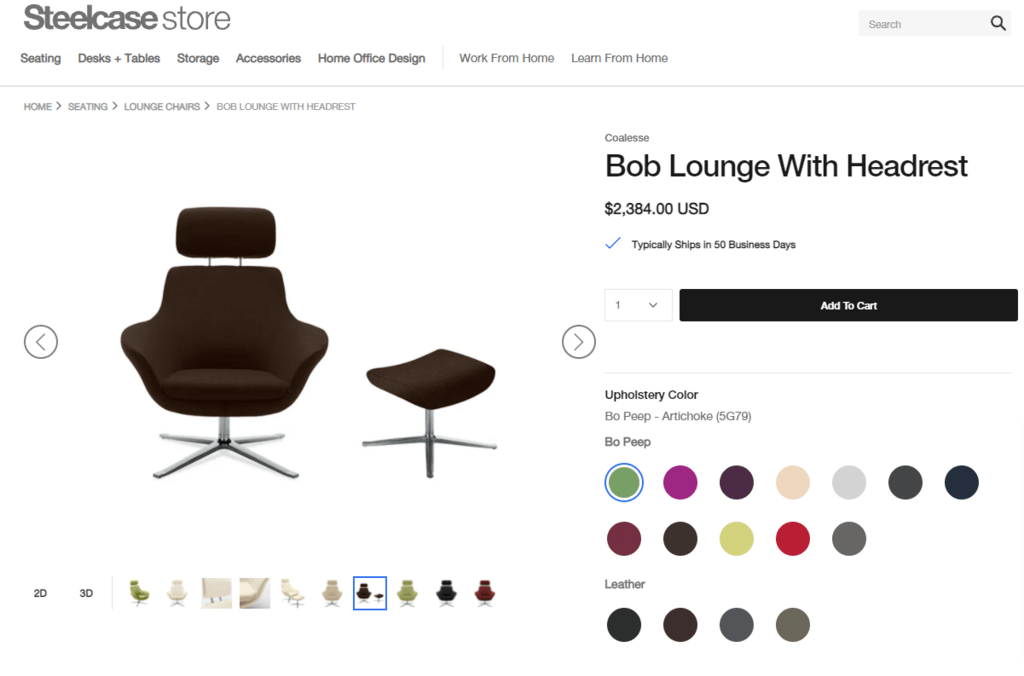 Another impressive example of 3D configurators can be seen from Nike. Soon realizing how customers are in love with personalized products when mass-produced items are everywhere, Nike introduces Nike For You, an interactive configurator to help customers customize their desired shoes. Every detail in the shoes, from the base to the shoelaces can be selected and for each detail, there is a wide range of colour options for customers to select to best match their favorites.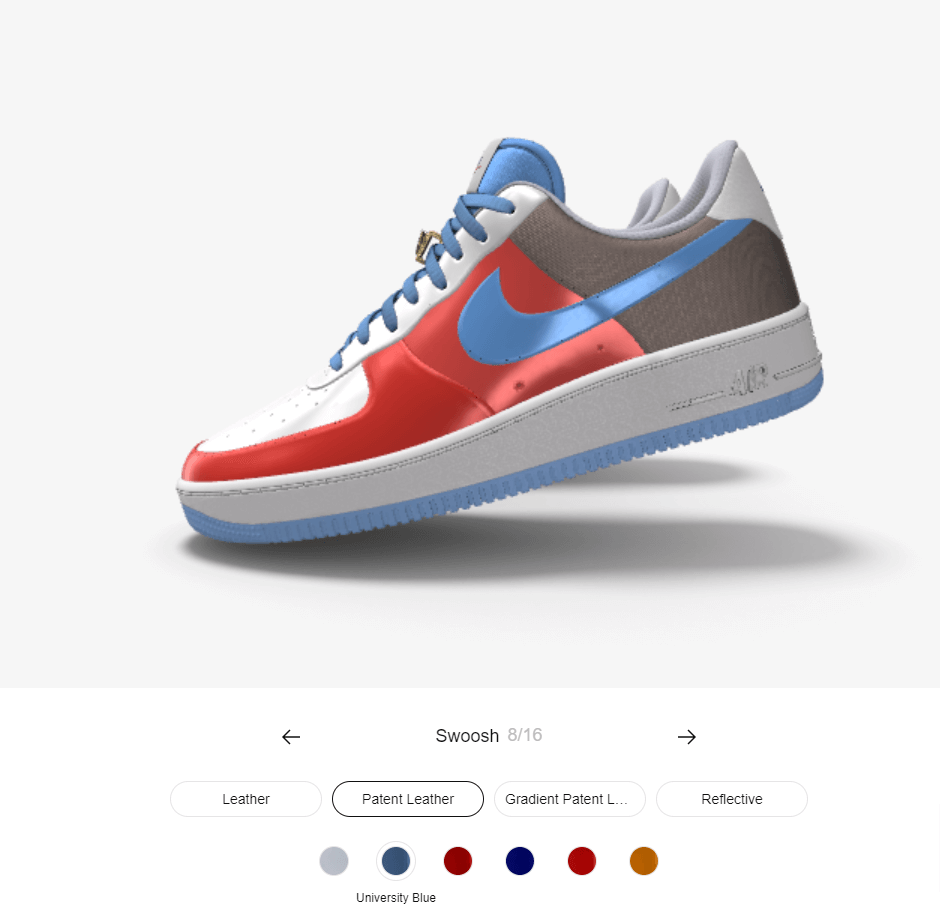 Some Nike For You items don't support a 3D configurator or rotate function, but once customers are done with customization, Nike will present a series of six close-up photos from all angles.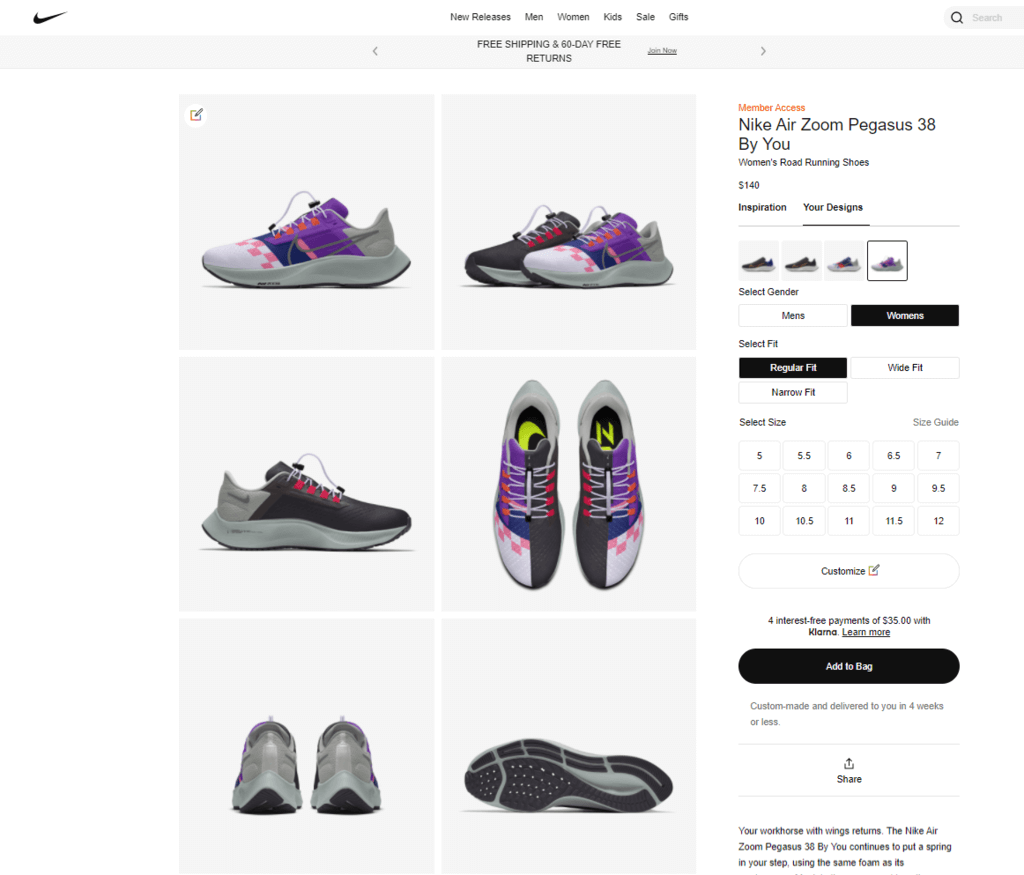 3. Augmented Reality (AR)
There is no better way to introduce customers to your products than Augmented Reality configurators. AR supports users to view and experience digital objects through their smartphones or tablets. The significant difference between Augmented Reality and Virtual Reality (VR) is that while the latter is completely virtual, the former makes use of a real-world setting to effectively bridge the gap between reality and the digital world.
In the eCommerce business, AR allows online customers to place a virtual product in the real physical environment to have a vivid visualization of how they look. In short, Augmented Reality configurators help customers truly visualize products in context by giving them more control of the online presence.
Knowing how AR plays an essential role in the furniture industry, IKEA launched IKEA Place, an augmented reality application that helps users virtually place furniture in their homes. IKEA believed that augmented reality will be "a total game changer" for the retail industry, and IKEA Place marks an important milestone in this digital transformation journey. With IKEA Place powered by AR product configurators, users can confidently experience and design their places with all furniture types, from sofas and coffee tables to working desks, and all products are 3D and true to scale. Customers are free to try various products, styles, and colours in real-life settings with the right size and function of each product.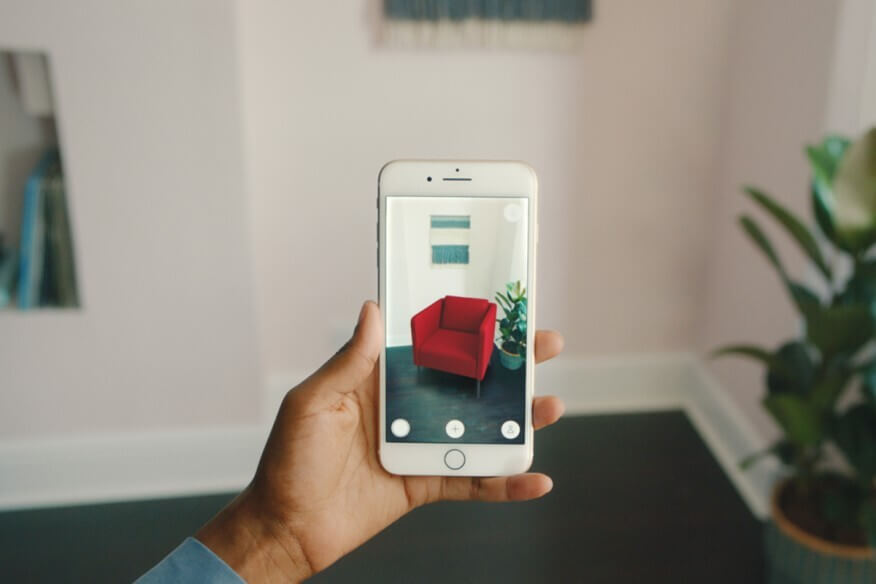 Ecommerce product configurator best practices
1. Make it simple
No matter which eCommerce product configurator your store is using, the ultimate purpose is to persuade customers to make a purchase at your store. Therefore, it's essential to provide customers with specific guidelines and tools during the product configuration process so that they can finish their design without any hindrance. There might be hundreds of different options and designs for customers to configure, but be sure to keep everything easy to use with educational elements. By doing that, you can keep your customers focused and ensure they will take all necessary steps until the checkout screen.
The luxury watchmaker company – Bamford Watch Department has done an incredibly successful job in supporting customers to effortlessly customize their own watches with many variants of a product feature while still keeping it easy to navigate. By using an intuitive point and click system, Bamford's online product configurator instantly displays changes to the large product visual whenever customers make an adjustment.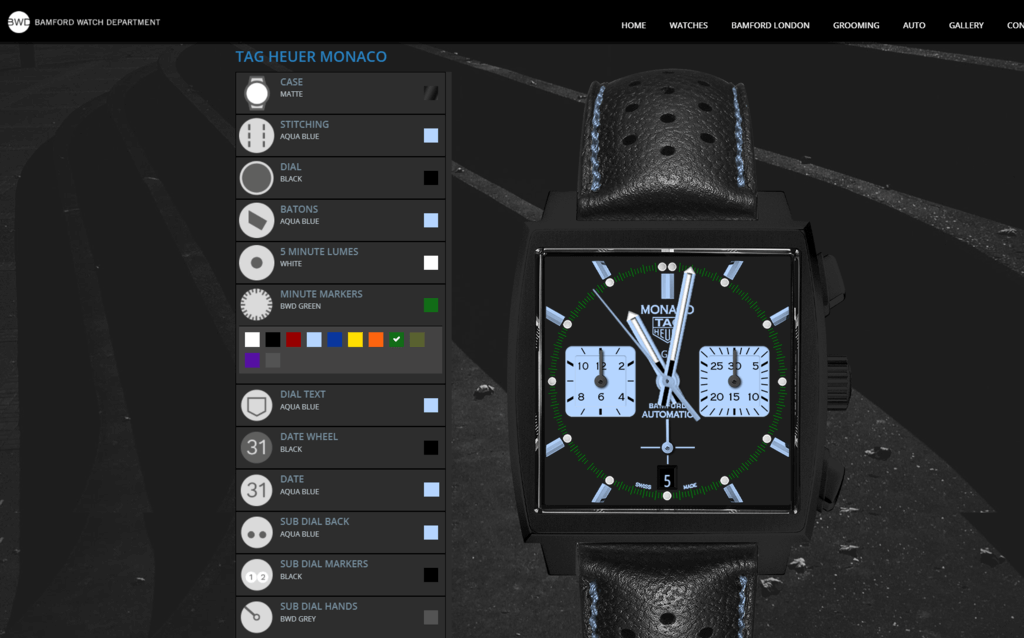 2. Display all steps of the product configuration process
Another best practice when using eCommerce product configurators is to display all steps of the product configuration process. It's better that your users can figure out their current positions and navigate between all steps of the product configuration. This helps customers stay on track and easily review their previous choices when they finish customizing items.
German mug manufacturer Konitz is a good example of product configurators displaying all involved steps of the configuration process. By choosing a certain stage, such as shape or print, a new menu with various options will appear to let customers select their favorite. It's also possible to come back to certain steps during the product configuration process if users have changed their minds, making this a fun and entertaining design project that they want to finish.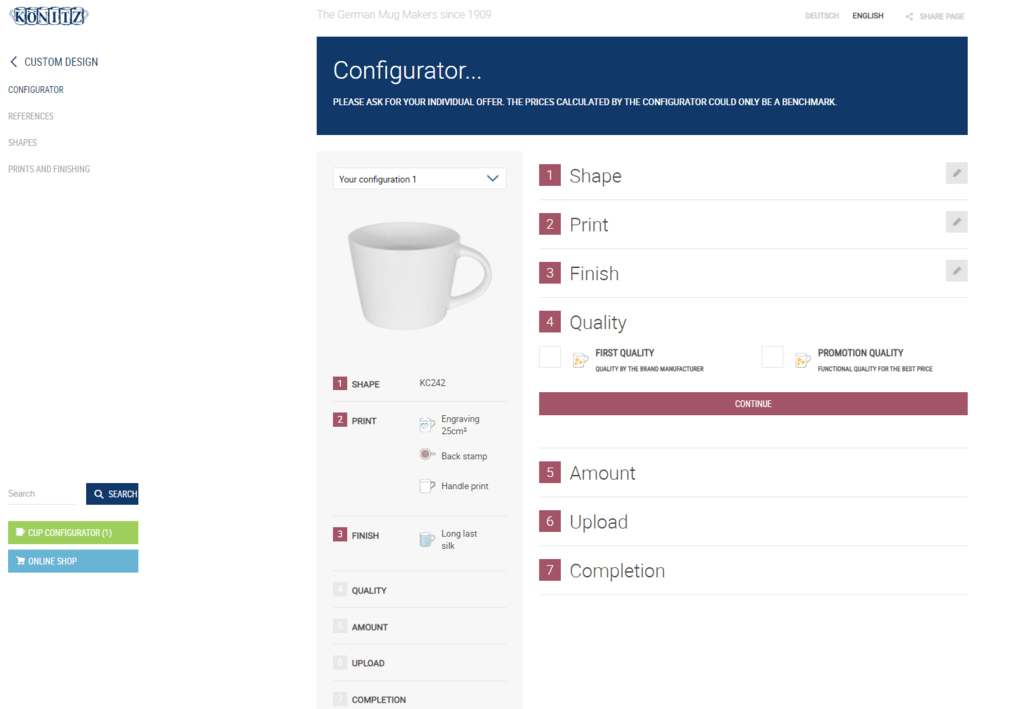 3. Offer various ways to configure
There are never enough options when it comes to mix and match, so the only way is to let customers create what they want by themselves. Offer customers endless options for each feature and characteristic, or try to mix different products into one configuration sector and exceedingly boost up sales at your store with multiple products sold together.
Ridestore.com has set up an eCommerce configurator to let customers select ski outfits from head to toe. There are many available options for each category, and the total sum of the outfit will be displayed depending on customers' combinations.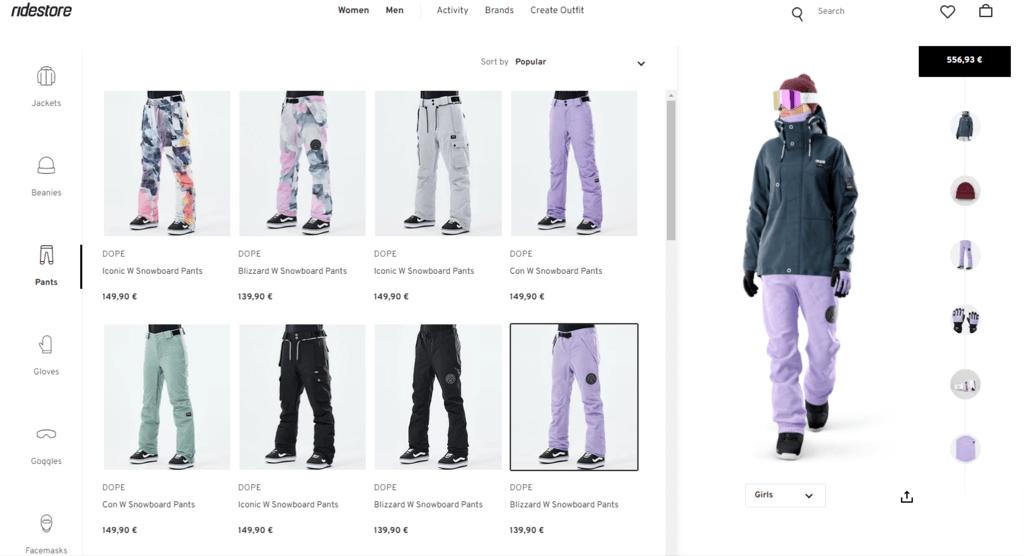 4. Save and restart mode
One of the best practices for visual product configurators you should pay attention to is the save and restart mode. Customers should be able to save their configuration process and pick up where they left off anytime after. There are 3 main ways you can enable this feature:
Provide a unique link to customers' configuration
Save the process to their accounts
Save their configuration using cookies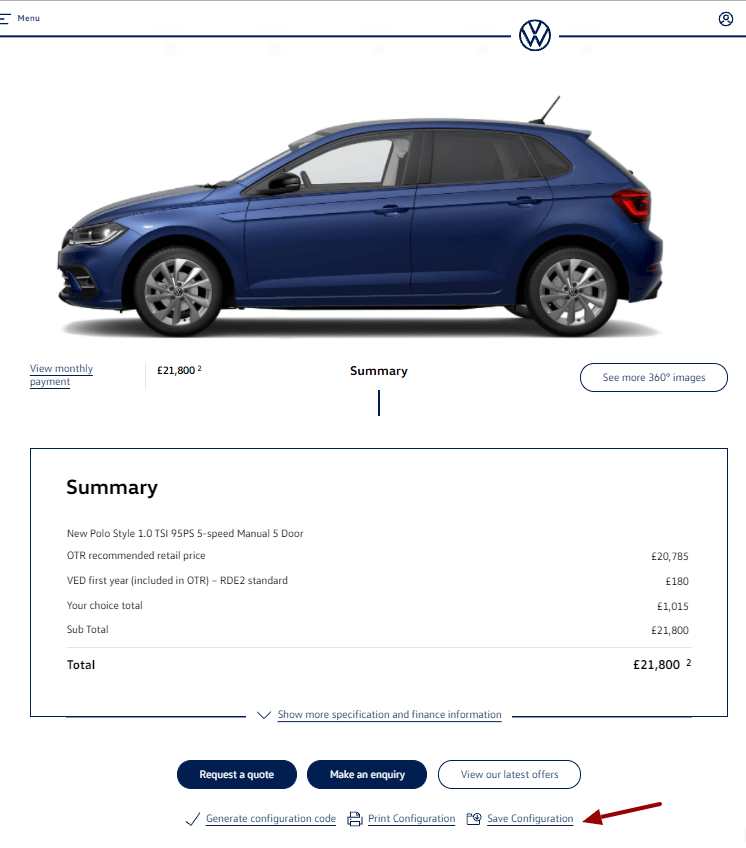 Besides, it's always pivotal to let users reset their design and start over if they do not feel satisfied with the current model. If reloading your store is the only way customers can restart their journey, you should think of adding an exit feature.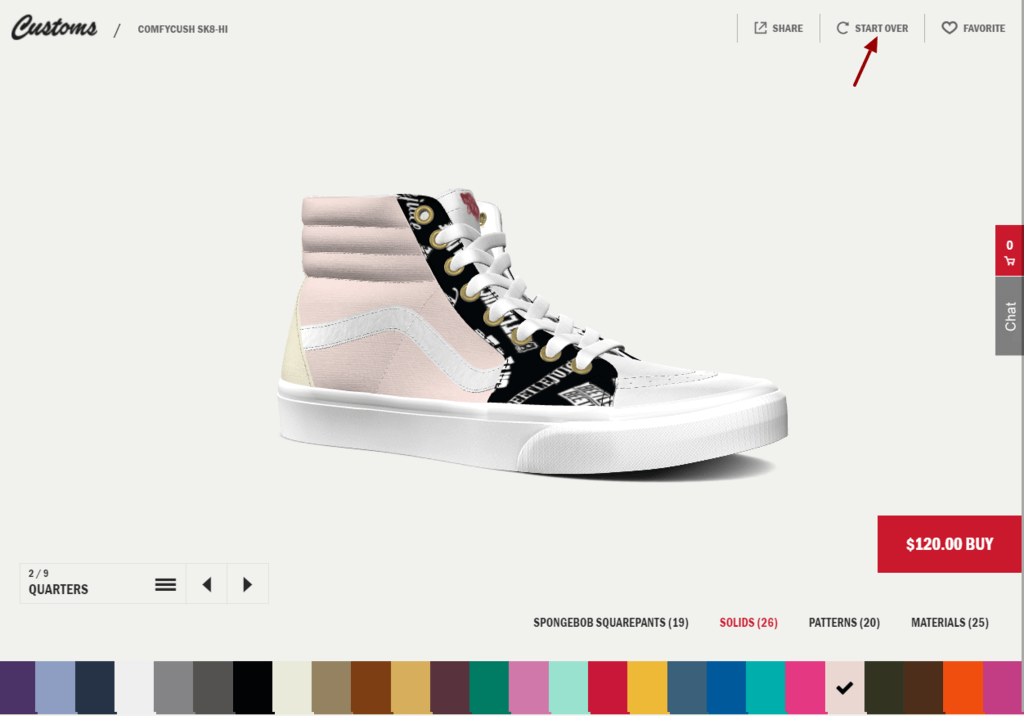 5. Ensure a responsive design across devices
Taking a mobile-first approach might be the key to an effective eCommerce product configurator. As customers no longer rely solely on desktops for shopping online, there is an increasing need to set up a visual configurator that is mobile-friendly with responsive design. It's always necessary to deliver a seamless shopping experience across channels and ensure the same eCommerce product configuration can help you do so.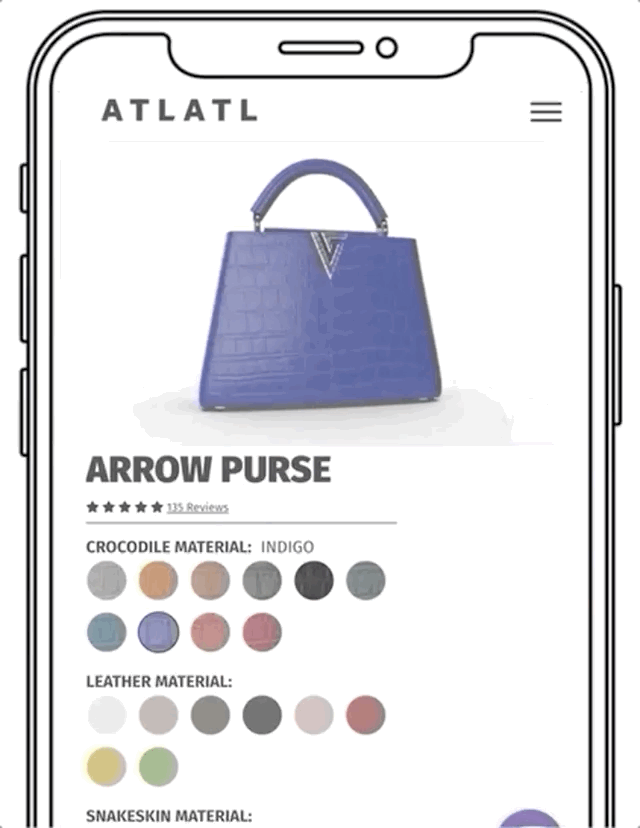 Conclusion
If you are running an online business and having trouble with high return rates, eCommerce product configurators might be a practical solution you should think about. There are many different types of visual product configurators, and each of them serves different purposes but the core usage is the same. When choosing the best product configurator for your store, remember to assess some factors such as target audience and long-term business goals to make a wise decision.