Ecommerce is quickly becoming a commercial trend. Experts see the potential and development of an online business platform due to the enormous number of internet users. According to an analysis of Statista , in 2021, the number of digital purchasers is 2.14 billion, equal to 27.6 percent of the world's population of 7.74 billion people. Furthermore, global eCommerce sales will surpass $5 trillion for the first time this year, accounting for more than a fifth of total retail sales, and this figure is predicted to rise to $7 trillion by 2025.
Your online company market expands even more with the support of eCommerce platforms. With eCommerce platforms, marketplaces, and digital solutions available, merchants wishing to sell online have virtually no limitations, making it easier than ever for enterprises to go worldwide.
Let's define an eCommerce platform and how it may assist your shop to improve sales.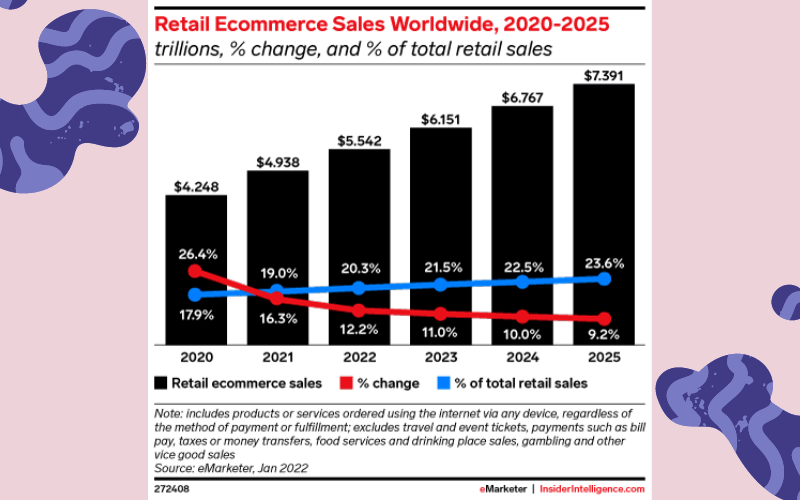 What is an eCommerce platform?
To better understand this subject, let's start with the definition of e-commerce: E-commerce (electronic commerce) is the buying and selling of products and services, or the transmission of payments or data over an electronic network, most primarily the internet. There are many different types of commerce such as B2B (business to business), B2C (business to consumer), C2C (consumer to consumer), and C2B (consumer to business).
In brief, an eCommerce platform is a software solution that helps the business process of buying and selling through the internet.
An eCommerce platform is an environment for these different types of commerce to be active. Specifically, it provides many features for businesses to manage their virtual assets, omnichannel marketing, digital sales, and operations. Like traditional commerce, consumers are also able to use an eCommerce platform to discover products, shop, and cash. Moreover, with eCommerce users can connect easily with other customers to share information about products, item categories, or stores.
Both businesses and customers perform their respective roles. The more valuable the platform's content is, the more beneficial eCommerce platform is. And that material is compiled by contributions of enterprises and customers.
Types of eCommerce Platforms
ECommerce platforms are commonly known platforms like "a big market" where businesses can set up their online stores to sell products and customers can log in to buy essential items. Amazon and eBay are two prime examples of the largest well-known "malls" on the planet.
However, like various types of eCommerce, the platform formats are much more diverse than that. Some other forms are less popular with customers, yet they are essential for businesses to improve.
In particular, there are three main options for Ecommerce Platforms:
Software as a Service eCommerce platform (SaaS)
Open-source eCommerce platform
Headless eCommerce platform
We'll delve into these briefly now.
Software as a Service eCommerce platform (SaaS)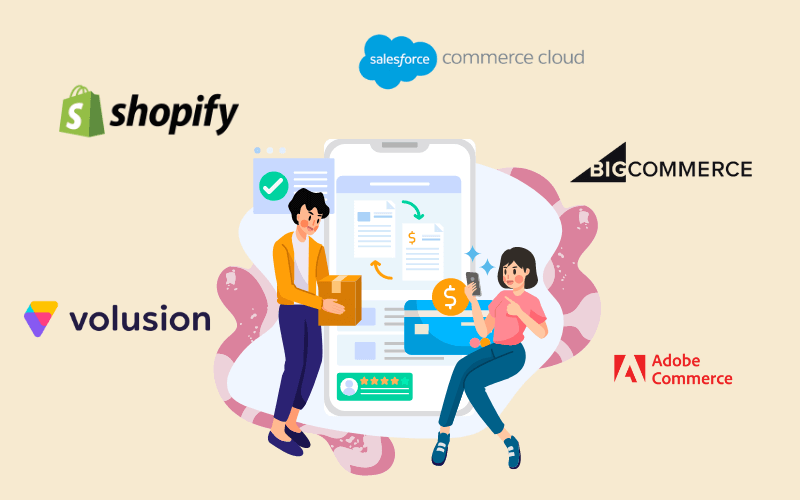 Software as a Service eCommerce platform, also known as SaaS, is the most commonly used platform because of its efficiency and speed. You can start doing Ecommerce straight away without having any prior understanding of platform construction technologies.
A reliable SaaS eCommerce platform will have an API library so you may connect the tools used by your current team to the SaaS platform. Furthermore, the program helps you modify your website as needed and provides updating assistance throughout the process.
SaaS is The greatest option for small and medium businesses. It is a reliable partner to support and offer practical technological solutions. Therefore, the number of users of SaaS is extremely large and it becomes the most popular solution.
The main disadvantage of launching a SaaS is that you need a large capital to invest. With outstanding efficiency and support, SaaS platforms are increasingly appreciated and reaped huge profits. Therefore, you must make a major investment in this technology if you want to work efficiently with a trustworthy website developer.
If you are looking for a SaaS Ecommerce Platform for your online business, please refer to and select one of the platforms listed below.
Read more: Top 10 Best E-commerce Platforms
Open-source eCommerce platform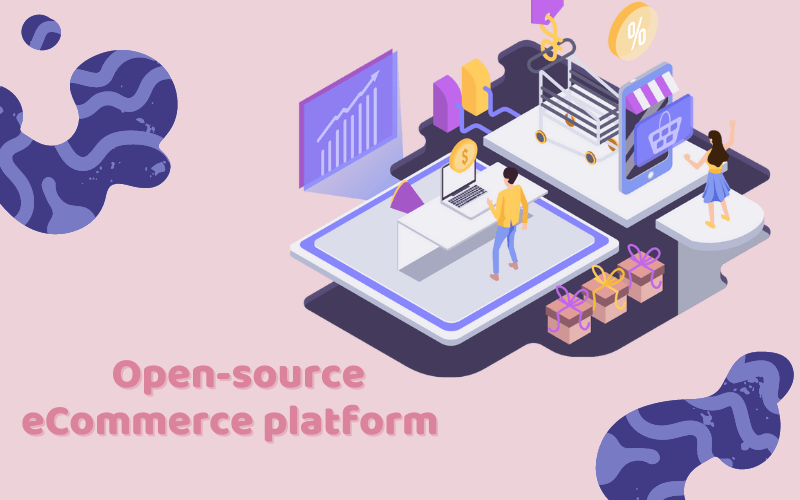 As the SaaS solution gets more popular due to its efficiency, the cost of this platform is also rising. Businesses desire to keep the usefulness and efficiency of using a large eCommerce site at a lower cost, which is why the open-source platform choices solution was created.
You can update and manage anything using an open-source eCommerce platform. This option offers simple features that are simple to install and may be adjusted to meet the needs of the user. Users that adopt open-source code can self-host their website from the start and personalize it to their liking. As a result, the cost of developing eCommerce sites is very minimal and even free.
However, with open-source eCommerce platforms, you don't get customer support for your online store. So, in severe instances, you can't obtain help from providers and must solve it on your own.
In reality, in order to create eCommerce on this platform, organizations must have internal DevOps teams who are capable of easily altering open-source software to do their bidding. Thus, this solution is frequently used by major corporations or technology-focused businesses. And of course, this solution is not recommended for small and medium-sized organizations.
And if you are looking for an Open-source eCommerce platform for development, here is a list of the most reputable names.
Read more: 

18 Top Open-Source Ecommerce Platforms
Headless eCommerce platform (CaaS)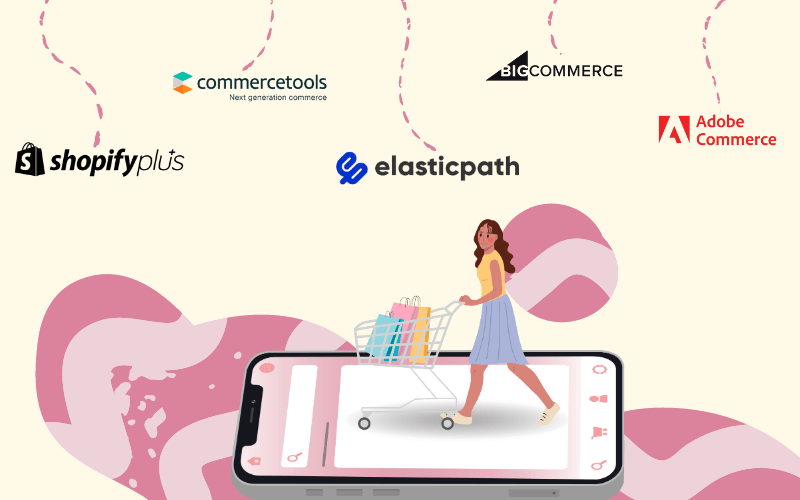 Platforms for headless e-commerce are often known as CaaS platforms. They manage and provide content distribution as a service (CaaS). Headless eCommerce refers to the separation of a website's front-end from the eCommerce platform and other systems. This provides support for your website with two sessions running different threads.
More specifically about specialization, since the back end and front end no longer substantially rely on one another through coding, the headless method "de-couples" the two and makes API calls to access that information instead. As a result, developers may personalize websites much more easily.
Set aside Technique, imagine your store is a traditional store model with only one main door used to do all commerce activities. Then, when using the Headless eCommerce platform solution, your storefront has more than one business facade consisting of front and back doors. These doors operate together and are responsible for different activities. While, one side is welcoming guests, and introducing stores and products, the other side specializes in making purchase and sale transactions with customers. With this model, your business is certainly much more favorable.
Moreover, this technology enables your website to maximize retail experience performance. Likewise, the threaded memory's capacity is drastically decreased while still serving a sizable client base.
One of the successes of CaaS is that PWA technology, which is also used by SimiCart in order to build frontend on the Magento platform, is comparable to the future of website and mobile app development technology. PWA technology, which adopts the CaaS operation model, simulates the functionality of a native app by combining the web-browsing features of browsers like Chrome and Safari.
Now, if you want to find yourself a CaaS platform, don't miss the list below.
Read more: 12 Best Headless eCommerce Platforms
Features of an eCommerce Platform
Depending on its capabilities, each platform has its unique set of features. Pay attention to the following elements of e-commerce platforms when selecting a suitable Platform that meets the demands of your business.
These are the fundamentals you should understand before selecting a potential provider.
Interface
A user-friendly interface is a necessary condition to attract any customer to your store. The interface is the first environment where customers come into contact with your store, so to make a good first impression, you need a platform that can provide the easiest interface to use.
Furthermore, while beginning with a new platform, you will most likely need to obtain more technical expertise in HTML or WordPress in order to improve the website's content. Depending on your requirements, the first stages of building an interface might be simple or difficult.
Design options
Most e-commerce systems offer basic themes from which to pick and getting started is quick and simple. Similarly, some provide color modifications, allowing you to personalize your website.
However, if you want to make your business more distinctive and stand out, you may select a platform that allows you to customize based on your own design concept. Technical criteria may be significantly difficult to meet, but it will be much easier if you assign the task to a reliable partner.
Store management system
The shop management system is one of the most useful integrations when doing business online. To manage the continual movement in and out of an internet shopping platform, brick-and-mortar shops require the most store managers, accountants, and so on. Furthermore, if the thing you are selling is really popular, it becomes much more difficult to control.
However, with the Store management system feature provided by reliable platforms, you can entirely relax and let the computer do its job. So, if you're concerned about inventory control, make sure to research how this system will function on the platform you're about to employ.
Payment processing
Billing is the foundation of any business. Do not overlook this element; instead, focus on the payment options provided by the site.
Furthermore, if your organization works in a foreign market, you must choose the currency and environment that the platform supports.
These concerns are not specific to you but are also relevant to your user experience. Selecting a platform that supports as many payments as possible and has no geographical limits will benefit your business far superior.
Security
Both you and your customers want secure data security. Information leaks or breaches that expose client information will result in significant losses for your company.
When selecting an eCommerce platform, make sure it fulfills PCI's 12 standards for websites that work with payment information. SSL certificates are another example of the platform's security.
Furthermore, certain systems can integrate with other features to assist in better safeguarding data during website construction.
Support
Please ignore this feature if you decide to choose to develop a platform on your own. However, if you specialize in technology, choose a reputable provider who is ready to support you throughout the development of your site.
If you decide to build a platform by yourself, please disregard this functionality. Choose a respected supplier who is ready to help you throughout the development of your site if you specialize in technology.
Reading customer evaluations regarding their support service is one way to determine the quality of support offered on various platforms. Likewise, make certain that you have thoroughly investigated the connections for the greatest help.
Promotion opportunities
When compared to other eCommerce platforms, the advertising demands of any business give possibilities to advertise items. As a smart business, you should not miss the chance to promote your sites with any tools the eCommerce platform provides.
However, many features are extensions that require further installation before they can be accessed, so consider starting with a platform that includes built-in promotional functions.
Data consolidation
With any online store, it is necessary to summarize all the data and calculate the poor performance of the online business, but it is too difficult to synthesize it yourself. So, let's push it for the special features of the support tools.
Check that your eCommerce platform supports data collection and storage, as well as interfaces with analytics providers.
Sum up
Hopefully, after reading this blog, you have a better understanding of what an eCommerce platform is.
Every eCommerce platform has its own set of features, each with advantages and disadvantages. To select an appropriate platform, thoroughly analyze your store's requirements.