There is no better time to build a website for your B2B eCommerce. Covid19 has ignited the demand for digital shopping as well as transformed B2B sales forever. B2B traditional sales models have dropped significantly from 61% to 29%, paving the way for digital sales on the rise. Whether you are new to B2B eCommerce or want to leverage your B2B website, this guide is for you. In this article, we will explore every basic good-to-know about B2B eCommerce and the best eCommerce platforms for B2B businesses in 2023. 
B2B eCommerce: What is it and good examples
What is B2B eCommerce?
As we all know, B2B eCommerce is short for Business to Business eCommerce, as opposed to B2C eCommerce – Business to Customer eCommerce. And the term "B2B eCommerce" simply refers to practices and strategies to facilitate B2B selling and buying in digital spaces. 
An eCommerce platform for B2B businesses may share great similarities with B2C platforms. However, it tends to be more complicated with specific features needed. Why? It comes from the fact that the B2C relationship is more simple than B2B's. Whereas in B2C, generally, there is only one relationship: the one between business and customers, B2B companies have to treat each business/customer differently. Also, the B2B buying intent demands different eCommerce features for bulk orders, volume discounts and more. We will explore these features later in this article. 
Successful B2B eCommerce examples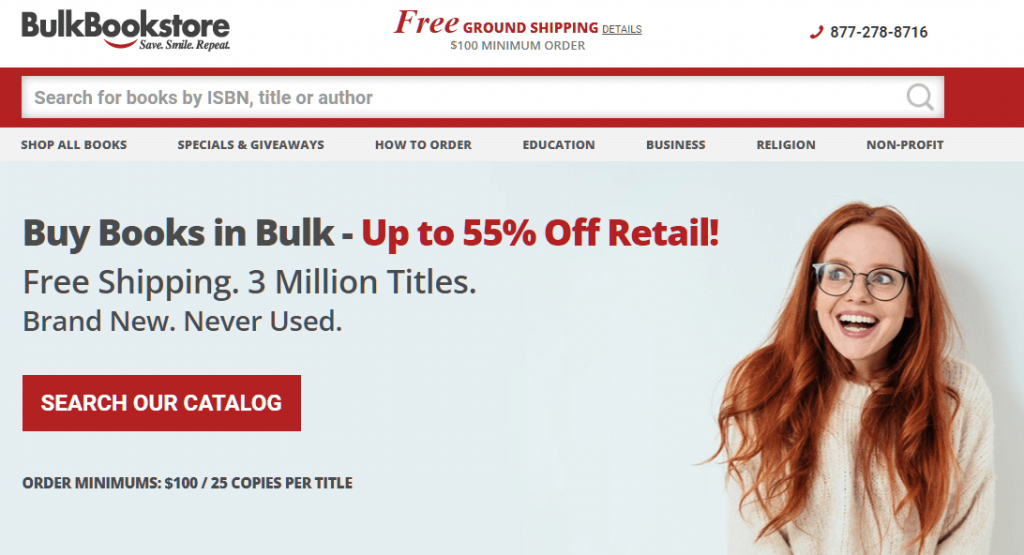 BulkBookStore is a reliable online book wholesaler supplying reading copies for over 35,000 + schools, businesses and non-profit organizations. Their comprehensive B2B website showcases their reliability as well as attractive deals and discounts to boost conversion. Moreover, its product pages provide informative details regarding bulk pricing, shipping details and, etc to make it easier for buyers to purchase. 
Poly is a long-established supplier of audio and video products for meetings and conferences. Their headsets were used by Neil Amstrong on the moon and they proudly claim that 100% of Fortune 500 companies trust their products & services.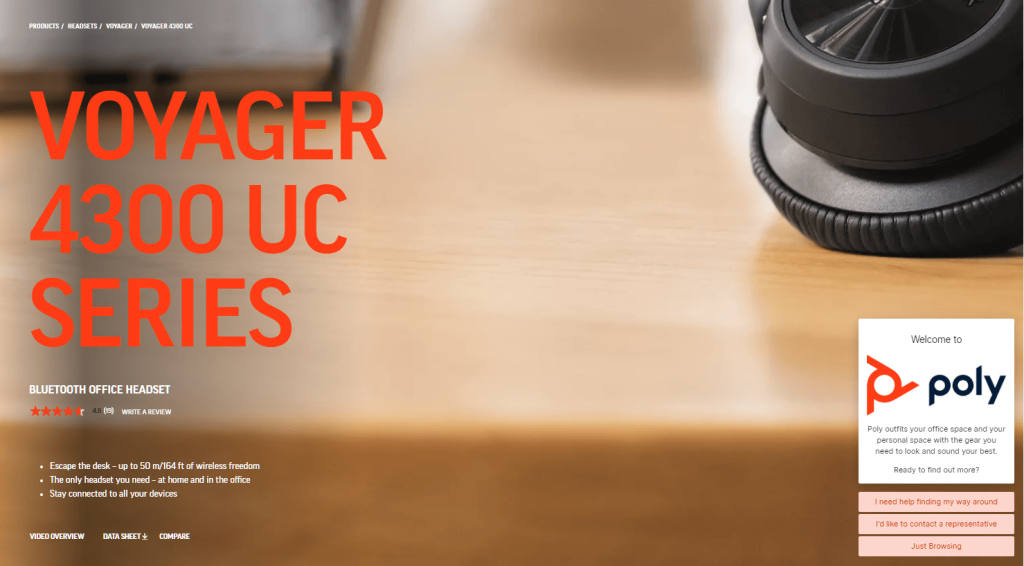 Poly put effort into their product pages' layout and photos, which makes them more appealing than normal product pages. 
Poly has an admirable B2B website with a professional branding look and comprehensive products page. Each product page is well visualized with photos, making them look like some attractive homepages or catalogue pages. Moreover, detailed product information is included with a video overview and datasheet. By understanding the products inside-out, customers will have more confidence to buy. Moreover, this is also a sign of professionalism. 
Obramax is the leading wholesale supplier of construction materials in Brazil and they chose Magento 2 to leverage their B2B/B2C eCommerce experience.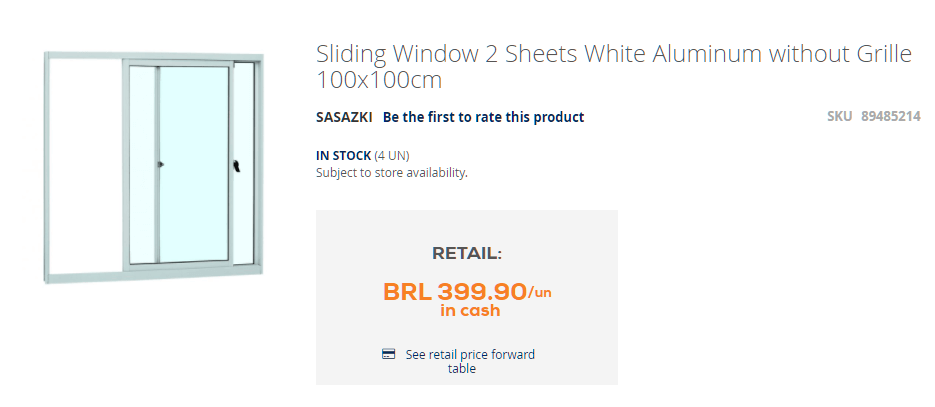 Aiming at both B2B and B2C, they have a clear pricing system indicating prices based on purchasing volume. Their platform also offers an omnichannel credit line to promote sales everywhere from online to a physical store. Since their first launch, online sales have made up 30% of total sales with over 21.000+ online customers.  
ECommerce platform crucial features/ factors for B2B
To find an ideal eCommerce platform for your B2B business, first, you need to know what you're looking for. Let's take an overview of eCommerce's most vital features & factors. Some factors are so prominent that you must have heard about them before. Afterwards, we will take a closer look at some unique features for B2B websites only. These features are must-haves if you want to pull off a great digital experience for your B2B customers.
General features (important to all eCommerce platforms including B2B):
Awesome customer experience: The more enjoyably your customers shop, the more sales you get. We all deeply understand the importance of delivering the best customer experience. It is a challenge but also a chance for B2B businesses. People have gotten used to the smooth B2C shopping, thus, expect the same when purchasing B2B products. Moreover, Covid19 restrictions have steered trading toward digital stores. As a result, those who succeed in bringing the best customer experience will win the race. 
Custom informational pages: These pages help users find helpful information such as your company profile, shipping information, FAQ and more. Therefore, they can get to know you better and develop a sense of trust. Because B2B business often includes big purchasing and long-time partnerships, being informative and reliable is crucial. 
Inventory management system: Evidently, all eCommerce businesses need to manage their stock level. However, it's even more essential for B2B businesses, especially wholesale ones with large inventories, bulk orders and complicated customer tiers.  
Security: Security builds customers' trust, prevents your site from cyber attacks and helps increase SEO's ranking. For B2B businesses where you keep business-level payment information, security is a top concern. 
Omni-channel: Ecommerce omnichannel refers to the unified experience across all sale channels: online store, brick-and-mortar store (with POS integration), sales representatives and more. It's the future of eCommerce helping increase sales on all battlefields and improve overall customer experience. 
Mobile-friendly: as people mostly shop on mobile nowadays, a mobile-friendly website is important to boost sales, enhance customer experience, raise brand awareness, etc.
Digital payment: Since forever, B2B businesses tend to rely on paper checks for payment. However, digitalization has made Credit cards, PayPal, bank transfers the new norms for B2C at first, and then B2B. B2B website owners need to think about what payment methods are necessary, thus, choose a suitable platform. 
ERP integration: ERP (Enterprise Resource Planning) systematically unifies all-important business aspects. There are ERP softwares for Sales, Marketing, Human Resource, Account, Data and so much more. The integration offers many great benefits from saving time & boosting productivity to maintaining data consistency & enhancing customer experience. Whereas most ERP services are costly, it's essential for any mid and large enterprise to grow fast and sustainably. 
Features specialized for B2B platforms
B2B customer portal (B2B self-service portal)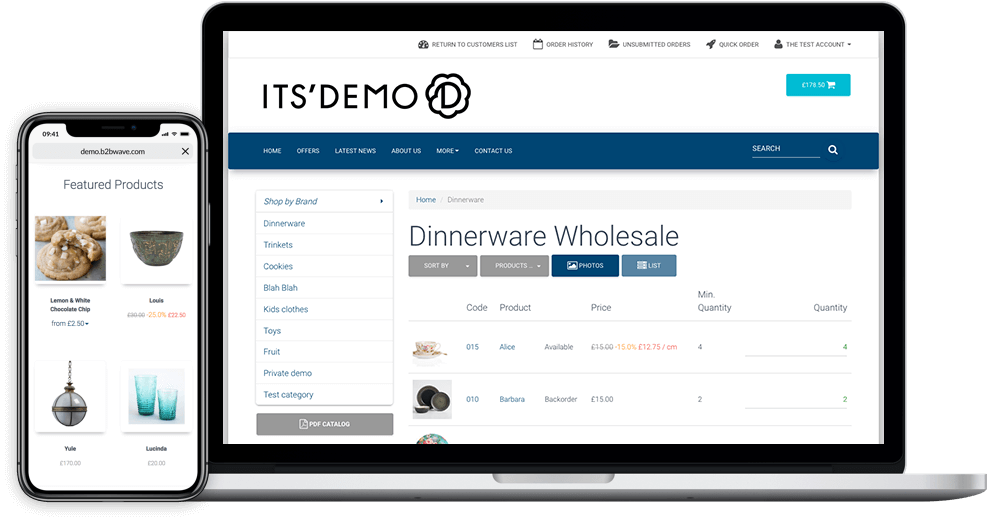 B2B customer portal automates the buying process while giving merchants sufficient information and control to place an order by themselves. Let's compare this feature with the traditional procurement process. 
Here's how people used to purchase B2B products. Firstly, they would find products on catalogues or websites, and send requests by email. The suppliers then reply with quoting information. Suppliers and merchants begin negotiating. After an agreement is reached, suppliers start their order fulfilment. While many companies still use this method now, it's time-wasting and effort-consuming. Both merchants and suppliers must wait for emails from the other party before moving on to the next step. 
With the B2B customer portal, merchants are granted a customer account after registering. From then, they can access personalized prices, catalogues, create quotes, convert quotes into orders, and acquire all shipping information by themselves. They can do this anytime, anywhere. 
Moreover, some platforms can go as far as allowing multiple users in one account, which is called "corporate account management". Buyers can set up their corporate structures and pricing rules. This feature is extremely helpful for groups of buyers where managers need to know how his/her team members are purchasing. 
Furthermore, buyers can overview their order history, balance and reorder in their dashboard. Not only is it convenient for buyers, it also creates more touchpoints for suppliers to increase sales. 
So in conclusion, the B2B portal service is a win-win feature for both parties. Easier shopping for buyers, time-saving & money-making for suppliers. 
Personalization
For a B2C business, pricing is straightforward and transparent. On the other hand, B2B pricing is much more complicated. It depends on buying volume, buyer-supplier business relationship, sales rep's offering price, etc. Thus, an eCommerce platform for B2B must meet this demand for customer-specific pricing. 
For example, many eCommerce platforms for B2B businesses have customer segmentation and personalized features. You can set different rules to show different pricing for each customer segment. Price can also be locked for universal visitors/B2C customers and only be shown if they register your site's B2B account. 
For the same sake, you can personalize your catalogue, shipping options, searching results to maximize sales.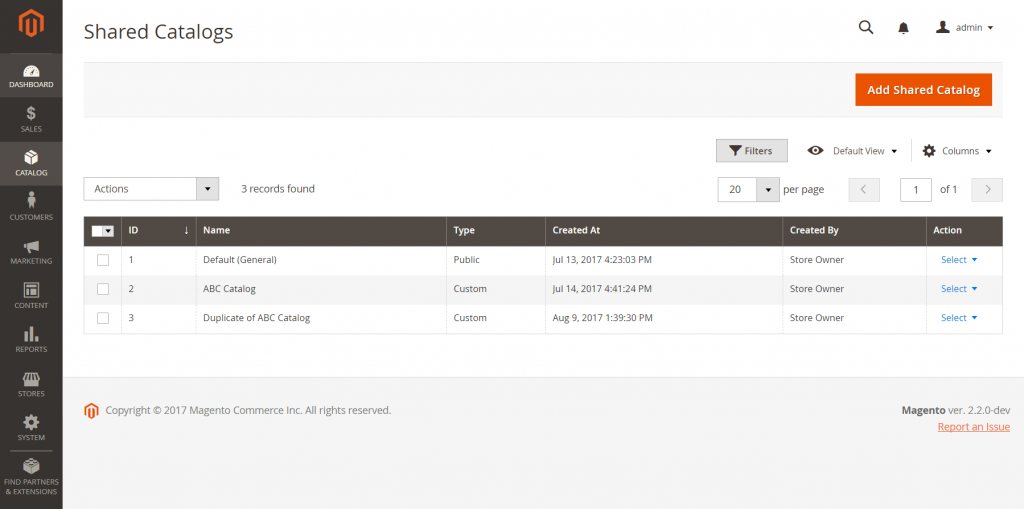 Bulk orders, volume pricing, and minimum & maximum thresholds
Quantity-based pricing, bulk order, min and max threshold set B2B pricing apart from B2C ones. 
Some B2B companies approach the personalized price strategy that requires customers to log in to see prices. Meanwhile, others can embrace transparency and offer a B2C-like pricing experience that shows the aforementioned pricing upfront. Lots of wholesale vendors and marketplace, Alibaba, for example, do this. 
By transparent pricing right from the start, suppliers and vendors can cut the account registration or price request process, thus, speed up the customer buying journey. 
Ways to choose a suitable eCommerce platform for your B2B businesses
It can be a little overwhelming when you look for an eCommerce platform for your B2B companies at first. There are many names with many features, let alone many different pricing methods. 
It's good to gradually narrow down options based on your budget, your company size and your overall expectation. Then we can take a further look at detailed features, the platforms' reputations & reviews and so on. 
A good rule of thumb is to look up a B2B platform based on its platform types. Each platform type has different characteristics that are best for different businesses. It's also easier to compare B2B platforms that share the same operating principles. 
Here is a brief comparison of different eCommerce platforms for B2B business. Please note that not every platform fit completely into a type, some can be hybrid. For example, Magento is both OpenSource and PaaS, CS-Cart is both OpenSource and SaaS. 
10 best eCommerce platforms for B2B businesses in 2022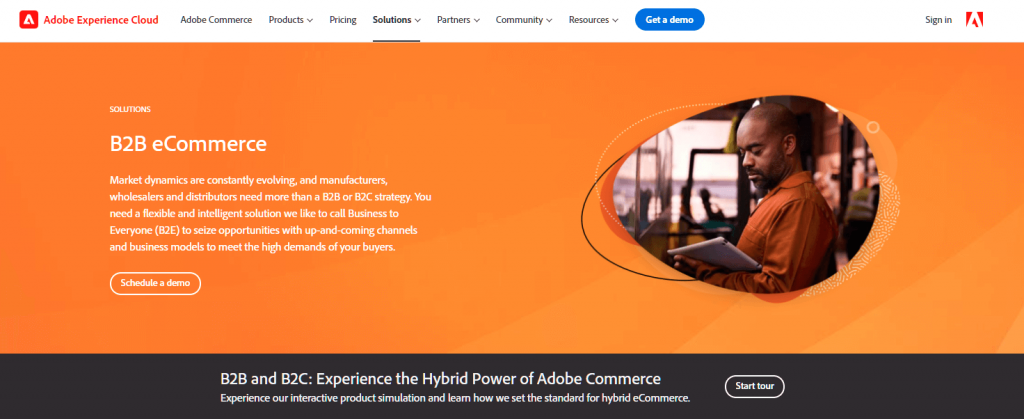 Magento was first released in 2008 before being acquired by Adobe 10 years later at $1.68 billion dollars. The platform was positioned as a B2B Commerce platform leader – the highest tier ranked by the Forrester Wave in 2020. As reliable as it is, plenty of large companies such as ASUS, HP, Samsung trust Magento with their eCommerce sites. 
Why is it better than others?
Abundant B2B functionality: Specific customer segmentation and personalization, buyers' account, ERP integration
Good for hybrid stores:

Magento has set customized solutions for B2B/B2C hybrid businesses.

Mobile-friendly
Enhanced security: Magento Commerce Cloud Hosting gives websites private servers as well as provides various protections from CDN, DDoS to Firewall. 
Fully customizable: for scalability and unique functions
SEO-friendly: Magento is one of the best SEO-friendly eCommerce platforms in the market
Plenty of extensions to customize further: from over 1500 + Magento Commerce extensions on Magento Marketplace.
Cons:
Typical drawbacks of a PaaS platform: costly, time-consuming
Pricing: 
From $22,000/year to $125,000/year depending on company revenues.
Magento B2B at a cheaper price:
Did you know that Magento is also famous for its completely free open source plan? This open-source plan does not originally support B2B features. However, taking advantage of its ability to fully customize, SimiCart's Magento expert can offer solutions for small and medium B2B businesses: 
Mobile-friendly
Lightning-fast speed
SEO-friendly
B2B features 
Impressed by Magento yet so overwhelmed by the budget? check us out!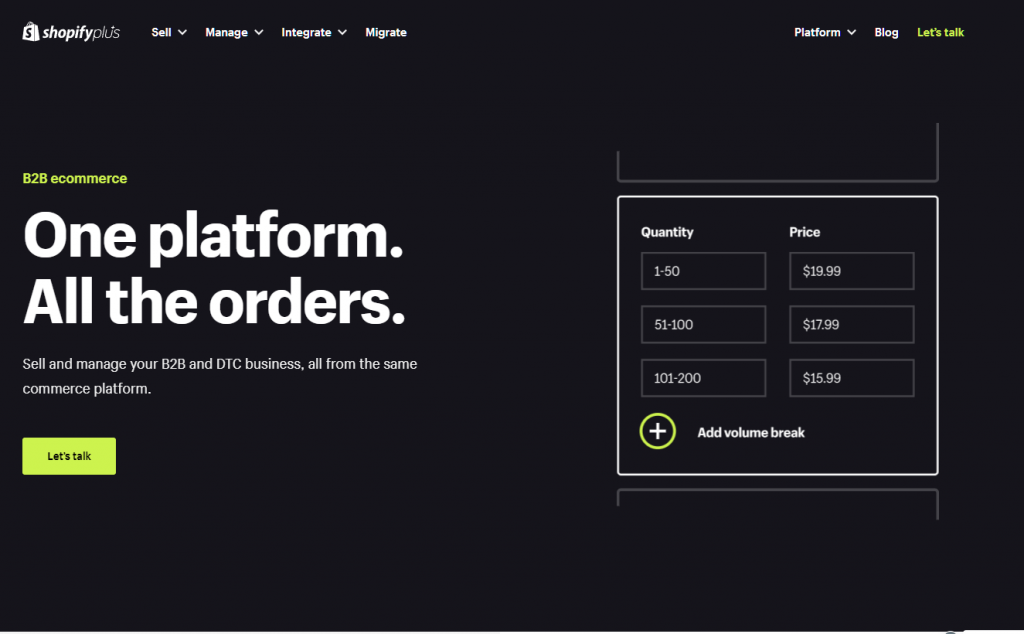 Shopify is the #1 leading eCommerce platform with over 23% market share. According to our research, Shopify is the 5th best-rated eCommerce platform in G2 and the 2nd best option for B2B.
Meanwhile, Shopify Plus -Shopify's upgraded plan specialized for B2B and wholesale businesses, has reached 10,000+ users in 2021. You can easily recognize some of the big names on the list such as Gymshark, Staples, and Heinz. 
Why is it better than others?
Fast to develop: for a basic online store, Shopify only takes from two weeks to two months. 
Great user experience and blazing speed: Shopify is famous for its speed empowered by its cloud hosting. The platform also features a huge collection of free & paid themes for you to customize the look and experience of your site. 
Plenty of extensions for further customization: with over 6,000 Shopify apps and 60+ Shopify certified apps for Shopify Plus' strict demand. 
Easy to set up and use: you need not have any coding experience to set up your store
Good-to-go B2B functionalities:  such as inventory management, personalized products, pricing and payments, setting minimum and maximum pricing thresholds, building custom pages, a self-service portal, omnichannel support
Cons:
Do not support multi-store: Shopify can now only allow one storefront for one account, which is not as scalable as other headless commerce platforms. 
Limited customizations compared to OpenSource platforms: Shopify Plus is already a huge update from the original Shopify in terms of customization, and it's not bad overall. However, the platform still has some backend customization limitations compared to other platform services for the enterprise level.
Limited product variants: merchants can not have more than 100 product variants. 
Pricing: Shopify will cost you from $2,000/mo depending on your business needs. 

TrueCommerce pioneers in EDI (Electronic Data Interchange), which is a way for businesses to exchange data and documents such as purchase orders, invoices, and advanced ship notes automatically. Its B2B platform solution with EDI is especially helpful for wholesalers to leverage their automation and save time.
Why is it better than others?
Buyers account and optimizations
Volume-based pricing by category products or order
Inventory management
Support omnichannel: let sales reps place orders, capture orders at trade shows, POS integration
Quote automation
Integration with other applications
Empower EDI 
Custom web designs: for uniquely branded websites
User-friendly interface: easy to implement
Cons:
Hidden cost: some reviews say there may be an extra cost
Learning curve: non-tech savvy users need to spend time getting used to the platform.
Pricing: 
TrueCommerce's pricing is upon request.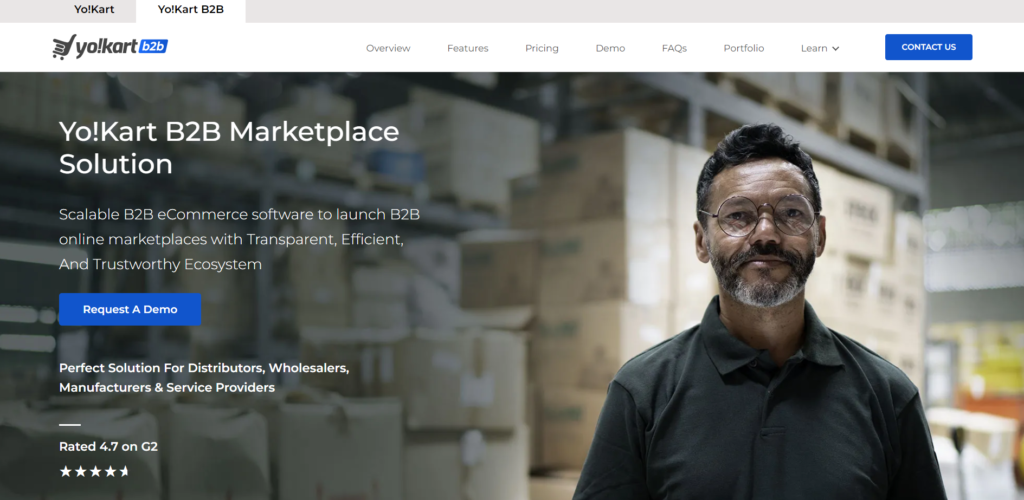 Yo!Kart B2B is one of the leading B2B eCommerce platforms that delivers online marketplaces similar to Alibaba. The software empowers sellers with complete control over their marketplace operations. Yo!Kart B2B is equipped with essential marketplace features like inventory management, automated shipping management, multilingual & multicurrency, and other standard eCommerce features/integrations to build a fully functional marketplace website.
To leverage the benefits of the B2B landscape, Yo!Kart B2B also offers B2B specific features like an RFQ module for ease of negotiations, direct communication channels, bulk orders, minimum order quantity, flexibility to show/hide price, and more.
Why is it better than others?
All essential B2B features: It comes with all essential B2B eCommerce features and integrations.
In-built RFQ module: Yo!Kart B2B has an in-built RFQ module that is usually a paid functionality offered by other B2B solutions
Catalog management system: Yo!Kart B2B allows sellers to create multiple categories, import thousands of products in minutes, manage brands/product variants, or handle custom catalog requests with the in-built catalog system.
Individual storefront: Individual storefront allows the seller to personalize the shop page as per their brand.
Sell services with products: The system also allows the sale of services alongside products or independently.
One-time fee: It comes with one-time unique pricing plans that include a lifetime license.
Free technical support: 12 months of free technical support is offered with all the packages
Secure and flexible payments: 16+ payment gateways are pre-integrated in Yo!Kart B2B
Cons:
Limited themes: Yo!Kart has limited themes to offer but you can always opt for customizable themes
Paid Upgrades: In most cases, upgrades might not be required but if you want upgrades, you will be charged for it
Pricing:
Yo!Kart B2B pricing starts from US $1499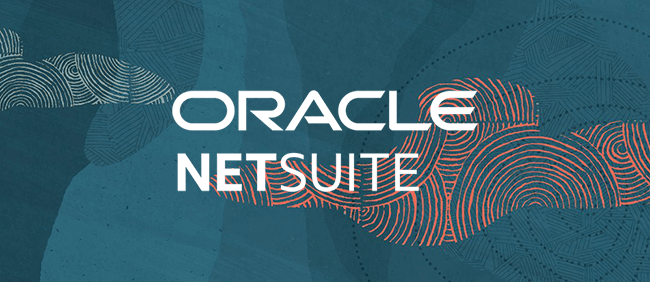 NetSuite is a leading name in Cloud ERP services that offers a solution for B2B eCommerce named SuiteCommerce. While lots of ERP companies aim at large-scale enterprises, SuiteCommerce provides ERP solutions for SMEs at affordable prices. Until now, the B2B platform has served over 3,000 customers. 
Why is it better than others?
True Omnichannel:

supports all sale channels from online stores, and physical stores to in-house sales, distributors, and manufacturers.

Smooth and consistent operation: A unified system of inventory management, ERP and CRM enables effective data storage, better stock management and customer service. 
Fast deployment: Get your site ready in less than 30 days
Quote and Order made simple: Merchants can convert quotes into orders and use volume discounts automatically.
Cons:
Newbie – unfriendly: it's hard for newbies to learn how to use. 
Limited integration: it takes time to find a good third-party app for you or else you have to develop one for yourself. 
Not optimized for large companies: due to the lack of automation and integration
Pricing: NetSuite's pricing is upon request. Referentially, the platform may charge from $40,000/year.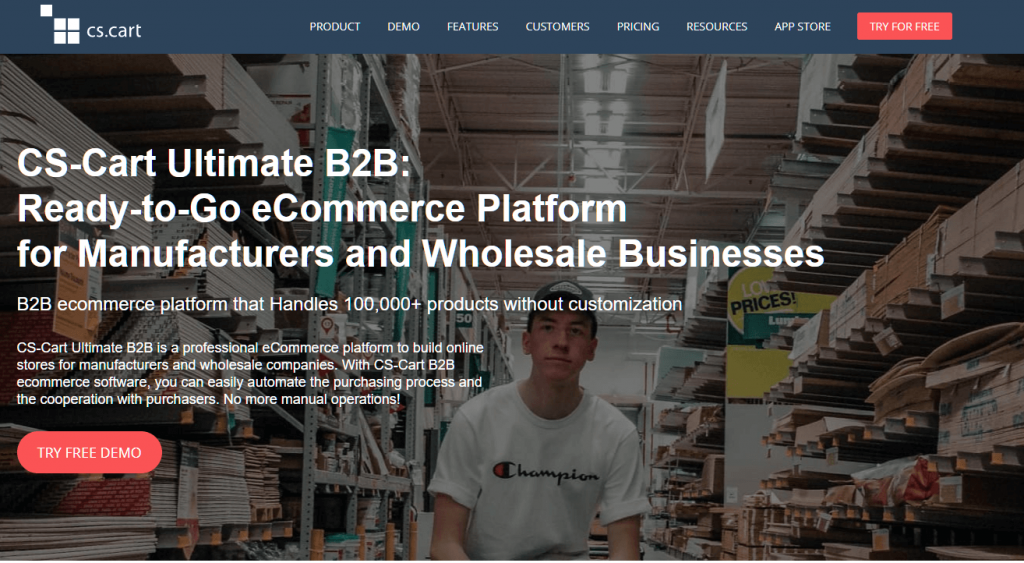 Ever since its establishment in 2005, CS-cart has supported 35,000+ customers in over 170 countries. Its B2B platform comes with strong features for multi-vendor purposes. The company provides a no-hassle solution for manufacturers and wholesale businesses to automate their selling processes and boost sales cost-effectively. 
Why is it better than others?
Multiple storefronts: create as many storefronts as you want and control them in one admin dashboard. 
Unlimited integration: easily integrated with third-party ERP, CRM, accounting software and more. 
One-time fee: no hassle-fee and extra costs
OpenSource: highly customizable
Abundant B2B features: personalized price, inventory management for several warehouses, customer accounts, and more
Various payment methods: 70+ ways to make a payment for vendors. 
Cons:
Costly custom development:

other than its license price

,

you need to hire a developer to take the most advantage of its source code for further customization. 

Limited themes and add-ons: There are fewer themes available compared to other eCommerce platforms such as Shopify or Magento
Pricing: 
Standard: $1,450/ year
Plus: $3,500/year
Ultimate: $7,500/year

Pepperi is a B2B-centric company that you can rely on when looking for on-point services for B2B business. It has over 1,000 customers in over 65+ countries. You can recognize some household names like Seiko, Heineken, and OGI. 
The platform is also ranked well on many review platforms giving credit to its good functions and helpful customer service. 
Why is it better than others?
Easy to use

: no coding experience is needed

Security and backup: The platform is ISO/IEC 27001 (International Information Security Standard) & ISAE 3402 (International Standard on Assurance Engagement) certified. Thus, you can rely on Pepperi for your information security. Plus, Pepperi can backup your data monthly, weekly or even daily to make sure no precious data is lost. 
Robust B2B features: Self-service portal, personalized experience, ERP integration, omnichannel
B2B e-catalogue software:

responsive catalogs can be designed at ease, accessed offline, and optimized to boost sales. 

Seamless payment gateway: integration options with 40+ popular payment gateways. 
Offline web and mobile app: customers can access full-featured websites when offline thanks to the SSO application.
Cons:
Not suitable for entry-level business: Due to its pricey monthly costs
There's a learning curve: for non-technical starters
Pricing:  Pricing is available upon request. Referentially, Pepperi costs you from $500/mo.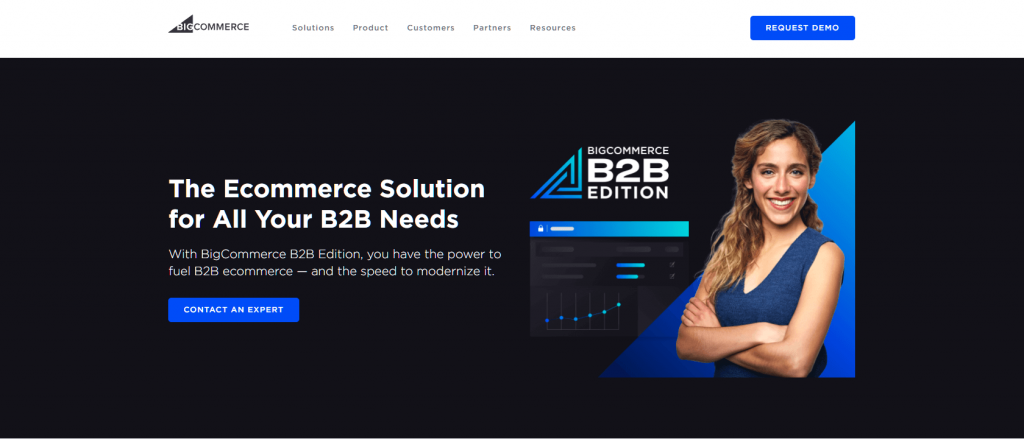 BigCommerce is one of the top SaaS-based eCommerce platforms like Shopify, with over 60,000 merchants in over 150+ countries. While the platform is originally famous for its B2C eCommerce service, BigCommerce has just launched its B2B edition in 2021. BigCommerce is worth considering when choosing a B2B eCommerce platform due to its reputation and list of great features.
Why is it better than others?
Unified platform for both B2B & B2C
Abundant B2B features such as:
Custom pricing
Corporate account management
Sales representatives
Reorder
Price lock
Restricted log-in
API integrations for ERP, OMS, and CRM
Multiple shopping lists
Customized shipping rates
Easy to use
Robust and secure cloud hosting: 99.99% uptime guarantee, SSL certificate and PCI compliance. 
Cons: 
B2B features are exclusive for enterprise plans: While BigCommerce has three general pricing plans, these plans are more optimized for B2C purposes. To utilize its B2B features, merchants have to use their enterprise plan.
Limited customization and scalability: compared to OpenSource platforms or PaaS platforms. 
Pricing: Pricing is available upon request.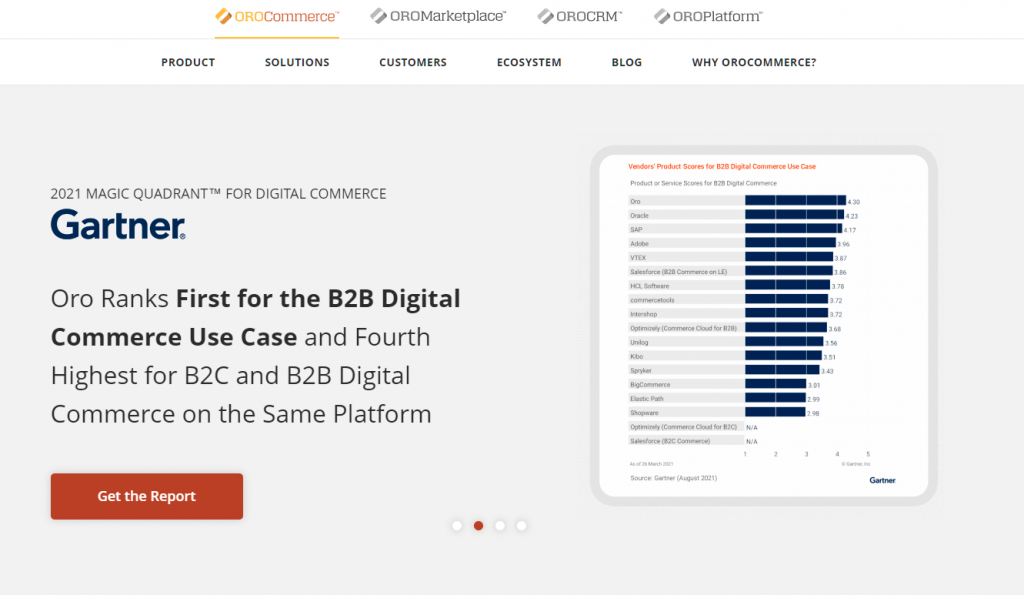 OroCommerce offers a complete B2B solution at enterprise levels with the flexibility to fit any business model. Founded in 2012, the company has supported thousands of wholesalers, distributors, brands, and manufacturers, including Shell, a famous global oil company. The platform is also highly ranked by Gartner, the world's leading research company, as #1 for B2B Digital Commerce Use Case 2021.
Why is it better than others?
Powerful B2B features for large-scale enterprises:

personalized pricing list, catalogs, promotion management, customers' corporate accounts, tax management, and more.  

Optimized for corporate buyers:

multiple shopping lists enable corporate buyers to work on many projects simultaneously. 

Multiple storefronts

: manage multinational stores in one panel

Built-in CRM:

No need to integrate with third-party software to maximize sales and optimize marketing leads

Strong integration:

with ERP, inventory management software and more

Highly customizable
Various business models supported: B2B, B2C, B2B2C and more
Cons:
Limited add-on extensions: Extension improves your site's functionality quickly. However, there are fewer available extensions on OroCommerce than on other platforms. 
Coding skills needed: you need to complete complicated coding tasks by yourself or hire a developer to implement your digital shop. 
Pricing: 
OpenSource: Free
Enterprise

: available upon request. Referentially, OroCommerce can cost from $45,000/year, depending on your company's scale.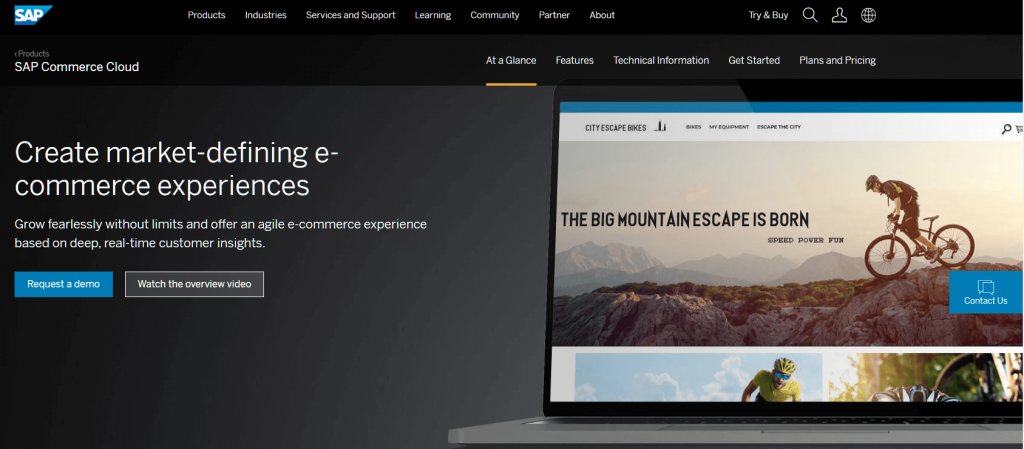 SAP's reputation comes from its ERP system. Its solutions transformed enterprises into intelligent, digitalized enterprises for high growth and sustainable development. Based on individual needs, users can use software to upgrade their accounting, HR management, Data Management, CRM and more. SAP Commerce Cloud is SAP's service specialized for eCommerce business.
The company prides itself on providing solutions for companies in more than 140 countries. Some of which are the top biggest enterprises in the world like Moderna, Toyota, etc. 
Why is it better than others?
Streamlined integrations: Taking advantage of SAP's famous ERP, buyers can integrate their B2B websites with lots of software to improve HR, marketing, etc with no friction.
Headless Commerce & Cloud Technology: SAP empowers headless and cloud technology, which guarantees agility and scalability.  
Flexible solutions: customized for the unique needs of every business, which is ideal for B2B, B2C or B2B/B2C hybrid eCommerce stores. 
Omni-channel
Cons:
There's a learning curve to understanding all know-how

Costly and time-consuming
Pricing: 
SAP's pricing is available upon request. Referentially, the platform costs at least $100,000/year. 

Optimize.ly is a growing company dedicated to digital transformation. The company provides world-class CMS, AI-powered optimization and eCommerce solutions. In 2020, Optimize.ly acquired Episerver, a well-branded B2B eCommerce platform. This acquisition promised even better-optimized features.  
Until now, over 9,000 customers have trusted Optimizely for their B2B stores. 
Why is it better than others?
High-security standard: Optimizely is certified with ISO 27001, a creditable international standard for information security management. 
Great B2B features:

from online quoting, a self-service portal, customer-specific pricing, and account profile to effective product information management. 

Cost-effective management:

lots of built-in features to help merchants to manage media, content, catalog, and order better. 

Serious analytics with A/B testing:

empower customer-centric and data-driven decisions
Cons: 
Limited customizations: some Optimize.ly customers said they had difficulties customizing some aspects of the websites.
Non-user-friendly: Newbie users would find it hard to understand the platform. 
Pricing: 
Pricing is available upon request. Referentially, the starting price is $50,000/year. 
Is it possible to run a B2B/B2C hybrid eCommerce store?
Many business owners find the chance to expand their sales to both B2B and B2C directions. This leads to a common question: Should I develop a website that is both B2B and B2C?
Yes, you can. It's definitely more challenging than developing a B2B website individually. However, with great planning and vision, you can build an effective hybrid website so you do not need to build two for each business model. 
Here are things to keep in mind if you want to build an eCommerce platform for B2B/B2C:
Separate pricing: it's essential to show your audiences their right pricing. This can be done by showing a table of prices based on volume. Or else, you can enable the "Log-in to see wholesale price" option for B2B businesses while displaying B2C prices. No matter how you do it, the key point is to have good navigation and reduce any confusions that may appear when B2B and B2C customers experience your site. 
Multiple-user interface: Multiple-user interface allows you to curate products, showing pricing and content targeted at your right audience. 
Manage inventory from one datastore: for a hybrid business model, you have to manage inventories for both B2B and B2C customers. While managing them individually may cause inconsistency and errors, it's best to manage all of them in a single dashboard. 
Traffic and scalability: since your website will approach a wider section of customers, please remember to choose a suitable platform and plans that can handle those traffic. 
As for platforms, you should choose an eCommerce platform that is experienced with both B2B and B2C models and is greatly customizable. Magento is one of the most prominent names. 
Conclusion
If you have found an ideal eCommerce platform to start your B2B business, check out this bespoke B2B website development service to build your dream store. With robust & advanced eCommerce technology and a company-driven mindset, your B2B store will be guaranteed for magnificent performance, customer-driven service & rapid growth.
The future for B2B eCommerce is bright. Once shifted into the convenience and productivity of digitalization, B2B companies will not go back to the traditional route anymore. Since you are reading this article, we know you are well aware of this. We wish you can speed up digitalization and win over your slower-moving competitors. But this is the long-term story. For now, we hope that you have found some useful information in this article and an awesome eCommerce platform for your B2B website.