In 2018, 89% of digital businesses & 79% of retailers brush up on their personalization marketing strategy and personalization continues to be one of the trends for eCommerce in 2022. This article explores the best practices to leverage your eCommerce personalization so that you won't lose in today's competitive market & stay ahead of the game. 
What is eCommerce personalization?
ECommerce personalization is the delivery of different content experiences to different groups of customers. As a result, it creates enjoyable and memorable customer journeys that are easy to convert.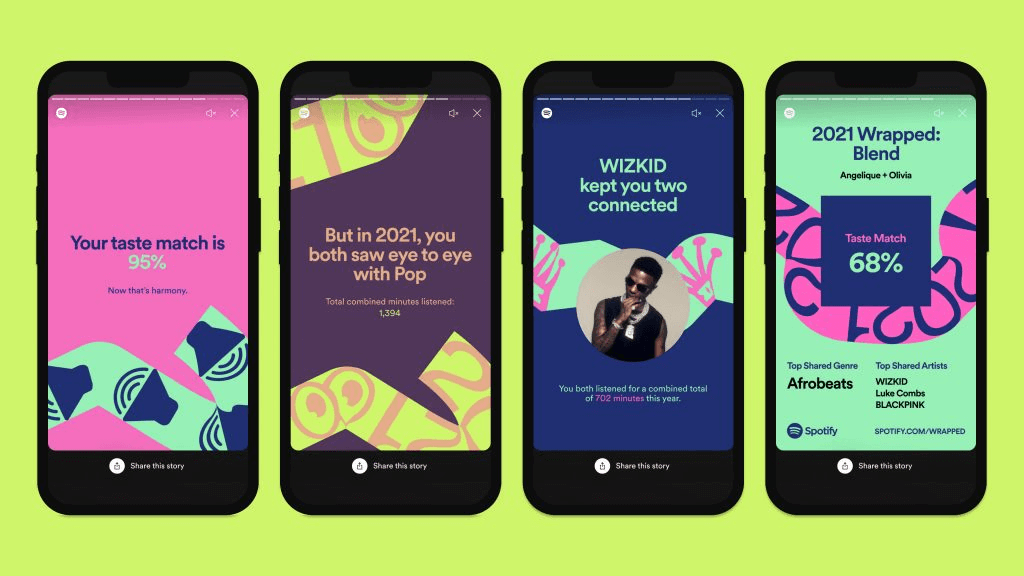 Think Spotify's yearly wrap-up, Amazon's product recommendations, Netflix's continuously changing movie suggestions.
In general, eCommerce personalization includes collecting your customers' data (i.e. previous actions, purchase history, demographic) & segmenting your customers into groups. From then, content is curated and delivered to each specific group to lay a personal impression and increase the sale potential. 
Why eCommerce personalization?
Improve user experience & drive sales
eCommerce personalization does it the same way successful salesmen do: give your customers what they want.
You walk into a suit store, a salesgirl comes up and asks if there's anything she can do to help. You explain your needs and she comes up with some suitable suits. She even knows what you are thinking and recommends some matching neckties & tie clips for you to choose. 
The digital sphere does not have salesmen and their great interpersonal skills, but we can gain access to a wide range of data, tools and use creative content skills to deliver the same experience. 
Customers love personalization because it makes their life easier and more enjoyable. 91% of customers are more likely to buy from brands offering products relevant to them and 80% of frequent buyers only purchase brands with personalized experiences. 
It's great to get the products you're looking for. But it feels even better if brands understand or, at least, make great efforts to understand you. 
Increase AOV (Average Order Value)
Showing relevant product recommendations & product bundles is an old-but-gold way to get your customers to spend more. eCommerce personalization helps do it efficiently. 
With AI & machine learning, you can display the most personalized products based on what your customers have previously searched.
Moreover, various tools for eCommerce personalization lets you promote your upsell products in different phases of the buyer journeys, from consideration to checkout & post-purchase. A/B testing tool is also available to judge which practices work best. 
Boost Customer Loyalty
Customers are more likely to stay with brands that understand their needs, provide solutions to their pain points and make their shopping experience memorable. It's natural for us to be more attached to something we feel related to. 
By specifically addressing the needs of varied customer segments, eCommerce personalization has that ultimate power.
Gain customer insight
Due to the lack of resources & budgets, lots of small businesses do not actively collect customer data & build customer personas. On the other hand, data collection is a must-do task for eCommerce personalization. 
Therefore, by engaging in eCommerce personalization practices like data collection, personalized email marketing, or A&B testing, you are also on a journey to understand your customers better. The gained insight can help your marketing team write better customer-oriented content and your sales team convert leads faster. 
eCommerce personalization: Top practices & examples
Recommend personalized products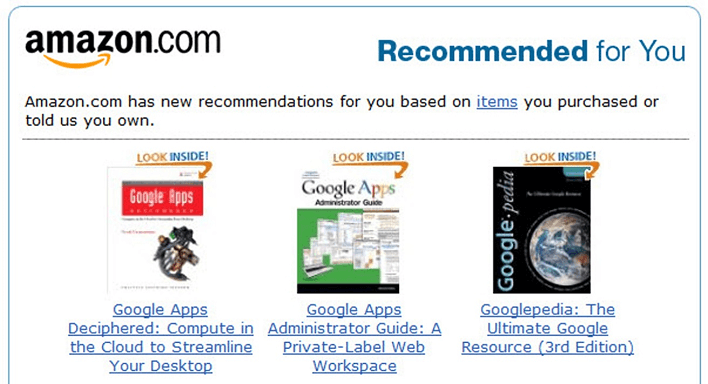 Personalized product recommendation is by far the most common yet effective strategy. According to McKinsey, product recommendations generate 35% of Amazon sales and 75% of what people watch on Netflix.
Whereas there are many ways to install product recommendations on your eCommerce store, the most important thing to remember is relevancy. To be specific, it should be related to what customers are searching for. 
This should be the keyword to keep in mind when choosing types of personalized recommendations & where to put them in your store. 
Let's explore the best practices to master product recommendations
Based on what your customers previously browsed/purchased history
Showing products that customers were interested in and their variations is a great way to provide relevant recommendations. In addition, it reminds them of items they are hesitant (or forgot) to buy & invites them to click the purchase button again.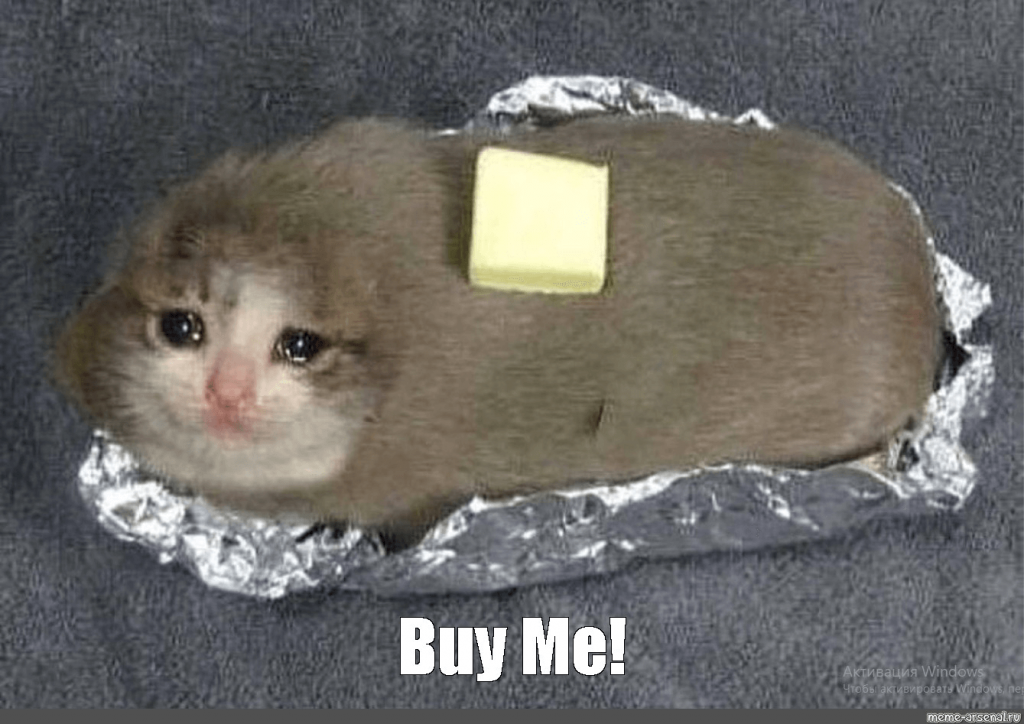 Example 1: Amazon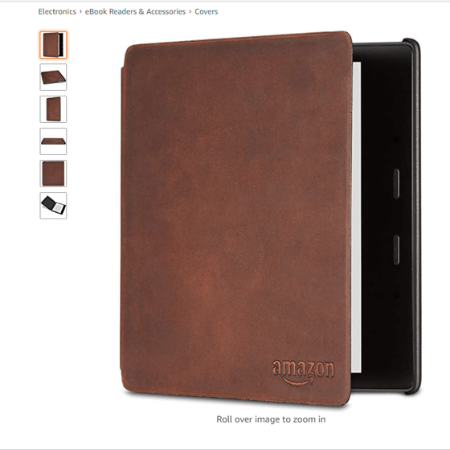 Amazon features item suggestions based on browsing history on buyers' profile pages. Interestedly, the product recommendation covers a wide range of relevant products that are varied in price & functions. 
Since we actively searched for a Kindle e-reader beforehand, they do suggest some Kindles, but not a bunch of e-readers. Instead, they smartly suggest Kindle cases, plugs, which are items that Kindle-owners may be interested in.
It's best to show previously-searched products on your homepage, customers' profile page, & thank-you page to engage your customers in a personalized shopping experience & re-trigger buying intentions.
You can also display a "recently-viewed-product" widget on the product detail page so that customers can easily compare products without having to go back. 
However, avoid this on the category page & checkout page as it may distract your customers from researching & buying other products.  
Catchy title for this type of eCommerce personalization:
Top picks for you
Trending for you
Buy again
Hand-picked for you
Personalized for you
Based on what customers are viewing
This means suggesting products that are similar to or work together with the item your customer is interested in. By providing more choices to consider and more add-on value, the practice can convert and increase AOV (Average Order Value).  
Promoting similar products is the best fit for product detail pages when customers are weighing up & down the item and need more options. 
Meanwhile, cross-selling accessories or add-on items are ideal for checkout pages. At this stage, your customer is excited by the item they intend to buy as well as the experience it brings. Thus, they are more likely to spend more to make the experience whole. 
To optimize the recommendation's relevancy, AI and machine learning are used to analyze users' shopping patterns (i.e. which items are frequently bought together, which items are normally considered together, best-selling items). 
Example 2: Product bundle – Amazon (Cross-sell)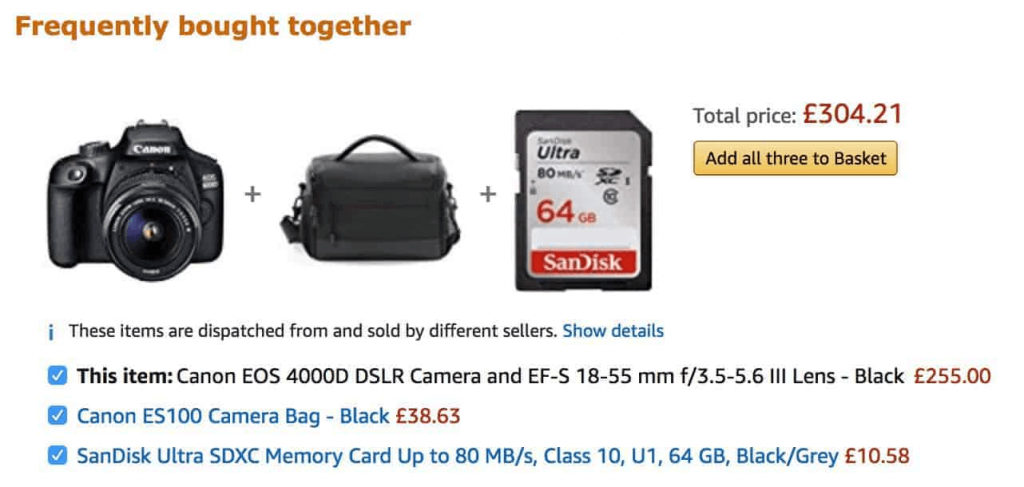 Example 3: Complete the look – Farfetch (Cross-sell)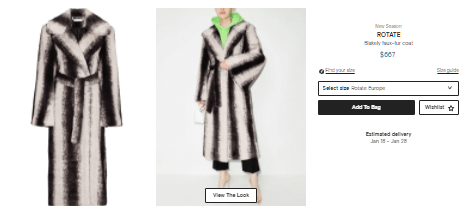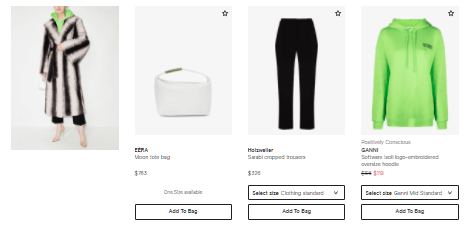 The fashion brand suggests items complimenting the selected product, and altogether, they are a complete outfit look featured in their lookbook. This strategy is popular for fashion stores, as it effectively visualizes how the product bundle goes with each other. 
Example 4: Show similar products – Pura Vida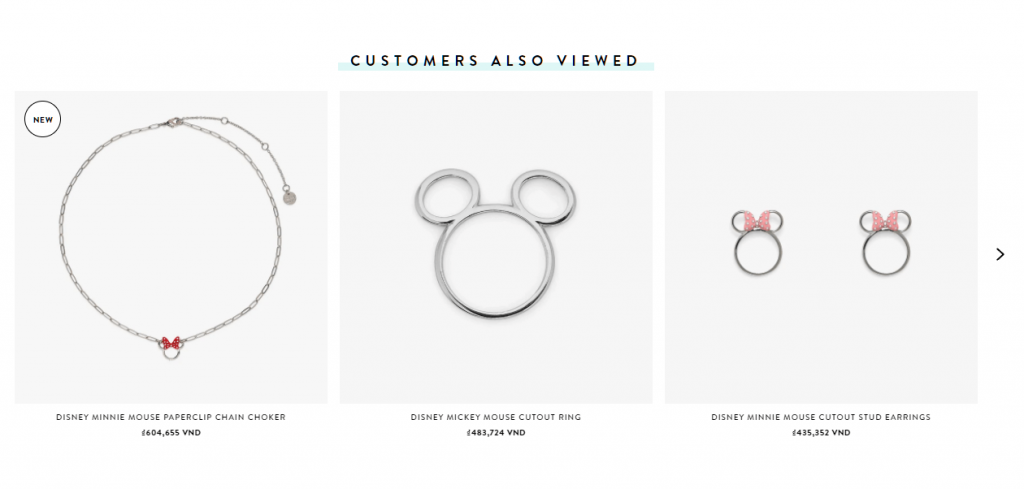 This recommendation combines what your customer is viewing with your store's data of the best-selling products. By suggesting what others are buying, it increases the sense of F.O.M.O (fear-of-missing-out), thus, trigger buying actions better. 
Other popular titles:
People who bought this also bought:
You may also like
Others also bought
Similar/ related products
Based on real-time best-sellers 
Showing the top-trending products or best-seller items hits your customer's curiosity & their F.O.M.O. It also boosts their buying confidence. If lots of people buy it, it can't be bad, can it?
Example 5: Trending search – Shopee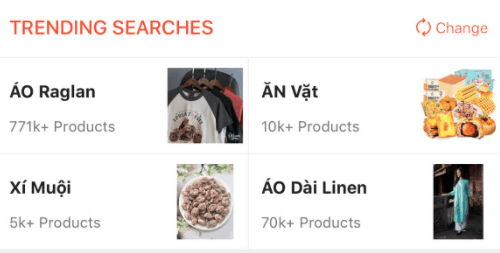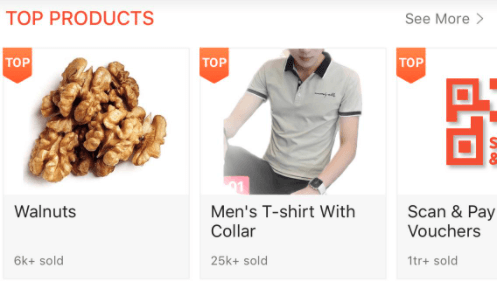 Shopee, a dominating eCommerce marketplace in Vietnam, combined best-selling products with browsing histories to create highly-personalized homepage recommendations. 
Example 6: Trending in your area – LeSportsac

You can also combine best-selling-item data with location data to show trending products locally. This works best for international stores. 
Example 7: Category page sorting – Sephora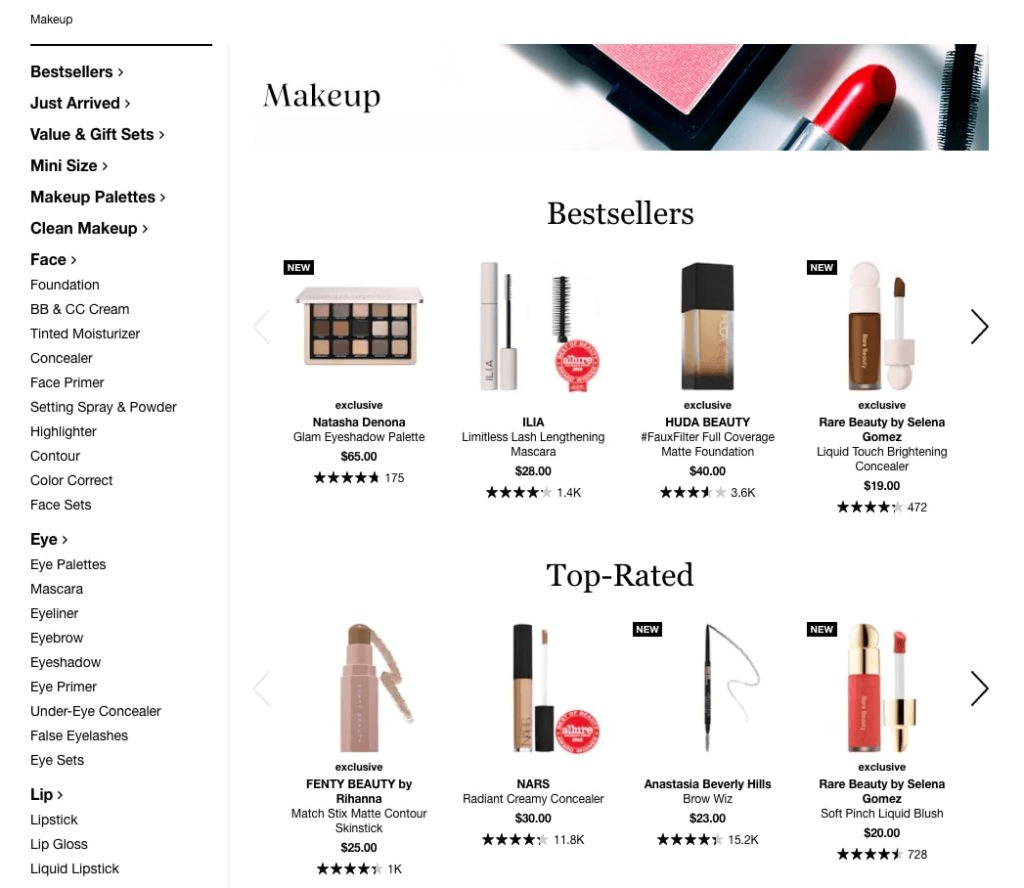 Similarly, showing off the best-selling products of a single category may help your customers find their desired items faster. 
Based on your customers' suggestions
What's the best way to show relevant products other than asking your customers directly? 
By showing quizzes, games, or polls, you can easily learn your customers' interests and suggest products accordingly. 
Example 8: Quiz – Earth Tonic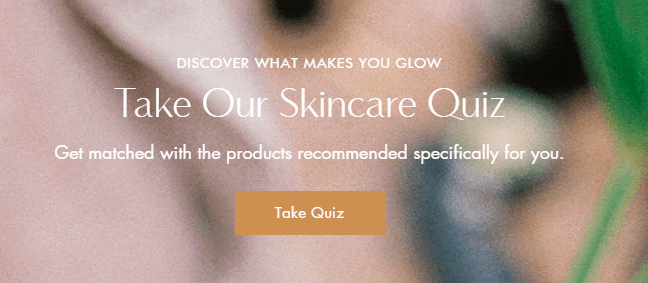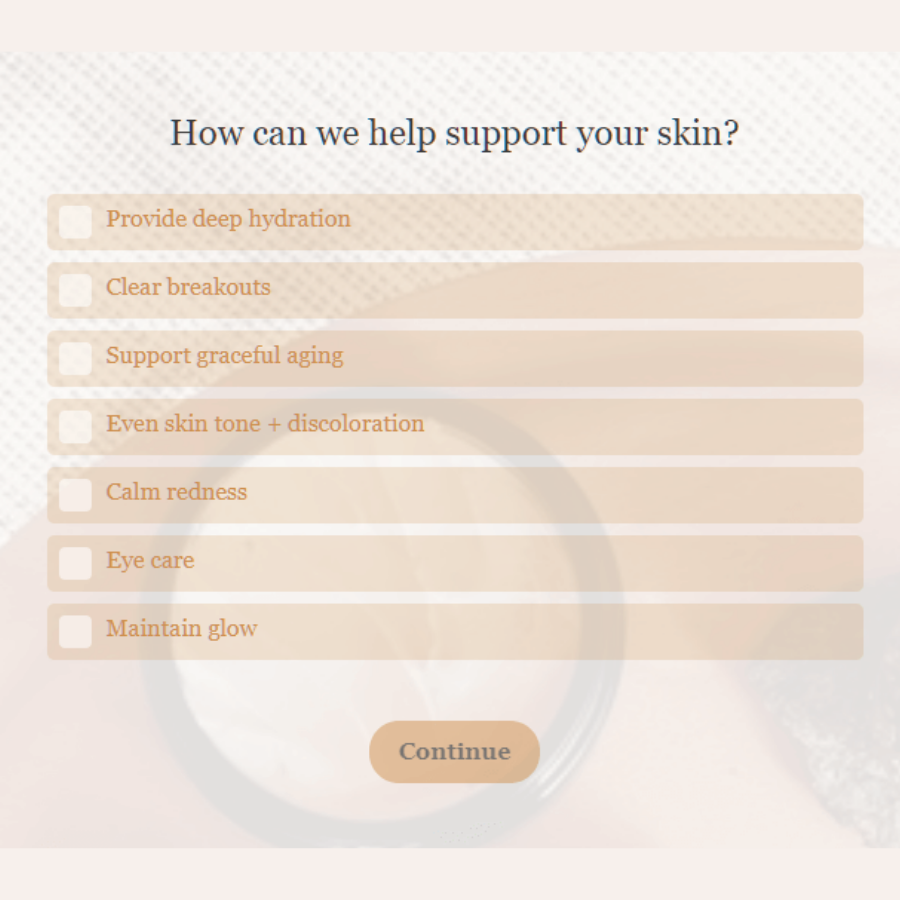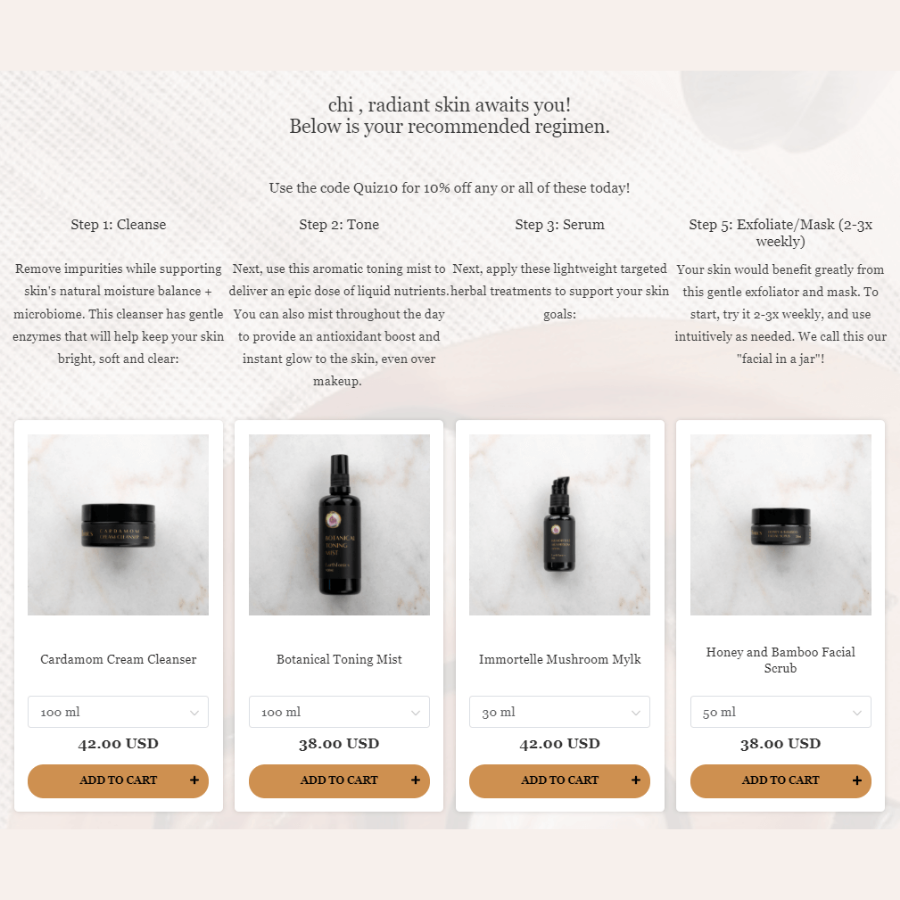 Using a tool by Prehook, Earth Tonics engages customers through a series of questions from their customers' skin problems to allergy conditions. The outcome is a personalized landing page of product recommendations, where they explain clearly why they choose the product for the customers' unique skin. 
Since not all customers know exactly what they are looking for, this is perfect to navigate them to find their ideal products in an accurate and friendly way.
Personalized product recommendations softwares
Personalized eCommerce emails
As 9 out of every 10 marketers send emails to deliver organic content, email marketing remains a top sales channel.
Plus, emails, with their intimate and personalized nature, are great for small businesses who need to build trust & foster brand image. Also, with a strong ROI (about 4,200%), it is a cost-effective channel for any low-budget eCommerce store. 
Personalized eCommerce emails can bring your marketing to the next level. Here is how:
Step 1: Collect customer emails
While email remains the must-have, it's best to collect more than just emails. For example, your customers' name, gender, occupations, etc and any other information fields important to your business. 
Use all data sources you have from CRMs, eCommerce sites, signup forms in order to create email lists.
How to collect emails on your eCommerce website? 
Use pop-ups for first-time visitors
Popups are common in the eCommerce world. You may have met lots of ones offering discounts, gift cards, or resources in exchange for your email already.
Popups can be your angel and your demon at the same time. Intrusive pop-ups may annoy your customers and distract them from engaging with your site's contents. 
The key is right timing, right content – display popups when your customers need it, with the right content triggers. 
eCommerce personalization data about your customers' cart value, browsing behaviors & the number of sessions may be extremely helpful.
Example 9: Newcomers Greeting Discounts – Wedio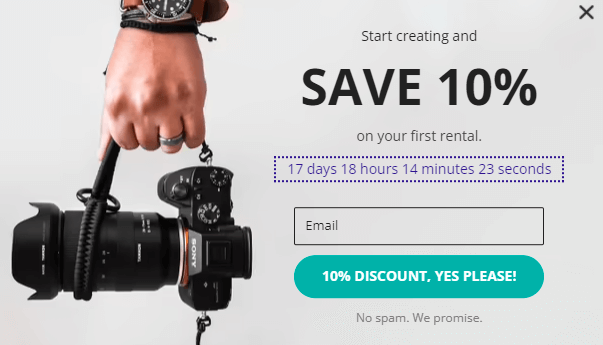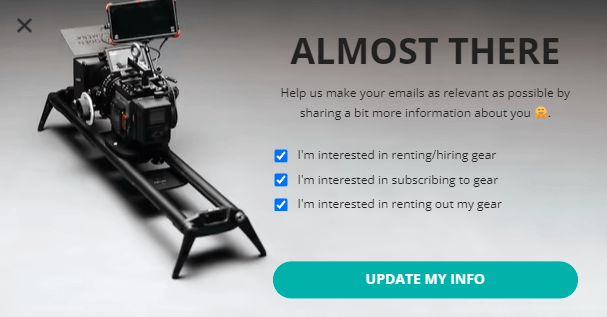 Wedio uses a two-step pop-up to promote discounts for first-time visitors with email opt-in. The popup is good because:
They highlight the customer' benefits in the title "SAVE 10%" & CTA "10% discount, yes please"
The tick-option question can be filled quickly in seconds, which is easy even for the laziest customers. Also, using two steps instead of one makes the pop-up more simple than it actually is. Showing both email and tick-option questions in one layout may make it look more daunting to fill. 
Example 10: Exit-intent Discounts Pop-up – Various merchants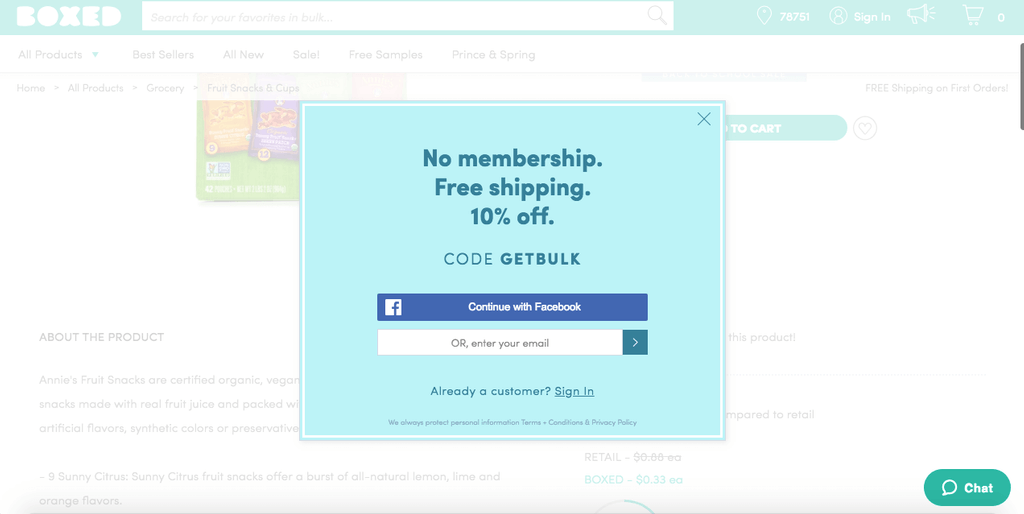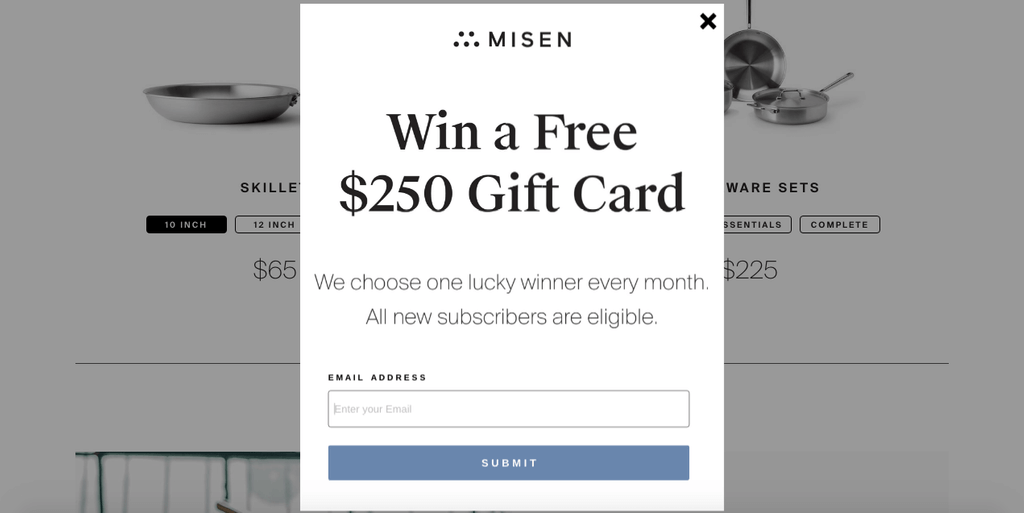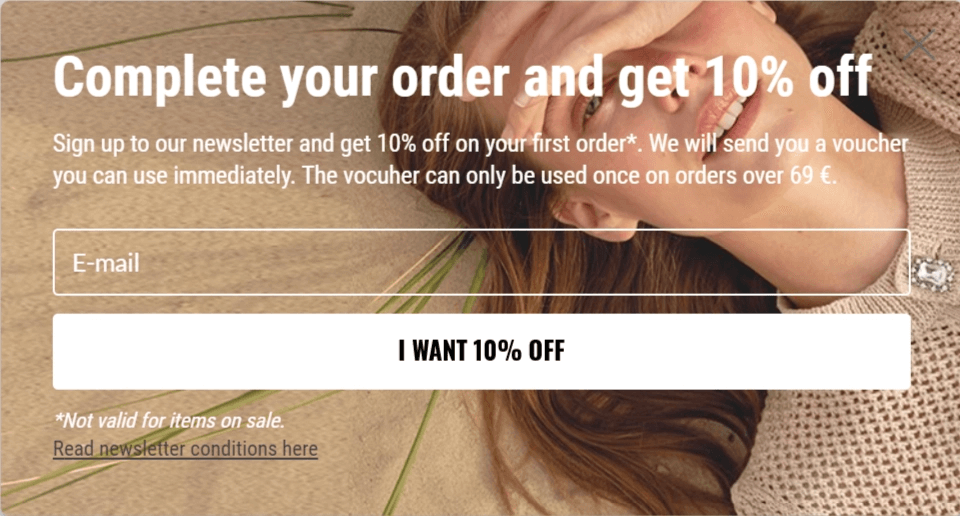 There are many reasons for customers to abandon their carts and exit your eCommerce pages. For instance, they may still consider the price, or need to research more.
A popup showing up right when they intend to exit increases your chance of engaging with these potential customers later. You can offer discounts, giveaways, free shipping, free resources, etc in return for emails. Since everybody loves free stuff, they will be more likely to fill in.
Example 11: Discount and Gamification – various merchants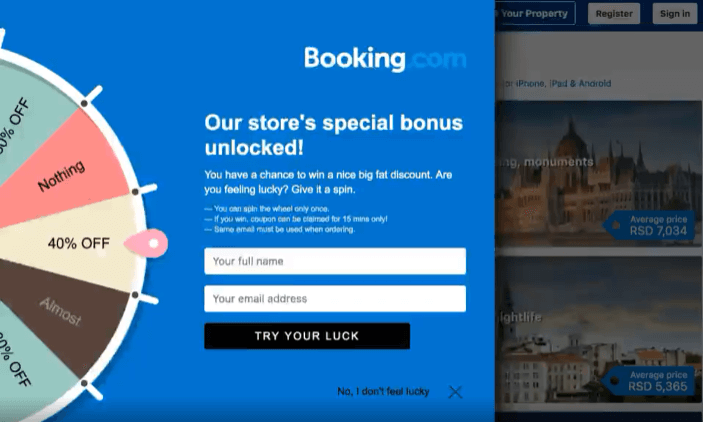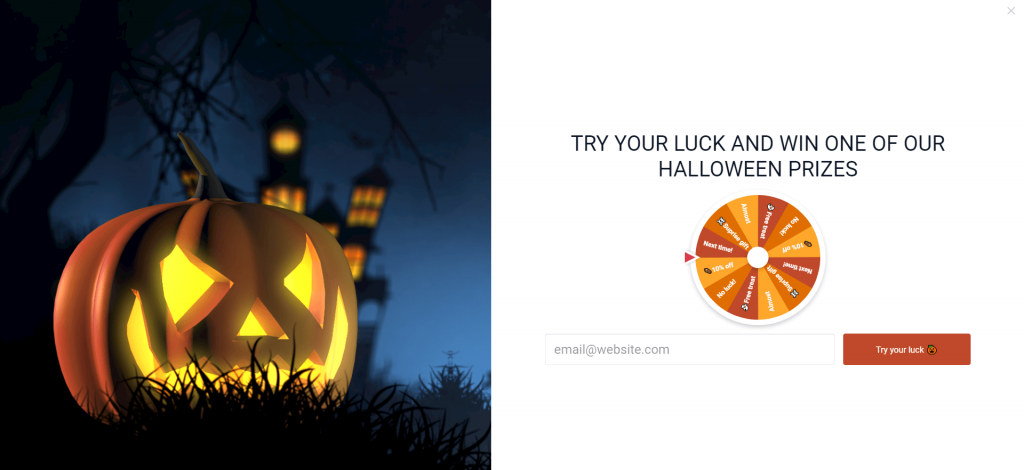 Everyone loves games and prizes, thus, the gamification pop-ups will add more fun and excitement for your customers to enroll. 
Try to make your popup game feel like it is a one-in-a-million-time chance to play so as to stir up excitement.
For example, Booking.com regards it as a "special bonus that customers have just unlocked", while popup smart uses it as a seasonal game. 
Suggested popup tools: 
Enable social login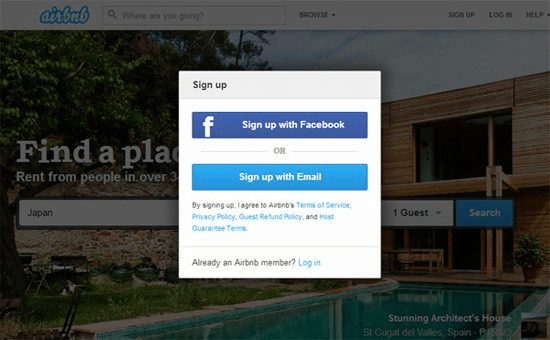 Social login uses customers' personal data saved in their social networks, thus, enables them to checkout fast without having to fill in the lengthy registration information. 
Thus, people are more likely to sign up with social login, and store owners can collect more relevant data, not just email address but also name, or even gender, age & location. 
Suggested tools for social login
Step 2: Group Segmentation
Once you've got an email list already, it's time to divide them into groups so you can send highly-targeted emails to each of them. 
How to segment depends on your business and the product you offer. Basically, these are the most common segmentation options.
Based on gender
Based on location & time zone
Based on customers' journey & customer loyalty
Let's get down to each of them.
Group segmentation 1: Based on gender
If your products are gender-specific (i.e you're from a fashion brand), you may want to design your marketing email so that it appeals to each sex group separately. 
Example 12: Gender-personalized emails – Adidas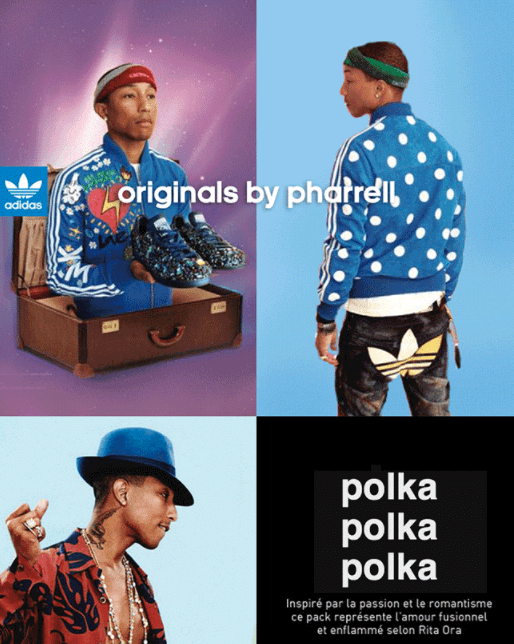 It would be kind of odd to send a newsletter featuring many men's clothing to a lady, wouldn't it? 
Group segmentation 2: Based on location & time zone
Emails should be spent when your customers have enough leisure time to open and consider your offers. Thus, it would not be effective to send emails during busy office hours or late at night. 
If your customers are all around the world, dividing them into different timezone groups & scheduling respective sending times helps avoid wrong timing and ensure a better open rate. 
Example 13: Country-specific email images – Campaign Monitor
Campaign Monitor personalized images in their marketing emails following different recipients' locations. As a result, they reported a 29% increase in click-through rate compared to a general email campaign of the same content.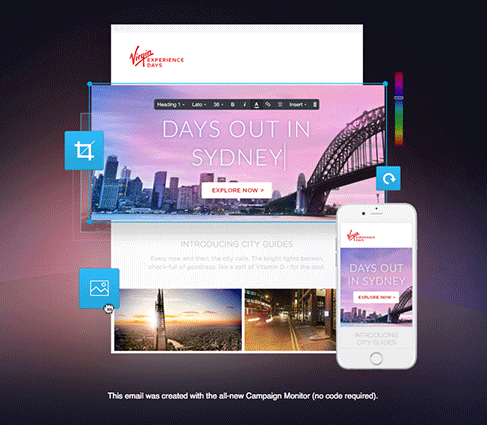 Example 14: Product recommendation with weather concerns – Marine Layer

Marine Layer uses customers' location data to send product recommendations that fit their weather conditions. 
Group segmentation 3: Based on customer's journey and loyalty
The customer journey (or the marketing funnel) reflects the engagement level of customers with your brand starting from first-time visitors, consider-to-buy to frequent buyers & loyal brand advocates. 
Sending emails matching customers' levels in the buyer journey can increase engagement rates, nurture their relationships with your brand and turn them into loyal fans. 
Example 15: First-time buyers discount – Michaels

Welcome discounts emails often follow the welcome discounts popups after your potential customers fill in the form. This acts as a warm greeting as well as motivates them to make the first purchase fast. 
Example 16:  Abandoned cart reminder – Various merchants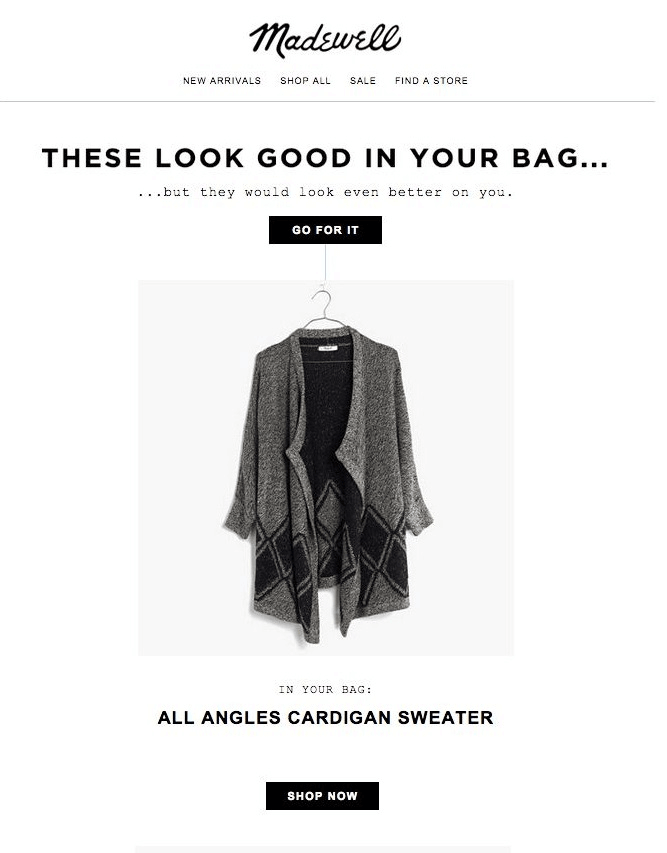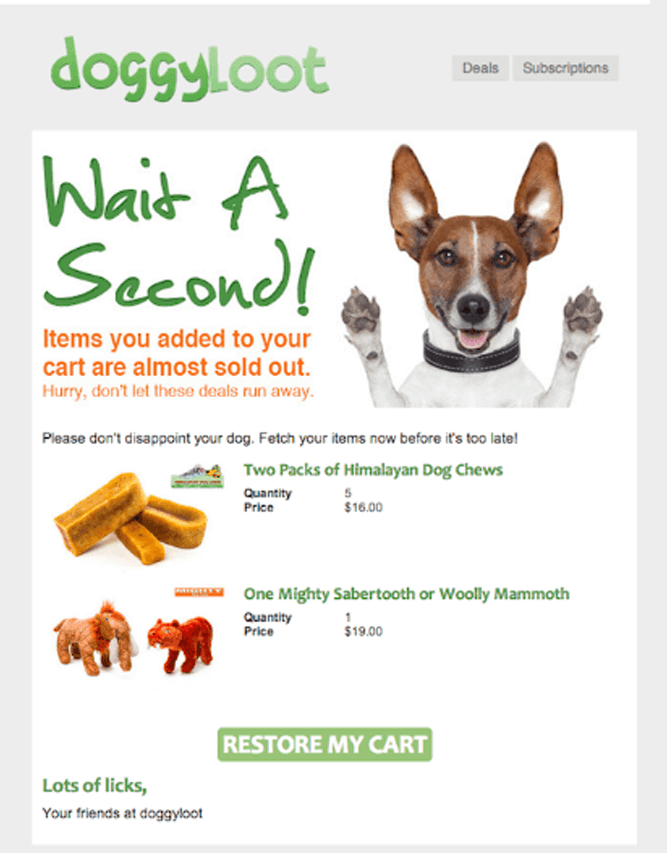 Send products in the abandoned cart for visitors who leave your site before checking out to remind them of the products and trigger buying action again.
Example 17: Heat-up emails for inactive customers – Virgin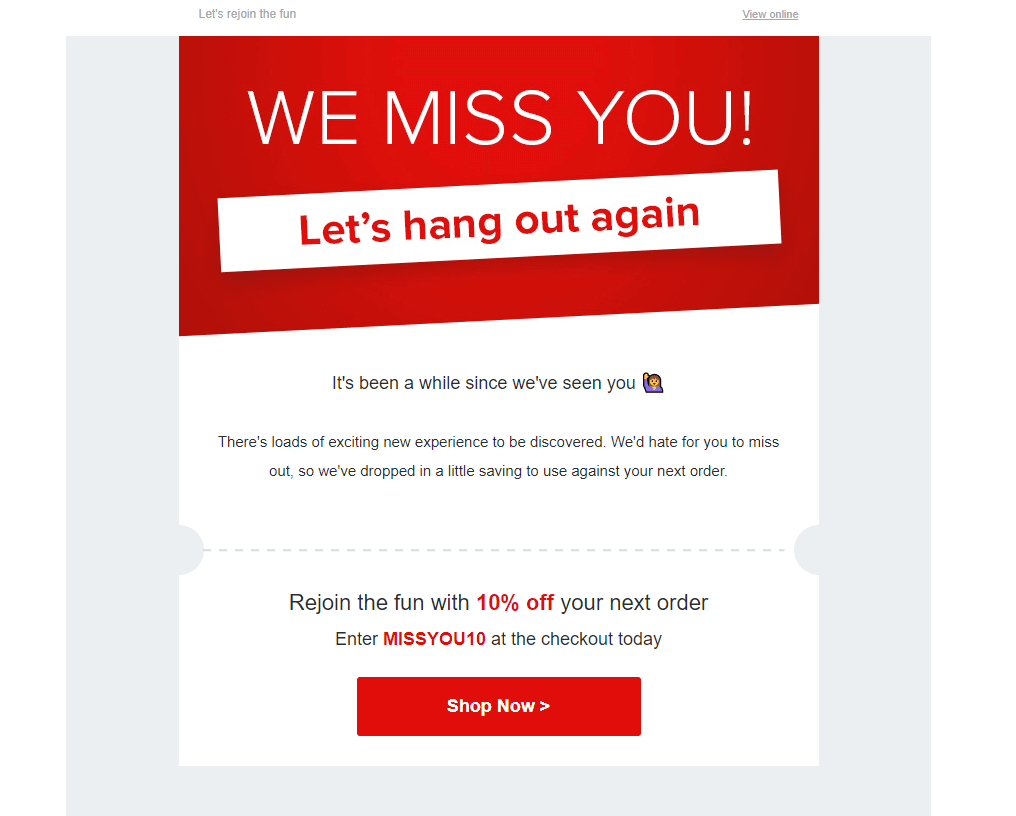 In a busy world we are living in, brands can be forgotten easily. A heat-up emails help re-engage with your inactive customers and invites them back to your buyer journey again. 
Example 18: "Happy birthday" offers based on customers' loyalty tiers – Converse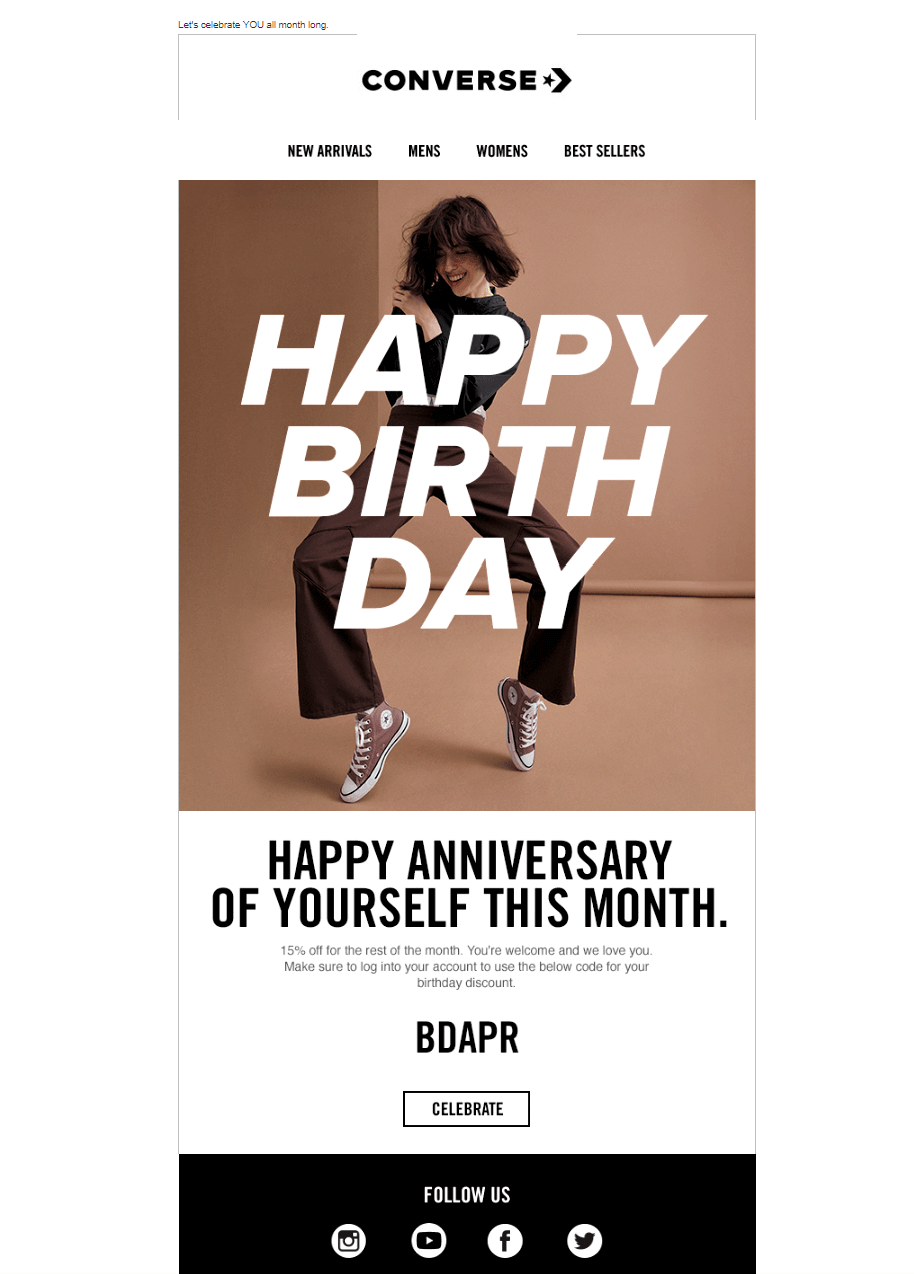 A "Happy birthday" email reminds your customers how you value them while encouraging them to buy something as a gift for themselves.
Step 3: Create highly-personalized eCommerce email content
It's time to use all your creativity, design and copywriting skills to create contents that speak to your customers. Always think of who you are writing for & what they need while writing.
Here are two tips to make it easier
Include your recipient's name in email subject lines 
Mentioning your recipients' names in email subject lines creates an initial impression and makes your email more friendly. For your reference, personalized email subject lines increase the open rate by 22%.
Example 19: Personalized Recipients' Name – Netflix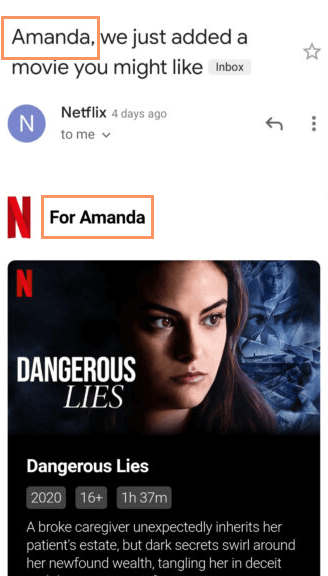 Use conversational language
Conversational language can grasp more attention and connect with your customers' emotions better. 
Example 20: Conversational copywriting – Sephora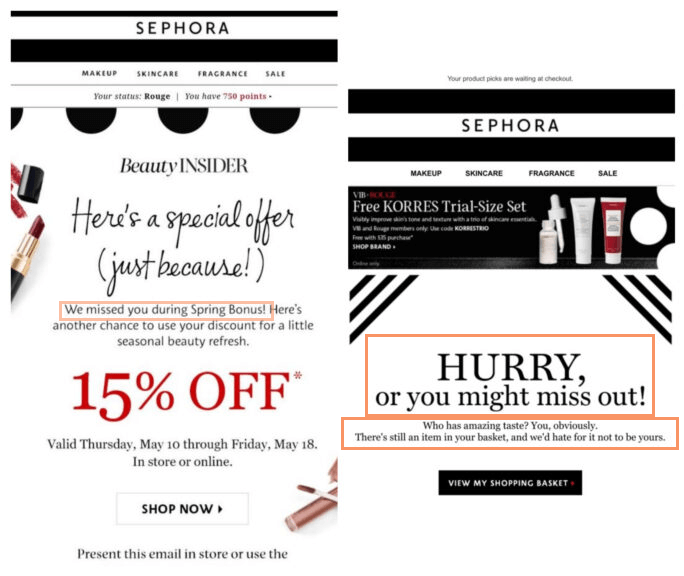 The bold text "Hurry" creates a sense of urgency and curiosity, while Sephora's complimenting tone makes the email content more friendly and likable. 
Example 21: Entertaining photo – Black Milk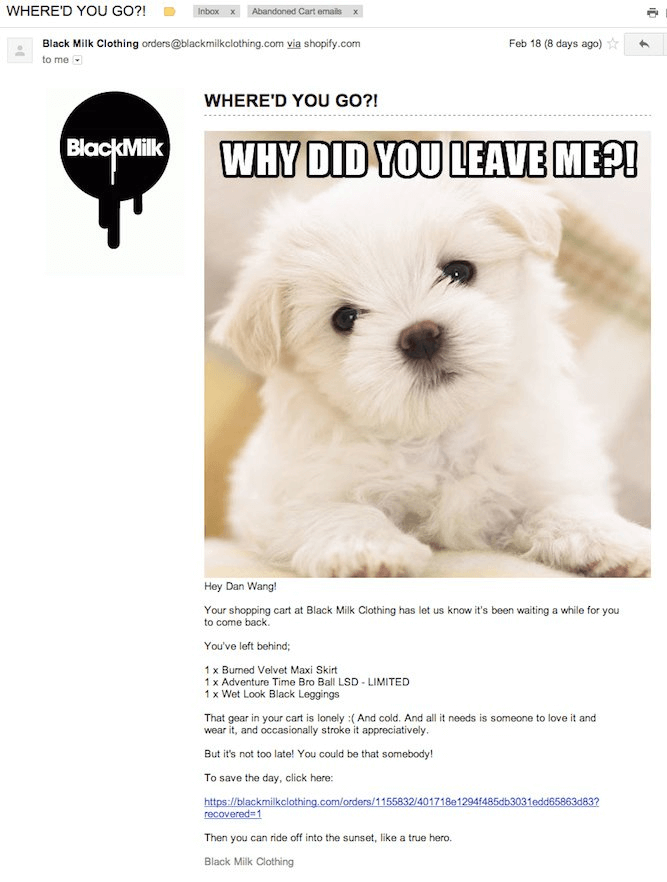 If you pursue a friendly & homey image for your brands, using a funny and entertaining photo like BlackMill is a great idea. 
Suggested personalized eCommerce email tools: 
Retarget customers on social channels
Retarget marketing is showing ads contents to users who have interacted with your brand online before. In this case, you aim at users who have visited your eCommerce website and use their on-site behaviors to create personalized ads contents. 
Notable social networks like Facebook, Google, or Twitter can track your visitors' behaviors (i.e which products they view, if they have purchased, their abandoned cart), and distribute ad content on their platform. 
This, as a result, helps create highly-personalized ads for great engagement & a better click-through rate. 
Furthermore, eCommerce remarketing lets you reach customers who are already accustomed to your brands, thus, more likely to purchase.
Similar to email marketing, you can use remarketing ads to cross-sell, recover abandoned carts, re-engage with your past buyers/inactive members and more. 
For on-site & email marketing, your targeted customers have to at least view your site or open your emails for the content to be shown. 
On the other hand, social media displays your ads on your customers' feeds while they are passively scrolling posts. This gives you more chances for impressions. 
Example 22: Cross-sell ads – Nike 

Nike collected users' product-page-viewing data. Then, they promote other related products via Google Display Network. 
Example 23: Drive website traffic – ModCloth

ModCloth re-engages with their brand advocates who have previously purchased & announced their newly in-stock products. 
Example 24: Recover abandoned cart – Expedia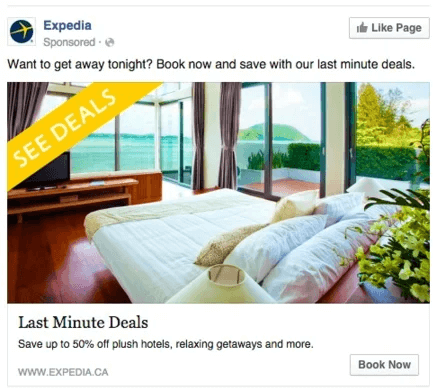 Expedia combines accommodation that the user has viewed and a FOMO-infused title "Last minute deals" to create an irresistible ad. 
How to create personalized remarketing ads for your eCommerce store?
Although we really want to make it sound easy, let's face it: this requires some ad knowledge. Thus, unless you're familiar with ads platforms already, it takes time to learn how to deliver cost-effective and personalized ads. 
Before jumping into learning any ad platforms, it's important to understand which social channels your customers hang around the most. Although Facebook and Google have the best tools for advertising, it means nothing if your audience is not there. 
Once you've found some social networks for your brand, let's find one with the best ad service for you. 
Here are some companies (social channels) that offer efficiently-retargeted ads & their installation guides.
Generally, the process starts with adding a tag to your eCommerce site so that your visitors' behavior can be tracked. 
Then, you can segment those data into groups, create & distribute ads content for each group accordingly.
Create a consistent omnichannel experience 
Omnichannel personalization ensures a cohesive, smooth, and relevant experience for your customers across all channels, from desktop to mobile to brick-and-mortar stores. 
On a simpler level of omnichannel personalization, you would want to make sure your mobile app data sync well with your desktop data. Thus, even if your customers switch between a mobile app, web app, and desktop, their browsing history on your digital store will be the same.  
Let's explore some creative ways to leverage omnichannel personalization.
Example 25: GPS-empowered omnichannel experience – Auchan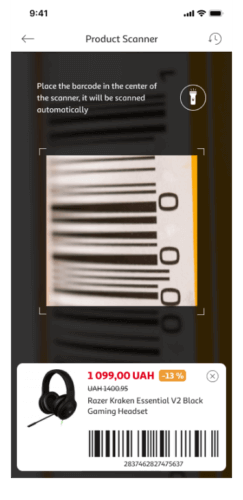 Auchan's GPS can help buyers find the nearest store as well as find ways to navigate in their hypermarket.
Furthermore, while shopping in the store, customers can easily scan barcodes to find more product details as well as the best offers/deals available on the hypermarket that day. 
Example 26: Memory mirror – Neiman Marcus
The fashion brands set up the digital "Memory Mirrors" in their dressing rooms that record an 8s video of customers trying their items. 
Thus, shoppers can have a 360-view of how the items look on them. They can also send the video to their friends for feedback or use it as a review video in the brand's mobile app. 
Similarly, they have "memory makeup mirrors", too. If you usually buy makeup, you must have had your face retouched by department store's makeup artists before. Their makeup skills convince you to buy all of the products they use, only to find that the results are less-gorgeous when you do it at home on your own. With the "memory makeup mirrors", the cosmetic counter of Neiman Marcus will send you your makeup application video, so you can use it as a tutorial later on. 
Optimize pages for different customer groups
We have talked about product recommendations that are personalized on your customers' on-site behaviors. 
On a higher level, you can customize pretty much every element of your pages, from top banners to each copy-writing line, so as it greatly speaks to a specific customer group.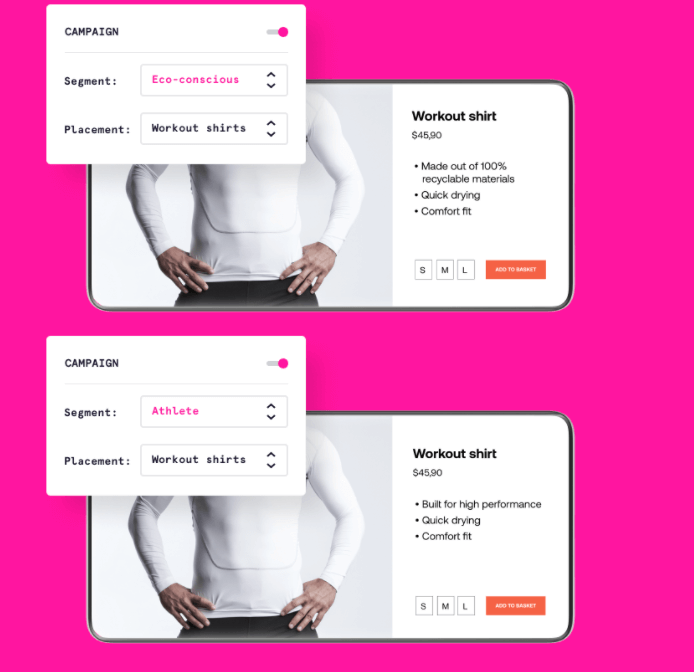 Advanced tools can track information regarding their locations, interest, reference source (from which site they enter, etc) to help you create effective segmentation. 
Let's look through some examples.
Example 27: Geolocation targeting – Sportique 
This is probably one of the most simple forms of personalization: customize your site for visitors from different countries using IP locations. 
Magento 2 uses this to offer multi-language, multi-currency modules for their store owners. 
However, geo-targeting goes further than this.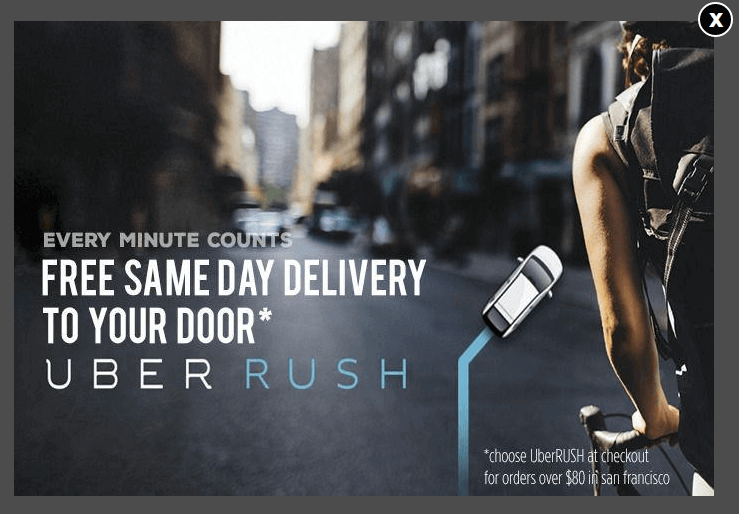 Sportique ships globally, however, only in San Francisco do they offer same-day delivery via UberRush, thus, this banner is shown specifically for their users in San Francisco.  
Similarly, you can dynamically show contents that are suitable for each regions' weather or cultural events for the best page relevancy and engagement.
Example 28: Homepage content-personalization – Industry West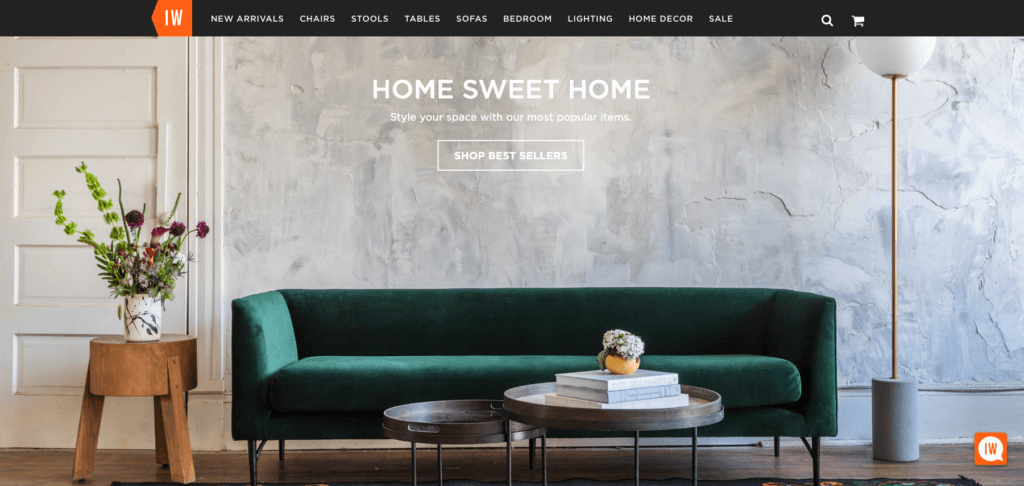 Industry West, a furniture brand in Australia, customized its homepages for four types of visitors: 
New visitors: all CTAs & product recommendations focused on the best-selling factors in order to attract the audience's majority.
Repeat visitors that haven't purchased: since customers are in the consideration stage, the site shows a "recently viewed product" recommendation with more detailed information.
Repeat visitors who express interest in lightning products: show discount banners specifically for these products
Past customers: show discount banners and recommend quick-ship products. Also, as this customer segmentation has known how to buy from the brand, the refinancing information is removed.
According to Nosto, this page-level content personalization has contributed to a 25% increase in sales & a 15% increase in Average Order Value. 
Tools for page-level personalization
1-1 personalization
1-1 personalization or single customer view is the practice of unifying all data sources into one location using so-called Customer Data Platforms (CDPs). 
The CDPs also recognize the same customers who use different devices, thus, eCommerce brands can deliver the same unified content experience across all channels.
As a result, marketers can get a complete view of their customers so as to create highly tailor-made content. 
Example 29: 1-1 product recommendations – Helly Hansel

Helly- Hansel is a worldwide fashion brand for outdoor enthusiasts. Their 4-slot recommendation panels in the top sections of their homepage, categories pages, and product detail pages are personalized based on various data. 
More specifically, they combine their own data like trending items, customers' demographics, browsing history, geolocation; to third-party data like population density & popular sports categories. 
The eCommerce personalization has reported a 100% increase in Revenue per Session & 50% more clicks. 
Example 30: Personalized Search – Forever 21
It is still a lesser-known touchpoint for personalization compared to product recommendations or home page customization, thus, you can seize this chance to stand out. 

Forever 21's AI changes its search result for "hoodies" to showcase more men items after the users browse some men categories.
The personalized search takes advantage of various data such as keywords data, customer profile, and business rules to deliver super-relevant search results that exceed expectations. 
Tools for 1-1 personalization
B2B eCommerce personalization
While these eCommerce personalization practices above can be applied to all businesses, due to their distinct characteristics, B2B businesses may need to take a slightly different approach. 
Let's dive deeper into the difference now.
B2B vs B2C eCommerce personalization
B2C customers are individuals. They buy products based on their personal interests and budgets. Lots of the purchases are impulse, B2C customers buy things when they feel like it.
On the other hand, as it's a part of their business, B2B customers take their buying actions seriously. There are lots of roles involved in the procurement process and they do it with thorough calculation. 
So, how does it make a difference when it comes to eCommerce personalization?
For B2C, many personalization practices aim at FOMO & urgency. On the other hand, for B2B businesses, it's solely about providing helpful information and enhancing their B2B-specific buying experience. Personalization makes their journey more convenient and efficient. 
Still vague? Let's get into some must-have practices for B2B eCommerce personalization
Personalization practices for B2B eCommerce
B2B customers segmentation
Since B2B customers can vary in sizes and needs, it's essential for every B2B business to segment its customers and it's no different for online marketing. 
You need to ask your customers for their company info in your registration form and assign a segmented login account accordingly. 
In general, there are 3 ways to group B2B clients:
Demographic: Business size (big-medium-small), industry, how many employees, country & location.
Tiered segmentation: Based on different thresholds of revenues clients would bring
Customers' needs: if your customers have distinct needs from each other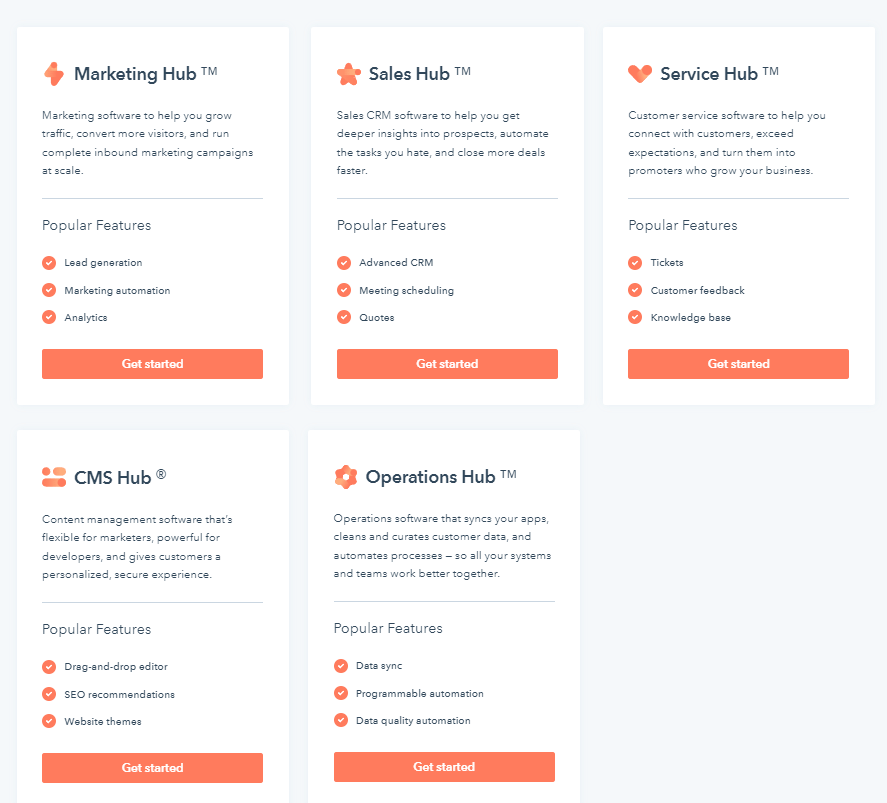 For example, Hubspot has 5 main products for 5 different occupations and they can personalize contents to attract each job group separately. 
Personalized catalog, promotions, product recommendation, prices & searches
Once you have done your segmentation, it's time for personalization. For B2B eCommerce businesses, these are the most common and effective touchpoints:
Personalized catalog: showcase varied catalogs based on your customer's contract
Personalized search: search results based on personalized catalogs.
Pricing: tiered pricing for different buying quantities, a "get-a-quote" button to trigger negotiations.
Product recommendations: cross-sell products that add value to the main products in the catalog. For instance, if you sell cameras, your cross-products could be camera bags or screen protectors. 
Corporate customer accounts
For B2B, the buying process involves lots of staff in an organization. 
Corporate customer accounts let the clients manage data and people involved in the procurement process easily. Managers can set specific rules for different buyers & each buyer can act upon their own roles. 
Real-time inventory
Since B2B customers need to buy a large number of products at once, real-time inventory update is important to keep a frictionless-buying experience. Depending on your customer contracts, each B2B account may gain access to the actual inventory quantity or to the ATP (available-to-promise) quantity. 
B2B page-level personalization
While the implementation for B2B needs can be quite different, we can modify eCommerce pages so that they appeal to different B2B customers just like in B2C. 
For example, we can personalize content for customers of different buying phases:
First-time visitors: display popups to trigger registration, provide detailed product info & buying information, use live chat to motivate 1-1 consultation. 
Frequent buyers: show an easy-to-access "reorder button", personalized product recommendations and offer relevant discounts. 
Most B2B-specified eCommerce platforms have features for eCommerce personalization.
Check our dedicated reviews here:
>> Best B2B eCommerce platforms
Let's make your customers feel special!
We are living in a data-driven world, users are being more aware of how their personal data is being used for selling purposes. Personalization, if done wrong, can be pretty creepy, just like stalkers. Being transparent about the data you use and following the GDPR (General Data Protection Regulation) are some ways to make your customers feel safe with you.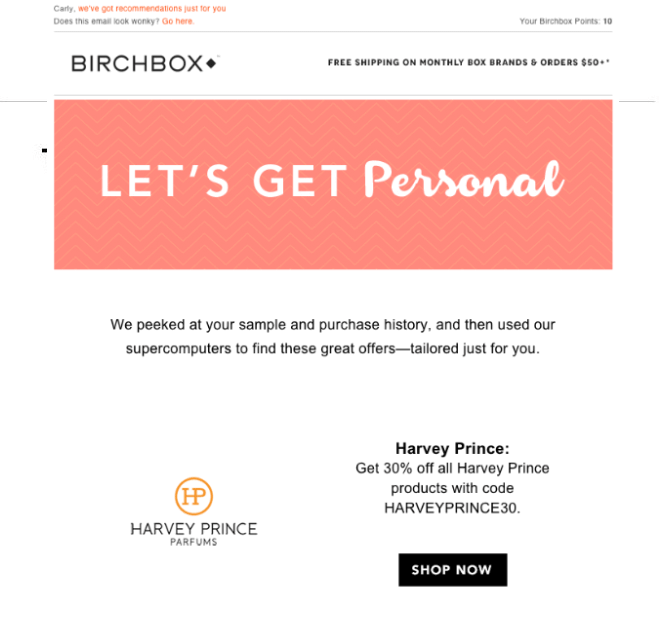 While personalization and privacy continue to be a balancing matter for all store owners, practicing personalization with a strong focus on customers' experience & satisfaction is the key to thrive.
We hope our guide and examples have equipped you with enough knowledge and inspiration to create special experiences for your customer!