Covid-19 has granted great growth opportunities for eCommerce niches catered to people's convenience and comfort. Still, newcomers may find it hard to choose an online market to opt for when eCommerce is so competitive. The same happens for current business owners who want to optimize profit by moving to a more suitable and profitable niche market.
Though the trend varies from time to time, niche markets are still beneficial for sellers after a hard time striving through the pandemic with careful expenditures as it's more focused, therefore can expect better results. 
This article is dedicated to the most trending eCommerce niches in 2023 that are expected to drive profits even when the pandemic crisis is over. We hope that these eCommerce niches will help you take advantage of the latest trends and go a long way. 
E-Commerce niches in post-pandemic: which trends are here to stay?
Sustainable, eco-friendly products
For lots of people, Covid-19 has boosted their awareness of environments. 75% of product categories saw sustainable products perform better in terms of the market share when sold via online e-commerce than in-store. 67% of people asked would pay more to buy planet-friendly goods. 
The pandemic reminds us of the uncertainty of natural disasters, thus, urges us to do something to tackle climate change. People are making an effort to create a healthier world.
This trend is totally understandable, and it is expected to last even after the Covid.
Furthermore, Forbes has predicted that responsible business is an essential strategy for the post-pandemic. The demand for sustainable products has motivated the car industry to produce electric vehicles, urges energy companies like Shell to generate cleaner forms of energy.
More than ever, being eco-friendly becomes a business' chance to grow.
In this article, you can find a handful of eCommerce niches to drive sales and protect the earth at the same time.
Digital products
Digitalization is probably the most recognizable trend during the pandemic. Closed schools and WFH (working from home) have paved the way for online courses and Zoom conferences. People now can work and learn from everywhere, and this trend is even going further in the future.
Many experts have suggested that remote working will stay with the prevalence of hybrid working mode – work offline and online alternatively. According to Vox, 70% of the workforce will choose to stay at home working for at least 5 days a month.
The trend has just taken its flight during Covid19, which opens many opportunities for eCommerce owners to take advantage of. From opening online courses to selling equipment for distance working, let's explore more in detail now.
>> Read more: 10 eCommerce trends in 2023 and beyond
9 most trending eCommerce niches in 2023 & the upcoming years
1. Pet products
Ever since dogs and cats dominate the internet, no one can doubt how much we love our furry friends. Thus, the growing popularity of products for pets in recent years comes as no surprise.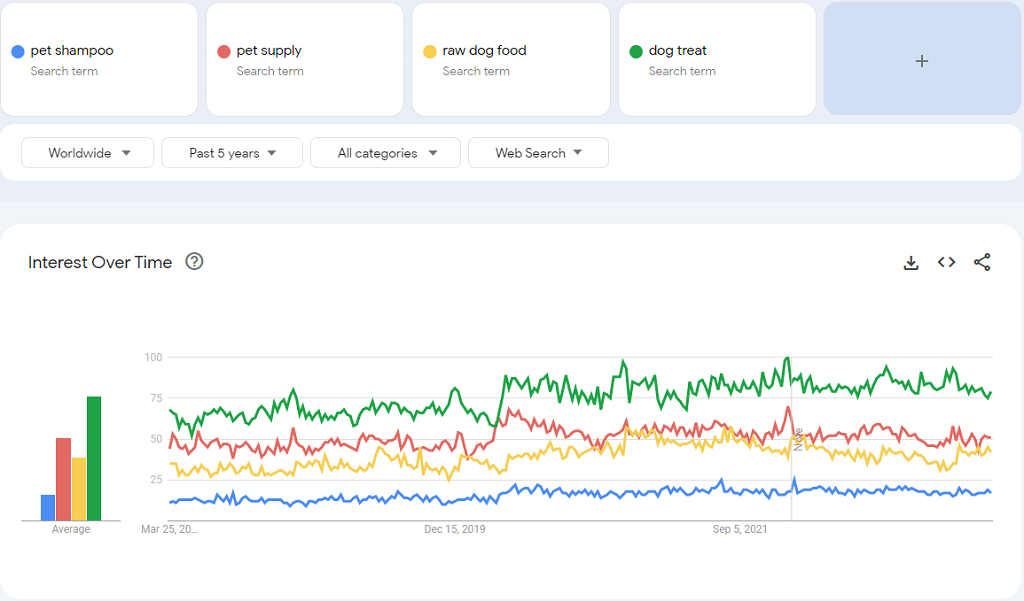 As more consumers treat their pets like family members, they find more ways to keep them healthy and happy.
Lots of pet owners now feed them with organic, natural food. A survey even discovered that 43.6% of people asked are pickier about what their pets eat than their own.
Along with organic foods, pet wellness products are on a rise too. From supplements to help improve gut health to CBD oils that reduce anxiety symptoms, to cat toothbrushes,… you will find lots of useful things to sell for pet-lovers.
2. Subscription
From newspaper & milk delivery to gym memberships, the subscription model is not new. However, combined with eCommerce and digitalization, it now provides consumers with even greater convenience while saving time and effort for store owners.
Buyers can enjoy a stress-free buying experience, free shipping, and attractive deals while subscribing to buy from eCommerce brands.
On the owners' end, subscription means a sustainable number of loyal customers to generate recurring revenues. Their stores can grow without sales & marketing efforts to acquire new customers.
The business model has witnessed a booming increase in number over the past decades. The eCommerce niche is reported to double in size in five years from 2011 to 2016. Covid-19 and lockdown even fueled it to go further, according to Forbes.
Also, BigCommerce suggests that the subscription model is one of the biggest eCommerce trends in 2022, and can continue in 2023.
What's interesting about subscription boxes is that you can sell anything.
Traditionally, there have been grocery, vitamins, food, beauty products, etc. Lately, some eCommerce store owners have creatively invented subscription services for cat litter or toys.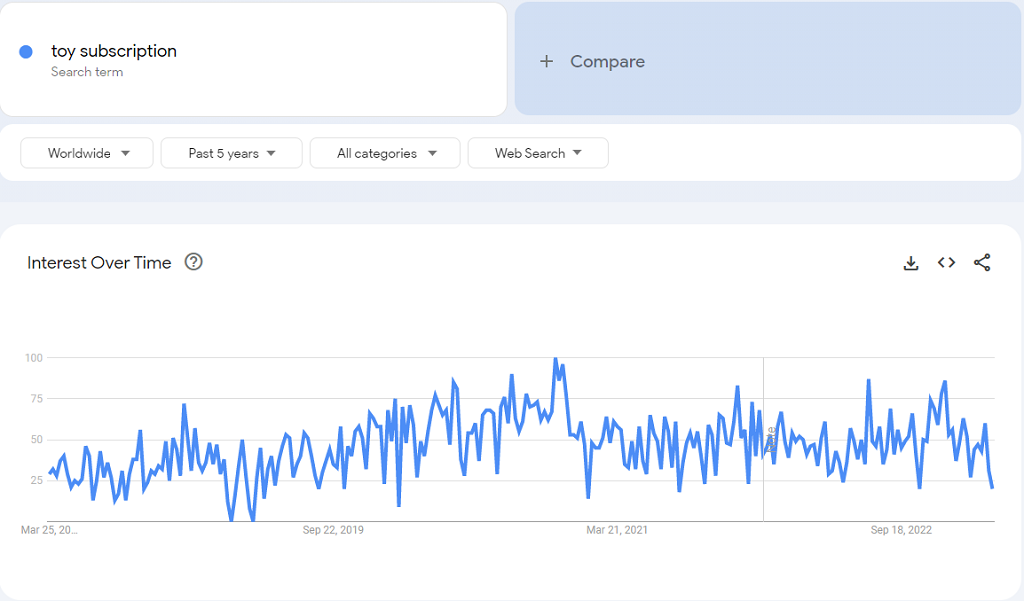 3. Home office equipment
Ever since social lockdown, consumers have been buying for the comfort of working at home.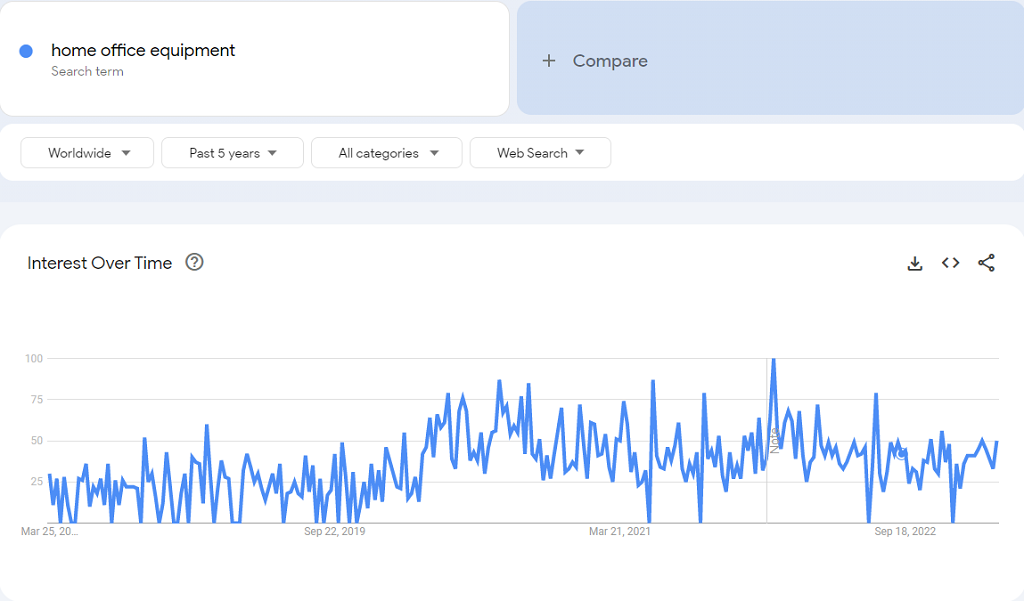 As you can see in the graph, the trend is at its peaked during "the Covid years".
However, there has been a decline recently, probably because many countries have lifted quarantine restrictions and people are freer to engage in outdoor activities.
Nevertheless, we still regard this eCommerce niche to grow sustainably in the near future due to digitalization and the WFH trend. Also, the increasing popularity of freelance work may contribute to this growth.
A report by Modor Intelligence suggests that the home office market's CARG (compound annual growth rate) will increase by 5.5% by 2025.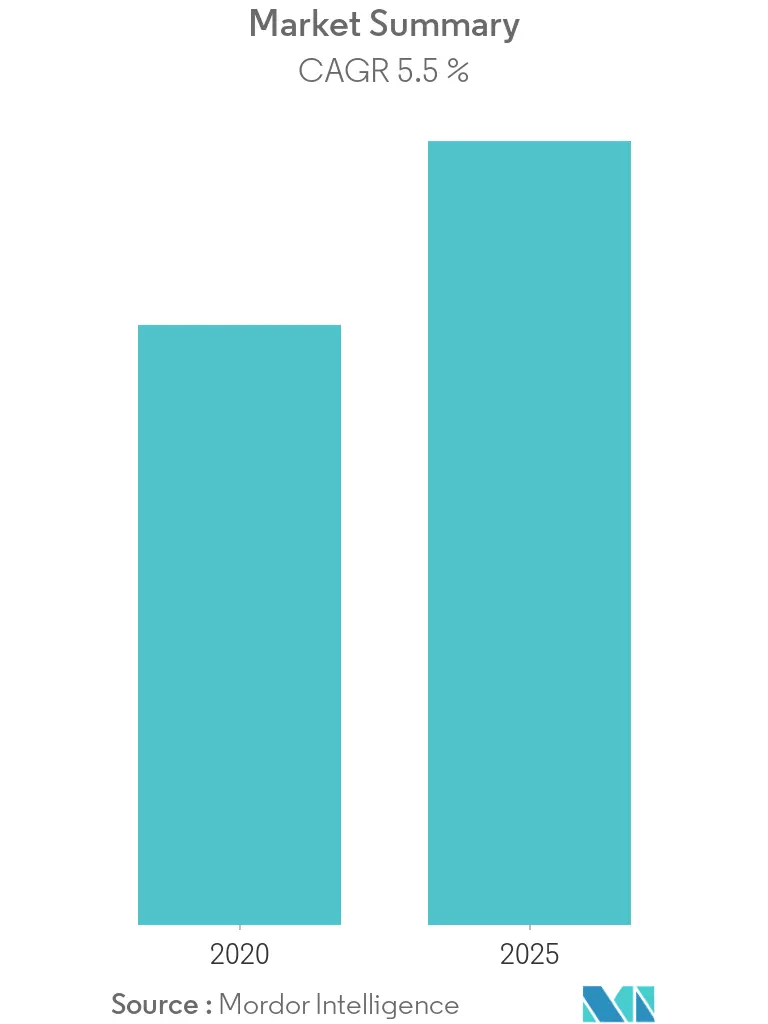 4. ReCommerce
ReCommerce means selling items that are previously owned, both new or used. Some common reCommerce products include clothing, electronic goods, books, jewelry, etc.
High-end products are what people seek the most since this is a chance to get decent products at much lower prices.
Meanwhile, rental clothing is a business model sharing many similarities with reCommerce clothing.
The model was thriving prior to Covid19 with the most shining example of Rent the Runaway. The clothing rental eCommerce platform lets its members rent luxury, high-end apparel, which is ideal for one-time events, important dates, and even flashy Instagram photoshoots.
However, the last two years have not been easy for companies in this industry. As people mostly rely on pajamas, joggers, and T-shirts at home, fewer clothes are bought.
On the other hand, you have every right to expect it to rebound whenever people can go out and have fun. ReCommerce and rental clothing are in line with the sustainability trend, also, they seem to be a decent choice for budget-conscious customers after the pandemic.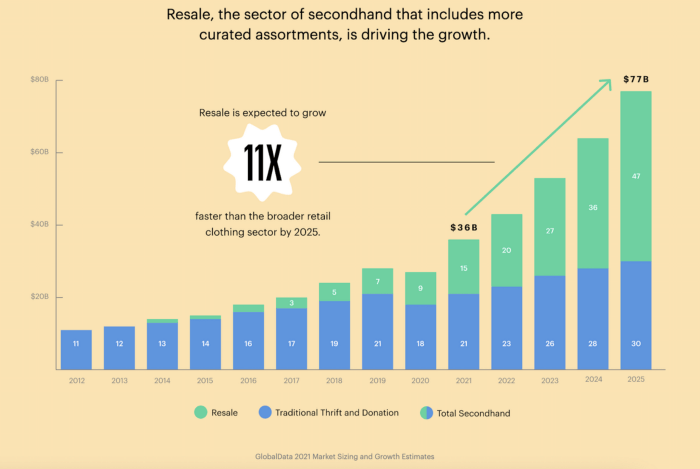 An upward trend in used electric vehicles
On the other hand, there's a surge in demand for electric vehicles as clearly shown in this Google trend's graph.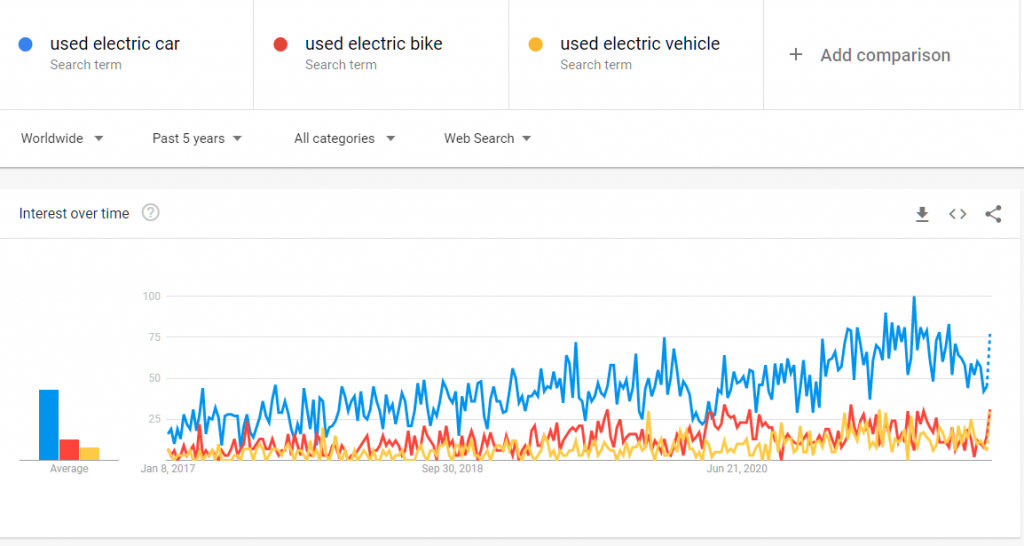 The increasing demand, by no surprise, is triggered by environment-conscious consumers and the sustainability trend.
5. Eco-friendly products
This is indeed a broad niche covering a wide range of fields from cosmetics, to home goods, to fashion to travel stuff.
The thing is, this eCommerce niche has been popular for a while, and you may wonder if it's still profitable.
Subjectively, we have good reasons to be positive. Eco-friendliness is everywhere on the internet, big publishers and government media talk about it all the time.
What's more? There have been tons of sustainability movements in a wide range of fields from heavy industries, to fashion, to vegan eating. Online shoppers are 1.3x more willing to pay for eco-friendly products.
In number, a 2021 global report conducted by the World Wide Fund for Nature has found that "the popularity of searches for sustainable products rise 70% over the past five years".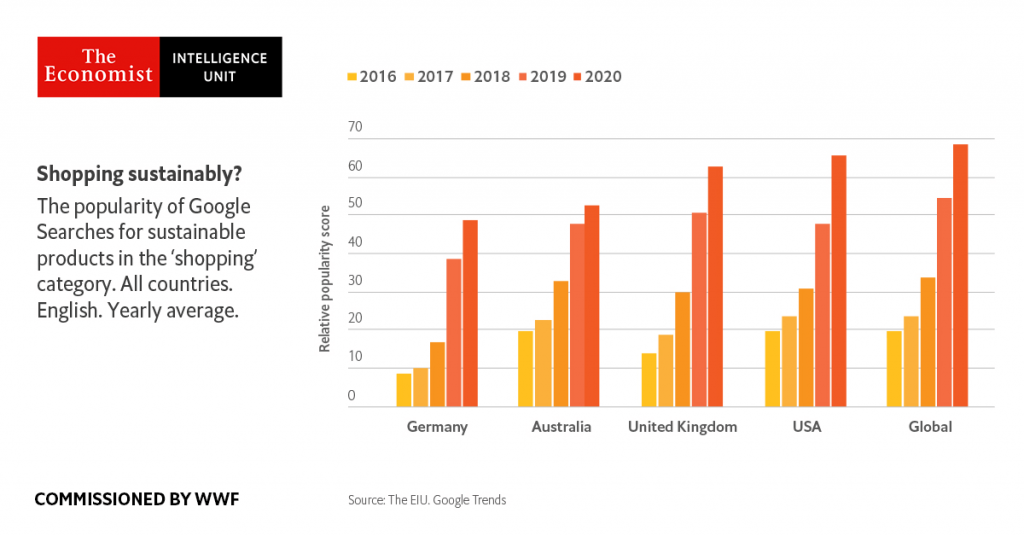 We have checked numerous clean products in Google trend to see how this trend actually performs in the graph. From what we see, the most in-demand products are eco-friendly while at the same time, still offering pretty much the same convenience and performance as other products.
These include goods like tote bags, mineral sunscreen, and reusable containers.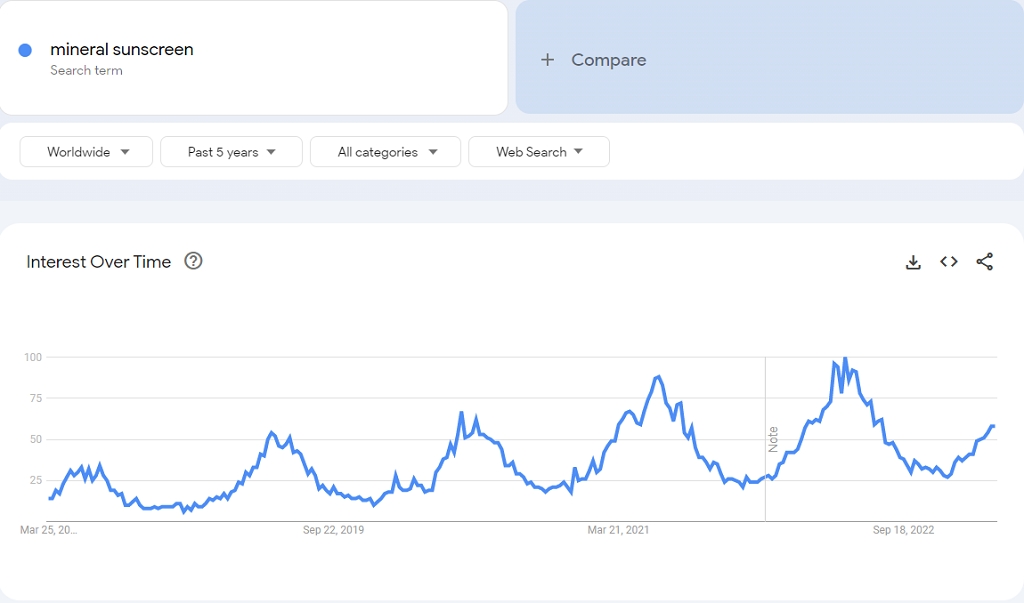 An article by Fast Company has also pointed out a disadvantage of clean products that slow down their growth: They often have much poorer usability than their normal counterparts.
Thus, lots of consumers are interested in these products but they do not make any purchases.
However, as more effort is put into this industry, this problem may fade away in the near future. If you are a green enthusiast, finding, developing & selling truly good green products may be your chance to succeed.
6. Health & Wellness products
According to Global New Shire, the health & wellness food market is expected to grow by 9.20% and reach 162.09 billion by 2026.
Because health and fitness remain 2023's top new year resolutions, it's easy to predict the on-growing demand for this eCommerce niche. 
On the other hand, this is among big eCommerce niches already, and there is probably an abundance of competitors in the market. 
The only chances to stand out is always catching up with the latest trends or offering unique products that nobody has.
Since this huge niche still has lots of untouched territories, there's still plenty of room for newcomers in 2022.
Here are some micro-niches in the health food market that have good upward trends (according to Google Trends).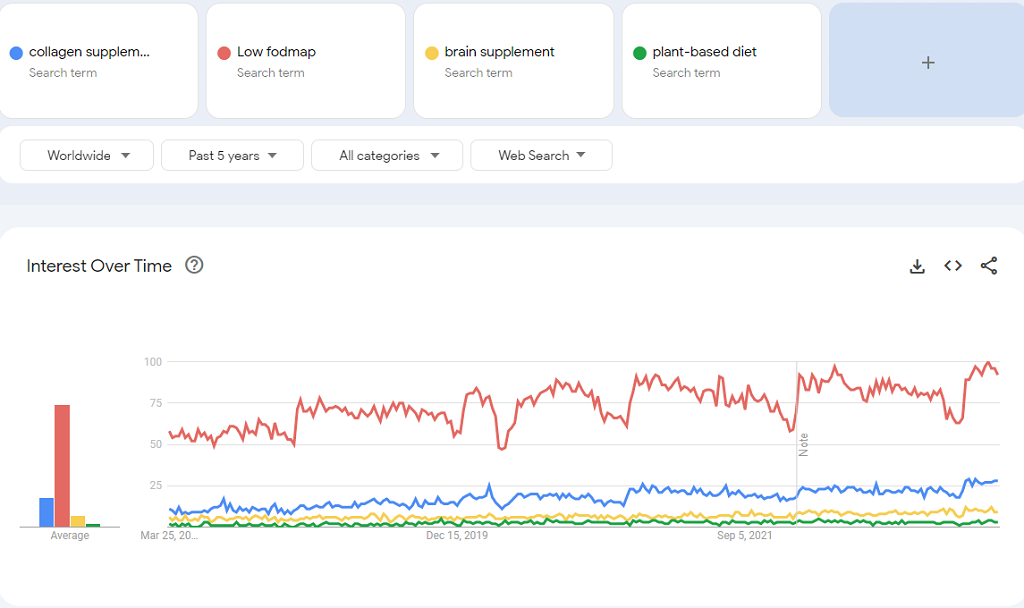 Brain supplement
Plant-based diet
Low-fodmap: a special diet for people with IBS (irritable bowel syndrome)
Collagen supplement
7. Online course
Online learning is also among considerable eCommerce niches as it has become easier than ever. Also, thanks to Covid19, people have been so accustomed to this learning model, which is both cost-effective and convenient.
According to New York Times, online course isn't just a student thing, but more and more adults are also turning to learning online to catch up with the fast-paced economic and digitalized world.
Also, since the career span is getting longer, even older adults above 50 years old still seek chances for learning.
Let's take a look at this graph which shows the search trends of the most popular online course platforms at the moment.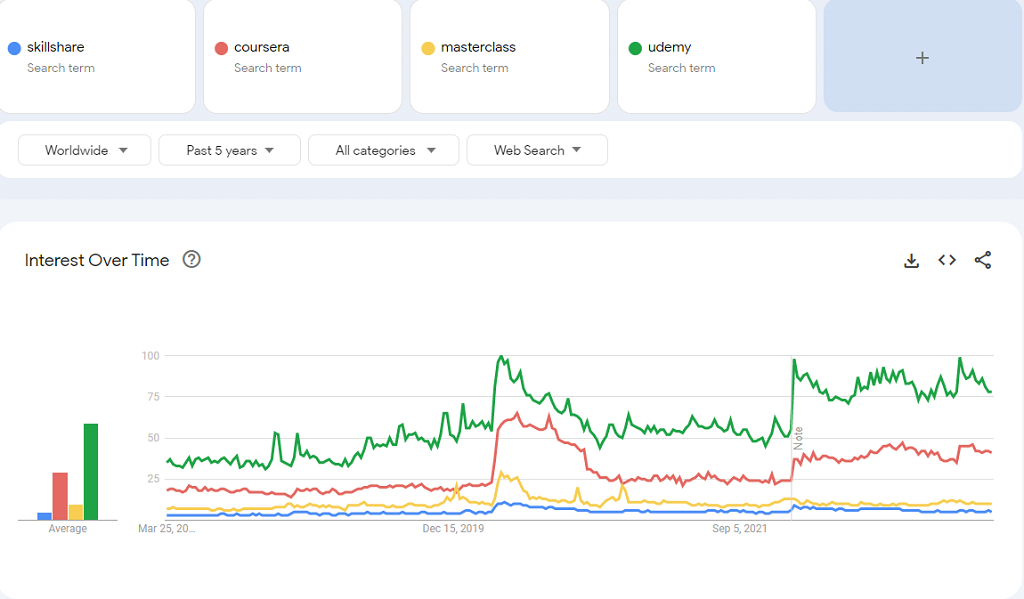 They reached their peaks during the early days of the Covid-19 lockdown. Recently, the trends show signs of going downward.
During the onset of Covid-19, many people felt bored at home, thus, were excited to learn new skills & improve their professions. As consumers in many countries are now able to enjoy the outdoors, less time is spent on online studying.
However, we can see that the trends have been onward even before the pandemic. Also, although they are not growing as intensively as the last two years, they are rising gradually compared to the pre-Covid.
According to Globe New Shire, the global e-learning market will reach $457.6 billion by 2026, with the CARG (Compound Annual Growth Rate) growth of 10.3%.
If you want to thrive in the online course industry, it's best to think of your expertise, what skills that you can offer to your audiences.
There are many ways to start selling, An online course platform like Thinkific is a good start. They help you create your own course website and build out a curriculum. Or you could use a selling platform like Skillshare or Udemy.
8. P.O.D products (Print-On-Demand)
P.O.D products are printed only after their orders are placed. Store owners, therefore, do not need to invest in inventory or work with suppliers to sell.
Due to its flexibility and low risk, P.O.D attracts tons of newcomers to the eCommerce game in recent years. You may have found lots of P.O.D guide videos on youtube, which shows how popular P.O.D is.
Prevalent as it is, is P.O.D still profitable in 2022?
Yes, it's still a growing industry, which is expected to grow 33.86% before 2026. There are more companies offering print-on-demand services for eCommerce store owners. Also, compared to the early days when late shipments are common cases, their services have improved so much recently. These are the chances for every P.O.D store admin to optimize their performances.
Moreover, you do not have to invest in buying goods and inventory. Therefore, success in P.O.D business heavily relies on how carefully you can research to find a niche market, how creative you are to offer unique product designs, and how good you are at marketing.
Also, print-on-demand is not just about selling T-shirts anymore. From face masks to yoga mats, there're many things to print on, thus, lots of room for creativity.
If you have good relevant skills (i.e design skills, marketing skills, trend research skills), dedication, and a thorough understanding of the market, you still have a good chance to thrive.
9. Beauty products for men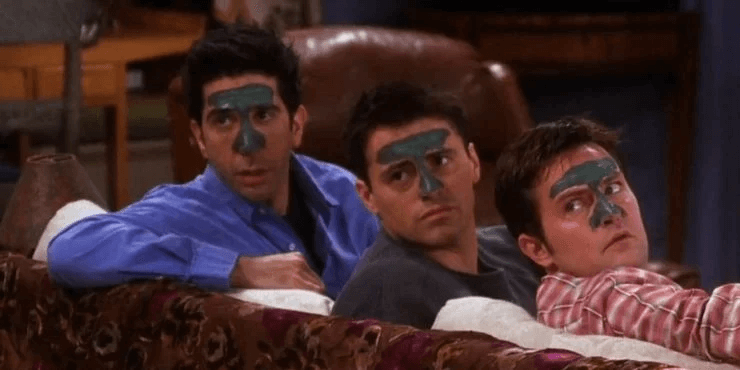 A survey conducted by GWI found that "beauty and cosmetics have been the "fastest-growing interest" among male buyers ever since 2018", and the men's personal care market is one of the fastest-growing beauty niches, according to Allied Market Research.
The growing demand for male beauty products starts from the lockdown period – when men spend more time focusing on their wellness, exploring different products and routines.
Also, people, especially the Z generation, are being more open-minded for men to wear cosmetics. This change in mindset is influenced by world-famous Asian celebrities and trending Tik Tokers who challenge beauty standards and pursue gender-neutral looks.
Looking from another perspective, cosmetics can be very helpful for men in daily life. They hide blemishes or bruises that hinder men from creating a good impression on important dates, interviews, or meetings.
You may have already seen beauty products for men with greater varieties. From shaving creams, shampoo, fragrances to beard oil, concealers, to men's manicure,… more is about to come in the upcoming years.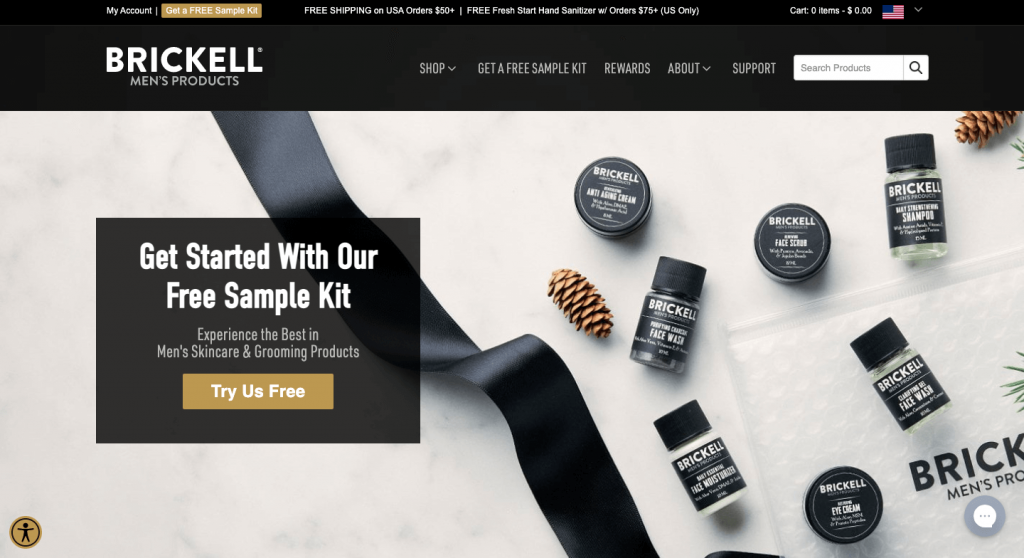 From our observations, this trend is particularly popular in developed countries where more people support gender neutrality. So if you come from a rather conservative country, men grooming products may still not be one of the profitable eCommerce niches.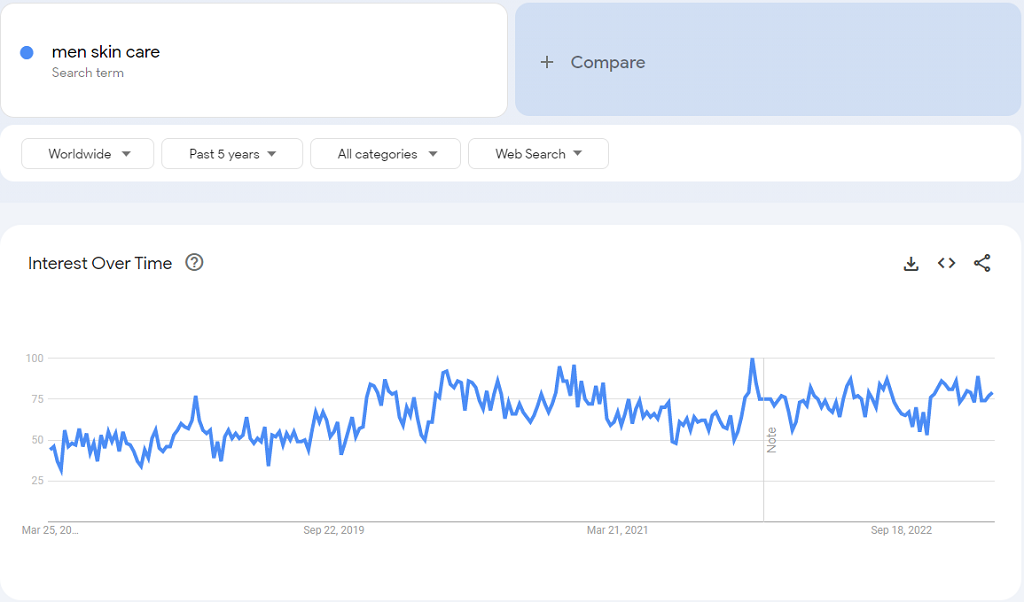 Furthermore, as it's still a sensitive subject, people need time to be more open-minded. This eCommerce niche trend will not rise dramatically, but instead, increase gradually.
According to Euromonitor International, the men's grooming market is expected to grow by 2.2 percent in 2022.
If you are interested in the products and believe in the benefits it offers, selling men grooming products may be a successful eCommerce niche for you.
How to find an eCommerce niche for your success?
So these are the best eCommerce niches 2022 based on Google Trends, statistics, and lots of reading.
However, it's best not to rely on our article alone to start your eCommerce store right away. These are global data, which may not be accurate for your country's market. Furthermore, due to the uncertainty of the pandemic situations, predictions can go wrong.
Therefore, you should do as much self-research as you can, until you have found a promising niche and numerous solid reasons for its success.
Here are some tips to help you get started:
1. Dive into your hobbies
This is probably what you are the most knowledgeable and passionate about.
Have you ever tried plenty of products for your hobby but each has a disadvantage and you could not find a perfect one? This may be your chance for business.
Furthermore, you may have lots of friends that share the same interests. People like them may be your potential customers. Thus, you can easily understand their needs, pain points and furthermore, you've got friends to provide feedback for deciding your eCommerce niches. 
2. Trend and market observation
"Is this niche profitable?", "Will anyone buy my products?"
The answer may lie in trend and market observation.
Google Trends is useful to find out which search terms are most searched locally & internationally as well as their trend over time. Products that are searched the most are often what the market demands.
Some keyword tools like SemRush, Moz help you learn more about keyword volume and keyword difficulty. These two metrics can considerably reflect the product & the market's popularity & competitiveness.
Furthermore, you can follow groups on social networks and forums to find more insight into the niche and its target audience. Try to find one with many active members who share sincere thoughts and experiences about the niche.
Finding eCommerce niches is not a one-day task. However, you can gradually learn what people prefer, which products they need, and even popular products in the group & if people love them to decide if this niche is profitable or not. 
Creating your unique product vs reselling products from suppliers?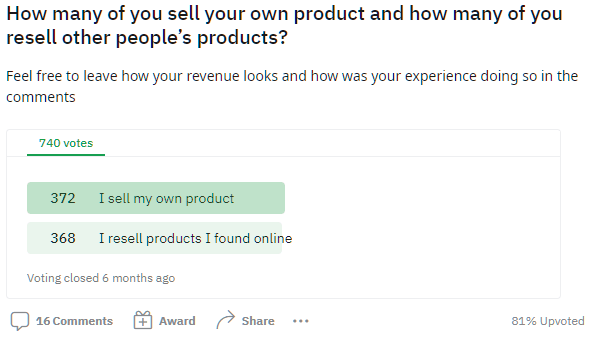 Once you have found a profitable niche to dive into, it's time to think about the three major factors for a successful business: product, manufacturing, and marketing.
There are some popular business models operating around these factors. Choosing one that best fits your strengths and budgets is a key to success.
Let's take a look at each option.
Creating your own products:
The process includes:
Design and develop your own products
Work with manufacturers to bring them to life
Work with the printing company for label and packaging
Market and deliver your products
Pros:
Be able to offer unique products that no one else has.
Take control of your product quality
Cons:
Lots of effort into product-making, label-making, and marketing
Take longer to launch
Resell from other suppliers:
The process includes:
Find in-demand products and work with suppliers
Market the products
Distributes the products. (you can invest in your own inventory or dropship).
Pros:
Save time and effort for making products
Be able to deliver a wide range of products
Cons:
Challenging to find suppliers that are reliable to work with & deliver awesome products at good prices
Beginners may find it difficult to meet up with the minimum quantity of products required by suppliers.
Struggles to source great products that are not widely available already
See more:
>> Best dropshipping suppliers in the USA
>> 20 reliable wholesale vendors for small business
Wrapping up
You must be thinking: "that's hecking lot of thinking to do".
It's true, as there is a quote "the beginning is always the hardest".
However, once you've done adequate research and found promising eCommerce niches to act on, the following steps will be easier. 
One more thing that we learn from our experienced store owners is that success does not happen overnight, and patience is the key.
That's it. Hope you've found the right piece of information you are looking for.