Good hosting can empower your eCommerce stores in many ways: speed, security, great built-in functions, for example. In this article, we will explore what hosting features are essential for your eCommerce site and how to choose the right hosting type & provider. It's everything you need to find an amazing eCommerce hosting service once and for all. 
The crucial factors for eCommerce hosting
There are many important hosting features and values, but we have hand-picked these factors as the top concerns for every eCommerce owner. 
Security
There are endless threats to cybersecurity: credit card fraud, phishing, to name a few. And of course, consumers are well aware of them. How can people shop on your site if they do not trust that their personal information is safe? On top of that, the lack of security does not only harm the buyers, but also the owners. Hackers can do anything to damage your store, from DDoS attacks that bring the site down to installing malware that blocks your ownership.
Moreover, web browsers like Chrome take cybersecurity seriously. They would trigger a red alert if one website is not encrypted with HTTPs, which is a sign of insecurity in their standard. For the same reason, poor security is bad for Google SEO ranking. 
Thankfully, lots of security threats can be solved by reliable hosting services. Check these hosting features to make sure your site is safe:
SSL certificate: a common certificate for encryption of personal data which is reflected by the "HTTPs" subdomain in the address bar.
PCI compliance: PCI DSS (Payment Card Industry Data Security Standard) is set up by credit card companies to ensure a safe credit card-using environment in web pages. Credit card companies can audit merchants for this standard, so can visitors. A PCI-compliant hosting provider helps business owners comply with the standard. As a result, you pass the audit and deliver a truly secure payment to your customers. 
Firewall: save your websites from plenty of attacks by filtering and blocking any malicious traffic to your site. 
DDoS protection: protect your store from DDoS attacks (Distributed Denial of Services) which initiate thousands of fake requests to your site, thus, cause it to shut down. 
Performance
Consumers in 2022 can not wait for more than three seconds to load an online shop. In fact, Google has recommended that "2 seconds is the threshold for eCommerce site acceptability". Fastening your website is obviously your top priority, and good web hosting plays the leading role. 
Of course, every web host provider would claim that they are fast, but check these features and scores to see if they are actually lighting:
CDN (Content delivery network): a group of servers distributed in widespread areas enabling faster cyber data delivery to regional users. 
Server-side caching: Copy and store your web pages' data in HTML form and serve it to users when requested. Caching saves the time of downloading the web pages all over again. 
Besides speed, uptime and downtime are other worth mentioning factors. 
Uptime is whenever your website is available to all users, whereas downtime is when your website malfunctions to an extent that visitors can not do any tasks.
Since downtime is equal to losing money, all eCommerce host services aim at zero downtime. Some nearly made it with reliable website uptimes of more than 99%.
Bandwidth & SSD space
Compared to other websites, eCommerce stores eat up more storage because of their many categories, product pages and huge archives of media files. You should choose a suitable hosting plan offering enough disk spaces to store your site. 
Also, it's normal for an eCommerce site to receive an influx of traffic in a short amount of time, peak season, for example. Thus, bandwidth is important. Bandwidth is your site's capability to deliver an amount of information in a period of time. 
The higher the bandwidth, the faster it delivers as well as the better flexibility to create content for your webpages. For example, you would not dare to input a high-resolution video knowing that the video could put a heavy load for your site to carry, would you?

Your website traffic, its average page size and the number of pages are important factors to decide the right bandwidth and disk space usage for your site. You can check available hosting plans information or ask their providers directly to know how much bandwidth and storage is suitable. 
Backups
Before online drives, we all understand the pain when your unfinished document is shut down before it is saved. It is the same yet more brutal experience if your website does not back up. After one cyber attack or one error update, all of your product, order, customer data will be gone. 
Thus, looking for a backup feature such as automatic daily backup, cloud backup is a must. 
A guide to choosing a hosting type for your eCommerce website
There are two main hosting types: Web Hosting (Shared Hosting, VPS Hosting, Dedicated Hosting) and Cloud Hosting. All of them have good characteristics for eCommerce hosting. Let's get into each type and find the one that fits your business. 
Shared Hosting
Shared Hosting is the cheapest type of hosting by which your website will share the same server and resources with many other websites. It's like sharing a dorm in college, you will not have much privacy and space. For Shared hosting, the biggest downsides are the lack of privacy and slow speed.
Due to these characteristics, Shared Hosting is not very suitable for an eCommerce site expecting good traffic. However, small-scale businesses can still purchase a Shared Hosting plan to save budget first and upgrade to a better hosting type later. Check out for a plan with suitable SSD disk space, bandwidth to your website along other features such as CDN or Free SSL certificate. 
VPS hosting
VPS (Virtual Private Server) Hosting is a more upgraded version of Shared Hosting, which empowers more privacy, storage and performance. You still share the same server with other websites yet get dedicated resources for your own. Putting in the estate example, VPS Hosting is owning a condo where you get your own kitchen, living room, bathroom. Since you completely own a part of the server, you can access the root and make any technical adjustments for your sake. 
With the privilege of performance, flexibility, security as well as affordability, VPS Hosting is commonly used. The hosting method is specially crafted for small and mid-sized eCommerce businesses with the desire to grow. 
Dedicated Hosting
Dedicated Hosting is like when you own a whole house or villa. A whole server is dedicated to one user, giving the ultimate performance, flexibility and security.
Of course, this is the most expensive option made for large enterprises with huge traffic every day.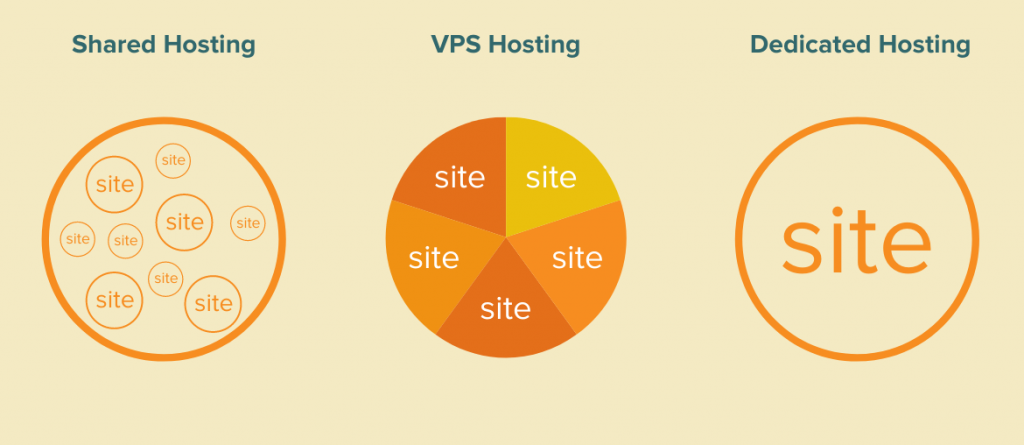 Cloud Hosting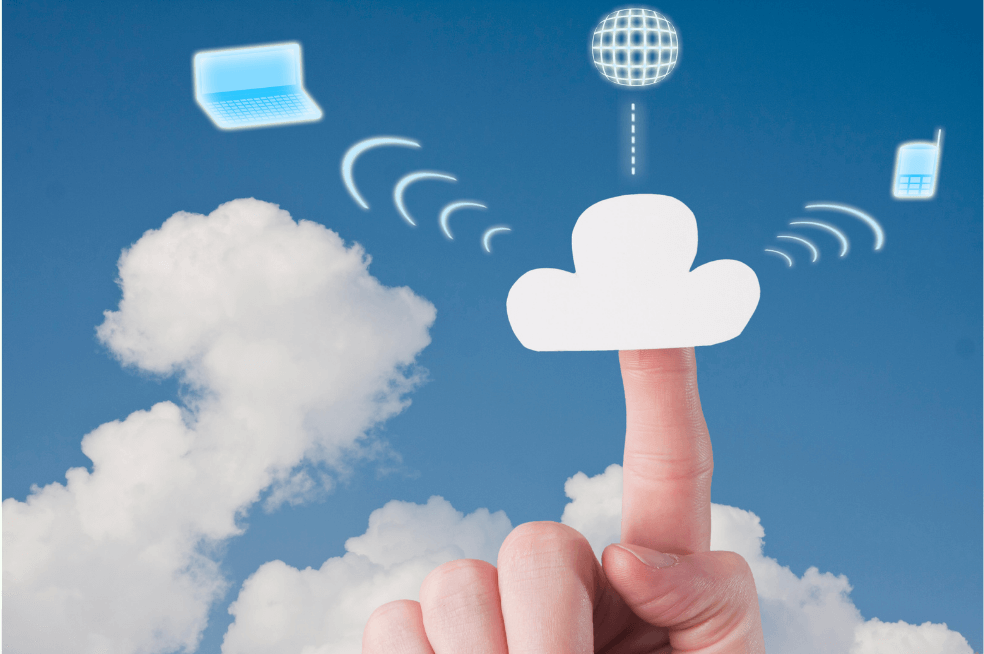 Unlike traditional web hosting storing your web in a physical server, cloud hosting keeps your site data in a virtual environment. Unbounded by the physical world, Cloud Hosting is capable of superior features compared to web hosting.
Cloud Hosting is for all business sizes from small start-ups to big enterprise plans. For in-house servers, businesses may find it troublesome moving to higher plans when the existing one can not hold that much traffic and data anymore. With Cloud Hosting, you can increase the bandwidth, the storage and so on in no time by yourself without customer service. 
SaaS hosting
SaaS hosting is a form of cloud-based service offered by many eCommerce platforms to give users peace of mind regarding performance, security and IT assurance. 
Some good examples are Shopify, BigCommerce, Squarespace or Wix. If you use these eCommerce platforms, you need not find another hosting provider as well as pay any extra fee from their original pricing plan. 
Web hosting vs Cloud hosting: which one is for you?
Both Web Hosting and Cloud Hosting are reliable, fast, secure to use. There is no need to consider this twice. 
However, these two main hosting options differ in both features and pricing methods. 
 
Web Hosting
Cloud Hosting
Pricing method
Pre-built plans: free to use resources compromised in the plan
Pay as you go: pay according to the resources you use by month or hour 
Pros
Cheap Shared Hosting plans: suitable to eCommerce starters.

Dedicated Hosting gives full control over the server: enables full customization. 
More flexibility: offer unlimited bandwidth to support a sudden surge in traffic especially in holiday seasons

More reliability: because websites are stored on a network of servers instead of a single server alone, there would be no risk of downtime due to server error. 

Easier to backup: able to back up anywhere and as repeatedly as 15 minutes. 
Cons
Unexpected cost: Extra costs if exceeding the plan's bandwidth and storage limits

Upgrading plan takes time: can not move to higher plans with better bandwidth and storage in a few clicks

Bigger plans are pricey: because a whole physical server is expensive
Bad for full data recovery: full data recovery is more time-consuming and costly than web hosting.

Heavily rely on internet connection: bad or error internet connection will possibly lead to downtime and slow speed. 

Lacks of customer service: since most features can be self-managed, customer service is less available. 
From our pros & cons above, it can be concluded that Cloud Hosting is great for all businesses seeking flexibility and dynamics, and for those expecting to grow dramatically. The virtual hosting capability is also financially beneficial for companies with great resources yet not wanting to invest a great deal in a dedicated server. 
Meanwhile, Web Hosting is good for tech-savvy companies who can easily manage their hosting by themselves. Without hosting management services, fees can be incredibly lower. Moreover, it's good for businesses who just want a robust, traditional option for their steady growth. 
Useful information: eCommerce businesses owners spend from $5-$800/mo for hosting.
Best eCommerce hosting providers 2022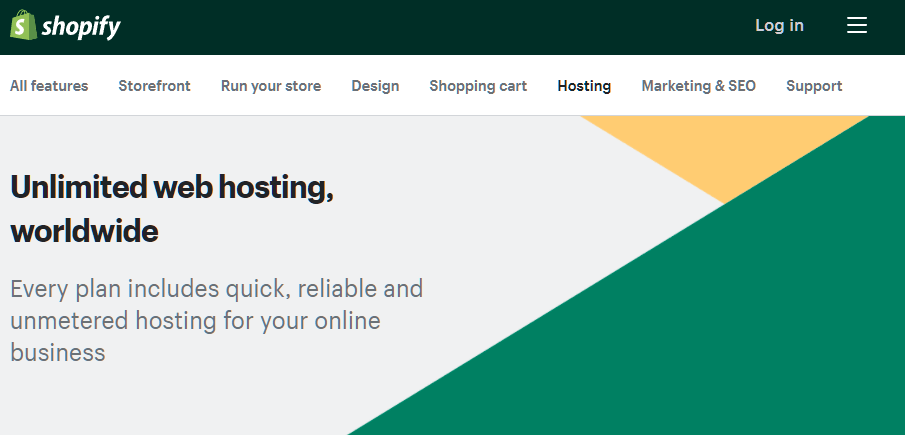 Shopify is no doubt the most popular SaaS company providing hosting services out there. If you are a Shopify-user-to-be and you are wondering if its hosting is ok, the answer is yes.
Shopify is one of the fastest eCommerce platforms in the ocean. As for security, it is 100% PCI compliant. And more importantly, Shopify houses a dedicated technical team that takes its users' security at its core. 
Feature highlight:
Unlimited email forwarding address (for example [email protected])
Fast CDN
Unlimited bandwidth, storage, and products
PCI compliance
Hassle-free setup
Fast server
99.98% uptime guarantee for Shopify Plus
Pricing: Included in Shopify's all-inclusive platform service.
Basic: $29/mo
Shopify: $79/mo
Advanced: $299/mo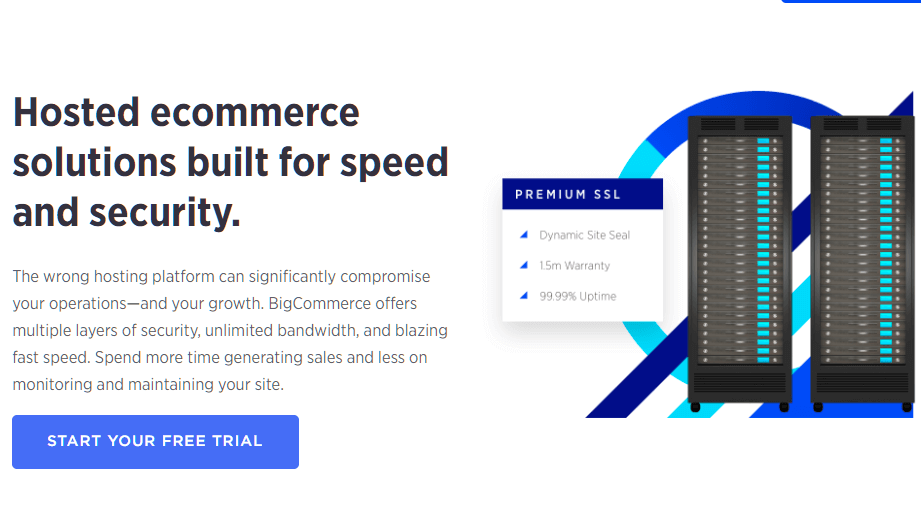 BigCommerce is another SaaS-based hosting service offering you peace of mind when setting up and managing your hosting. It has an easy to use interface along with reliable uptime, serious protection and blazing speed. 
Feature highlight:
Fast CDN
SSL certificate
PCI compliance
DDoS protection
Firewall
Unlimited bandwidth, storage and products
Hassle-free setup
99.99% uptime claim
Pricing: Included in BigCommerce's all-inclusive platform service.
Standard: $29.95/mo
Plus: $79.95/mo
Advanced: $299.95/mo

Cloudways is specialized in cloud hosting services with a great balance of functionality and economical pricing. 
Inherited from cloud technology, Cloudways enables configuration and installations at ease. Users can do many tasks such as launching their sites, scaling up their RAM, bandwidth, and backing up with just one click. This saves lots of time working with the customer service team. 
You can choose cloud servers from 5 IaaS (infrastructure as a service) companies namely DigitalOcean, Linode, Google Cloud, Vultr, and AWS. This gives you more flexibility in price. 
Moreover, it is one of the fastest hosting solutions out there.
Feature highlight
Build-in caches
Dedicated CDN
Dedicated Firewalls
Install, scale-up RAM, bandwidth and launch apps in 1-click
Auto-healing for zero downtime
Automated backup
A variety of 5 cloud server companies (IaaS providers) to choose
Compatible with WooCommerce, Magento, PrestaShop, PHP and WordPress
Pricing: From $10/mo based on server providers and platforms

Nexcess focuses on optimizing hosting solutions for each unique platform. WooCommerce, Magento, BigCommerce users can take advantage of platform-tailor made features as well as expert tech teams to manage your hosting easy-breezily. 
Hosting Types: Shared Hosting, VPS Hosting and Dedicated Hosting. 
Feature highlight:
Advanced caching
Built-in CDN
Auto scale-up in peak traffic time
Customizable stack
Compatible with WooCommerce, Magento, BigCommerce. Experienced hosting provider for Magento
PCI compliance
Proactive patching
Premium SSL certificate
Pricing: From $9.50/mo based on platforms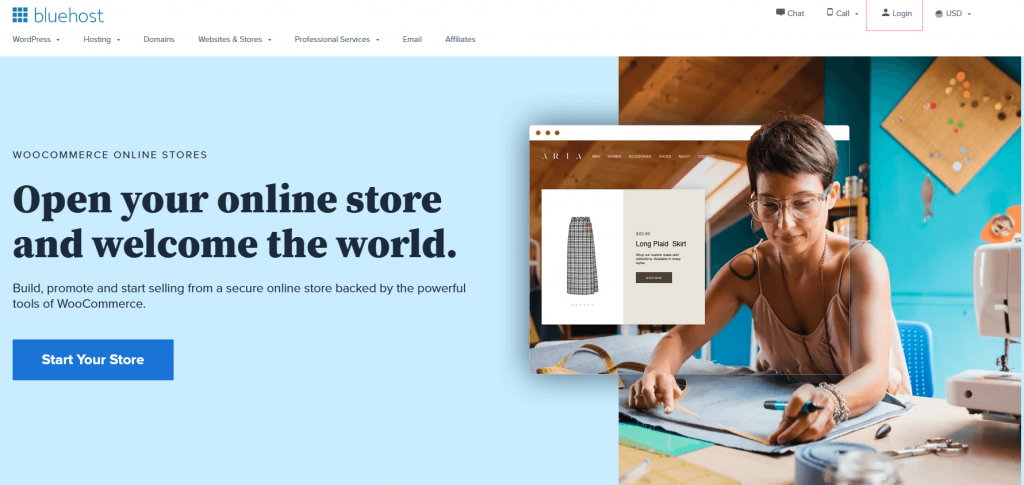 Bluehost dedicates its hosting services to WordPress and WooCommerse users. They are also strongly recommended by WordPress in return. 
The company is great for eCommerce starters because of its attractive Shared Hosting plan. Users can get their domain privacy, dedicated IP as well as unlimited SSD disk space and unlimited bandwidth with a limited budget.  
Feature highlight:
1- year free domain
Free CDN
Free SSL certificate
Advanced caching
Site monitoring
Compatible with WooCommerce. Great WooCommerce features
24/7 support
Pricing: from $2.95/mo
SiteGround is a web-based and cloud-based hosting provider specialized in WordPress and WooCommerce. They are in partnership with Google for their cloud services to ensure the top hosting speed. 
While it is a powerful company with the capability of offering all hosting types, Siteground's main market seems to be small businesses. Its most expensive pre-made plan only costs $10.69/mo for websites with less than 400.000 monthly traffic, which is equipped with advanced security and performance features. 
Feature Highlight:
Smart caching
Free Cloudflare CDN
Free pre-installed SSL
Daily backup
AI anti-bot system to block security threats
Custom Firewalls
Compatible with WooCommerce. Great WooCommerce features
30-day money-back guarantee
Test any changes before going live
Pricing: From $3.99/mo

DreamPress is a word combination of DreamHost and WordPress – a collection of VPS hosting plans of Dreamhost for WooCommerce. They have solutions tailor-made for WooCommerce businesses from 100.000 monthly visits to 1 million monthly visits.
Especially, DreamPress runs a 30 cashback policy with free site migration for business owners to experience before deciding to grow their website with them. 
Feature highlight
Powerful caching
Unlimited CDN
Free pre-installed SSL
Unlimited email
On-demand + daily backup
WAH firewall
Compatible with WooCommerce. Great WooCommerce features.
100% uptime guarantee
Pricing: from $16.95/mo

A2 Hosting is a well-established hosting provider with options for Shared Hosting, VPS and Dedicated Hosting. However, its customized plans for eCommerce only focus on the latter two for the sake of performance and security.
The most noticeable thing is A2's available VPS and dedicated hosting options for experienced coders from only $6.99/mo and $169/mo respectively. It's the best option for small companies with tech-savvy members to manage refined hosting at affordable prices.
They also offer 100% worry-free Managed Plans for non-tech-savvy users with 24/7 support, security patches, automatic update and more. 
Feature highlight
Fast CPU and Ultra-fast SSD storage
Turbo caching
Unlimited CDN
Free SSL
Compatible with WooCommerce, Magento, OpenCart, PrestaShop and more
One-click deployment
No-hassle money-back guarantee
99% uptime guarantee
Security patches
Pricing: From $6.99/mo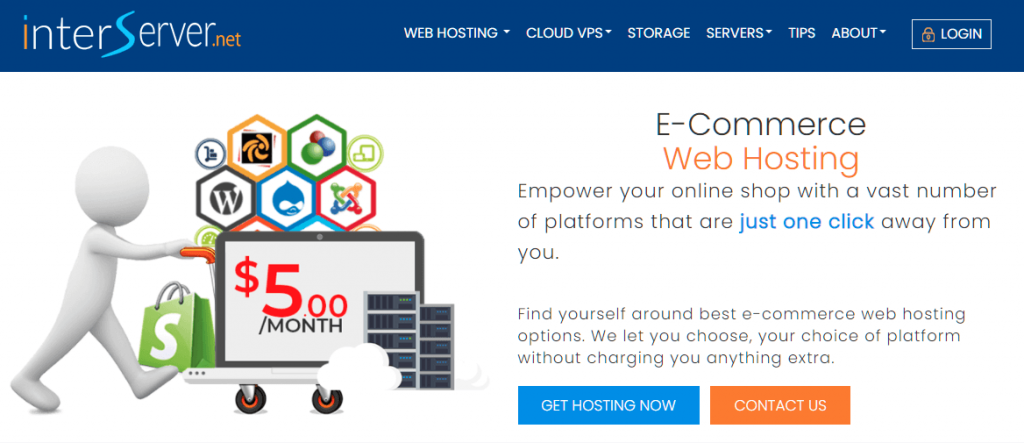 InterServer offers both reliable web-hosting and cloud-hosting solutions at low prices. You can choose a suitable plan customized for your own platform or pay as you go for a cloud-hosting service. 
The company implements a strong no-hidden cost policy as well as price lock. Even if the fee for hosting increases over time, yours remains the same.
Feature highlight
Unlimited storage
Unlimited website
Unlimited email
Unlimited CDN
Global caching
Cloudflare Firewall
Free SSL
Compatible with WooCommerce, Magento , OpenCart, PrestaShop, Zencart and more
No-hidden cost
Beginner-friendly
One-click deployment
Auto-healing to minimize downtime
99% uptime guarantee
30-day money-back guarantee
Pricing: 
Web hosting: from $2.50/mo
Cloud hosting: from $6/mo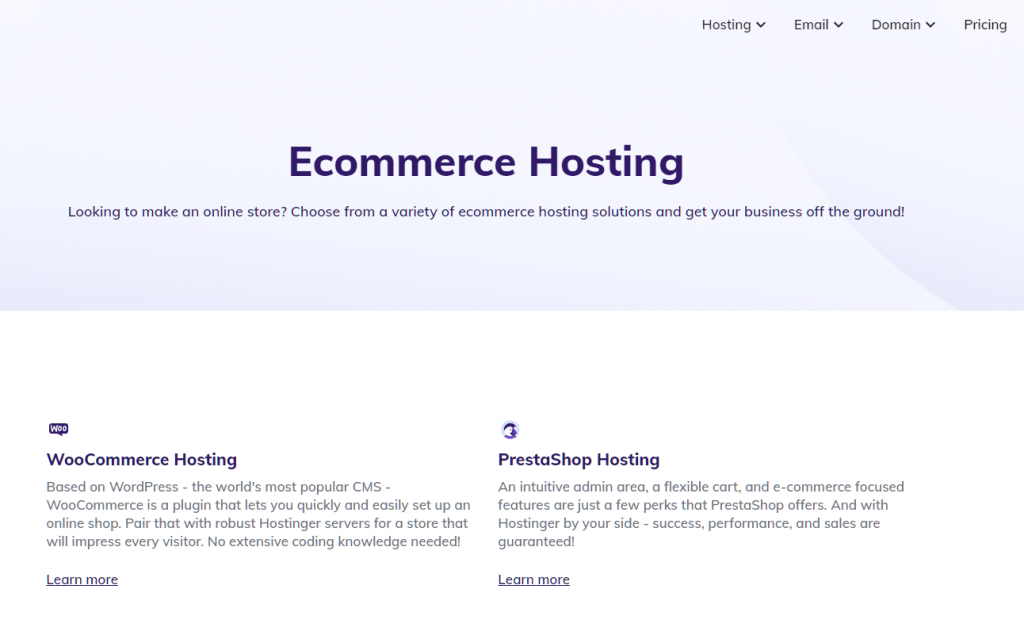 Similar to Interserver, Hostinger is another affordable hosting company providing both web-hosting and cloud-hosting. The company ranks greatly on many hosting speed tests, which is a good surprise considering their prices. 
Plus, their security is not shabby either. Besides basic security features like SSL or firewall protection, Hostinger has its own methods to prevent DDoS, malware, email spam and more. 
Plus, it's super easy to use 
Feature highlight: 
Free email
Free domain 
Global CDN
Advanced caching
Cloudflare Firewall
Weekly/daily backup
Free SSL
Compatible with WooCommerce, PrestaShop.
Easy to use control panel
99.9% uptime guarantee
30-day money-back guarantee
Pricing: 
WooCommerce: from $3.99/mo
PrestaShop: from $1.39/mo

Inmotion Hosting offers a wide selection of hosting types compatible with many popular platforms like WooCommerce, PrestaShop or Magento. 
The company offers attractive Shared Hosting solutions for eCommerce starters with a further security suite besides SSL certificate and refined loading speed. Moreover, their cloud services also start at an affordable price of $5/mo.
On the other hand, their VPS and Dedicated hosting options are quite on the pricey side from $29.99/mo. However, considering its 99.98% uptime reliability and fast speed, it's worth the investment. 
Feature highlight:
Free email
Weekly/daily backup
Free SSL
1-click installation
24/7/365 support
Compatible with WooCommerce, PrestaShop, Magento, OpenCart.
Automatic update
99.9% uptime guarantee
100% money-back guarantee
Pricing: 
Web-hosting: $3.49/mo (yearly paid)
Cloud-hosting: $5/mo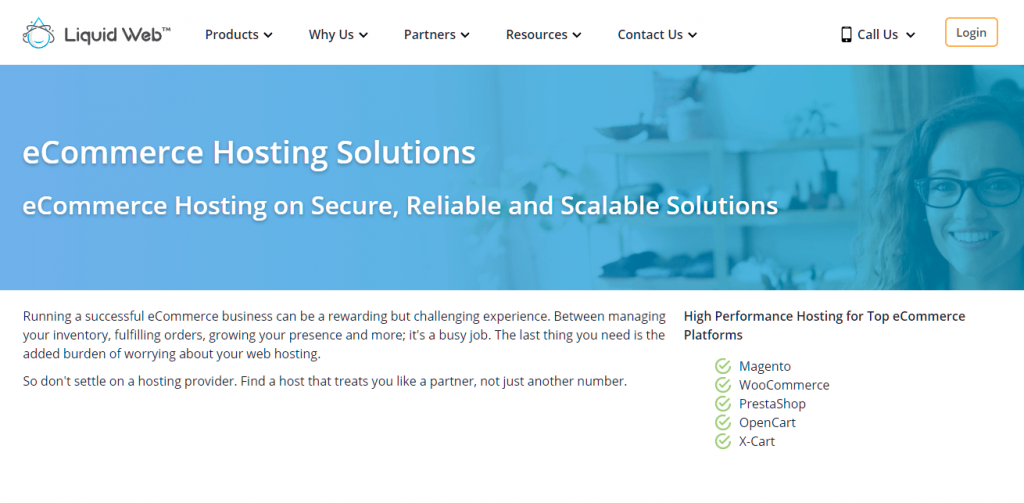 Liquid Web is a robust hosting provider for both early-stage startups to scaling businesses to well-accomplished enterprises. However, its services are more crafted for high-end products with a variety of options for Dedicated and Cloud Dedicated Servers and no Shared Hosting. Thus, it's no wonder that Liquid Web has dependable uptime, high-security features, lightning speed and responsive customer service.
Besides hosting services, they also offer more advanced services such as installing VPS on servers or customized hosting platforms.
Feature highlight:
Unlimited websites
Cloudflare CDN
Multi-level DDoS protection
System-level control
SSL certificate
24/7/365 support
Compatible with WooCommerce, PrestaShop, Magento, OpenCart.
Offsite backup for dedicated servers
PCI compliance
100% uptime guarantee
Pricing: from $15/mo
Tips to find the best eCommerce hosting plan for your website
Double-check uptime: Many hosting companies claim to have a high uptime percentage of more than 99.98% but it is not always the case. You should check reviews of their actual uptime by googling "[hosting company name] uptime review".
Check if the SSL certificate is free because not all companies offer a free one. 
Ask about the extra fee: in case you exceed the bandwidth limits
Find a reputable company first. Well, we know it seems obvious. But we know that all eCommerce companies aspire to grow big, and you need to prepare for further success at the very first step. As your store grows, you will have to upgrade to a more capable hosting plan. At that point, migrating to other providers is a hassle. Therefore, it's best to try and find the hosting company you trust from the beginning, and let them grow with you in the long term. 
Insider's note: unlimited bandwidth, unlimited storage and unlimited products do not really exist. We know that we use these terms several times in this article, but it is only for a comprehensive purpose. Let us explain more. Bandwidth, storage and products are measured by GB (for the former two) and the number of pages (for products). There are no ways that these measurements are unlimited. Nevertheless, hosting providers state them that way in some certain plans because they know the plans' user can never exceed a certain amount of bandwidth, product and storage usages. Think about it, the terms are often used for Shared Hosting or SaaS hosting when providers can pretty much predict your level of usages. But anyway, unlimited bandwidth and the like still means that you will get a good deal of resources for what you paid. And it's what matters.
The bottom line
We hope that our article explains eCommerce hosting well and you have made a confident decision for yourself.
One more thing, our list above includes a wide variety of hosting providers based on hosting type, pricing and even their compatible platforms. Yes, not all hosting providers support all platforms. If you are thinking of developing a Magento website and still struggling to find good hosting, let us help you from scratch.