Whether you are new to the online shopping market or your shop is already selling thousands of products globally, it's always essential to constantly learn from other successful eCommerce brands. These inspiring eCommerce case studies below help you gain valuable insights into how these brands turned web technology into a powerful weapon to get a huge advantage in the e-shopping competition.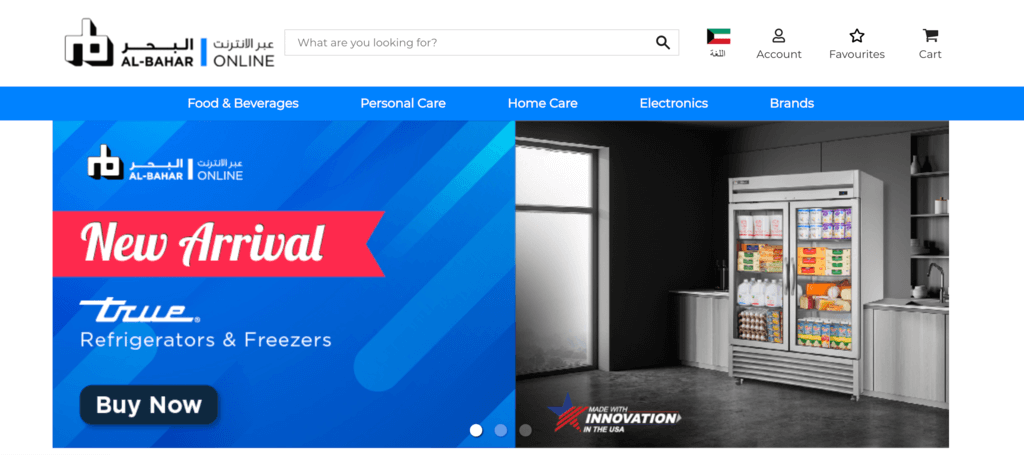 Al-Bahar concerns
Al-Bahar is a Kuwait-based brand selling a wide selection of FMCG products, electronics, office equipment-related products from big brands like Unilever, GE, Al Alali and many more.
Being one of the most favoured and trusted companies in the Middle East, Al-Bahar received a huge number of visitors to their online website every day. However, the old Al-Bahar presence encountered several concerns that related to web speed, stability and infrastructure. There were major speed issues due to both insufficient hosting solution and a disappointing CMS, along with severe downtimes in terms of stability. More than that, as the old Al-Bahar website was based on Magento 1 which had come to its EOL, the store site was surely in need of significant improvements on both its frontend and backend. However, the migration on such a huge scale might pose some significant threats such as data corruption and other incompatibility issues, which left Al-Bahar with serious consideration.
Solution
After consulting with SimiCart, a Google qualified PWA development agency, Al-Bahar has agreed with SimiCart solution to transform the old company website. SimiCart offered a clear action plan to rebuild the Al-Bahar front-end into a headless Magento PWA using Magento PWA Studio and migrate the existing Magento 1 backend to Magento 2. All the data from their old Magento 1 was transferred to Magento 2, while the store could benefit considerably from a headless PWA storefront, such as better speed, more flexibility, improved scalability, and a seamless shopping experience for the customers.
Results
After the transformation, Al-Bahar's frontend became app-like and engaging, and page load was no longer an issue thanks to PWA's enhanced caching machines. The store received a higher purchase conversion rate on mobile, and a drastically reduced mobile cart abandonment rate as well.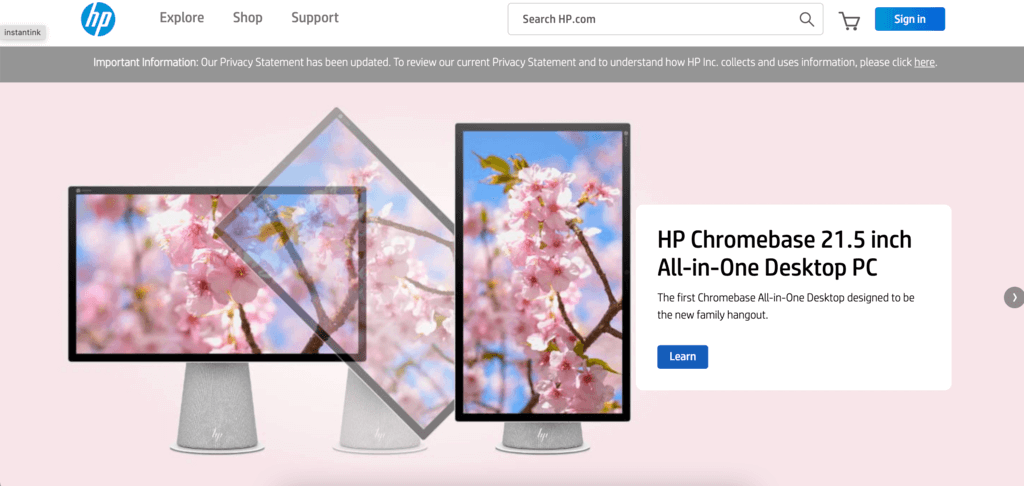 HP Concerns
HP is one of the pioneers in computers, workstations, and printers manufacturing. When HP expected to expand their market to the Asia-Pacific region with 5 new online stores, they came to a realization that the new online platform must support multiple HP stores on a global scale. In order to win the heart of potential customers, from individual shoppers to small businesses in new regions, HP Asia needed to deliver localized experiences across multiple geographies. However, this mission might be quite challenging when they're a huge, multinational technology company. More than that, HP team also wished for controlling omnichannel, project management and customer relationship management (CRM) in one place, which required a comprehensive online platform to support.
Solution
Magento Commerce became HP Asia-Pacific's first choice to deliver the true taste of local experience that could attract potential customers from different backgrounds. Thanks to Magento Commerce, HP was able to create several new online stores across different regions and countries that are equipped with an exclusive set of content management, payments processing, and language translation functionality.
Results
HP has utilized Magento Commerce to expand their online business to 5 different countries. 23% of customers decided to make a purchase online rather than going to in-person stores, and an excellent user experience is recorded both from online shoppers and HP Asia-Pacific employees.

DeBra's Concerns
DeBra's is an Australia-based company selling women's undergarments, lingerie and swimwear since 2000. Over the past 21 years, DeBra's has experienced significant growth in both online and offline channels. However, thanks to the development of modern technologies, DeBra's online business had surpassed their expectations, which required DeBra's to find a new online platform that could facilitate further growth in the future. They wanted to ensure their online presence could deliver a digital experience equivalent to an in-store fitting, especially amid the Covid-19 outbreak when the demand for women shopping online was rapidly increasing.
Solution
DeBra's team believed BigCommerce would be the best option for their business, logistics and marketing requirements. With BigCommerce's open API functionality, DeBra's website could easily integrate with other technologies, such as a POS system, to help advance its marketing and customer experience. BigCommerce also supported DeBra's to introduce a virtual fitting service, in which their in-store staff work as virtual assistants to help customers experience a professional digital fitting.
Results
With the new eCommerce solution, DeBra's saw a significant 215% increase in revenue, 234% increase in site visits and 627% increase in customers.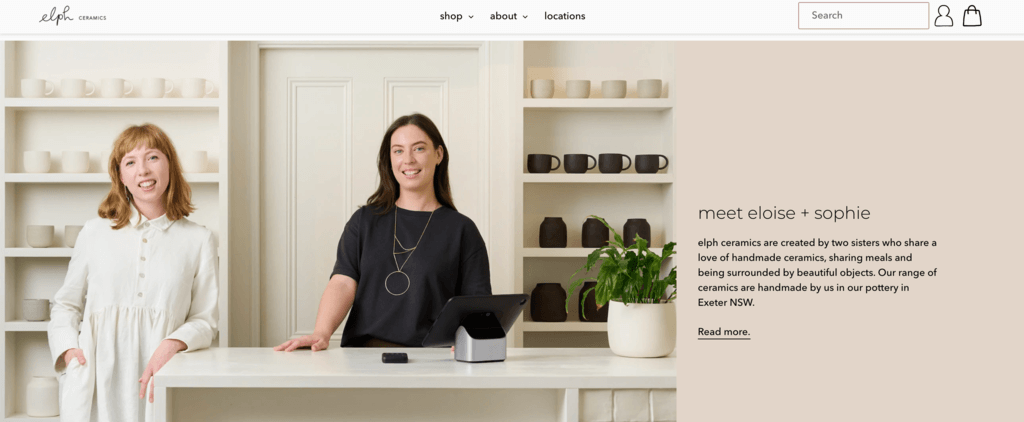 elph ceramics Concerns
elph ceramics is a sister-led brand creating and selling contemporary ceramics in Paddington, Sydney. Since their business grew, the inventory management process became quite troublesome, especially when they sold products on both elph ceramics' physical and online stores. Their old POS system didn't update automatically when sales, returns or exchanges were processed.
Solution
elph ceramics chose Shopify as their online selling platform, and at the same time utilized Shopify POS to run their brick-and-mortar stores. By unifying their sales channels from one back office, they were able to manage inventory and update product information across sales channels with ease. Since all data is centralized, potential customers could also see accurate inventory quantities when they shop online. Also, capturing customer data became less stressful as this could be done in just a few clicks during checkout.
Results
Since choosing Shopify POS, elph ceramics has lifted the retention rate to nearly 30% and significantly grown their customer database.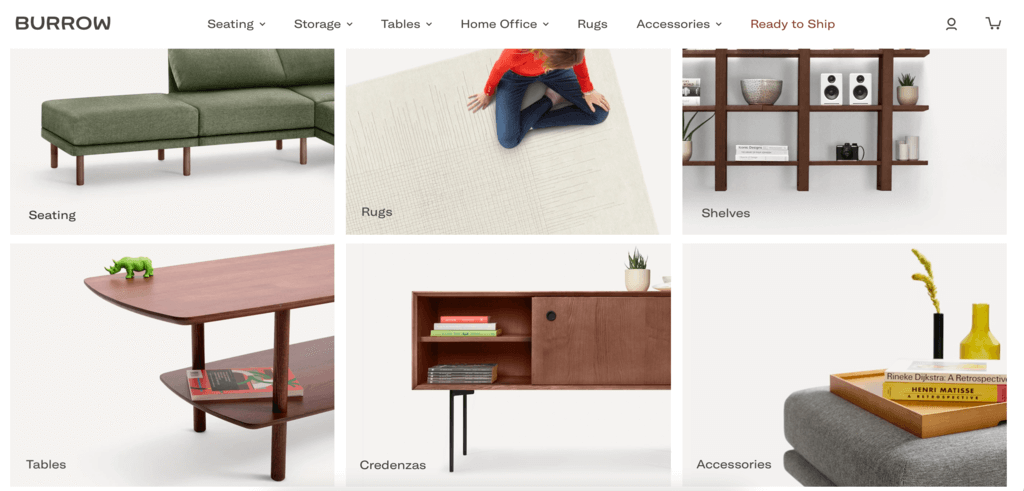 Burrow concerns
Burrow is a B2C store selling furniture founded in 2017 with the idea of eliminating the hassles of traditional furniture shopping. Since their business reached $3 million in sales, they constantly run into system issues with the existing online platform due to the fact that their business growth has outgrown their eCommerce solution. More than that, Burrow team's also in need of effective sets of content management tools that help them update landing pages without much technical expertise.
Solution
Burrow decided to separate their website frontend and backend using headless commerce. Being headless gave them the flexibility to craft a unique shopping experience. Burrow team was free to utilize the available templates as well as customize marketing-focused content as wished thanks to a headless CMS. They could constantly update and adjust content across channels to make it appropriate with targeted customers. In addition, Burrow found it essential to offer customers special logistical aspects, including the ability to delay orders and have signatures on delivery.
Results
Only 2 months after implementing a headless solution to their website, Burrow achieved a 50% increase in site speed and performance and a 30% increase in conversion rate.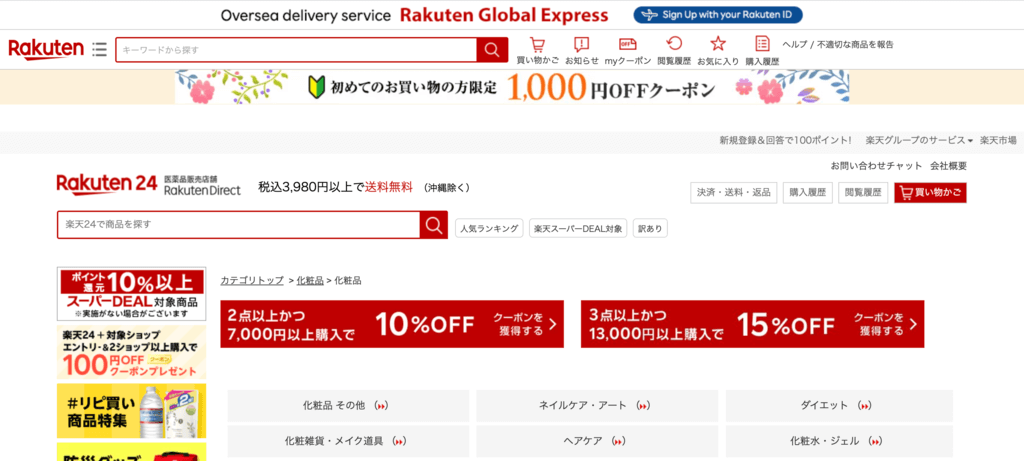 Rakuten 24 concerns
Rakuten 24 is an online store by Rakuten, the leading e-commerce company from Japan. This Japanese online store delivers a wide range of daily products such as groceries, medicine, healthcare items and more. Having been soon aware that mobile commerce is growing faster than ever, Rakuten 24 put building an excellent mobile experience for users on their top priority. However, as Rakuten 24 is relatively new to Japanese shoppers, it might not be efficient to invest a huge amount of time and money in developing a platform-specific app for iOS and Android. Therefore, they believed that Rakuten 24 mobile web would work as an alternative method, as long as they can make an installable and responsive mobile web with all unique design and functionality.
Solution
In order to gain market share and improve user retention, Rakuten 24 decided to build a Progressive Web App to deliver a smooth web experience across all browsers. Their PWA did an excellent job in combining the best of native app features and the broad reach of the mobile web. Rakuten 24 also provided a detailed guide on how to install the PWA manually on both Android and iOS devices for their mobile web users.
Results
With the new PWA technology, Rakuten 24 reported an impressive 450% increase in visitor retention rate compared to the previous mobile web, a 150% increase in sales per customer and a 200% increase in conversion rate over a 1-month timeframe.

Mainline concerns
Mainline is an online clothing retailer that distributes many designer brands in fashion. As Mainline Menswear offers market presence in over 100 countries via seven custom-built websites and an app, it's of increasing importance to continually deliver an excellent web browsing experience. Their main goal was to complement their current mobile website with native app features that focused on mobile-friendly design and functionality.
Solution
Mainline Menswear made a strategic decision to build and launch Progressive Web Apps to provide a smooth and seamless customer experience on the web, as well as ensure the best performance. They believed transforming the original version of the Mainline Menswear website to a PWA would enable them to take advantage of the fast-moving web technology, and ensure the website framework (Nuxt.js, utilizing Vue.js) would be future-proof.
Results
With the new PWA technology, the Mainline Menswear website enjoyed a 55% higher conversion rate, and a 243% higher revenue per session in PWA compared to the old web.