The idea of starting a business has always been tempting to aspiring business owners, and the Covid-19 has fueled the eCommerce trend to the next level. However, starting a new business can be tough, and maintaining one is much more challenging. It's not surprising that around 20.4 percent of new businesses had to close after their first year in operation, considering all the risks, challenges, and financial burdens involved in running a business.
So how to avoid business failure after only a short period of time, even when you believe your business idea is so great and one-of-a-kind in the online market? The secret lies in a solid eCommerce business plan with a clear description and strategy from the start. In this article, we will guide you through everything you need to know about eCommerce business plan and how you can create a perfect one for your exceptional business idea today.
What is an eCommerce business plan?
eCommerce business plan is a document that contains every detail contributing to the business success. There is no standard format of an eCommerce business plan, but it normally covers a predefined set of goals, and how business can achieve these goals by describing in detail business products or services, financial situation, operation model, and many other factors.
Why do you need an eCommerce business plan?
Traditionally, an eCommerce business plan helps investors evaluate your future business and its feasibility when you want to get a loan or raise funds. However, even if starting your online business doesn't involve funding, creating a comprehensive eCommerce business plan is still essential to lay down the ground and draw a clear direction for your business to follow.
Better understand and plan your business
Every business idea sounds brilliant at first glance, but many turn out to be a huge mistake or a huge debt once you make it into a real business. No matter how you came up with your eCommerce idea, it's essential that you thoroughly understand every aspect of it before jumping into the competition. Drafting an eCommerce business plan is a perfect occasion to help you do that. While fulfilling and completing some documents might sound like a daunting task at first, researching and brainstorming can help you dig deeper into your business idea, plan for the future and note down a list of what should be done, step by step.
Once you are sure that your unique idea can turn into a profitable business, it's time to gather the resources you need to run your business. eCommerce business plan helps you identify exactly the financial situation of your business, and how you will allocate your human resources if you don't want to run your business solo.
When making an eCommerce business plan, you have a great chance to do a comprehensive research on the market, as well as other competitors selling the same product or sharing the same business niche. You can learn from their mistakes, advance your product or come up with some idea to compete with them once you are done with your business plan.
Step by step to create an effective eCommerce business plan
1. Executive summary
If you are seeking investors, executive summary is the most important part of the document as it summarizes your whole business idea and plan. It is also the last section you should write once you have gone through every element of your business plan in great depth.
This part is often one page long and it contains a high-level summary of your business, but don't go into details yet. In this section, you might want to give out an overview of your business idea, your plan and vision, and how this business is projected to develop in the near future. The executive summary should be concise enough for a casual reader to understand your business, and attractive enough for investors to keep reading your full plan.
In order to write a promising executive summary, here are some common statements you should include along with some examples we have taken from Liquid Culture's business plan to help you get a better idea of how to write this section:
Liquid Culture will offer creative women's outdoor clothing, online, that is both functional and beautiful.
Liquid Culture's mission is to present consumers with designs, styling, and clothes that energize any outdoor activity. Whether it be snowboarding, running along the beach, or drifting down a river, Liquid Culture has comfortable, durable clothing that will look and feel wonderful.
Women's outdoor wear has grown into a billion-dollar niche in the clothing industry. The popularity of the Internet has launched a number of online stores for women's outdoor wear but no women's outdoor company we know of is exclusively selling their products online yet.
The key is amplified word of mouth via social media, with emphasis on content and opinion leaders related to outdoor fashion and women's health and women's fitness sites.
Current and projected financial state
Our projections here indicate we are generating unrealistically high cash balances. We leave that here for now, but with the certainty that actual results will emerge using a lot more expenses than what we project here.
Larry Wilson and Maggie Granger, co-owners of Liquid Culture, have fifteen years of experience between them in the outdoor garment industry. Maggie has been a senior clothing designer for Manic Woman Clothing for the past seven years. Larry has been the website administrator for South Face for the past eight years.
In case you are writing this eCommerce business plan for personal use only, you can skip this part since it's all about summarizing what you have written.
2. Business description
Business description provides an introduction of your business and dives into the details of everything about your company. In this section, you need to clarify why your business exists, what is your plan for the future, and what you hope to achieve with your business. Some components you should include to do so are:
– Business structure:
A business structure refers to the legal structure that affects the day-to-day operations of a business. There are four main business structures that are most common with businesses today. It's noted that you can change your business structure later as your business grows and expands, though this might require some additional administrative steps.

Sole proprietorship: This is the most straightforward form of business structure and the simplest to set up and manage, as it involves only one individual – normally the owner who is responsible for all business operations. This business structure is preferred by many new eCommerce startups and businesses with a low finance base and low risk of liability.
Partnership: Partnership is a business that contains two or more owners contributing to the company through many factors, such as funding, property, skill, or labor. They work together and share the profits from the company.
Corporation: This is a complex and expensive business structure to set up since it separates the legal entity from its owners. Two main types of corporations are C-corporation and S-corporation.
Limited Liability Company (LLC): LLC is a hybrid business structure that possesses the characteristics of both partnerships and corporations.
– Business model:
This is the company's core framework for making a profit and delivering value to customers. Common eCommerce business model types are Business to consumers (B2C), Business to business (B2B), Consumer to consumer (C2C), and Consumer to business (C2B).
– Mission:
A mission statement defines your company's purpose or answers the question of why your company exists. It contains one to two sentences and emphasizes clearly your passion and your inner motivation to start this business.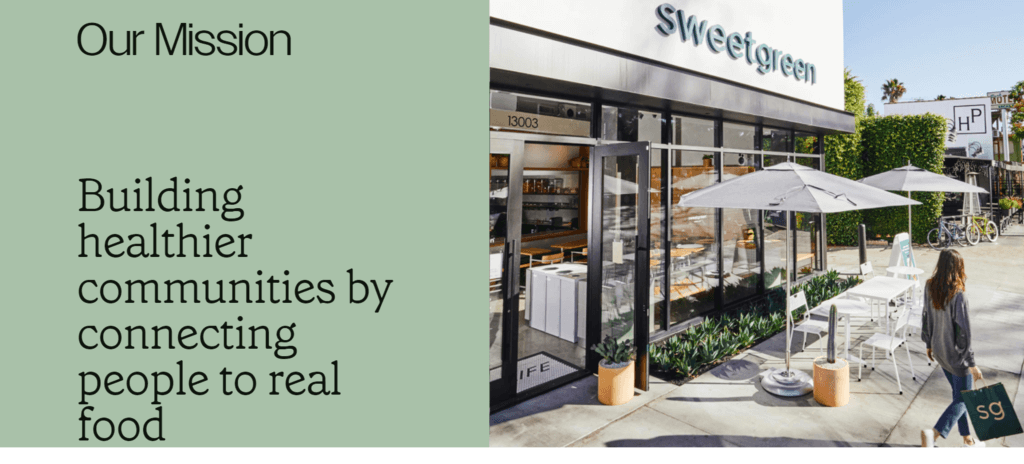 – Vision:
A vision statement helps your reader understand how you want your business to grow, scale, and evolve and how customers can travel with you on the road to success. Your vision statement can be longer than the mission statement, but try to keep it short and to the point.
Honest Tea seeks to create and promote great-tasting, healthy, organic beverages. We strive to grow our business with the same honesty and integrity we use to craft our recipes, with sustainability and great taste for all.

HonestTea's vision
– Background information:
How did you come up with that spectacular idea, and how has your business changed, and grown with you since day 1? A short yet realistic business biography is a practical weapon to gain trust and evoke readers' emotions.
– Business goal:
You should include a clear business goal in both short and long term, as well as how your business is projected to develop in the future. This section should include as many numbers, figures, and charts as possible. Try to establish goals that are S.M.A.R.T.: specific, measurable, attainable, realistic, and time-bound.
– Team and key people:
If you plan to run your business solo, probably this part can be left out. In case your business involves other people, you should list out their position in your company, such as company owner, CEO, manager, etc.
When you are done writing your business description, you have gained a deeper understanding of your own business, especially some intangible facets like your business principles and cultures.
3. Market research & analysis
At this stage, you should be focused on analyzing the potential market. This is a key section of your plan as it helps you identify how big is your potential market, the estimated position of your business, and the competitiveness of this business segment as well. Market research helps you validate your eCommerce business idea and help you pick the right marketplace that can help your e-business not only survive but thrive as well.
In order to create sales, choosing the proper market can surely be something you should think about first. Even when you have an excellent product idea, it's possible that you might struggle to get sales if your market is not yet appropriate. Therefore, market analysis with solid data from reliable sources, such as government statistics, industry reports, and official business sector projection reveal roughly how big and potential your market is. By carefully analyzing these numbers, it's possible that you can get a general overview of how the industry will grow or decline over the next few years, and make some guesses on the trend if possible.
For example, if your product or service is related to the tourism industry, there is a huge possibility that it will expand and grow in the next few years when the Covid-19 has been contained and the cross-border travel and tourism are more flexible.
A SWOT analysis identifies the most important factor of your eCommerce business – Strengths, Weaknesses, Opportunities, and Threats. This kind of analysis helps you quickly look at factors that can affect your business in both positive and negative manners, as well as the opportunities your business can seize when facing industry challenges.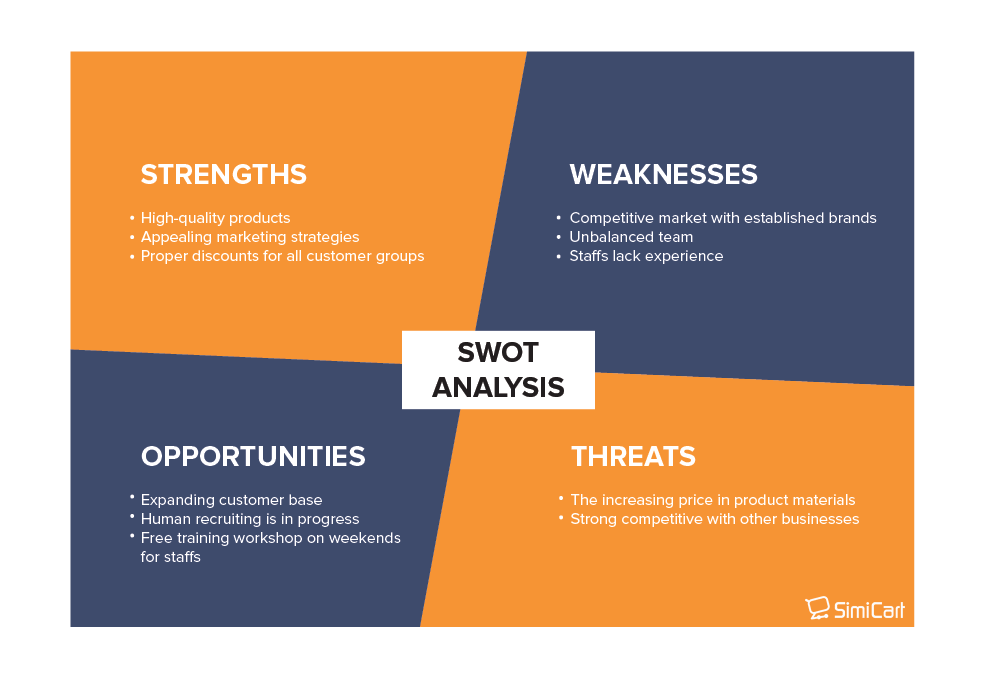 A SWOT analysis is often broken down into 4 boxes, and each box contains bullet points with the most relevant information, so don't bother to write full sentences or paragraphs. While strengths and weaknesses are internal factors that come from within your eCommerce business, opportunities and threats rely more on external factors, such as the market competitiveness or your competitors.
When you start your eCommerce business with a unique idea, it's too easy to think that there will be no competitors on the market since no one has sold this item before. However, even when you enter the market without any direct competitors, keep in mind that there are many indirect ones – those that sell products that can substitute for your items. Therefore, never start a business without doing a thorough competitive analysis. This is essential in identifying the market's leaders, determining their strategies and success, and what resources your business can utilize to take advantage of them.
Once you have identified all your competitors, list down some baseline for a deep competitive analysis:
Company name
Main offerings
Primary sales channels
Strengths
Weaknesses
Competition category
You can use this Free competitive analysis template from BigCommerce to keep an organized list of your direct and indirect competitors while making this analysis.
4. Products and services
This section can be excluded if you believe your product information in the executive summary is enough to help readers visualize your product in detail. However, if you plan to present your eCommerce business plan to find investors, it's essential that you provide a separate section to describe your products or services in greater detail.
Product description: Going into every aspect of your product and service, such as price, quality, and uniqueness if your business focuses on only one product or service. If you sell a wide range of items, include general information about each product. You can describe some future plans on how these products will be upgraded, or how new items on the same line can improve the profitability of the current ones.
Product sourcing: Where are your products coming from? Do you make them with an in-house team? Are they handmade crafts? Or do you drop ship products from some suppliers?
Life cycle: How long will your product last? Is it a seasonal or daily product? The product life cycle is essential to decide when and how often you will acquire new stock, and what you can do with the old ones.
Language in this section should show confidence in your products and services because after all, this is still the core of your eCommerce business idea. You can show off your expertise and experience in this field if you have some.
5. Customer analysis
Analyze your customer groups to craft an ideal customer profile – the foundation of your marketing plan. Your ideal customer profile should be as specific and descriptive as possible, as many strategic decisions in your business operations will be made based on this profile. Building a customer profile, or buyer persona requires you to think carefully about some of the traits and details of potential customers so that you can divide them into demographic groups. Customer segmentation often includes:
Their age range
Neighborhood/ Where they live
Education level
Average income
Hobby
Behavior patterns
Values and beliefs
You should gain as much information about your ideal customer as possible. Though this information range can vary greatly depending on your target market and products you sell, keep the number of buyer persona you create to a minimum because it takes time to craft each persona, and building a customized marketing strategy for each one can cost a huge amount of money. Along with customer general information, you can note down some specific aspects that can hugely influence their decisions to purchase your product or service, or factors that help you build your eCommerce marketing plan better, such as:
Preferred communication style
Job responsibilities
Their goals and objectives
Their challenges
Their pain points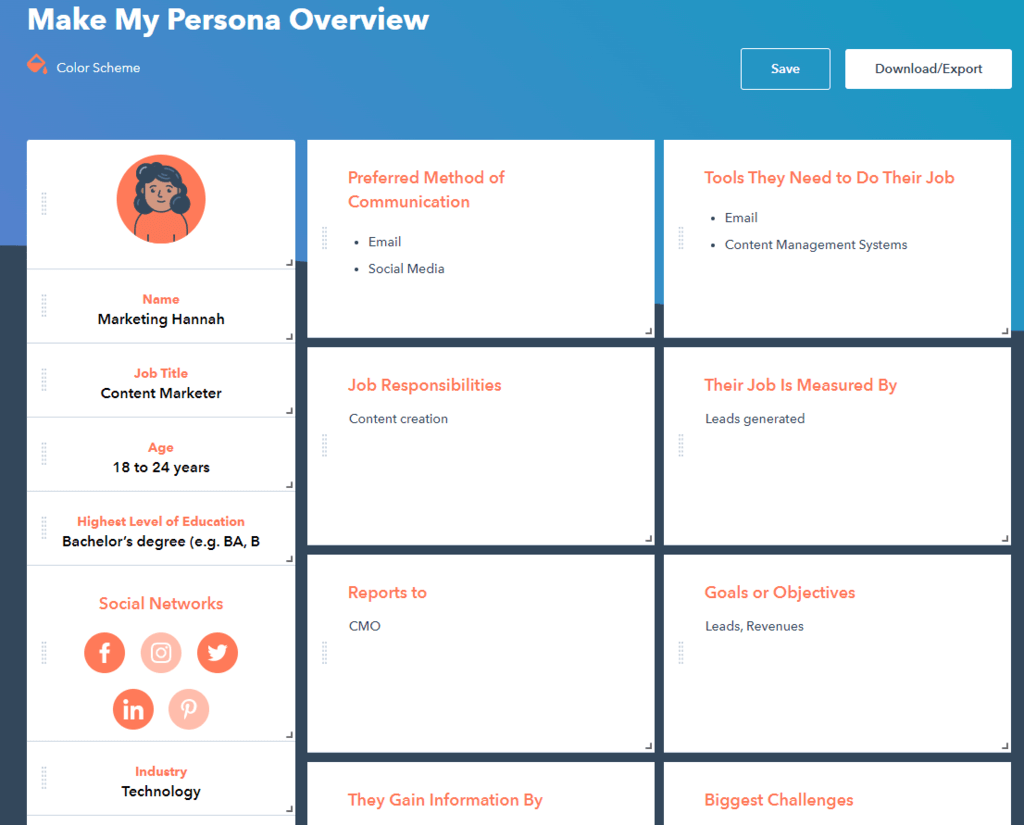 HubSpot provides us with a free tool to create a buyer persona that is super easy to use and visualize. You can even download a comprehensive buyer persona's guide and template here to utilize and access anytime.
6. Marketing plan
As you have on your hands a great product idea and a detailed picture of your potential customers, an effective marketing plan will be the catalyst to kick off your online business. Your marketing plan is built in close association with your customer analysis and outlines your current strategy, as well as your future plans to expand the market. This is one of the most critical parts of your eCommerce business plan.
If you find it hard to start as you have never run any marketing campaigns before, start with the basics.
With any good or service, there are always 4Ps – or the Marketing Mix by Neil Borden that can help you identify key factors of your online business marketing campaign:
Product: What are you selling and how your product or service can fulfill an existing customer demand?
Price: How much does your product or service cost? Do you plan on offering some discounts to draw customers?
Place: Where will potential customers look for your product?
Promotion: How will you make your product appealing to consumers?
After having a general idea of how your marketing plan will look like, you should dig deeper into each factor involved.
– Marketing channels: Which channels are you going to utilize to acquire, convert and retain customers? You should explain in detail how these channels are a great match for your plan. All marketing channels fall into two major categories, paid and organic marketing channels.
Social media marketing
Content marketing
SEO
Pay-per-click (PPC)
Email marketing
Video advertising
Affiliate marketing
– Marketing tactics: Which strategy are you going to apply? This is essential to explain how these marketing strategies can go well with your marketing channels to generate massive leads for your business.
=>> Read more: eCommerce Marketing: Best Practices to Drive Sales
– Marketing technology: Be sure to account for the investment into software and skills you may need to make. Marketing technology can go from eCommerce systems, to social media tools, to for instance CRM with email marketing. Luckily, you can start small and there are tools for each growth stage.
– Marketing goals and KPIs: KPIs are quantifiable measurements that help evaluate the overall progress of a business. Establishing specific eCommerce KPIs for your marketing plan is essential to gauge the successes and shortcomings of your business over a period of time. Some key KPIs you should pay attention to are:
Conversion rate
Site traffic
Traffic source
Budget
ROI
7. Logistics and operations
This section focuses on the supply chain – how you deliver products from suppliers/manufacturers to your customers and plans on how you can prepare for some uncertainty related to logistics issues. If this eCommerce plan is for your own planning purposes, you don't have to illustrate details in every section as if you are seeking investments. But you need to make solid decisions of many factors, from supplier, warehouse to shipping that impact your day-to-day business workflow. It might seem easy to manage when your business is just starting with a few orders per day, but once you receive massive leads and sales, your operation process should run smoothly and make sure you have everything under control.
Your logistics and operations plan should cover the following:
Facility: Where will your business operate? Do you plan to have your own physical locations, or does your business can function online? What equipment (computers, printer, camera, etc) will you need?
Production: Will your products be produced in-house, or will you rely on a third-party manufacturing company? If you work with a dropshipping company, how long does it take to get your products? What is your plan for the busy holiday season?
Suppliers: Where are your products produced? Did you find the source to get the raw materials yet?
Shipping and fulfillment: eCommerce fulfillment can be an issue if your online business handles a large volume of orders. So will you go with self-fulfillment, or will you use a third-party fulfillment partner?
Inventory management: How will you manage and track all your inventory? Do you plan on keeping stocks in-house, and where do you plan to keep them?
We will calculate the cost later, but this section should be able to give you a solid foundation on your business operations, and which key factors will ultimately affect your budgets.
8. Financial plan
Here comes the last part and also the backbone of your eCommerce business plan. Your business survival depends greatly on its financial health. Planning your finances is essential to anticipate expenses and profit margins, as well as have a clear view of how to manage your cash flow. If you are in search of investors, this part should contain the highest degree of detail as at the end of the day, everyone wants to work with a business having a foreseeable future. Normally, your financial plan has to include four main sections:
This part illustrates your revenues and expenses over a specific period of time – a month, a quarter, or a year, which helps readers see your company's bottom line (your profit or loss) during that period. If your online business is not yet launched, you can place a forecast of the same information.
A balance sheet helps you calculate the equity you have in this business. Your business assets (cash, stock, inventory, etc.) should be noted down one column. The other column is your liabilities (debts, accounts, and wages payable, current borrowing, share capital, etc.). If you subtract your liabilities from your assets, you will get your business's shareholder equity.
Equity = Assets – Liabilities
A cash-flow statement is like your income statement but happens in real-time. It indicates exactly when your revenue and expenses go out and come in. Keep a record of your company's cash flow to adjust the way you do business when you have more money going out than coming in.
If your online business has operated for a while, it might be appropriate to include a financial projection. This one is the same as the cash-flow statement, but instead of focusing on your business finance during a specific past time, financial projections help you expect how much money comes into and out of your business during a specific time period in the future. This is a reliable indicator of whether your business can afford to pay off a loan.
Making a financial plan can be painful and time-consuming, but it is a vital part of any eCommerce business plan. It decides how your business will thrive or go down in the future, so you should spend the most time on this task. You can refer to this financial plan example and template from Shopify when doing this task.
eCommerce business plan templates
Even when you have learned by heart every section of an eCommerce business plan, creating your plan from scratch can be a daunting task. Therefore, we have collected for you the most easy-to-use yet still comprehensive templates to utilize. These templates offer step-by-step guidance in plain language to help you fulfill the whole template even when you haven't learned anything about business before. Each template might contain different parts, but the core content is the same. You can either edit them on Google Docs or download a copy on Microsoft Word to edit offline.
eCommerce business plan examples
It's possible to get lost when planning your eCommerce business, so you should stick with some plan examples and use them as references. Below are some of the best plan examples that we have collected for you from Bplans. Though all companies in these sample plans are made up, they still give you some ideas on how a real eCommerce business plan looks like:
Common eCommerce business plan mistakes
Making an eCommerce business plan is the very first step before you start working on your business, so you should try to make it as good as you can. There are some mistakes you should avoid when making your plan:
Unrealistic plan: This is one of the most common mistakes you can make when creating your plan. Many aspiring business owners often overvalue their business ideas or underestimate how competitive the market can be. Therefore, try to create a plan that sounds possible with your ability and resources. You can adjust and refine your plan with your upgraded skills and experience as you learn more as an entrepreneur.
Missing financial planning: This is a big hole in any business plan if there isn't a proper financial plan. The numbers are actually the most important part, as they will speak for your business idea and the market it can thrive in. Without calculations and projections, all your plans are considered unrealistic.
Bad business ideas: When you are fueled with a new idea, it always sounds great until you discover that the market doesn't actually need it, or there is no market for you to sell your products. Therefore, in order to make sure you have come up with a sound business idea, it's essential that you do some serious research, even before you start working on your business plan.
False assumptions: If you do not have enough information about the background and characteristics of potential customers, it's easy to make false assumptions about them, which leads to an invalid business plan.
Unbalanced team: Having a great product is not enough to excel your business. A great team does. Many founders think they can handle everything by themselves while they actually lack skills related to business or administration, for example. Gathering a balanced team from the start can help your business plan work smoothly in operation.
Create your own eCommerce business plan today
Creating your own eCommerce business plan might require hours of brainstorming and research, but it gives you a comprehensive understanding of your own business and the market. Also, it helps identify clear steps on how to start your business and sets out a solid foundation for success. We hope that this article can help you and other aspiring business owners start working on the ideal plan for your dream eCommerce business today.
FAQs
How long should my eCommerce business plan be?
A business plan often ranges from 15 to 50 pages depending on your business situation and personal purposes. For instance, your plan can be around 15 pages if you write it for your own usage, while it can range up to 50 pages if you are trying to find an angel investor. Though there is no requirement for business plan length, it's advisable that you keep it concise and focus on the most pivotal aspects.
What is a good eCommerce business plan?
A good business plan should be able to go through all sections that we have mentioned in this blog with an easy-to-understand language. It should be filled with as many numbers and charts as possible, rather than assumptions and hypotheses only.
How can I know if I need an eCommerce business plan?
A business plan is beneficial for everyone who is running or going to run a business. No matter if you are a start-up, or you have been running your business for a period of time, an eCommerce plan can give you an overview of your own business and discover aspects that need improvement.
How is an eCommerce business plan different from a business plan for other company types?
An eCommerce business plan shares the same structure with a business plan for other company types. However, the online business strategy and plan might differ greatly from a brick-and-mortar store. For instance, a traditional retail store has to take care of a physical store, while an eCommerce business focuses on its digital storefront – the website.
Should I write an eCommerce business plan even if I don't need funding?
Yes. As we have mentioned quite a lot during our article, you still need to write an eCommerce business plan even if it's for personal purposes only.