eBay is currently one of the most dominant eCommerce marketplaces with around 187 million users worldwide in 2021, making it a profitable sale channel for online sellers, and everyone is aware of that. However, is eBay your only choice when it comes to eCommerce marketplaces, or are there many more appropriate sites you have yet to discover? We've got you covered with the best eBay alternatives right here.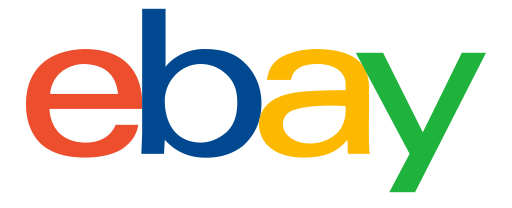 Why should you need an eBay alternative?
It's undeniable that eBay has earned a reputation as the most powerful online marketplace for sellers globally thanks to its enormous potential market with a current huge number of users and a wide variety of listed items. However, as eBay has scaled exponentially in recent years, this marketplace has made many changes in terms of policies that many users considered disadvantages and hard to follow, which leave them no choice but to seek other alternatives.
Poor policy: One of the main reasons prompting sellers to switch from eBay to other selling platforms is its controversial policy. It's been quite common that whenever an unsolved problem happens between sellers and buyers, eBay tends to put customers first, and sellers have no choice but to accept eBay's opinion. This sometimes leads to substantial disagreements but is still the best solution for eBay since it minimizes the time and money eBay has to deal with and they won't lose any customers. It can be seen that eBay doesn't pay much attention to your interest, and you might be the only one to lose money, even when you are right.
High costs and fees: There are many types of fees you have to manage when selling items on eBay, such as an insertion fee and a final value fee. The total fee value might depend on your item niches, selling price, and whether you have an eBay store or not. If you are selling low-priced items on eBay, these fees adding up over time with extra costs can lead to low profits.
Thousands of competitors: The high number of active buyers on eBay platform has appealed to many aspiring sellers to start their business. For each item you list on eBay, there might be thousands of listings for similar products on this platform, making it a challenge to stand out in the competition.
Best eBay alternatives for you
Best eBay alternatives for all products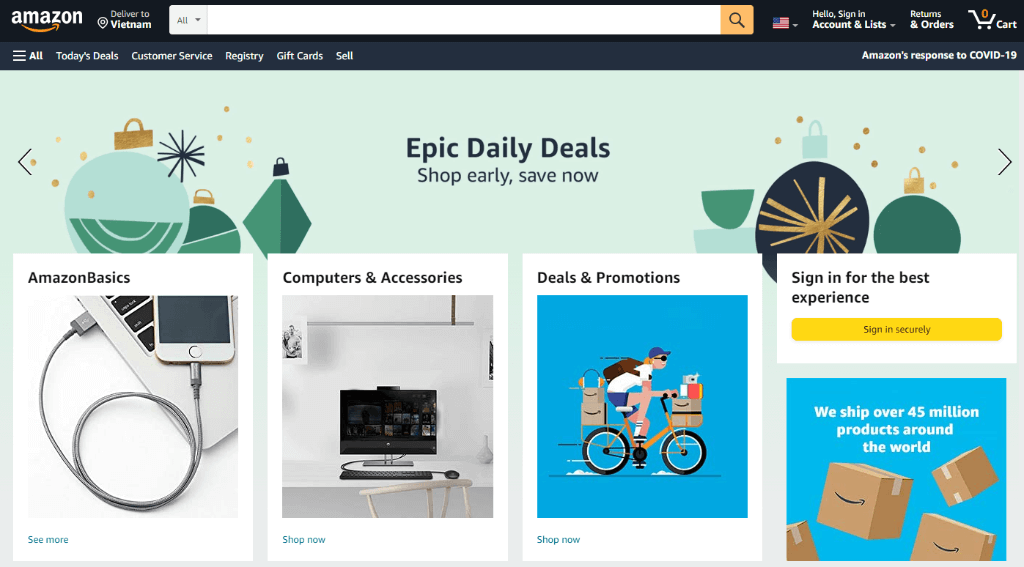 Being known as one of the world's most visited websites, Amazon has massively expanded its products, from selling books only to providing millions of items across a wide range of product categories. Similar to eBay, Amazon has accumulated a massive customer base as the wide product range has attracted millions of visitors to this site every day. However, remember that this also means fierce competition in this marketplace, so it might be hard to get a sale at first. This platform's advanced personalization also displays relevant products based on customers' search history and preferences, which can be a huge advantage for selling items here.
There are no listing fees for adding items to Amazon, and the only fee you have to pay is the commission ones. Amazon provides its own supply chain to store items in various locations to deliver products to customers sooner, which is a plus point compared to eBay.
Pros:
A huge customer base
Easy to expand internationally
No listing fees
Low marketing costs
Cons:
High competition
High selling fees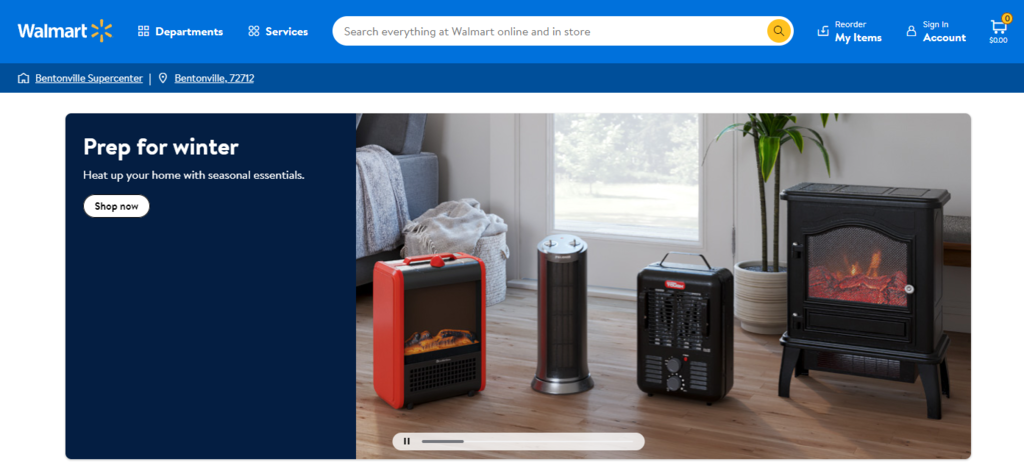 As we all know, Walmart gains a reputation as the biggest retail company in the world. As this giant gradually invests more in its online presence as a marketplace where sellers can upload and sell their products, this becomes a good eBay alternative option for you. Since Walmart's online marketplace is still quite new, their online sales and customer traffic might not be as high as eBay's, but there is more to expect in the future.
More than that, it's explicit that Walmart requires fewer types of fees compared to eBay, without setting up or store maintenance fees, and you are only charged 8-20% for each successful transaction. Bear in mind that Walmart set a better priority for stores that sell products on their supermarket and online presence at the same time, so your store might not receive much view if the niche is too competitive.
Pros:
A varied selection of products
Limited types of fees
Reach a new customer group
Cons:
Competition with Walmart's own offerings
The online marketplace sale is comparatively low

Being known as the "Amazon of Japan", Rakuten is the most popular eCommerce site in Japan with more than 40% of shoppers turning to this Japanese platform as their main online shopping channel. Rakuten focuses on your shop's personalization by providing you with various tools to design your own store, edit and change products, content, and blog to bring you closer to your potential customers.
Unlike Amazon, Rakuten doesn't possess any brands, so you won't have to worry about competing with brands of the marketplace itself. In fact, this website is trusted by many world-recognized brands such as Dell, Lenovo, Dyson, and more. However, the fee when using Rakuten is quite high compared to other online marketplace platforms. You have to pay $33 for the seller fee per month, 8% – 10% for the category fee, and $0.99 for commission. Rakuten will be your best option if you are targeting the market in the east, especially Japan.
Pros:
Optimize your store as wished
Various product categories
Special market
Cons: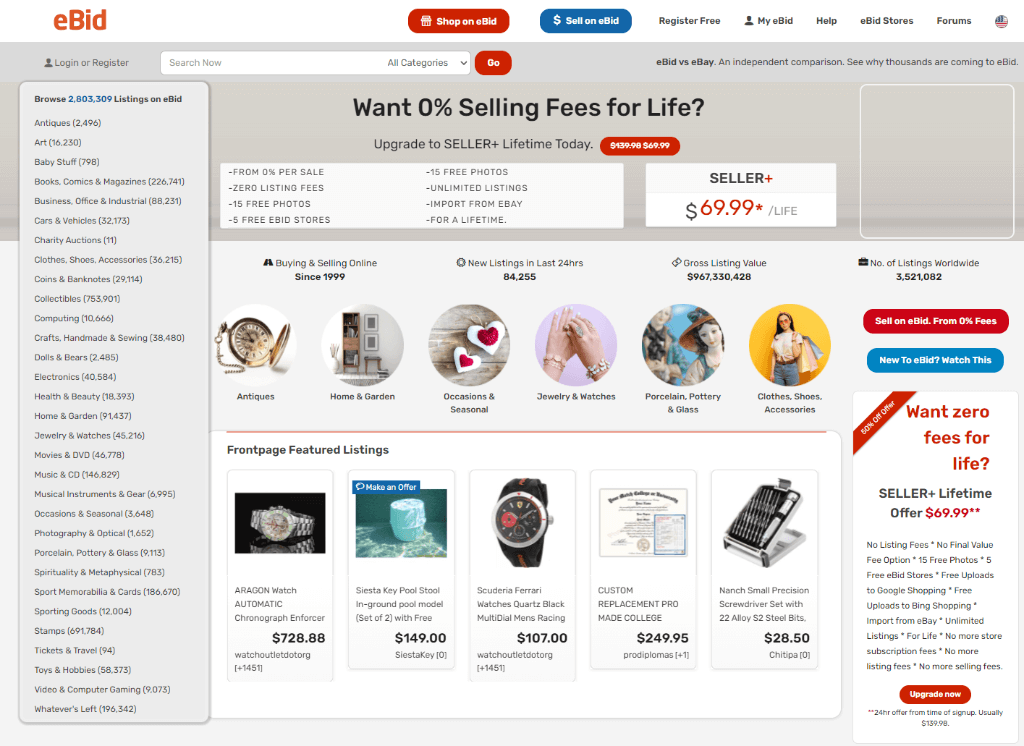 eBid is another alternative option if you are looking for an eBay-like marketplace with a lower cost and fees. You can sell every item here as you might sell on eBay, but on a smaller scale, as the traffic driven to this website is not as high. Nevertheless, the fee you have to pay is much lower compared to eBay, with a 5% commission per sale or upgrade to SELLER+ subscription with $139.98 and never have to pay commissions again.
If your brand has already gained a huge number of loyal customers, or you know how to promote your products on popular forums and social networking sites, eBid will be your go-to eBay alternative.
Pros:
Higher profit margin
Offer a wide range of product categories
Cons:
Lower traffic compared to eBay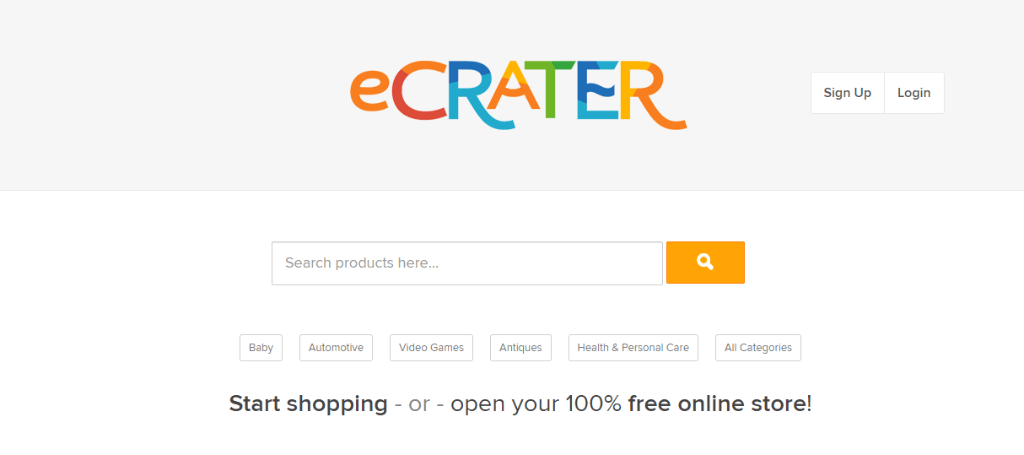 Another eBay alternative for sellers who don't want to spend too much money on marketplace fees is eCrater. This site is more of a traditional marketplace like Amazon where sellers publish the price for customers to purchase any item right away. The main tempting feature of eCrater is that it's totally free to set up and the commission fee is 2.9% only if the sale comes from eCrater. There are many available templates to help you create your own store and it even lets you effortlessly import all your listings from eBay.
Also, as eCrater supports you to own your store, your site traffic might rely hugely on your own marketing methods, such as SEO and social media platforms.
Pros:
Offer social media tools
No listing fees
Low fees per sale
Cons:
No option for store analytics
Rely on you to drive traffic to your site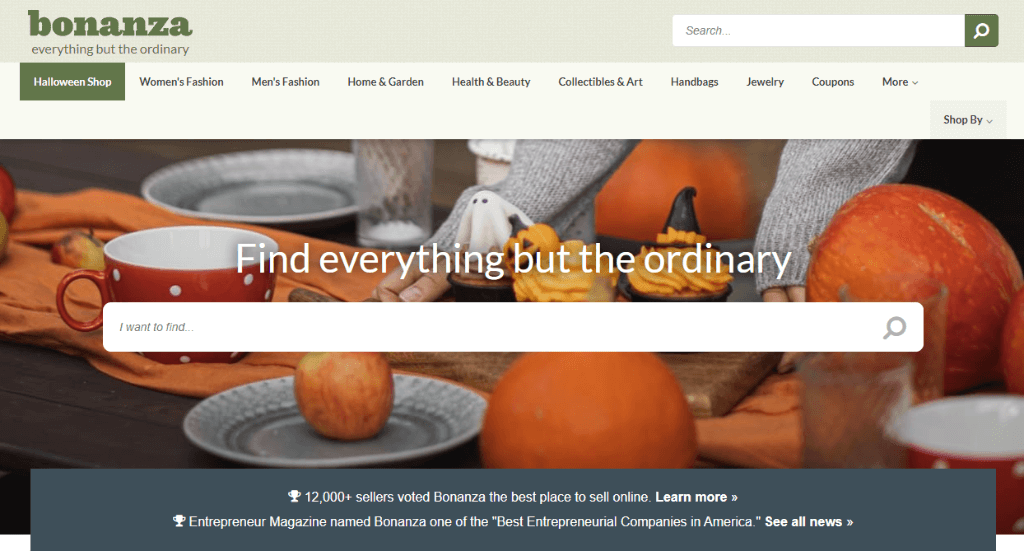 Being founded in 2008, Bonanza is quite new to the online marketplace industry, but it has received online attention and is now regarded as one of eBay's biggest competitors. This marketplace now has more than 22 million product listings with over 40,000 online stores, meaning there is almost no limit on what you can sell. It's absolutely free to list an item on Bonanza, so you can list as many items as you like, and this site only requires a 3.5% fee for each transaction, which is lower than eBay.
Similar to eCrater, you can easily import all your existing eBay listings to Bonanza, and it's even feasible for you to import your number of feedbacks to Bonanza, making it a clever alternative if you've already built your brand on eBay.
Pros:
Gain higher profit margin without listing fees
Effortlessly import items from eBay
Offers transparent communication
Cons:
Focus more on unique items
Buyers are mostly based in the US

Another eBay alternative for you to sell almost everything is Mercari, a Japan-based company that is growing in the UK, US, and Japan. Mercari is similar to eBay in terms of product categories and also allows you to sell second-hand items. Mercari describes itself as the "selling app" with millions of downloads in all markets. The app is pretty simple to use for both sellers and buyers, and all you need to do is download the app, upload all required information such as images, prices, and description, ship the item when the product is purchased, and get paid.
Mercari makes use of free signup and money-back guarantee to attract more sellers, but this platform will charge 10% commissions for each sale.
Pros:
No fee for signing up and listings
Good policy for sellers
Flexible shipping options
Cons:
Slower sales
Returns are encouraged for customers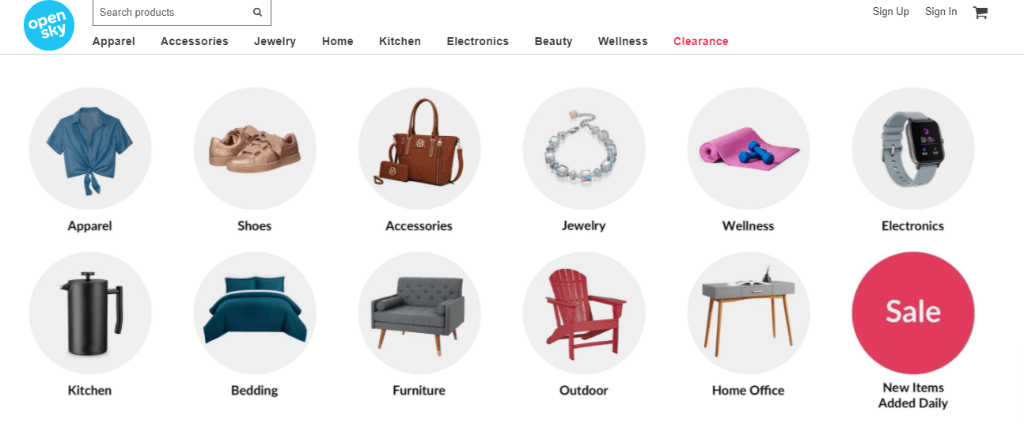 Being known as a member-only marketplace, OpenSky has gradually become an ideal platform for sellers who target young customers who are looking for the best bargain. More and more buyers have been drawn to this lesser-known website due to its wide selection of items and daily incredible deals.
This platform offers customers opportunities to be featured on more than 200 ad channels and on their social media channels to help you boost sales incredibly, but the fee is quite high compared to other marketplaces. The commission fee is varied based on the price of the product and can be up to 30% per item.
Pros:
Wide range of products
Fast response and great support
Offer many marketing channels
Cons:
Best eBay alternatives for niche products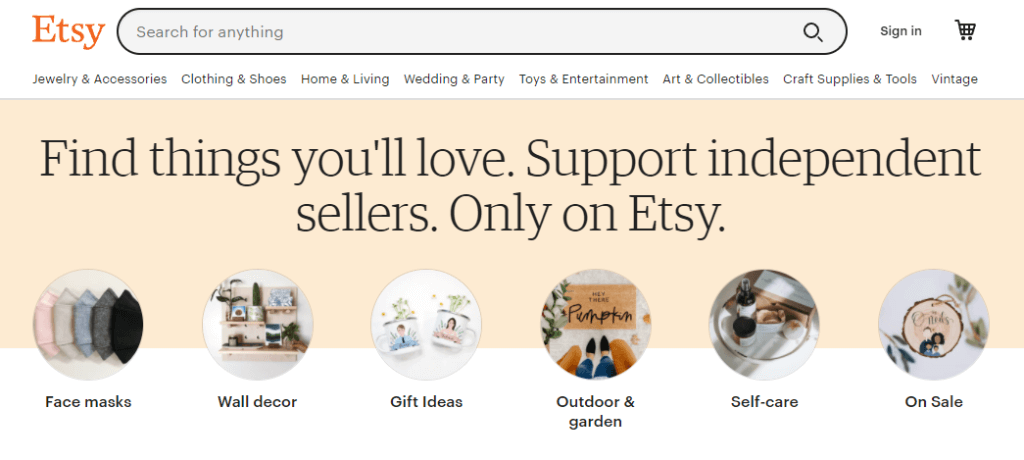 If you are looking for an eBay alternative to sell handmade stuff, vintage items, and craft supplies, Etsy is definitely a platform that you cannot miss. Started in 2005 as an online community for crafters and artists, now this platform has gained a massive number of more than 86 million active users selling and buying jewelry, accessories, home decor of gifts, and many more.
Etsy is similar to eBay in terms of the listing fees, but the Etsy fee is much lower compared to eBay, which is only %0.2 per item, plus a fixed 3.5% commission. More than that, while the listings on eBay last up to 30 days, Etsy allows listings up to 4 months. Although the traffic driven to eBay is still much higher, Etsy's customer base is more specific, making it a huge advantage to selling your items here.
Pros:
Easy to setup and maintain store
Listings are allowed up to 4 months
Cons
Charge listing fees
Competitive pricing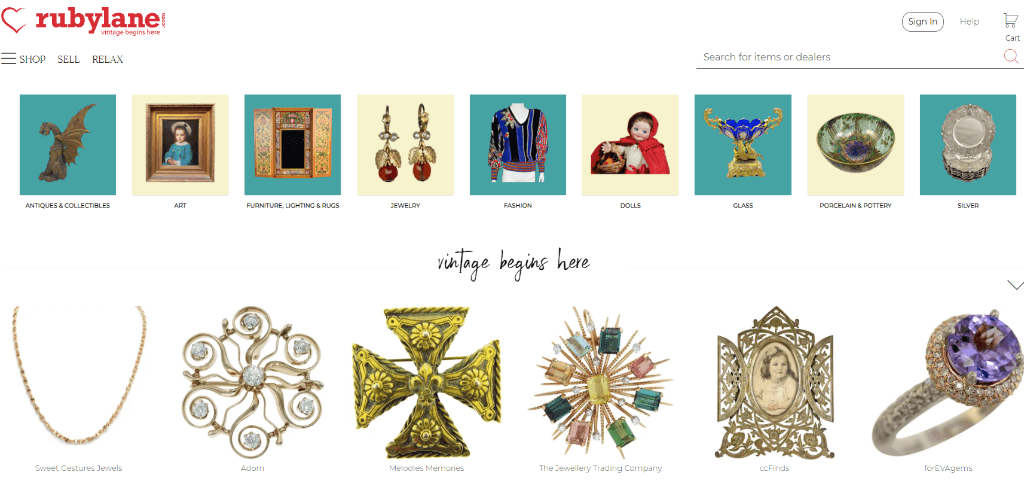 Similar to Etsy, Ruby Lane is a niche marketplace that specializes in selling high-quality vintage fashion and collectibles, along with traditional art, antiques, and jewelry. If your target market is women up to 40 years old, then this marketplace will be a great eBay alternative option you can think of.
All the listings here have a fixed price which is $0.19 per listing, but you don't have to pay any commissions. However, be careful with the set-up cost and maintenance fee, especially if you are growing to be a big seller here.
Pros:
Specific target customer group
Fixed-price listings
Cons:
The overall fees can be high
Newegg, the marketplace for tech lovers, is a great alternative to eBay if your products are tech-focused such as electronics, computer parts, and gaming equipment. The site's primary audience is tech-savvy men from 18 to 45 years old, so you can see that the customer group is really specific. Newegg is based in California with distribution facilities across Canada and North America. Currently, this platform has reached more than 50 countries around the globe and there are more than 4.2 million active customers.
Unlike eBay, Newegg resembles Amazon FBA to offer their own fulfillment service, making the shipping process no longer your time-consuming task. Newegg provides 3 different subscription programs, including regular, month-to-month, and commitment subscriptions, and the commission rate is between 8% and 15%
Pros:
Offers a fulfillment service
A large audience base
Access to more than 50 countries
Cons
The subscription fees and commissions can be high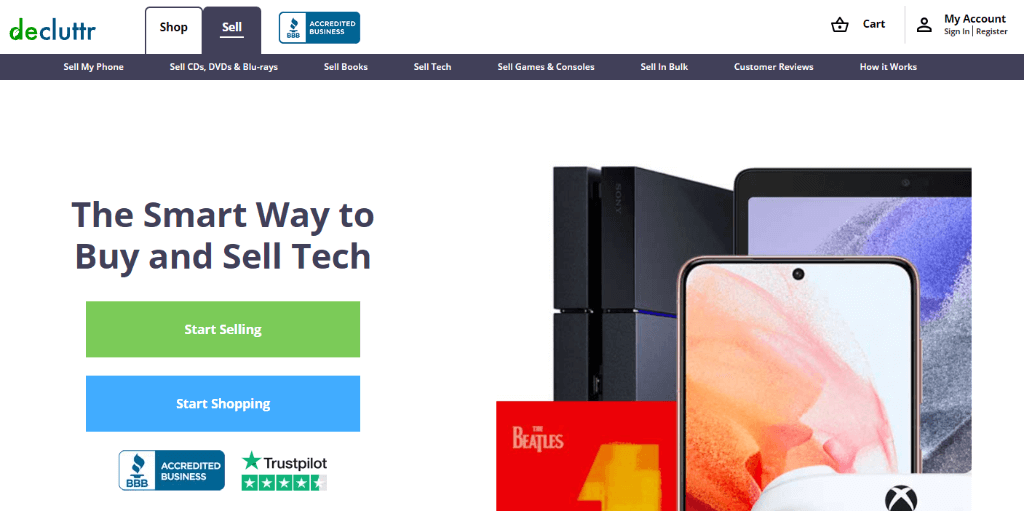 Another eBay alternative for selling tech products is Decluttr. Decluttr is an online selling platform specializing in selling and buying used media items, including CDs, DVDs, and electronic devices such as phones, tablets, gaming products, etc. Different from selling these kinds of products on eBay, Decluttr offers a smart way for you to sell your items as rather than waiting for customers, you just tell the platform what you wish to sell and they will provide an instant valuation. Your job is to ship your item with no delivery fees and get paid once the products arrive.
This platform doesn't charge any fees or commissions. It's also fairly easy to sign up and start selling your products with a few details required. Although the Decluttr platform is only available in all cities and states within the US at this moment, this is still a good eBay alternative for tech devices that you should think about as their market will continue to expand soon.
Pros:
No listing fees and commissions
No need to wait for buyers
Cons:
Currently support US-based customers only

If you are in need of an eBay alternative marketplace for selling old but feel-good books, you can turn to BetterWorldBooks. The selling process here is pretty simple: you send them all the books you want to sell, wait for them to take care of the rest, then you'll get paid once your books are sold. BetterWorldBooks already has its online presence in around 30 countries globally, so you can rest assured that almost all book genres can be bought and sold via this site.
Pros:
No listing fees and delivery cost
The book category are varied
Cons:
The site traffic is not high as eBay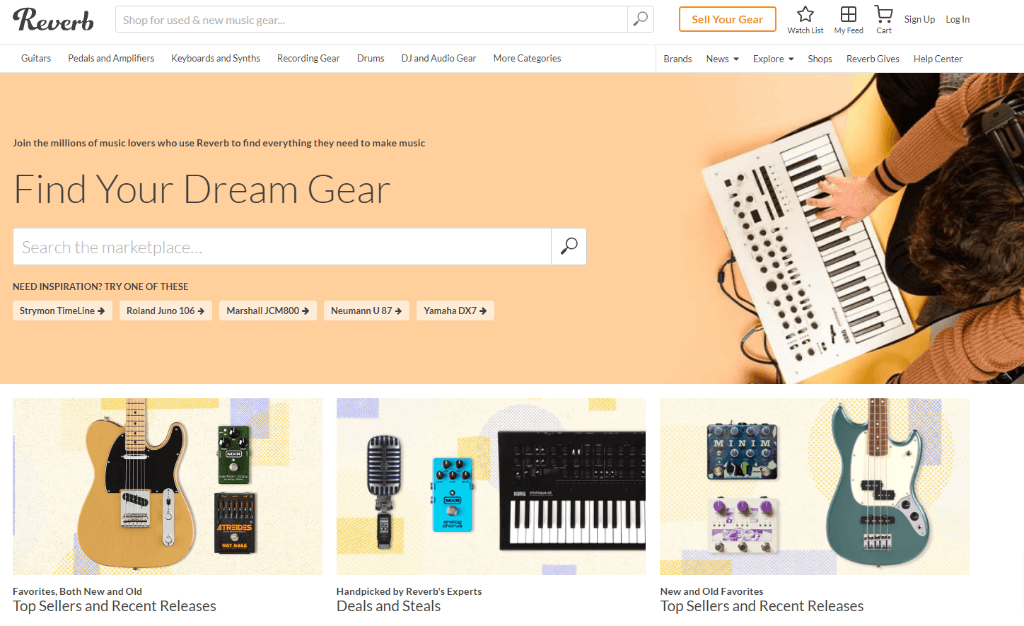 Reverb is an online marketplace where you can sell anything related to music, including musical instruments, accessories, and equipment. In recent years, Reverb has become a reliable platform for musicians to buy and sell their dream gears, from guitar pedals to keyboards and synths.
All items are fix-priced, and listings on Reverb are totally free. You only have to pay a 5% selling fee for every item sold on this platform. Though this platform is quite new, they have made an all-out effort to make the musical selling experience much easier for sellers, such as releasing the Reverb Bump feature to help you put your listing in front of more buyers and increase the likelihood of a sale.
Pros:
Free listings fees
Offer ways to promote your products
Cons:
The website traffic is still low
How to choose a suitable eBay alternative
So you've decided to switch from eBay to an alternative, but there are many eBay alternatives for you to consider, so how do you decide which selling platform is the best for your business at the moment? Before get down to your final decision, let's take into consideration some key factors by answering the following questions yourself:
What types of products are you going to sell?
Who are your target customers?
What is your target market?
How much fee are you willing to pay?
Are you willing to fight in a competitive market?
After that, let's combine your answers with our curated list of best eBay alternatives to see which one is the most suitable. Each marketplace platform comes with various pros and cons, so you have to review each one carefully and consider your current business situation and future goals to finalize a selling site to replace your eBay shop.