So you've finally built for yourself an app, but the results aren't as impressive as you initially thought. There are various reasons behind this, but the first question you should ask yourself is: Are you really trying to reach your target audience? If you're finding yourself hesitating to answer this question then perhaps more outreach is what your app really needs.
In this article, we'll share with you some ideas on how to get your app to reach more users, and how you can do it the most effective way.
1. An app promotion on your website
If you're finding yourself asking "where do I promote my app?", then your website is the first place you should think of because it's a total "zero budget campaign". Your website already has a regular amount of visitors coming into the site, and chances are, you can get these visitors to become your app users simply by including a small app promotion banner in your homepage.

And if you feel that an app banner would occupy too much space on your main website, a Smart Banner could work a way to drive more visitors into your native app. Smart banners show up only for mobile users, and simply by clicking on the banner, users will be taken to the app store respective to their operating system. Small touches like this show that your brand cares enough about the mobile customer experience to develop native apps—which translates to thoughtfulness and helps contribute to a good brand image.
2. Engage on social media
No one could have probably imagined what social media could have turned out to be. Brands are now utilizing in-app features like Stories to drive even more installs and engagements with ads—and you could do this too.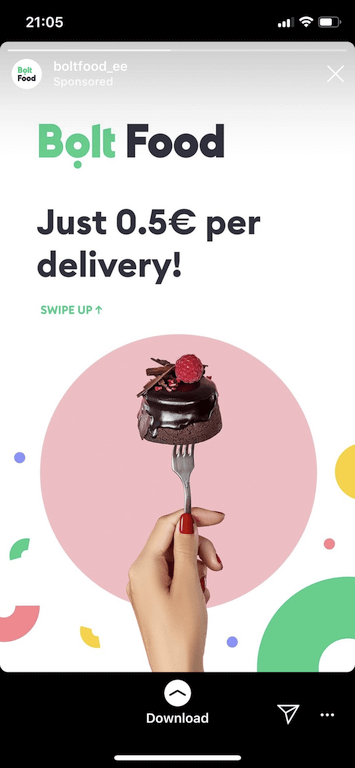 Using Business Social Media, you can create various kinds of ads for both Facebook and Instagram. And combined with initiatives like updating your Twitter Header Image and your Facebook Cover Photo with app promotion contexts, social media contains untapped potential that you could be missing out on.
3. Develop a viral loop
Viral loop is an art of getting users to do the advertising work for you. With a viral loop properly in place, your app users can have the incentive to share information related to your brand and in return, drive more new users into your app. This 'information' must be enticing to both your existing user and newcomers, which is why you should usually see it in the form of discount offers, free products, game invitations, and many more.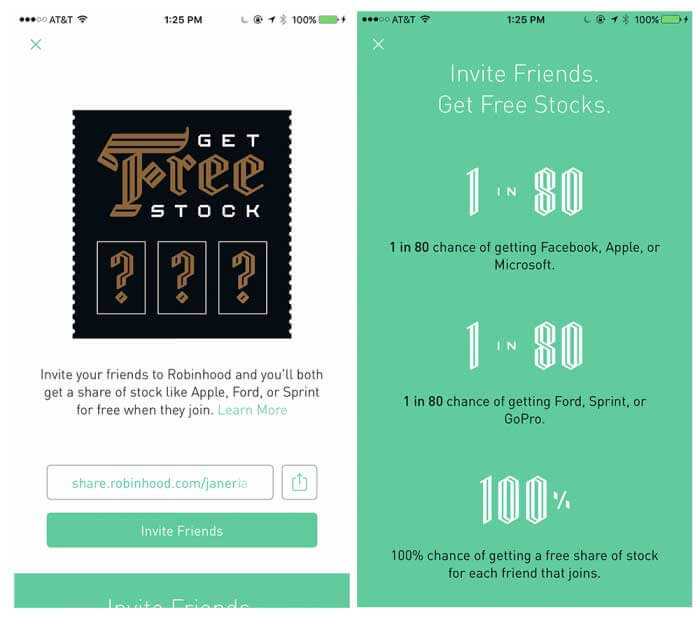 A famous example of a viral loop done right is the Robinhood app. Existing users in the Robinhood app can invite their friends and earn various rewards, and the fact that some of the rewards are luck-based only add more to the incentive, which together makes the whole thing a simple yet effective viral loop campaign.
However, because of the various processes involved in a viral loop, you should only consider this approach when you've already had an active user base. And to keep the loop alive, your incentive needs to be both attractive and cost-effective, and you should aim for at least 1.1 referral per every user inside your app.
4. Feature The App in Your Emails
Any emails sent to your customers—even if it's a newsletter, a payment confirmation, or promotion—should include a link/code with which users can download and try out your app. This is one of those low-hanging fruit that adds up in the long run so there shouldn't be any reason not to feature your app in your email signature.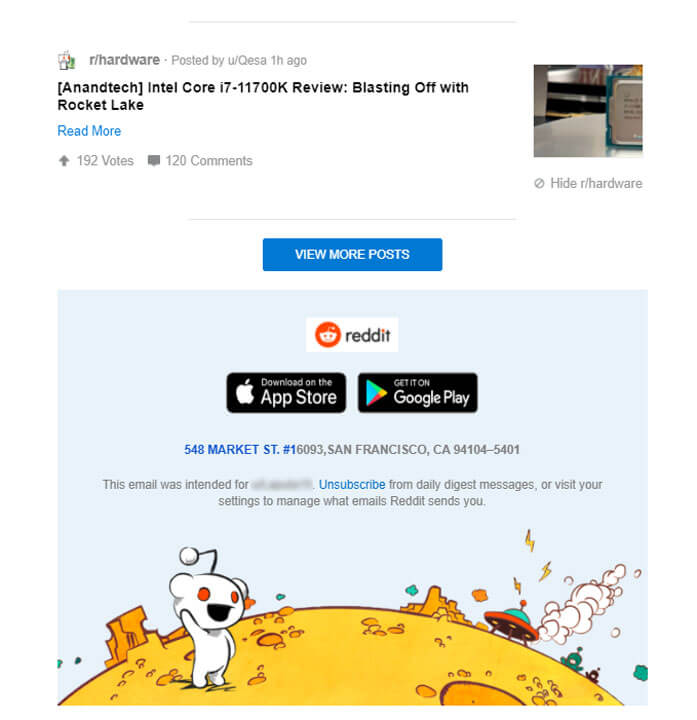 5. Create an informative demo video
With only a few screenshots of your app, you are not really impressing users by what the app features can really do. Creating a video needs not be a fancy one, it could simply be a record of you using and explaining to your customers the functions and why it's worth their downloads. The Video should be uploaded not only on your Facebook but also on any video channels such as Vimeo, Youtube,… to spread it to the masses.
With only a few screenshots of your app, you are not really impressing users by what your app can really do. A demo video can be a much better alternative that shows users how your app performs and what its functions are. It could simply be a record of you using and explaining to your customers the functions and why it's worth their downloads.
For a successful and engaging demo video, it's recommended that you should have a comprehensive plan of how the demo video will go first. In the above example, you could see that Smartiply decided to give viewers a quick sum up of what the app has to offer (boost internet speed, enhance reliability & security). And then, the video goes into more detail about how Smartiply looks in action, and how users can use the app. At the end of the video, Smartiply gives viewers a quick look at other features inside the app like History, Monthly Limits, etc—all to give users the impression of a complete, well-functional app. With its unique use of art style and animation to create a pleasing and engaging viewing experience, the Smartiply App Walkthrough video seems to have hit the sweet spot between being informative and entertaining.
6. Make your app visible in any app store
Almost every app on app marketplaces nowadays follows the app store optimization process (ASO), and this could be the reason why your app is failing to reach customers. The search algorithm in popular app marketplaces prioritize apps with short app names with concise app descriptions, along with unique app icons and good reviews. And since app stores is one of the most popular ways for users to reach your app, it's vital that you do ASO right.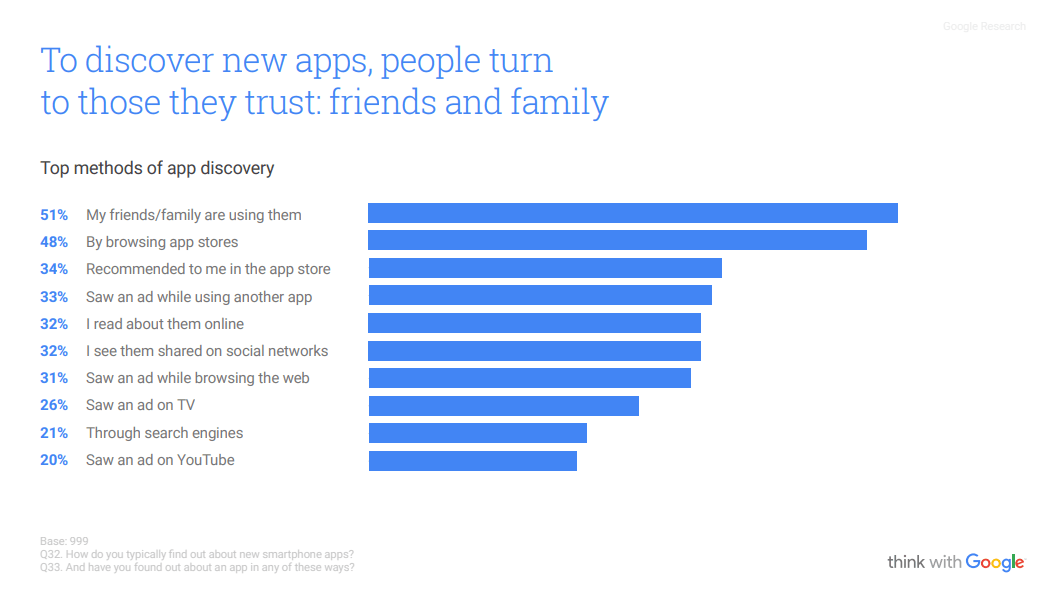 If you're wondering where to start, we recommend to do keyword search first and start from there. Along the process, you should also make sure that your app icon is unique, your app is uploaded to the right category, and that your app page provides relevant information about your app in order to help searchers—as well as the algorithms—better understand your app.
Conclusion
Even with no or little budget, there are always ways to market your mobile app if you're willing to. The 6 ideas above are a good starting point for every business out there with limited budget wanting to reach more users.