Fast shipping and great product quality are the golden points to prefer a dropship supplier in the US. For you to get plenty of the benefits above, we've hand-picked the best dropshipping suppliers in the USA in both general and trendy niches.
But first:
Why US suppliers?
Are US-based suppliers really worth your time more than Chinese ones?
Yes, if you do not want to deal with potentially wacky products, long shipping time and suspicious suppliers.
Let's find out the most critical advantages of US-based suppliers:
Better product qualities made-in-the-USA
Faster shipping time thanks to the geological location
Easier to communicate without a language barrier
Easier to return and refund
Convinced by those benefits, then our list will be helpful for you. We know that you are eager to have those names, but before that, it's good to understand:
What makes the best dropshipping suppliers in the USA?
When choosing a US supplier, you may get lost in the sea out there. It's not easy to find a good one for your eCommerce stores. But knowing the key factors of a good supplier will save a lot of effort. Here are the criteria for the best dropshipping suppliers in the US.
Fast & decent delivery:
Fast shipping depends on two factors: the handling time and the delivery time.
Good suppliers can handle the orders to send for the delivery company within 48 hours from order placement. And then, depending on the distance between your supplier's warehouse and your customer's address, it may take from 1 to 14 days to deliver across the US.
Product quality
Product quality is the main concern of every drop shipper. Although prices and qualities can vary, we want to make sure that all products are decent, which means not as cheaply-made as lots of products from China.
Also, the diversity and uniqueness of the products are worth considering. For most of the time, you would not want to sell what everybody already does, won't you?
Return & refund policy
Lots of suppliers will accept a return request in 14 – 30 days from the day the package reaches your customers. They will also refund when you can prove that there is a defect from the manufacturers.
Generally, some restocking fee of 20%-30% may be applied. For some companies, customers have to pay for the return shipment as well.
A good supplier gives you much flexibility when it comes to returning policy.
Thus, you must understand your suppliers' return policy thoroughly, then inform your customer if necessary. After all, we all do not want angry customers and profit loss.
Easy to work with
The support team will guide you through the very first orders and solve any problems that occur. It's best to have a responsive advisor who is attentive to your concerns and troubles.
Other than that, the suppliers should provide you with tools or documents to make your work easier. For example, a 24/7 customer support, well-automated Shopify integrated tool, a comprehensive real-time inventory feed or ready-to-use photos and descriptions.
Great value for prices
From free to pricy plans, how much you pay for each supplier varies. However, make sure that what you get is worthy of value in return. Look for a supplier with a trial, a free plan or a cashback program. Therefore, you can experience for yourself if it's really worth investing your money.
Best general dropshipping suppliers in the USA
In this list, you will find lots of companies that are dropshipping platforms. "So why do they make it into the list of dropshipping suppliers?" – you may ask.
It's simple. These platforms curate a lot of decent suppliers. Therefore, you do not have to spend your precious time finding suppliers and evaluating their trustworthiness.
Furthermore, the best thing to choose a dropshipping platform is its automation.
Most platforms enable you to seamlessly integrate with major eCommerce platforms such as Shopify, WooCommerce and Amazon. Some platforms also offer training programs to help your dropship journey easier.
In our opinion, here are the best general dropshipping suppliers in the USA that's worth taking your time
So let's start!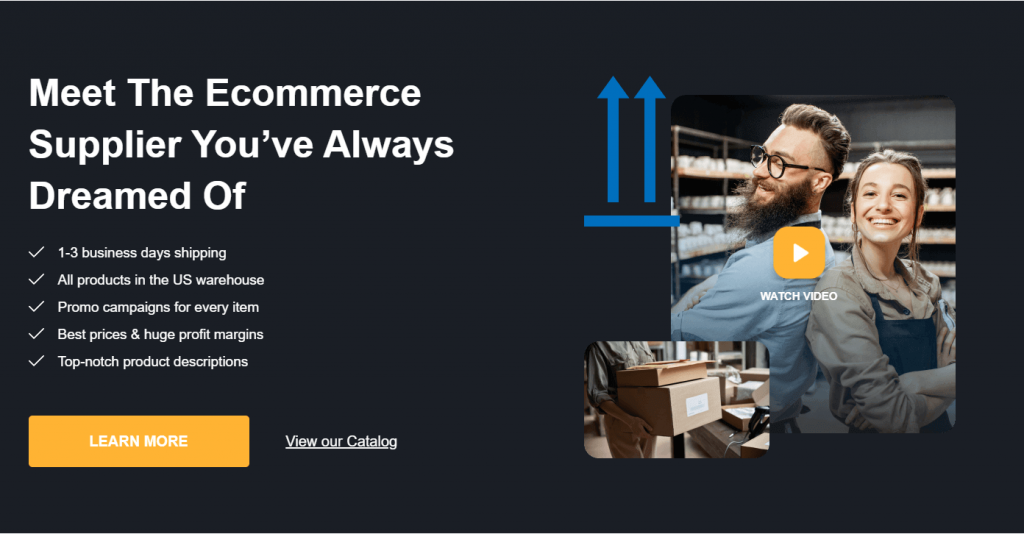 Unlike other platforms, Sellvia has its own warehouse in California, thus, has an impressive delivery time of 1-3 days across America. What's better? Sellvia claims that their products are always in stock and cheaper than Aliexpress.
As for product quality, Sellvia handpicks each item to create its most decent and trendy product directory. Its catalogue covers home, fashion, gadgets, gardens, outdoor, pet, sports, and more.
The platform also benefits dropshippers with its ready-to-use resources of engaging product photos, attractive copywriting and even well-tested Marketing campaigns.
Especially, Sellvia offers a custom-store service. Simply speaking, their dropship experts will do all the hard work of niche research, product selection, website design, SEO optimization for you. Newbie dropshippers who want risk-free success in a short time may find this service extremely helpful.
Pricing:
Monthly plan: $39/mo
Yearly plan: $299/mo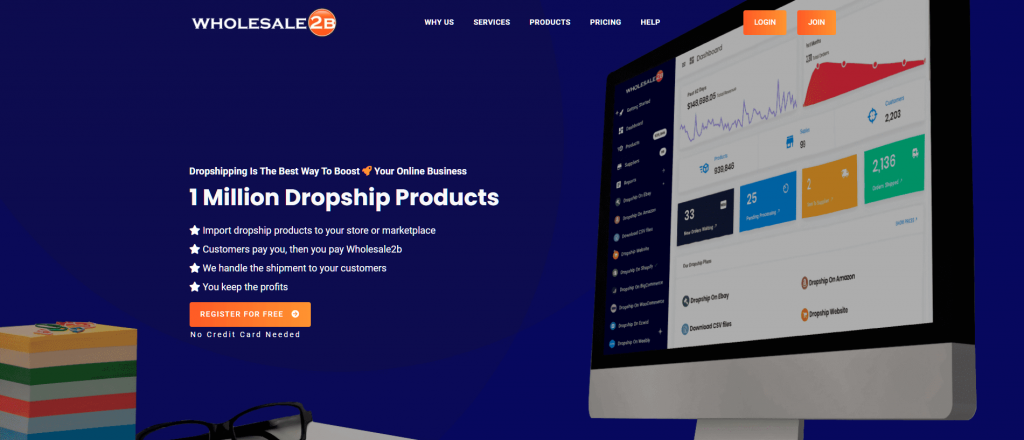 Wholesale 2B gives you access to 100+ dropshipping categories, from clothing, pets to electronics & computers. Its inventory has over 1 million products with great wholesale prices.
Noticeably, this platform has integration plans with the most popular eCommerce platforms. Some big names include Shopify, Woocommerce, Magento, Google, Facebook, Weebly, etc.
It showcases Amazon and eBay prices in its product data along with detailed descriptions such as sizes, features. Therefore, you can compare easily. You can also get alerts whenever there's a price change.
Pricing:
$29.99/mo
$39.99/mo
$49.99/mo
The prices for the first two plans are just for a referential purpose. The actual price depends on your store platform and its respective integration plan.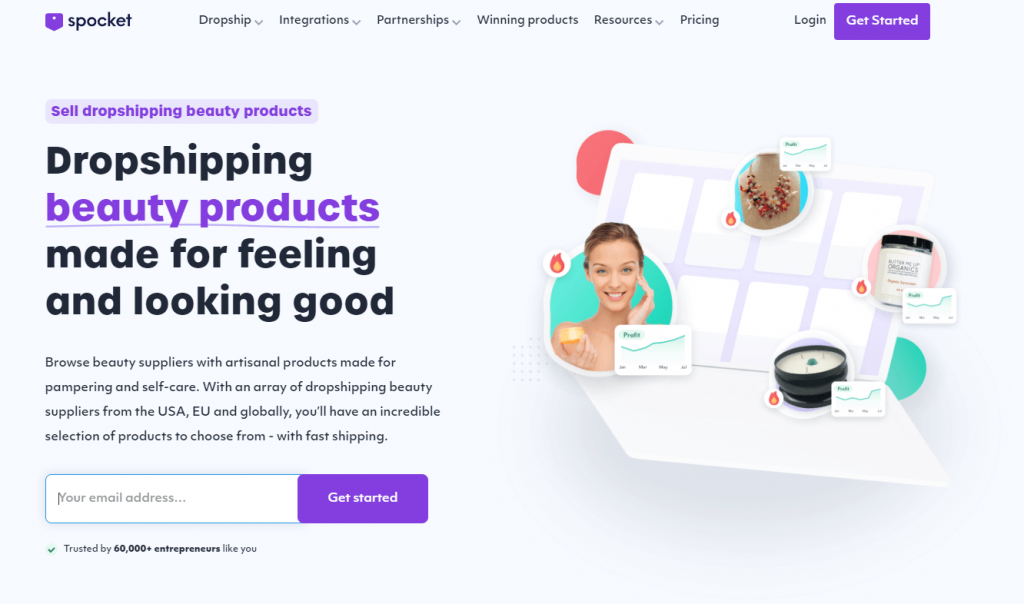 Spocket offers a variety of items from women's clothing, bath & beauty, kids & babies, toys to pets, home & garden. The company has lots of unique products. Also, most of them are made in the US, EU while being 30%-60% cheaper than their retail prices. In summary, you can win your customers' hearts with better-quality products and a good price.
The whole process from importing products to shipment is 100% automated. Spocket integrates with most major eCommerce platforms such as Shopify, Woocommerce, Wix, Alibaba, Squarespace. In fact, its Shopify app is rated 4.6 stars out of 2500+ reviews, making it one of our best Shopify apps for dropshipping.
They have an easy-to-use inventory feed. Shipping fees, listing costs and retailer prices are all upfront to get important numbers in a minute.
Pricing:
Free: $0/mo
Starter: $24/mo
Pro: $49/mo
Empire: $99/mo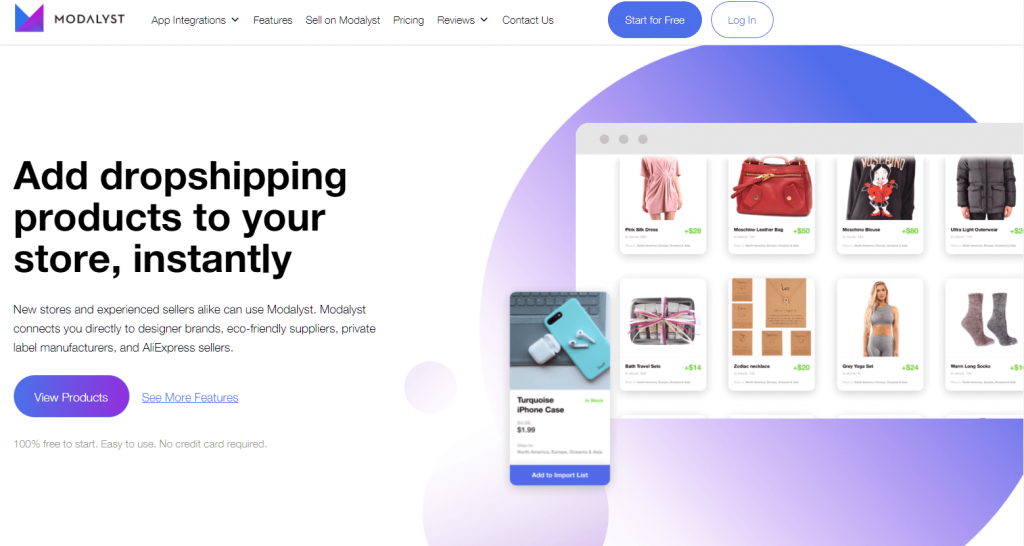 Modalys's main product focus is designer brands, eco-friendly products, and private label manufacturers with high quality. You can find millions of dropship products including shoes, accessories, furniture, apparel of various sizes.
The platforms support strong automation, therefore, you can easily process without difficulties. Also, regular inventory and product updates mean always knowing about trendy items and low-in-stock products. You would not want to promote products that run out when your customers order.
Modalyst has a built-in app for Wix, Shopify, Bigcommerce. If you use one of these platforms, you can make good use of the powerful features above.
Pricing:
Hobby: $0/mo – 25 product limit
Startup: $35/mo: 250 product limit
Pro: $90/mo – unlimited product limit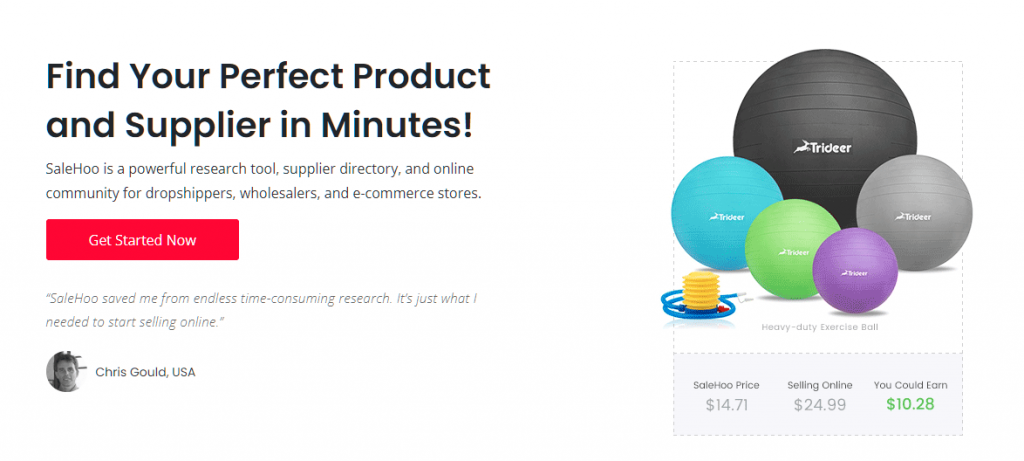 There are over 8000 dropship and wholesale suppliers in Salehoo with 1600+ brand products. Salehoo has a wide selection of products from baby gear, books, clothing, cameras, home & beauty, etc. All suppliers are well-verified while lots of them are famous brands such as Disney and Addidas.
The lab tool helps you easily find out the hot items and goodies with the highest profit margins and products' competitiveness. As a result, you define your best-selling products. Dropshipper can also directly negotiate prices with suppliers and get insider deals.
Plus, you can rely on its one-to-one support service via phone, live chat or email for actionable advice on store success. Indeed, the company is dedicated to helping newbie dropshippers in their journey with personal advice, forums and online lessons.
They have a cash-back program. During 60 days, if you are not pleased with their services for any reason, Salehoo will give your money back with no questions asked.
Pricing:
Basic: $27/mo
Premium $97/mo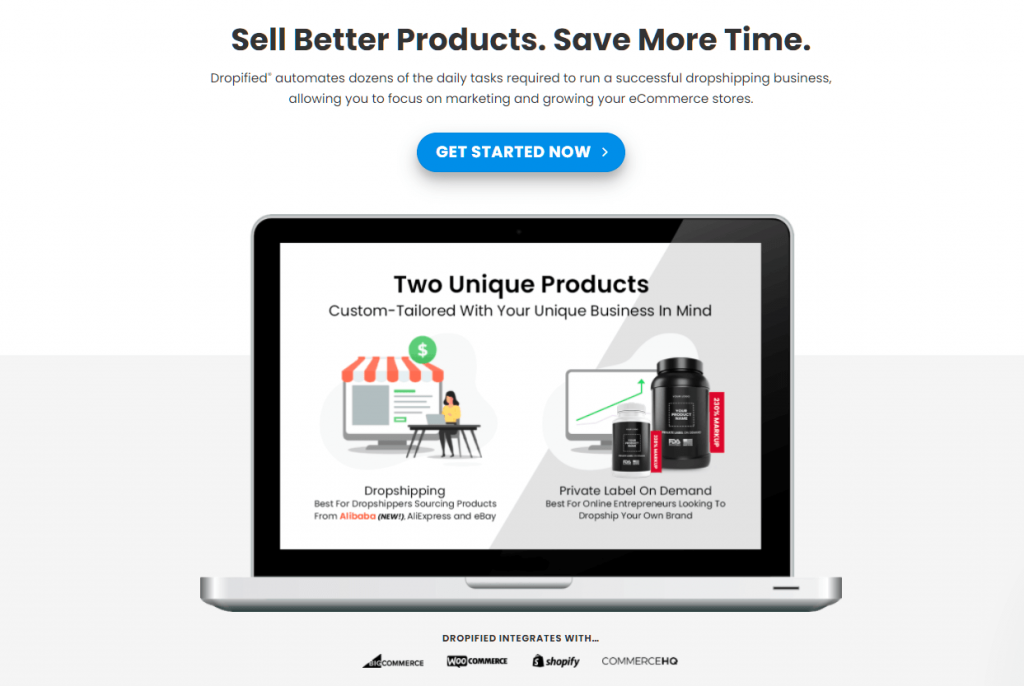 Dropified is a useful application to effectively source products from prominent eCommerce platforms. Its products come from both the US (eBay, Amazon, Costco, etc) and China (Alibaba, Aliexpress).
The app allows you to bulk import & fulfil orders with one click. Besides, there are tools to do further product research and directly import reviews from Aliexpress. These features will come in handy if you sell products from Aliexpress suppliers based in the US.
Interestingly, Dropified has its own collection of products called the Private Label of Demands (PLOD). These are FDA-approved healthcare products of supplements, skincare and CBD as well as profit-proven. All can be sold in your brand's name and Dropified has a whole training course helping you with relevant marketing works.
Pricing:
Research plan $0/mo
Build plan $19/mo
Grow plan $47/mo

DropCommerce handpicks over 8500+ reputable brands in the US and Canada. Thus, you can be 100% assured of their product qualities. It has a wide range of categories from clothing & apparel, food to home decor, sport & fitness.
The platform is integrated with Shopify, Bigcommerce and Wix. With integration, you can easily sync Dropcommerce inventory to your eCommerce store, get updated frequently so as not to order any running out stocks.
You can also get product samples for better listing decisions. Plus, DropCommerce can customise brand invoices so customers can recognize your brand in their shipping packages.
Pricing: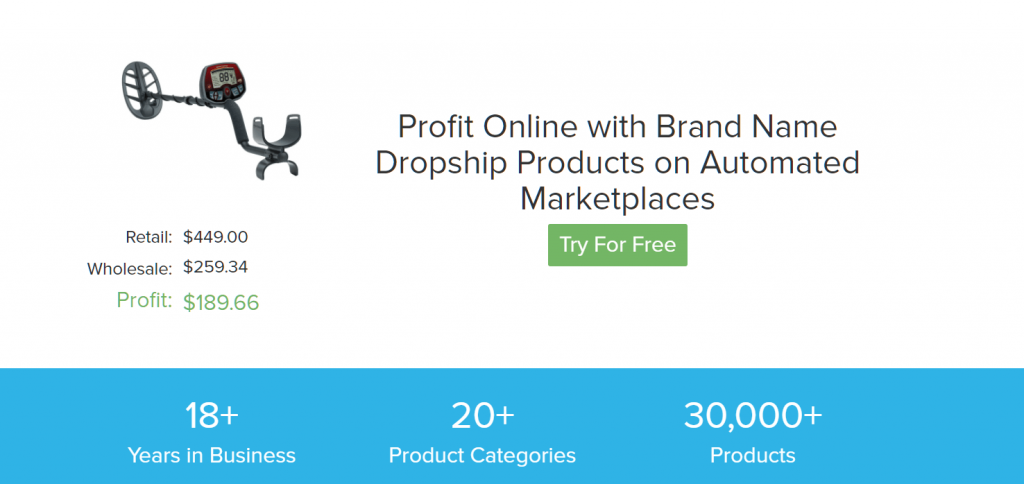 Sunrise has over 20 product categories of over 30.000 products ranging from fashion, beauty, home & garden to electronics, sports and tools. Lots of them come from reputable brands such as Apple, JVC, Gucci, Sony, etc. With Sunrise, you can sell high-quality items that people love at a wholesale price.
As for integration, the platform connects with top eCommerce platforms namely Shopify, eBay, Amazon and Bigcommerce. Whereas it depends on your eCommerce platform, in general, you can automate your whole dropshipping process. Product research, listing, order tracking, and more can be done hassle-freely.
The company also notify daily inventory updates via email, making sure you are not missing any important information.
Pricing: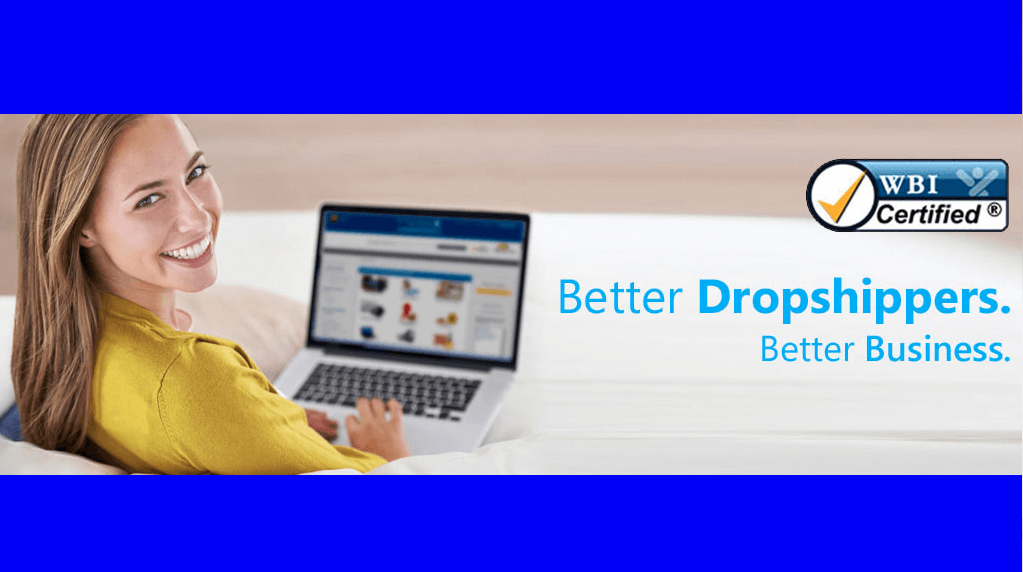 Worldwidebrands steps extra miles to certify wholesalers in order to make every product buy-worthy. Their wholesalers offer millions of products in a huge categorical selection: art, baby, health & beauty, travel, vehicles, health, instruments.
Different from other platforms, Worldwidebrands only works as a wholesaler curator. You pay a lifetime fee to access its list of wholesalers then contact them on your own. The con is that you have to do everything manually. But on the bright side, as finding wholesalers is their main priority, you can trust their list to be valuable and 100% scam-free.
Finally, the platform also gains a great reputation on Trustpilot for its responsive & helpful customer service. If you get lost in their sea of products, they can find them for you.
Pricing: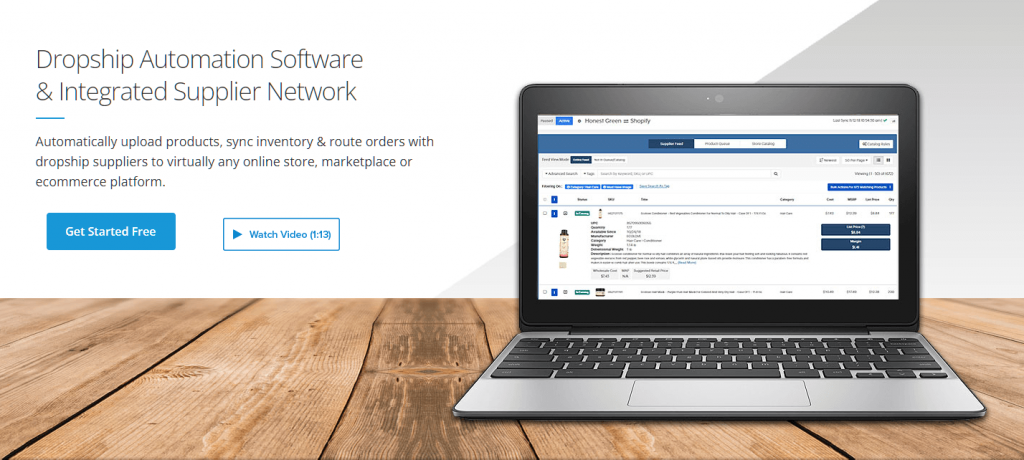 Inventory Source's greatest strength is automation. Its full automation service lets you sync your dropship suppliers and products to your eCommerce store. Furthermore, you can automatically place orders to your dropship suppliers. It then automatically notifies tracking information to your store and your customers.
Compared to other platforms, Inventory Source allows much more integrations. It can integrate with more than 20 eCommerce platforms including the most prominent ones.
Noticeably, their supplier directory is 100% free. You can get access to over 4000 wholesalers, drop shippers & their info and make use of its advanced search tool. Their category includes fashion, beauty, computer, outdoor, baby, architecture and more.
Pricing: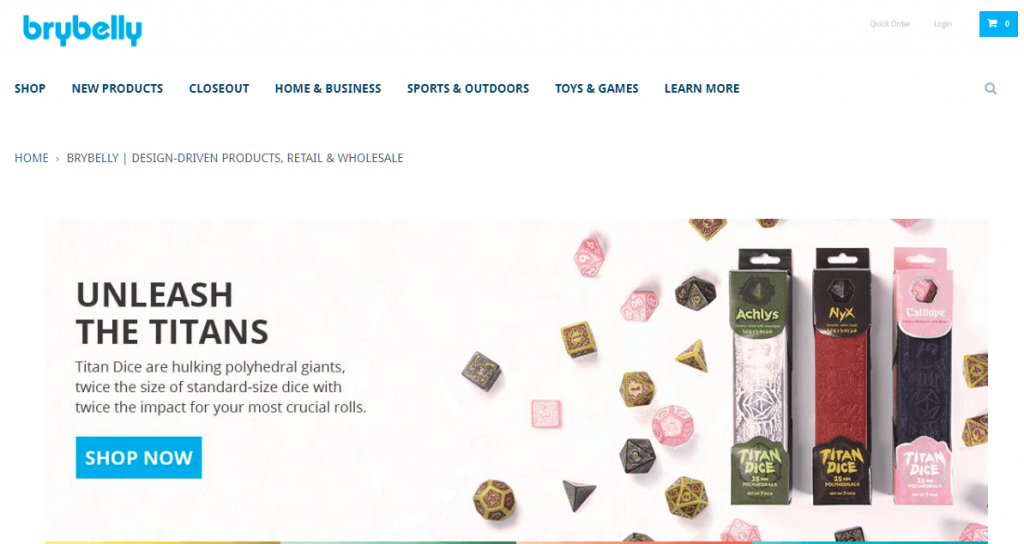 Brybelly curates & imports products from overseas manufacturers, thus, can offer high-quality products at attractive wholesale prices. The brand's huge catalogue covers the niches of home & business, sports & outdoors, toys & games.
Unlike many general wholesalers, the dropshipping process of Brybelly is manual. There are no extensions to integrate with your eCommerce store. You have to import products and order Brybelly on your own.
Nevertheless, the company implements a relatively flexible return policy within 45 days after products are received. Especially, they do not require any restocking fee.
Pricing: free
Best dropshipping suppliers in the USA for profitable niches
When you start dropshipping, it's a must to find a niche for your store. If you do not have any special interests, it's best to go with the profitable ones claimed by leading experts. Our selection is inspired by lists of best dropshipping niches by Shopify and Forbes.
Before diving into our list, it's good to know how niche suppliers are different from general suppliers/platforms:
You may not get a lot of automation. Most of them offer a login account to their webpage. From then, you have to import products and order manually.
Niche suppliers give you a better opportunity to find unique products that no one else sells in the market.
Unlike general platforms, lots of the niche suppliers do not require any membership fee, which can save you tons of money.
Beauty, health and personal care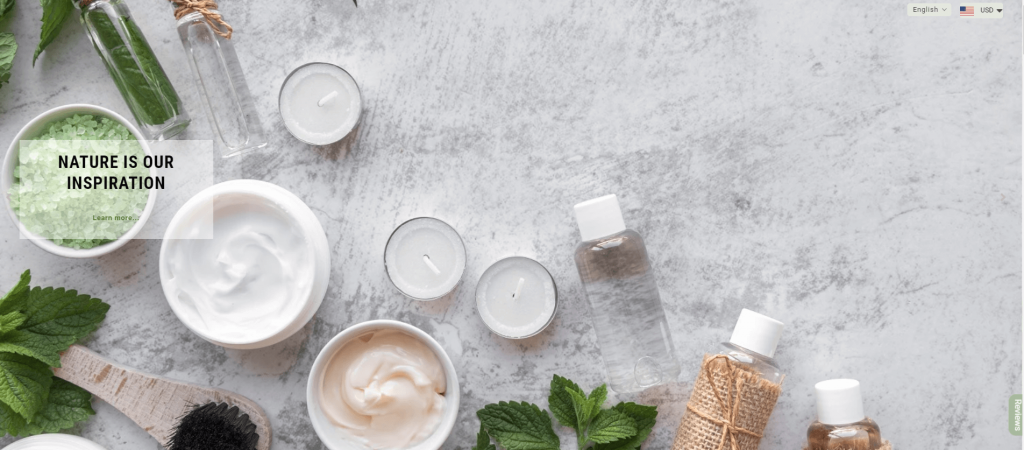 DRHC cosmetics owns a small lab in California dedicated to organic & vegan beauty products. They sell a wide range of items from skincare, bath products, to makeup & perfume.
They have a beautiful website to navigate as well as refined product photos that you can use for your store. The cosmetic brand also offers a white label shipping service with brand invoices, putting your brand recognition their first priority.
As for shipping, they promise that all handling is done within 3 days, with most orders being prepared in the same or the next day they are placed. Plus, they offer attractive free shipping upsell for orders above 35$. You can also opt for shipping insurance for better customer satisfaction.
Last but not least, it supports worldwide shipping with no additional international cost for orders from Japan & Vietnam.
To join DRHC's dropshipping program, you have to buy a membership at $29.99/ year or $60/ 3 years.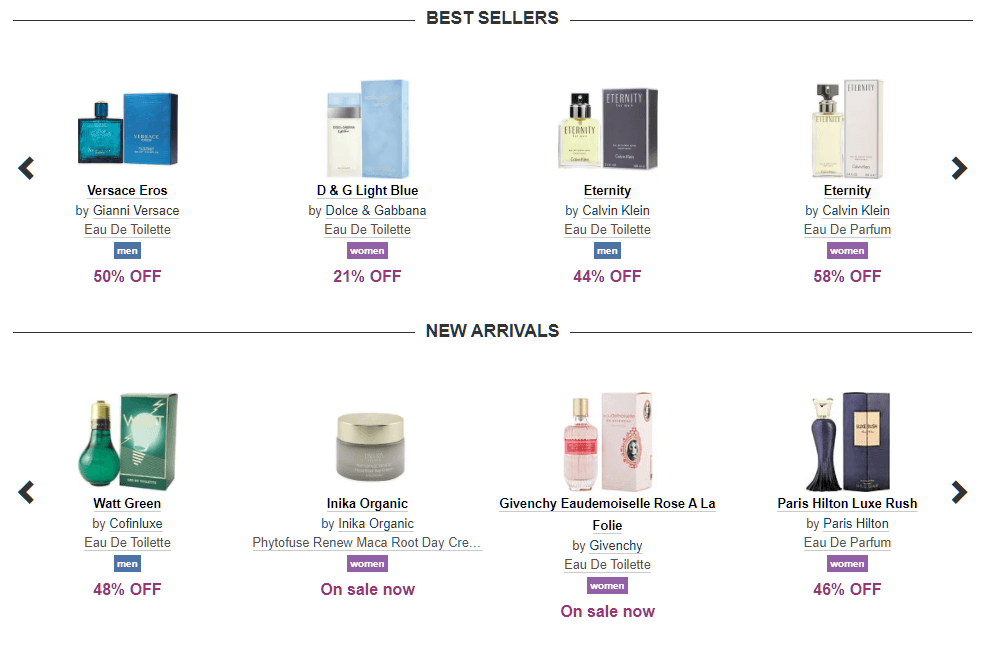 Fragrancnet is a leading name in the dropship market, with its niche in perfumes, skincare, haircare, aromatherapy and candles. Its 17000 + number of products comes from high-end brands like Versace, Givenchy and Clinique.
Its shipping fee starts from $6.95, and freeship is applied when you purchase more than $59. This is quite reasonable because their products are costly. They also give you tracking numbers and email notifications for your orders.
W You can find valuable items for your store here. They give you a detailed and up-to-date data feed, not to mention that there are no membership fee requirements. So overall, you can still benefit a lot from this supplier.

Greendropship gives access to more than 20.000 products from 800 USA brands in the field of natural, organic products. It has a rich selection of beauty, wellness, vitamin products besides food, baby and house ones.
The best thing is that the platform has three warehouses across the States and one more to come. They regard it as a strategy to be able to reach every state within 3 days. You can expect a really fast shipping speed from this supplier.
Greendropship can be integrated with Shopify, WooCommerce, eBay and Amazon. If you use these platforms, you can get the necessary inventory feed updates and the auto-import feature. For Amazon sellers, Greendropship uses FBA (fulfilment by Amazon). Thus, all your ordered shipments will meet the standard of Amazon.
Pricing: $149/ year

ISO Beauty takes focus on its own lines of hair care products and equipment.
For members of ISO's dropshipping program, you can purchase its products at discounted prices with no minimum orders required. Vendors can also request the maximum number of four product samples without any additional cost. Thus, you can test the products' quality before doing any serious advertising.
The supplier is located in California. Depending on your customer's location, the shipping duration may vary from 2 to 10 days. If you place your orders before 3.30 pm, they will handle them to send to delivery services on the same day.
Next, ISO beauty also enables white label shipping and international shipping.
You do not have to pay any membership fees to join its dropship program. However, you must be ISO's previous customers. Also, the company charges you a one-time setup fee of $200 so that it can avoid fraudulent orders.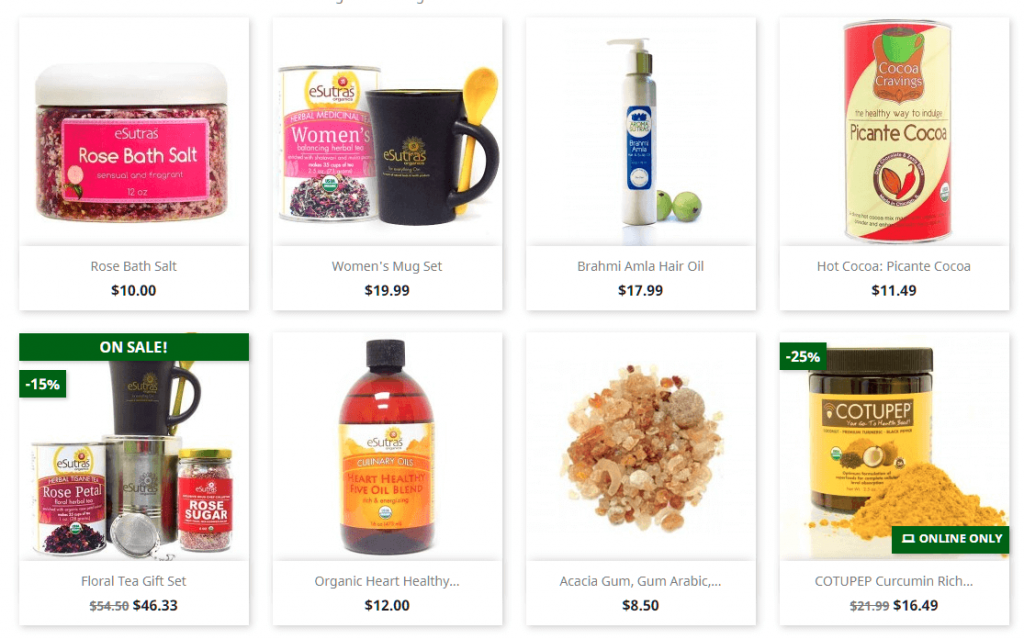 Esutras is the top name in the niche of organic botanical ingredients. Its most favourite products range from bath salt to healthy oil and spices. All of them are manufactured in Chicago, Illinois and most importantly, USDA certified.
Esutras offers 35% discounts for wholesale orders above $450 and freeship for luxurious products. But to do that, you need to have a registered business and join their membership first. The company charges you $300 for a one-time registration fee.
Once being Esutras' membership, you can easily access its information, images, and data feeds. The supplier also delivers worldwide and provides a white-label service.
Fashion & Jewelry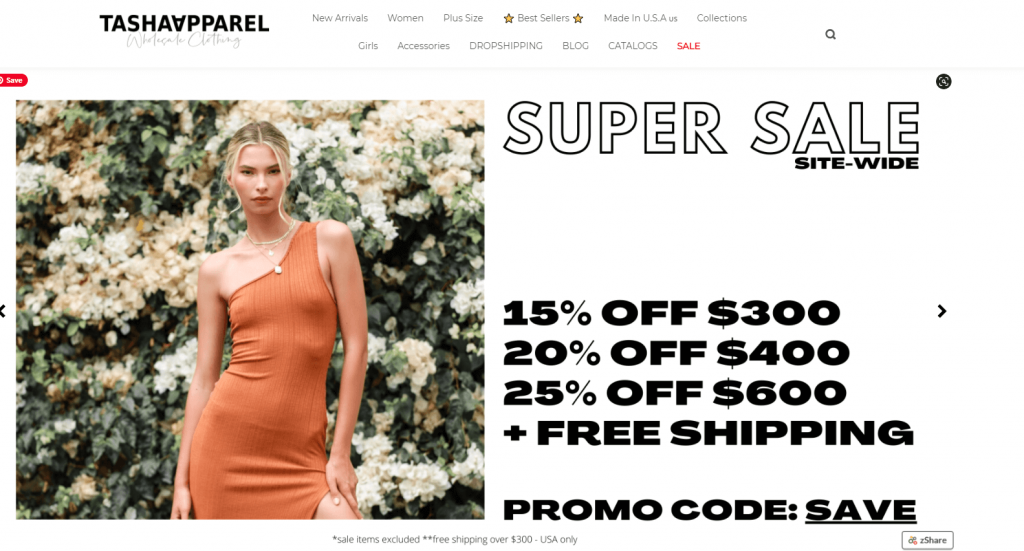 Tashaapparel is where to look for trendy clothes and accessories with decent quality at affordable prices. They offer huge dropship collections for women and girls, including options for plus size women.
The wholesaler is well-praised for their fast shipping, which generally takes 4 to 7 days.
Tashaaparrel does not require any fees for its dropship program. Yet, you have to provide a legit business license in order to register. They house a responsive customer service team that walks you step-by-step through registration.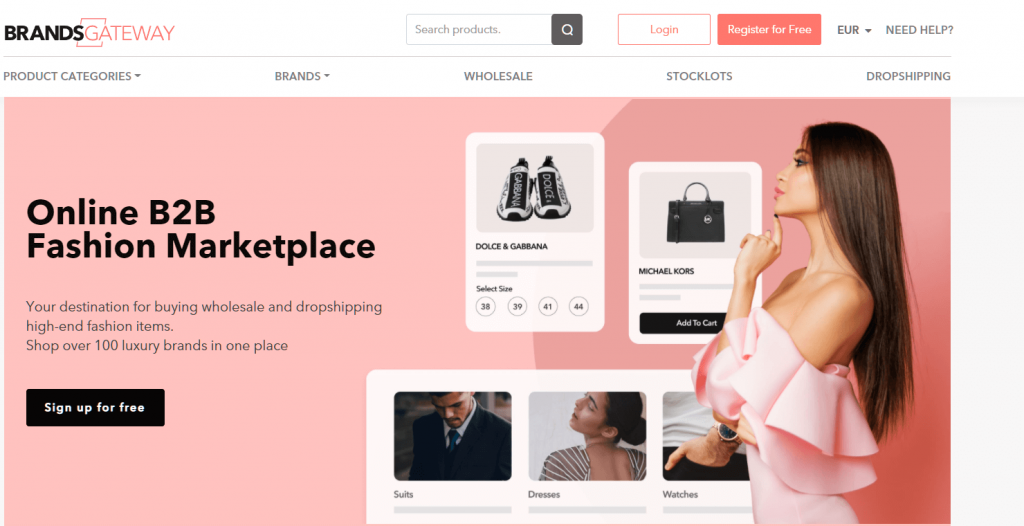 Brandsgateway is a go-to dropship supplier for high-end fashions. Its items come from over 100 well-established brands, for example, Dolce & Gabbana, Calvin Klein, Versace. They manage to deliver wholesale prices to boost your profit margins.
The company is top-notch in terms of customer service, which is responsive and helpful when fixing issues. Also, you will get a personal account manager to help you with marketing strategy, SEO advice, webshop feedback and so on. Plus, you can visit their warehouse to decide better whether to trust them and their products' authenticity.
Brandsgateway has plugins for Shopify and WooCommerce for a more automated experience. On top of that, they get good reviews for their shipping time. The supplier claims that they handle the orders the day they are placed.
The only con of Brandsgateway is its expensive membership fee of $341/mo. But it decreases dramatically if you opt for a quarter or a year payment.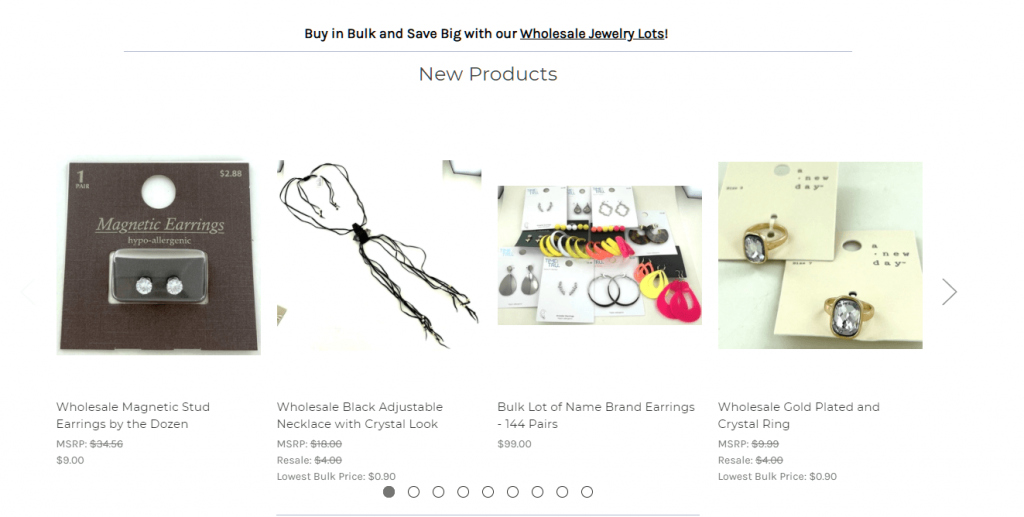 As a big jewellery wholesaler, Cheapwholesalejewelry has a good variety of necklaces, rings, earrings, bracelets and more. They are also specialized in collecting and selling closeouts of brands and designers. Thus, you can find some worthy items with attractive prices here.
Most of their products take 2 to 4 days to reach customers, with a minimum shipping cost of $4.
You have to pay a one-time fee of $129.95 to dropship their products. Then, you can purchase jewellery with a 10% discount along with white label service and free image use. They do have product minimums for each item though.
Home & Furniture

Furniture Pipeline is the top name in its unique niche of lightweight, eco-friendly furniture. They also have a pipeline design studio so you can create your unique line of furniture.
The company requires no membership fee nor a minimum order. Once registered, drop shippers can find their feeds of live inventory updated every 6 hours, product photos and info, instructions, and more.
One great thing is Furniture Pipeline has created SEO-friendly titles, descriptions and attributes. This can save you from pretty much copywriting works.
Although the supplier does not have a return policy, they provide a Buyers' Remorse Allowance. This charges 4% of every wholesale order, allowing product returns in any circumstances. If you do not fancy this, you can suggest another "return & exchange" policy suitable for your business.
Sagebrook home is a professional dropshipping supplier in the field of home decor. Its product portfolio has more than 10.000 products with a variety of categories. You can shop for lighting, home accessories, wall decor, and furniture there.
The company requires no membership fee but you need to provide a functioning business website before submission. For shipping, it can deliver in the US only.
Pet supplies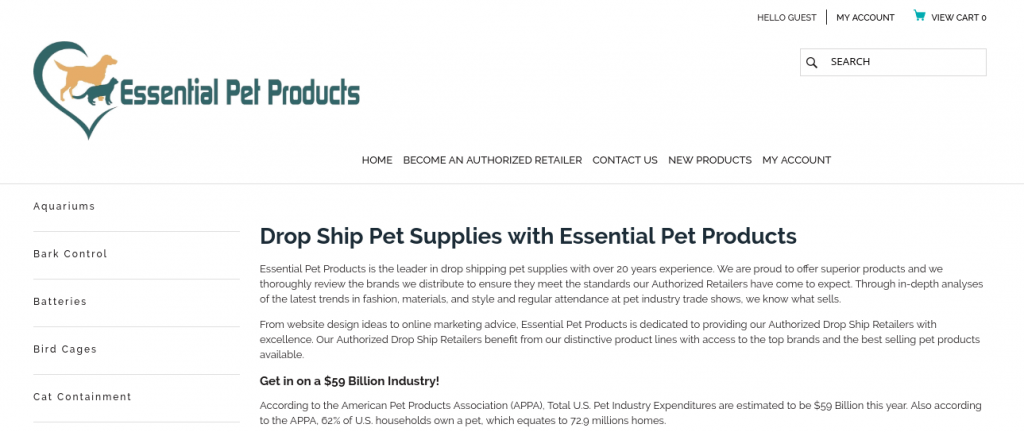 Essentialpetproducts only accept merchants in America and Canada. This says something about their commitment to quality. They have been in the business for more than 20 years and have various product collections for cats, dogs, birds and fish. Some of them are unique and hard to find elsewhere.
The company does not have any membership requirements. You do not need to meet up any minimum orders as well. Yet one disadvantage is that they only accept US or Canadian companies. You must provide a legal address in order to register.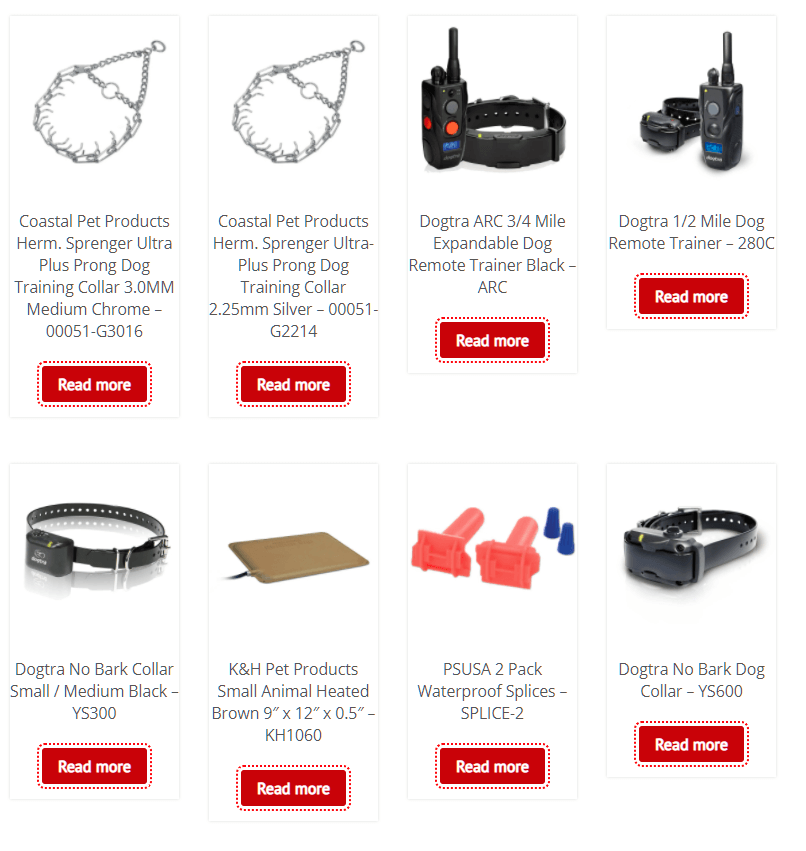 PetstoreUSA is a big pet supplies wholesaler in Ohio, offering more than 2500 items for cats, dogs, and other small animals. You can buy pet food, gear, toys, coat care products with many options. They are all made in the USA and lots of them come from reputable brands.
As you register to be their dropshipping partner, you will get access to their comprehensive product spreadsheet. They also offer white labelling as well as send shipment's tracking number directly to your customers.
Conclusion
When making this list, we have to examine lots of dropshipping suppliers in the USA market. And to our surprise, lots of popular suggestions on Google do not live up to its recommendation.
Thus, we create this list with a more thorough review so that you can find a truly reliable one for your store. Since we will be updating our list of best dropshipping suppliers in the USA regularly, tell us if you have any better names in mind.