People nowadays tend to bring less and less cash in hand for a lot of reasons related to convenience and security, etc. Instead, they make payments via debit or credit cards, which may look much alike, but actually work in very different ways. Keeping in mind the difference between a debit card and a credit card can be extremely helpful for customers to make wise financial decisions and for mobile shopping app developers to succeed in choosing the right payment gateways for their products.
1. Debit cards – How do they work?
Debit cards can be regarded as a version of checkbooks; they are linked directly to your bank account. Debit cards allow bank customers to spend money that they have by drawing on funds that they deposited with the card provider, and money is debited from your account as the transaction occurs.
You can only use your debit cards when you already have some money in your bank account. If there is not enough available fund in your account, your transaction will not be completed successfully.
2. Credit cards – How do they work?
Unlike debit cards, credit cards are not linked to your bank account. While using debit card usually takes funds directly from your account, a credit card allows you to make an amount of loans for purchasing things and pay for them later. The amount of loan the bank can make available for you depends on some certain condition such as your income or your credibility, etc.
Each month the bank will send you a statement of your outstanding balance. You can choose either to pay the bill in full amount by a set date without bearing any kind of interest, or you can make a minimum payment and pay off the rest over time. It is significant to bear in mind that if you do not pay off the full balance every month, a certain amount of interest will be applied to your loan.
3. Debit cards or credit cards? Why not both with 2Checkout Plugin by SimiCart?
Payment gateways play an undeniably important part in all e-commerce businesses, there are no customers who do not take strong consideration about the safety and convenience of the chosen payment gateways when purchasing online. At this point, 2Checkout Plugin by SimiCart with over 50 thousand sellers served around the world and 300+ fraud rules built over 14 years of experience since founded, is the best Payment Gateway for your mobile shopping app.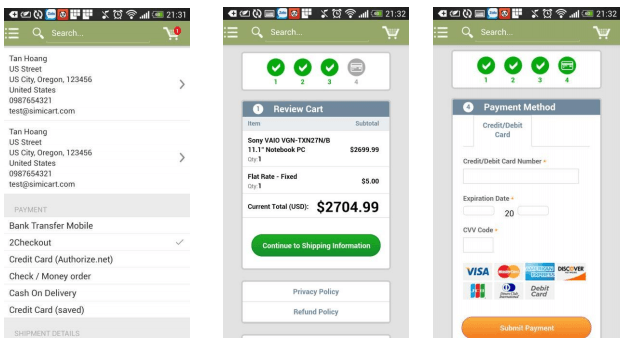 Simple to install
Easy to configure
Supports Android and iOS
Allows payment with credit/debit card
Connects with 2Checkout
Compatible with Magento Community version 1.4, 1.5, 1.6, 1.7, 1.8 and 1.9
Do not hesitate, a superior payment gateway solution is just a few steps away from you.
RELATED POST:  5 reasons why 2Checkout is the best Payment Gateway for mobile shopping app »