For anyone who wants to build an application on mobile devices, mobile Magento is an ideal choice. However, have you known how to create Magento mobile app in the fastest way?
1. Why choosing Magento stores?
Magento is the best open source for M-commerce nowadays for outstanding features:
Multiple stores creation
App management
Free technical supporting
Multi-devices compatibility
Customization
Low cost
2. Create a Magento mobile app  in an easy way? Find SimiCart!
Building a native mobile app which can synchronize with your Magento stores is properly not an easy task if you want to do it on your own, especially when you do not have enough coding skills. However, if you know where to go, you will find it an extremely simple thing.
a. SimiCart, what is it?
SimiCart is a complete set of mobile E-commerce solutions that will help you turn your Magento store into an iOs or Android app in mobile devices in the fastest and most effective ways. Thus, if you want to create a Magento mobile app, you definitely should find SimiCart.
b. Why choosing SimiCart?
SimiCart is an excellent choice because it has many features and benefits: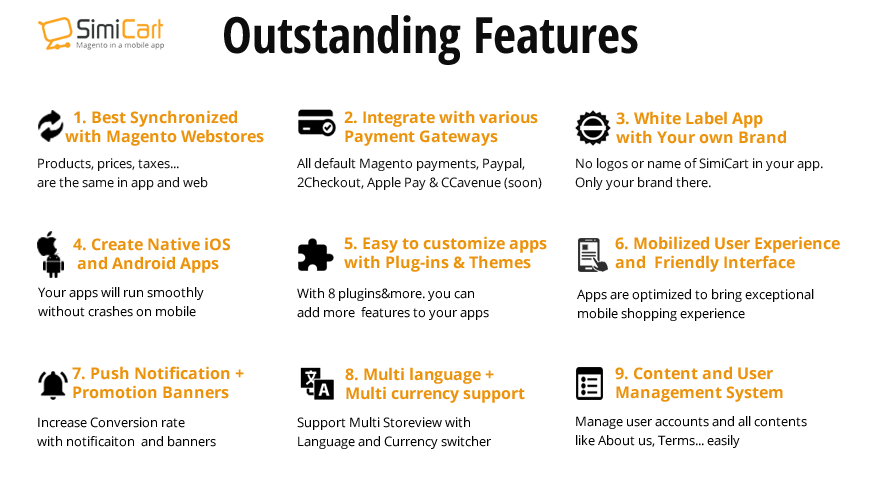 Automatically synchronize with Magento stores
Free to design with a lot of beautiful layouts for you to choose. Do you want a nicely-designed and structured shopping like Zara? Totally plausible.
Keep your customers nearby sending unlimited notifications to their mobile devices.
Enhance customers' loyalty with the exclusive Reward program.
All languages support and translated files available.
Many popular payments gateways available, or you can also integrate a new one if you like.
Simple steps of installation, quick and cost-effective.
c. How easy can it be to create a mobile app in Magento with SimiCart?
After purchasing SimiCart, a fully designed and configured Magento mobile app is only 4 simple steps away from you:
Input data: Provide SimiCart with basic descriptive information, such as name, logo, icon, theme color, etc. so that SimiCart can help you configure your app.
Connector installation: After purchasing, here you will see Connector and all the plugins you want with their user guide. Read carefully and follow those guides to finish installation steps.
App creation: At this step, you will begin building your app as you want. At first, you can create a test app and try using it on your phone.  Then, if you feel any dissatisfaction, back to connector installation step to  2 to re-build your app. If it satisfies you already, move to the final step.
Publish: This step is when you put your app on Google Play or Apple Store. Here, there are 2 choices for you. You ca have SimiCart published it for you with $50 or you can publish your app by yourself. It takes about 2 days for Google Play and 10 days for Apple Store to approve a mobile app. Once the approval process is complete, your customers can download your mobile app.
It usually takes about only 10 to 20 minutes to finish 4 steps above. With the rating point of 4.8/5 from users, SimiCart will assure your mobile app's success.
SEE MORE: