It has been quite a long time since Magento introduced their 2.0 version. With a more friendly user interface and improved performance, it is likely that many existing Magento 1 users will move to Magento 2 sooner or later. Flowing with the trend, SimiCart also released Magento 2 app in December 2016. Since then, we realized that many people out there need helps with this platform, hence this tutorial series.
Continuing to How to install Magento 2 on localhost, in this article, I will guide you through the most General stuff in Magento 2 Configuration. Normally, this is the first thing you need to do after installed a Magento 2 website, before anything else.
First of all, from the Admin Panel, navigate to Store -> Configuration.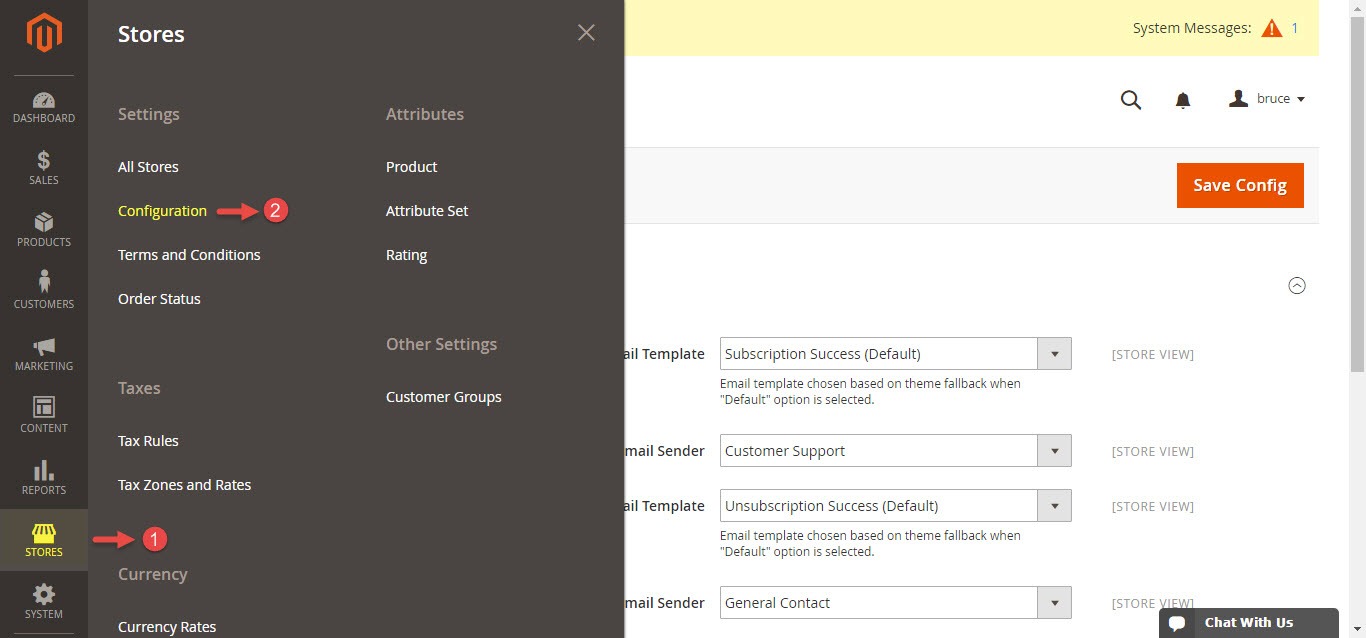 I. General tab
In the General tab of configuration, there are 5 fields that you should notice: Country Options, State Options, Locale Options, Store Information, and Single-Store Mode.
State Options
Stated is Required for: Default is All the countries dividing into States. You can remove one or more countries with "Ctrl".
Allow to Choose State if It is Optional for Country: Choose Yes or No.
Country Options
Default Country: Choose your Default Country, in our case, is the United States.
Allow Countries: Default is All Countries Allowed, but in case you want to remove any countries out of this list, HOLD Ctrl and click on this country, then remove one by one.
Zip/Postal Code, European Union Countries and Top Destinations: Same as above.

Store Information
Simply Add all your current information about your Store here.
Locale Options
Timezone: The Timezone of your Store.
Locale: The default Language.
Weight Unit: The weight unit will be used in your store, as well as shipping process.
First Day of Week: Setup your Calendar.
Weekend Days: Choose the Weekend Days.
Single-Store Mode
* Remember: If system has more than one store view this setting will not be taken into account .*
II. Web tab
In Web, you should notice these fields: Search Engine Optimization, Base Url (Secure), and Default Pages
Base URL (Secure)
This field will qualify the URL using Secure Base URL. You should notice this field because of these two options:
Use Secure URLs on Storefront: In case you wish your store frontend to open only via HTTPS, set this option to Yes.
Use Secure URLs in Admin: It's similar to the frontend, to secure the Admin of your store with SSL, you set this option to Yes.
Search Engine Optimization
If you want Search Engines to crawl and index your website, you must enable this option.
In "Use Web Server Rewrites", choose Yes.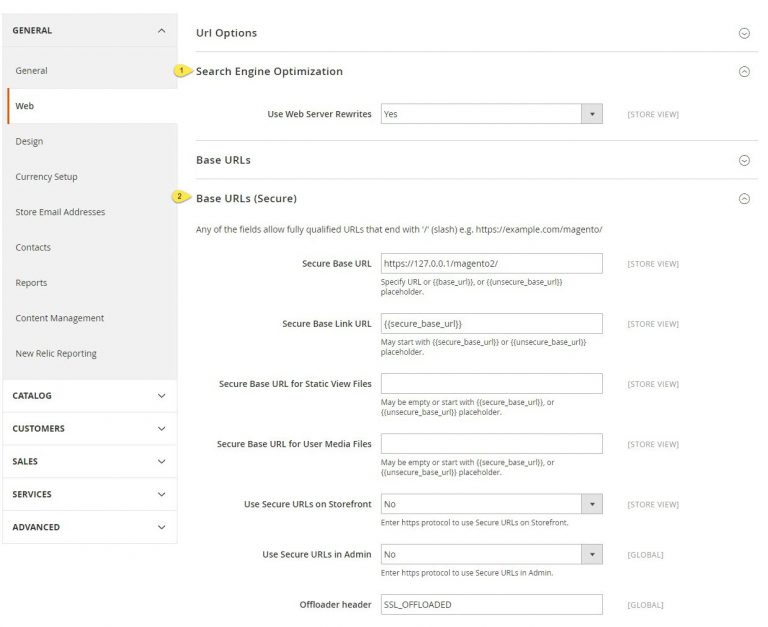 Default Pages
Generally, you should just leave these options as default. However, you should notice these options to avoid related problems.
Default Web URL: The default Web URL of your store.
CMS Home page: Default is the Home page.
Default No-route URL: The default No-route URL.
CMS No Route Page: Default is 404 Not Found.
CMS No Cookies Page: Default is Enable Cookies.
Show Breadcrumbs for CMS Pages: Default is Yes.
III. Design Theme
To design your web store, you need to know about these fields: Design Theme, HTML Head, Search Engine Robots, Header and Footer, and Pagination.
HTML Head
This field contains lots of search engine options:
Favicon Icon: Choose your own Favicon Icon.
Default Title: Create your Meta Title.
Title Prefix or Suffix: Can leave them alone, or create it, just depend on you.
Default Description: Create your Meta Description.
Default Keywords: Create your Meta Keywords.
Miscellaneous Scripts: This will be included before head closing tag in page HTML. You can put your Scripts here.
Design Theme
Design Theme: If no value is specified, the system default will be used. The system default may be modified by third party extensions.
User-Agent Exceptions: Normally you don't want to make any exception, but you can add any search strings to be excluded.

You can customize your Header with these options: Logo Image, Width and Height of Logo Image, Logo Image Alt and Welcome Text.
Search Engine Robots
Default Robots: You want to be certain that the options is INDEX, FOLLOW.
And you can add your robots.txt for more exclusion to other kind of bots.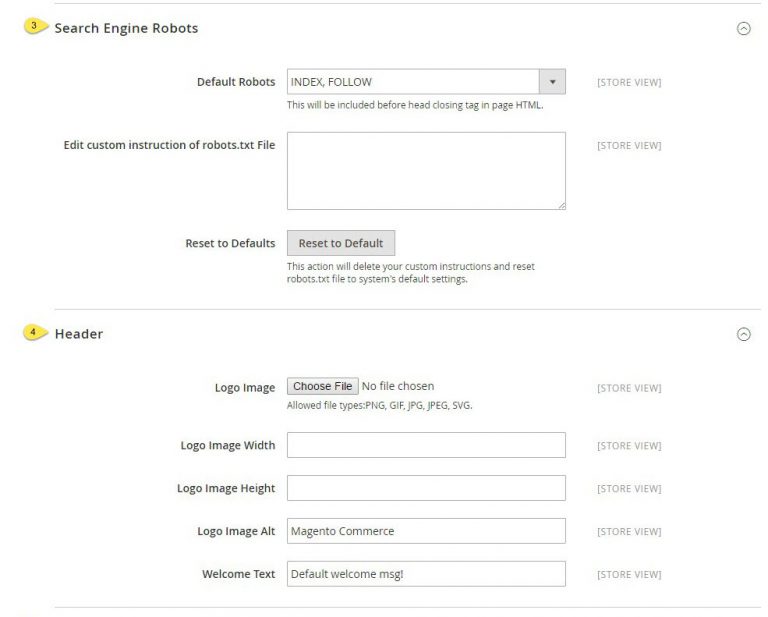 Then you could change the Copyright in Footer. Miscellaneous HTML will be displayed just before body closing tag.
Pagination
Pagination control is important in an eCommerce store. You can manage the settings of pagination easily in Magento 2.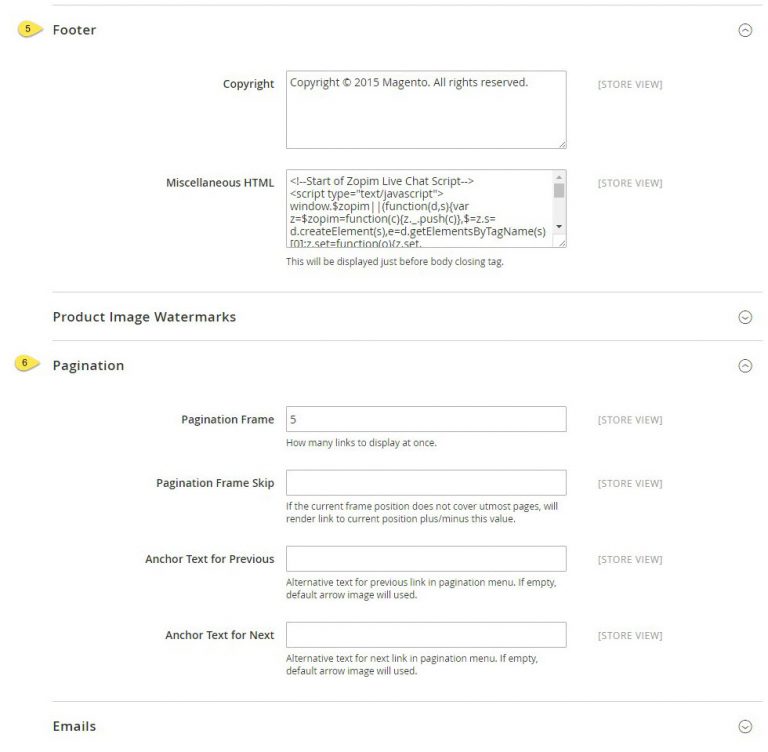 IV. Contacts
Contact Us
Enable Contact Us to Yes so your customer can contact you easily.
Email Options
Input your Email here, choose the Email Sender as well as Email Template.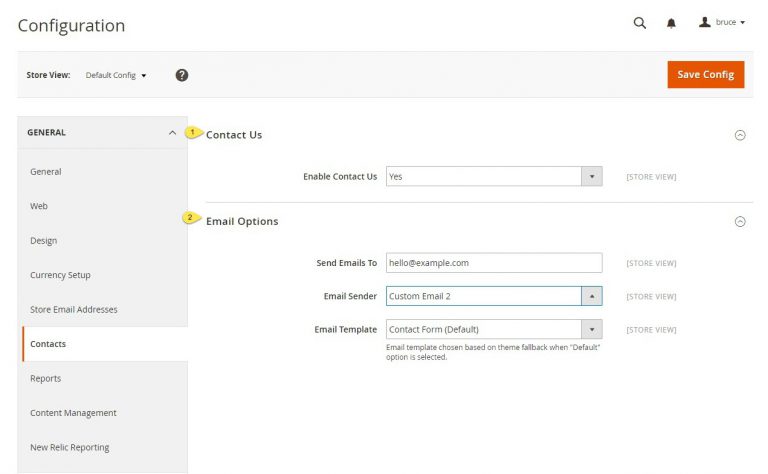 V. Currency Setup
In Currency Options, you just need to notice these fields:
Allowed Currency: The currency which will be allowed in payment of your store.
Default Display Currency: The Currency will be displayed in your store. Choose it as the same with Base Currency.
Base Currency: You chose the base while you was installing Magento 2. Base currency is used for all online payment transactions. If you have more than one store view, the base currency scope is defined by the catalog price scope.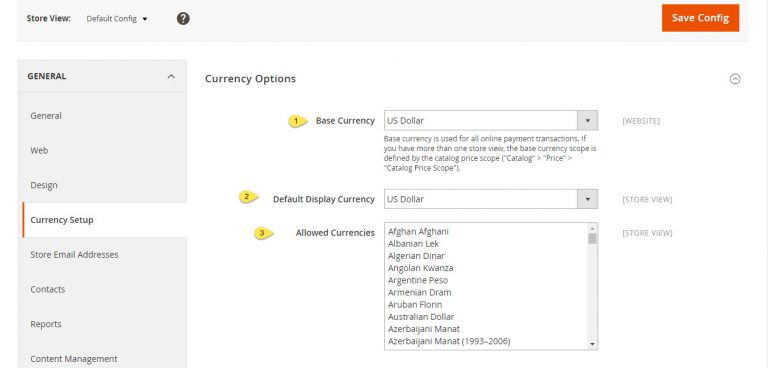 That's it! You have finished general configuration of Magento 2. I hope you find this post helpful.