For mobile shopping app, most of the popular Payment Gateways also offer their mobile version. However, it is still quite complicated to integrate those payment gateways to your app. Thus, if you want your customers to make purchases right on your mobile app; getting payment gateway plugins, a program that can easily be installed and used as part of your mobile app, is undoubtedly a need. 
In the previous article, I told you about how to configure 2Checkout on 2Checkout.com. To be continue, I will talk about how to configure 2Checkout Plugin.
2. How to configure 2Checkout Plugin
Step 1:
Go to your Magento mobile shopping app backend.
Step 2:
In the top bar menu of the Admin Panel, follow SimiCart/ Payment/ 2Checkout (image below). 

Step 3:
It appears in the Payment Methods settings. Pay attention to the section 2Checkout Mobile. In this section, you have to fill in the Soft Descriptor ID, Approved URL that you already got from your 2Checkout account before (image below).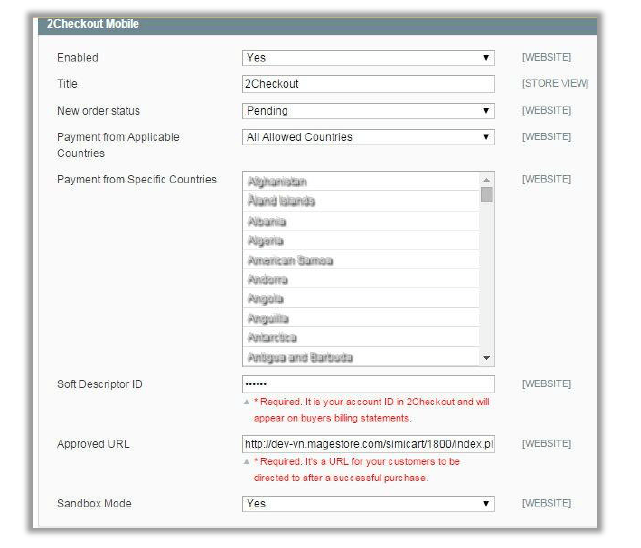 Step 4:
You can enter the title for this payment method to be shown in your app. Besides, you have to select New Order Status, Payment from applicable countries.
Step 5:
If you want to sandbox, make sure to turn Sandbox Mode to Yes.
Step 6:
Please go back to your app to check your work. This is the final step to configure 2Checkout Plugin. Here is what 2Checkout will look like after all above things are finished (image below).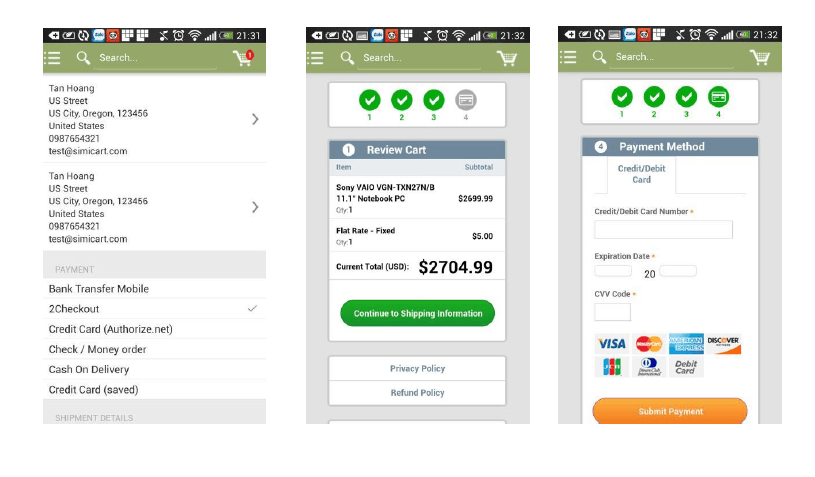 (*)
PREVIOUS: Configure 2Checkout in a few steps just like a piece of cake (part 1)
Should you have any questions, please feel free to contact and ask our support team at the email support@simicart.com or at the phone number 084.4.8585.4587.
Do not hesitate, only with $49.00 and you can have this amazing plugin for your shopping app.(**)


(*) All the information are provided by 2Checkout Plugin v1.0 User Guide, Copyright (c) 2014 simicart.com
(**) You have to purchase SimiCart before getting this plugin.
Your satisfaction is the center of our vision and mission.
RELATED POST: 5 reasons why 2Checkout plugin is the best Payment Gateway for mobile shopping app