If you are exploring hosting for couple of hours, then, you might come across this statement over the internet:
"Your hosting can make or break your ecommerce website"
Overall, hosting plays a vital role in streamlining an ecommerce business and eliminate uncertainties. Let's justify it by considering an example below:
It's 12 midnight on the dial and you are all excited about your most favorite online sale of the year. You pick up your mobile phone, search the store name and guess what? You ended up with a 503 error – service temporarily unavailable.
For a customer, it's really bothersome. But, it's more depressing for the store owner because he's expecting some exceptional sales tonight. Misfortune! Hosting disappointed and didn't act up to the mark.
That being said, if you don't want that nightmare coming true, then, it's a great wake up call to plan your hosting now and avoid all the uncertainties.
In this article, I will give you a detailed review of Cloudways – managed Magento hosting provider. So keep on reading till the end to know all about Cloudways and why you must opt for it as your premier Magento hosting platform.
Why I Underline Cloudways as a Managed Magento Hosting
With the simplified process – Cloudways gives you the ease of setting your dedicated server on the cloud hosting. Collaborating with top-notch cloud providers Digital Ocean, Vultur, Linode, Amazon Web Services, Google Service Platform, you can launch your own Magento server within minutes by following easy steps.
Step:1 Create an account with Cloudways
Obviously, it's your first time with Cloudways so you would sign up by providing some general information. Other than that, if you already have an account then that login button is for you.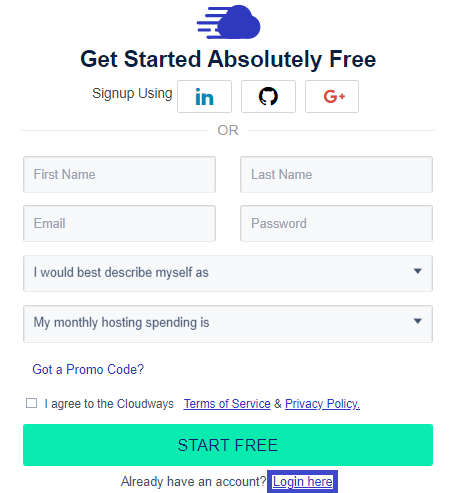 Step2: Launch a Magento Server
Select Magento version you want to work on.

Step: 3 Name you Application and Server
Type the name of your Magento application, server, and there's a default option New Project created which you can select by drop-down menu.

Step: 4 Choose Service Provider for Magento Server
Here you have five different options: Digital Ocean, Vultur, Linode, Amazon Web Services, Google Service Platform. Choose any one of them, select server size and server location.
Step 5: Launch
At last, click on the LAUNCH button.
Here you go, now you have your own Magento server which you can manage and upgrade at any time.
Server Management
I'm having a Magento website which I hosted on Cloudways. Where I can manage multiple operations related to Server Management and optimize my server as per my own.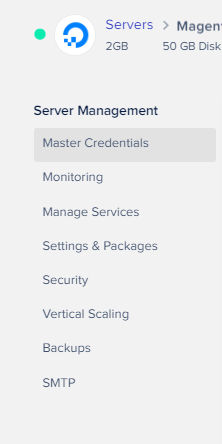 Start with the Master Credentials. It establishes communication medium by offering two options. One is SSH public keys for which you must work on Command Line Interface. Second is the SSH Terminal which is a more convenient way to communicate with the server.
Next is Monitoring. This feature keeps on tracking the resources that your Magento website consumes. It includes the usage of RAM, CPU, DISK space so you know which particular resource is consuming more. Hence, you can plan your resources accordingly.
Cloudways hosting platform takes away all the technical complexities and lets you focus on the growth of your website with Thunderstack. This stack is equipped with the Apache, Memcached, MySQL, Nginx, New Relic, and other technologies. It ensures to optimize store performance and sustain the load time of your website.
Later on, your business grows and comparatively, you experience more traffic on your website. With the current server requirements and optimization your customers can face delay in response time. In order to deal with such sort of scenarios, vertical Scaling is the great feature which allows you to scale your server at any time anywhere.
This is not yet! I have mentioned few important features which are related to server management. You can explore more as per your requirements.
Application Management
Moreover, you don't have to worry about the Magento application. Everything is available within the Cloudways platform that's required to build an exceptional Magento web application.
Cloudways eliminates all the technicalities of installing a Magento while taking care of its requirements. With, Access Details option you get a URL of your setup Magento store along with Admin Panel access. Besides you can also manage and maintain your database by accessing MySQL.
Gain the trust of your customers by integrating SSL Certificate to your Magento Store. Cloudways offers a Free of cost SSL certificate which you can switch in between the pre-default SSL and custom SSL.
I know as a store owner or developer, you are overwhelmed with the responsibilities and routine tasks. As an online store owner, it's your topmost priority to secure your data at any cost. For that, you must dedicate a resource to maintain a daily backup of your store functions and data.
In order to get rid of daily routine tasks, you can use setup a Cron Job Manager. It allows you to get rid of repeating the same tasks on a daily basis. Just hit the "ADD NEW CRON JOB" button, enter your desired operation and the rest will be taken care by Cloudways-Cron Job Management.
Cloudways Pricing
You will be pleased to know that Cloudways supports Pay-As-You-Go method. It means that you only have to pay for the resources that you have utilized. And, you can avail all the above features for as low as $10 per month.

It Is Time For The Test
Undoubtedly, the services and features offered by Cloudways are impressive which makes stand out among its competitors. In order to authenticate that I have compiled some benchmarking results for a Magento application and witness below comparative results.
The above result is without any data which means website doesn't carry any products at the time of evaluation.
In the above result I installed sample data, the performance of the website raised to Grade 'A' from Grade 'B' and load time is still in ms.
Is Cloudways The Best Hosting Solution?
Confidently, Yes!
Cloudways helps you to scale your business in terms of speed, performance and consistency. You have witnessed that it offers all the relaxation and rids you of all the old exercises.
Moreover, I have conducted two tests. One is the website speed test, and the other one is about how much time it takes to respond 500 requests. To provide you with clear results so as to help you know everything about the best Magento web hosting.
Now, it is your call to pick a hosting platform for your Magento online store. But I would recommend you to be smart and do a good search before hosting your website.
*Update Nov 15th, 2019:
As Black Friday and Cyber Monday is near, Cloudways is offering discount:
Offer: 40% OFF for 3 Months on All Plans
Promo Code: BFCM40
Validity: Starts from November 14th till December 4th, 2019.
Is it helpful?
Let us know if you liked the post. That's the only way we can improve.