Involving in the very last but not least step of the purchasing process, payment gateways play an undeniably important role in every online business, especially when it comes to purchasing process on mobile shopping app where safe and security are always put on top priority.
You might not know but it is undoubtedly true that when your business accepts some well-known brands of payment, it could instantly skyrocket your trustworthiness. Besides, it usually comes up with countries & currencies supported, or transaction fees when customers choose to purchase or not. This convenience might have a  huge impact on customers' decisions.
All in all, do you know how to choose an appropriate payment brand for your m-commerce? Let's pay more attention to these 3 factors:
Safe and security: This might be the reasons thousands of e-commerce merchants go to big brand of payment gateways. The good reputation of that brand could spontaneously improve your business images.
Countries & currencies supported: You must be sure about your targeted market and customers. If you are selling products internationally, a payment gateway that allows all types of currency and is accepted in almost every country is must-have. Otherwise, you have more choice with local brands if your market defines at a specific location or within a country.
Types of card accepted by payment gateways: When integrating with mobile shopping apps, some payment gateways only support specific kinds of card. You need to inform customers about it to avoid inconvenience that might arise.
Based on the above factors and request of customers, SimiCart develops an abundant system of payment plugin. You can choose among 9 popular payments. Let's see which one is born for you!
PayPal Mobile
PayPal is one of the most widely-used payment gateway around the world. As a result, PayPal supports almost every kinds of currency. The Paypal mobile will allow your customers to make purchase on mobile shopping app via both credit and visa card safely and quickly.
2Checkout
2Checkout is another outstanding payment brand worldwide, especially in the USA and Asian countries. If you are aiming at these markets, it definitely could be your first choice. 2Checkout mobile version allows both credit and debit card.
Checkout.com
Checkout.com is widely accepted in many countries and it currently supports more than 150 currencies. Similar to the above payments, customers can pay with both credit and debit card.
Paypal express
As Paypal mobile is limited in some countries (see the list here), Paypal released Paypal express which is accepted in almost every country. It is even more familiar than Paypal mobile. Paypal express can be integrated into both mobile webs as well as native apps.
CCAvenue
CCAvenue has been favored in various countries, especially South Asia. It also allows payment via both credit and debit card.
iPay88
As one of the leading payment gateway provider in South East Asia, iPay88 could be your choice when it comes to regional payment gateways.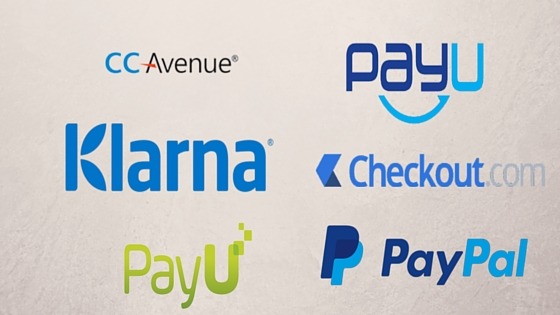 Klarna Checkout
Klarna Checkout compromises up to 10% of Northern European e-commerce market share and becomes one of the leading payment gateway providers across Europe. Klarna supports almost every popular payment methods.
PayU
PayU –  the leading provider of payment gateway – has been accepted in more than 16 countries and served about 2 billions of customers. It goes with credit/debit card and doesn't accept net banking.
PayU India
PayU India is India's most comprehensive payment gateway with credit cards, debit cards, and net banking in India. PayU India is a small branch of C++. PayU India on mobile app doesn't go with net banking and it is a local branch of PayU in India market.
These all above payment gateways plugin share a common feature: They help integrate your mobile shopping app with these popular payment providers so it becomes really convenient for customers to log in their own account and pay directly via their desired payment method. With the user-friendly interface, they could definitely enhance your user experience on the app. Also, these payment plugins are easy to install and configure.
SimiCart now supports all of these payment gateways. Just some clicks, your app is full of them. So Try SimiCart for free right now!
Let's take a look at SimiCart payment plugins, choose your best one and see how it can increase your customers' satisfaction.