Do you know that smartphones are changing the way people shop? Smartphones first appeared in 2007 and changed a lot of things in our life, including the way people shop. In the US, only 1% of all sales is completed through smartphones; however; 54% of customers search products on smartphones before making a purchase. Purchasing products through mobile shopping app is a popular trend in the recent years, and shopping app usage grew faster than any other category of apps (increased by 174% year-over-year). Do you want to catch this trend and boost your sales by using mobile shopping app? SimiCart is a great choice to help you build mobile shopping app easier and faster. Now, let explore how you can create your own Magento mobile shopping app with SimiCart.
Why choose SimiCart to build mobile shopping app?

SimiCart is a solution to create mobile shopping apps for Magento merchants. With some outstanding advantages, I believe that SimiCart will be a great choice for merchants to create their mobile applications to boost sales.
Most functions for mobile shopping app without customization
SimiCart provides to merchants most functions for mobile shopping app with more than 20 Plugins to create mobile shopping apps without customization. SimiCart has 4 categories of Plug-in to help you in building a mobile shopping app including: Theme, Payment, Rich Content and User experience.
You can see all features of SimiCart to build mobile shopping application here.
Support for merchants when building mobile shopping app
We have 30 days money pay-back guarantee and free support for merchants when using SimiCart. If you have any problem in building mobile app, please contact us immediately and we will support you for free.
Feedback of merchants for SimiCart

Create a great mobile shopping app with 4 steps now
Step 1: App information
In this step, you will configure your mobile shopping app such as name, logo, etc
Step 2: Install connector
Install SimiCart extension on your website to synchronize it with your mobile shopping app automatically
Step 3: Build mobile shopping app
You can create a test app now and you can test this app on your mobile. If you are not satisfied with it, you can go back step 2 and rebuild another one.
Step 4: Publish
After creating a mobile app, now you can publish your app to App Store/Google Play or SimiCart will submit it for you. Your customers can download and use your mobile shopping app.
Some beautiful mobile shopping apps created with SimiCart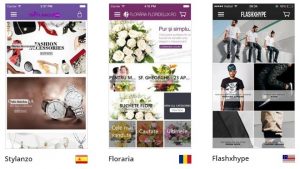 Building a mobile shopping app with SimiCart is very simple right? SimiCart will help you to create beautiful mobile shopping applications to boost your sales and bring the best experience to your customers when shopping online. Do not hesitate and try to build your mobile shopping app with SimiCart NOW.
You can read more articles about SimiCart: