M-commerce is the hot trend in recent years over the world. According to a research, 15 percent of people uses mobile to purchase products. The number of mobile users surpassed the number of website users in 2014.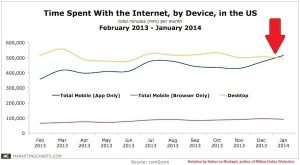 If you are a merchant and you dream about boosting your sales up to 50%, please read this article and understand how you can do it by converting website to mobile app. A Magento mobile app will make your dream comes true.
Why converting website to mobile app is a great way to boost sales
As we have known, more and more people are using their mobile to search and purchase products. According to a research about mobile users, the average American spends more than 2 hours on his/her mobile phone. Converting website to Magento mobile app to boost sales is feasible choice because more and more people will aware of your company and all products. Besides a website, now your business owns one more sales channel is your mobile shopping app to increase the number of customers and boost your sales. It sounds great, right?
When converting website to a mobile app, your customer can purchase your products immediately via the app. This will bring some main benefits for customers such as convenience in selecting and payment process, receive benefits from reward programs on the mobile app. If you convert website to mobile friendly, you can make differences to against rivals.
Improve customer engagement
When you provide a Magento mobile app, customers can easy to reach you through Message or help-desk on the app. Differentiation the way you communicate with customers can help you to boost sales. For example, customers can book in advance for using your service or products with just a few clicks on your mobile app.
SimiCart- a solution for converting website to mobile app
If you want to convert website to mobile app, here is a solution for you. SimiCart will help you to own mobile app synchronized with your Magento store with affordable price.

What SimiCart has to convert website to mobile app
SimiCart provides more than 20 Plug-in to help you in converting website to mobile via building a mobile shopping app that is synchronized with your Magento website. All of the feature you need will be available with SimiCart including: Theme, Payment, Rich Content and User experience, etc.
RELATED: Utilize available Zara theme to get eye-catching fashion shopping apps now »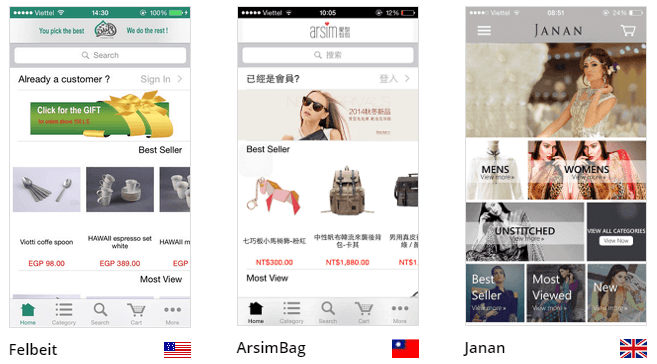 Converting website to mobile app with simple steps
After purchasing SimiCart, going to app management and do these following steps:
Step 1: Enter information
You fill all information about website URL, color, language
Step 2: Install connector
Install SimiCart extension on Magento website to synchronize it with mobile app
Step 3: Build Magento mobile app
Click "Build app" and you will see your mobile app created within 2 minutes and download it to your devices. If you do not like the app, go back to step 2 and make another one
Step 4: Publish
Now you can submit your app on Google Play or App Store or SimiCart will do it for you. You are succeeded in converting website to a mobile app and customers can use the mobile app to purchase your products directly.
See how merchants boost their sales by converting website to mobile app with SimiCart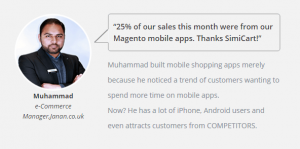 As can be seen, converting website to mobile app is a great method to boost your sales because of its benefits to your company and your customers. You can convert website to mobile faster and easier with SimiCart to boost your sales up to 50%, giving the best customer experience and get rich now and in the future.
SEE ALSO: How a 20 year old brick-and-mortar store in Brooklyn goes Magento mobile app »