Magento and BigCommerce are two popular eCommerce platforms for worldwide merchants. Whereas Shopify or WooCommerce does not have lots of built-in features to start with, both Magento and BigCommerce are known for their extensive functionalities. Wondering which platform is right for your dear business, this guide will be helpful for you. 
BigCommerce vs Magento: An overall comparison
Before we get into every nook and cranny, it's worth noting that we only compare BigCommerce with the open-source version of Magento. 
Different versions of Magento & BigCommerce
For your information, Magento has two versions: Magento Open Source and Magento Commerce (now renamed to Adobe Commerce). The latter is a full-package solution for enterprise businesses whose annual revenues reach millions of dollars a year. 
Meanwhile, the BigCommerce company also features a more advanced package called "BigCommerce Enterprise", which is equivalent to Magento Commerce. 
Thus, for a clearer comparison, we will let BigCommerce Enterprise and Magento Commerce fight with each other in another article. 
Infographic

There you have a comprehensive infographic ofBigCommerce vs Magento, now let's take a closer look to see how one platform is better than another. 
BigCommerce vs Magento: Pros & Cons
Magento
Is better than BigCommerce because:
One-time payment: A Magento store and most of its extensions can be implemented at once, then store owners do not need to pay any monthly fee. If your store is packed with various add-ons, Magento will be cheaper in the long term. 
More flexibility: Magento Open Source grants you the unlimited freedom to customize your store, as long as you've got a Magento tech expert. 
Rich built-in feature:

the original feature list of Magento open source is greater than BigCommerce and possibly all of the other SaaS platforms. Notably, there are great options for SEO, product recommendations, and shipments. 

No sales thresholds: Unless you decide to upgrade to the Commerce versions, you won't have to pay Magento any fees when your business grows and reaches high sales records. 
Multi-store management: Magento lets you create different stores with different catalogs under one domain. It means that you can create custom stores for various customer groups. Think B2B & B2C and international brands.  
Many themes & extension options: with more plugins and templates available, there are more service providers to choose from, as well as more reviews for their quality found to help with your buying decisions. 
The drawbacks of Magento:
Reliance on tech experts: Pretty much every vital change in your Magento store needs some coding skills to make. While Magento has just released a page builder for store owners to freely customize their frontends on their own, in general, Magento is not as easy to use as BigCommerce.
Take longer to launch
High initial fee
Require a decent third-party hosting
Does Magento sound good to you? Get a Magento site in 24 hours. Yes, we can make it faster to launch a Magento site.
BigCommerce:
Is better than Magento because: 
Simple to use: Anyone that can use a computer can use BigCommerce. 
Various payment methods: BigCommerce is pre-integrated with all popular payment companies, not to mention that if you opt for these companies' services, no transaction fee is charged.
Affordable pricing: with just $29.95/month, anyone can start selling online with BigCommerce. 
Can be launched in a couple of days
Hosting available
The drawbacks of BigCommerce:
Sale thresholds: Once your store reaches a certain yearly revenue, it's compulsory to upgrade to a higher plan.
Occurring fees: if you are paying for the platform and multiple extensions, costs may add up over time. 
Less flexibility: if you want to customize something, chances are you will need to work your way around to find a solution (if there's any). Customization is more straightforward with Magento.
BigCommerce vs Magento: A detailed comparison
Popularity
The popularity of an eCommerce platform partly reflects its capability and reliability. While both Magento and BigCommerce are top choices among eCommerce business owners, there is still a gap between their numbers of users.
According to BuiltWith, there are 151,526 live Magento websites at the moment, with over 10,000 websites in the top 1 million. 
For BigCommerce, the platform now has 51,434 live sites, of which 0,24% (2,350 websites) is in the top 1 million websites.
The winner: Magento
Ease of use
As store owners have a lot of things in mind, from designing a branding strategy to testing new products, they do not want to waste so much time on their websites. 
A platform with a clean and easy-to-navigate backend interface helps them quickly finish tasks to focus on other important things. 
Let's find out the usability of Magento and BigCommerce.
Magento's ease of use:
Codes needed for installation and customization
Magento requires IT knowledge to set up a new store from its source code. These tasks include setting up the FTP file, integrating a storefront theme to your Magento site and so on.  needs to be done 
Moreover, it's difficult for non-tech-savvy users to make some further changes to their Magento websites because the tasks also include coding knowledge. These include modifying a theme, integrating an extension, uploading security patches, optimizing speeds, and more.
Thus, many store owners need to rely on a Magento expert to develop and maintain their Magento websites.
Easy backend management 
However, after the initial technical setup is done, users can easily customize attributes and functions for their websites in Magento's backend. The interface is quite intuitive even for first-time users. Adding products, creating customer groups, setting up currencies, and more can be done in a breeze.
Self-manage hosting
Last but not least, Magento users need to find an appropriate hosting solution and manage it all by themselves, which may take them more time and effort. 
BigCommerce's ease of use
BigCommerce, on the other hand, is much more pleasant for non-techie store owners to build their eCommerce websites.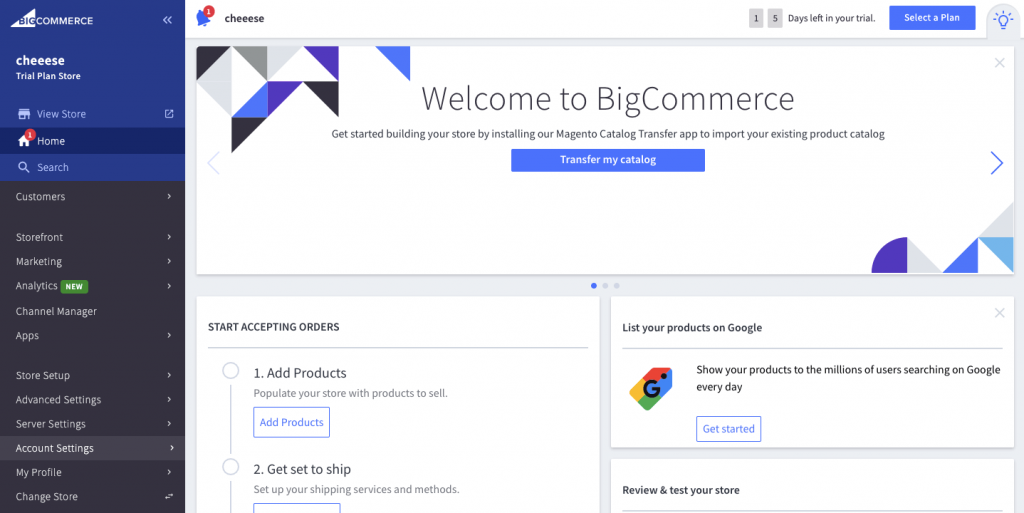 There is no technical installation needed, you only need to fill in some simple information to get access to BigCommerce's dashboard. From here, you can easily configure and manage all aspects of the store, from importing products to changing your page's layouts. 
BigCommerce features a drag-and-drop page builder so you can easily create stunning looks for the store without writing any single line of code.
Furthermore, themes and extensions can also be easily added with just a few clicks. Hostings also come out-of-the-box in the package. 
TL;DR: both platforms have an easy-to-navigate backend interface for management activities. While installing and customizing a Magento website requires coding, BigCommerce lets users do all of these works without any technical skills.
The winner: BigCommerce
Pricing
Magento's pricing
Whereas the community version of Magento is 100% free to download and use, the cost for a Magento website is its development cost. 
Although different businesses have different needs, it costs at least $4,000 – $5,000 to build a fully functional Magento store.
Moreover, as Magento is an open-source platform and everything is self-hosted, you need to pay for hosting services and domain also. The cost for Magento hosting ranges from $15 – $110/month. 
Last but not least, it's worth considering the overall prices for themes and extensions of an eCommerce platform, as these also add up to the general cost. A Magento extension costs from $70 to $400 for a lifetime license, while a decent paid Magento theme would cost you from $80 to $150.
*Free themes and extensions are available
BigCommerce's pricing
BigCommerce, like Shopify or Wix, charges you every month. They feature four plans with three pricing thresholds. If your store reaches a sale threshold, you need to upgrade to a higher plan. 
Standard: $29.95/month – for annual revenues of up to $50k
Plus: $79.95/month – for annual revenues of up to $180k
Pro: $299.95/month – for annual revenues of up to $400k
Enterprise: upon requests
The pricing includes hosting and a domain name already. 
As for BigCommerce templates and plugins, here are the general pricing:
BigCommerce's theme on its official app store: $195 – $300
BigCommerce's theme on Themeforest: $60 – $200
BigCommerce's plugin on its official app store: $9- $90/month.
*Free themes and extensions are available
The winner: BigCommerce
>> See more: How much eCommerce website development costs
Built-in features for eCommerce
Readily available features help sell online easily and provide a smooth buying experience without spending money on any other plugins. For eCommerce store owners, it means convenience and efficiency. 
We make a full comparison of the built-in features of Magento and BigCommerce to see which ones offer more benefits. Please note that since BigCommerce charges you based on three plans, not all features below are available for the cheaper plans.
Sales channel integration
Connecting your online store with other prominent channels for eCommerce such as Amazon or Facebook increases your chances of being seen. The integration will also automatically sync your products, and prices into these channels, so you do not have to do it manually.
| | | |
| --- | --- | --- |
|   | Magento | BigCommerce |
| Amazon | ✅ | ✅ |
| eBay | ❌ | ✅ |
| Walmart | ❌ | ✅ |
| Facebook Shop | ❌ | ✅ |
| Instagram Checkout | ❌ | ✅ |
| Google Shopping | ❌ | ✅ |
Whereas Magento only offers the most common built-in integrations, BigCommerce makes it easier for store owners to expand their sales channels. 
SEO 
SEO (search engine optimization) is a set of practices to help your online store get found on the first-page results of search engines like Google. It can drive a huge number of potential customers to your website without any significant costs. 
| | | |
| --- | --- | --- |
|   | Magento | BigCommerce |
| Google site map | ✅ | ✅ |
| SEO-friendly URL | ✅ | ✅ |
| Rewrite URL | ✅ | ✅ |
| Meta description | ✅  | ✅  |
| 301 redirects | ✅ | ✅ |
| Blog | ❌ | ✅ |
| Mobile-friendliness | ✅ | ✅ |
Magento and BigCommerce are equally equipped with handy features for SEO. The only difference is that you've got a built-in blog in BigCommerce whereas, for Magento, you need to integrate a blog extension. (e.g. connect your Magento site with WordPress blog).
Still, both platforms are wide-known to have great SEO capabilities. If you want to implement more SEO practices besides these essential features, plugins and extensions are widely available for you to achieve your SEO goals.
Product filtering, checkout & shipping (buying flow)
Providing perfect customer experience has been the top sales & marketing goal for modern business. For an eCommerce website, it starts with an effortless purchase flow: customers can easily navigate your site, find the products they are looking for, and complete transactions in a breeze. 
The features for effective product filtering and streamlined checkout will help store owners create a smooth buying experience that every customer loves. 
| | | |
| --- | --- | --- |
|   | Magento | BigCommerce |
| Product filtering  | ✅ | ✅ |
| Product comparison  | ✅ | ❌ |
| Recently-viewed product | ✅ | ✅ |
| Wishlist | ✅ | ✅ |
| Multi-tier pricing | ✅ | ✅ |
| One-page checkout | ✅ | ✅ |
| Checkout as a guest or as a member | ✅ | ✅ |
| Tax rates setup | ✅  | ✅  |
| Real-time shipping quotes | ✅ | ✅ |
| Shipping to multiple addresses | ✅ | ✅ |
| On-site order tracking from customer accounts | ✅ | ❌ |
| Reorder | ✅ | ✅ |
In this comparison category, both offer extensive features to let customers buy at great convenience. 
Product merchandising and promotion
Products are the most important thing to a business, which decide its success opportunities. A sale-driven eCommerce website must showcase its items in the best light, optimize the chance to captivate customers' attention and win their hearts. 
Product merchandising done right will make it possible. 
| | | |
| --- | --- | --- |
|   | Magento | BigCommerce |
| Product ratings & reviews | ✅ | ✅ |
| Customer groups and segmentation | ✅ | ✅ |
| Personalized products | ✅  | ❌ |
| Abandoned cart email | ❌ | ✅ |
| Related products | ✅ | ✅ |
| Persistent cart | ✅ | ✅ |
| Products bundles | ✅ | ❌ |
| Recently viewed and compared products | ✅ | ❌ |
| Newsletter | ✅ | ✅ |
Both platforms enable product reviews to build customer trust and customer segmentation to deliver better-targeted marketing.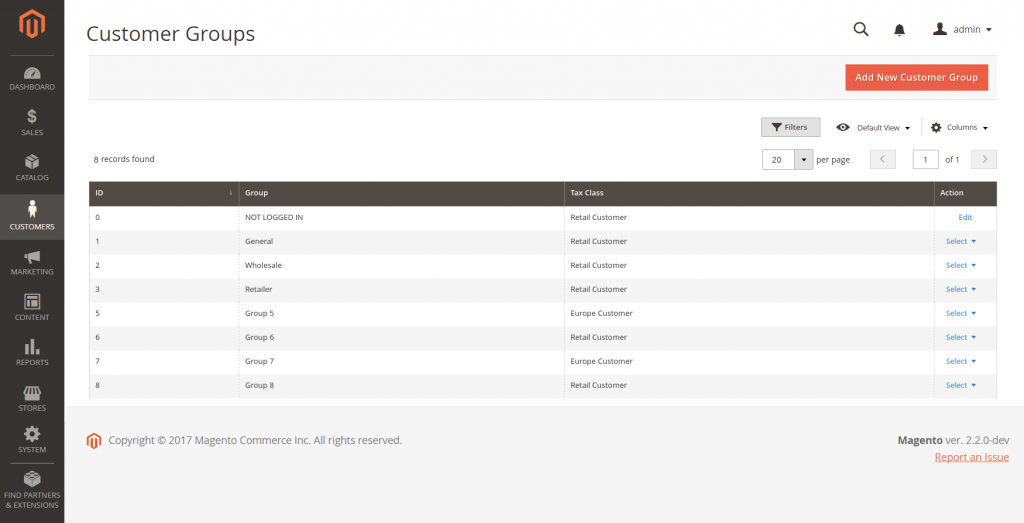 On the other hand, Magento makes it much more convenient to promote, upsell, and cross-sell relevant products. For BigCommerce, you would need to buy some extensions. 
Payment
| | | |
| --- | --- | --- |
|   | Magento | BigCommerce |
| Payment gateway | 2 | 65 |
| Transaction fees | Depend on payment gateways | Free of charge |
| Checks/money orders | ✅  | ✅ |
BigCommerce's payment
BigCommerce is the top choice for payment options. The eCommerce platform connects with more than 65 big payment solution providers, including mobile wallets such as Apple Pay and Google Pay. You also need not pay any transaction fees to use these services.
In terms of offline payment, BigCommerce supports a wide range of methods from checks and bank deposits to cash and cash on delivery. 
Magento's payment
Magento, however, only supports Paypal and Authorize.net by default. Thus, if you want to use another third-party payment, you've got to rely on extensions. The platform does not charge you any fees, yet you may need to pay some processing fees depending on the payment providers. 
On the offline end, Magento offers the same benefits as BigCommerce, plus, the ability to accept purchase orders. This is suitable for businesses whose each order is often great in value or has a high volume. 
In a nutshell, both Magento and BigCommerce offer amazing capabilities. While Magento is better for multi-store management and on-site promotions, BigCommerce makes it easier to integrate with different sale channels and payment gateways. 
It's a tough competition, and we call it a fair game.
The winner: It's a tie
Themes & extensions
Besides built-in functions, themes and extensions are two other crucial factors that make your digital store powerful. The wide availability and the high quality of templates and plugins let you customize your website conveniently. As a result, you can create a unique website that is optimized to drive sales for your business. 
Simply browsing the marketplaces of BigCommerce and Magento, you will find tons of opportunities to upgrade your eCommerce store, from improving SEO in minutes to turning it into a professional site for B2B businesses. 
| | | |
| --- | --- | --- |
|   | Magento | BigCommerce |
| Extensions | 3,520+ | 1,115 |
| Themes on the official marketplace | 5 | 87 themes (include 12 free themes)  |
| Themes on ThemeForest* | 404 themes | 86 themes on  |
*Themeforest, which is a part of the Envato market, is one of the most widely used themes markets globally. 
The winner: Magento
>> See more: 
Performance
A speedy website undoubtedly leverages your customer's shopping experience, whereas a slow digital store challenges visitors' patience and reduces their shopping motivation. No store owners want this.
An eCommerce website's speed relies on many factors such as the number of products, photo sizes, caching, etc. A platform, with its hosting capability, also contributes to the loading time greatly.
Magento's performance
As Magento requires third-party hostings, its speed performance relies greatly on the hosting plan, its bandwidth, storage, Content Delivery Network, and so on. A digital store built with Magento can be super fast if hostings and some other optimization factors are done right. 
Also, Magento is the leading platform in using Progressive Web App (PWA) – an advanced web technology to bring your loading speed and user experience to the next level. 
Thus, while it's hard to judge Magento's speed performance, the platform has an undoubted potential to be lightning fast. 
BigCommerce's performance
BigCommerce's performance is easier to measure since it's a hosting-included solution. The platform guarantees 99.99% of uptime on average and also integrates with Google AMP to deliver speedy mobile pages. Moreover, its image management tool is helpful for store owners to optimize their photo sizes to maintain instant loading times. 
The winner: it's a tie
Scalability
Scalability refers to the platform's ability to maintain its performance and efficiency when your store grows big. Huge eCommerce sites, as opposed to starter sites, need to handle lots of resources and data every day, thus requiring more powerful hosting plans and dedicated maintenance work.
While both Magento and BigCommerce hostings are capable of handling enterprise-level traffic and sales numbers, Magento is better for scalable businesses. 
The reason is that Magento does not have a sales threshold, whereas, for BigCommerce, you would need to upgrade to a bigger plan once you've reached a certain annual revenue.
Let's take a look at its pricing again
Standard: $29.95/month – up to $50k annually
Plus: $79.95/month – up to $180k annually
Pro: $299.95/month – up to $400k annually
Enterprise: upon requests
Moreover, once gained the momentum to grow, businesses need to seize every opportunity. A straightforward way to customize their digital stores to achieve their goals is what thriving business needs. Magento, with its high customization capabilities and rich extensions and themes collection, is a perfect fit. 
The winner: Magento
Security
A secured digital store lets your customer feel safe to buy enjoyably, as well as save business owners from many risks of cyber-attacks and fraud.
Magento's security
Magento itself is a very safe and stable platform. It offers two-factor authentication, secure URLs, backup, and frequent security patches to help businesses avoid data leakage or fraudulent transactions with peace of mind. 
Other factors for a safe site depend on the hosting option you choose. A shared hosting plan can bring more security threats to your site than a VPS or a dedicated-hosting one. 
BigCommerce's security
BigCommerce takes every essential security practice needed to grant store owners a highly safe selling experience. They include features for dedicated SSL certificates, firewalls, backups, and intrusion detection.
In summary, both platforms are remarkably safe for store owners to sell, collect data, and process transactions without worries. 
The winner: It's a tie
Customizability
Customizability refers to the ability to adjust any core built-in functionalities, themes and extensions to meet a website's specific needs. If you have some unique ideas for your eCommerce website, you will need an eCommerce platform with high customizability. 
Magento's customizability
As an open-source platform, Magento lets developers access its source code freely, which means the limitless ability to customize. 
BigCommerce's customizability
On the other hand, BigCommerce, as a SaaS platform, does not allow any backend intervention. You can use some codes to adjust some details in the frontend (the store themes), such as utilizing Javascript. However, since many customizations need to be done in the backend, in general, there're more restrictions on what you can do. 
The winner: Magento
Time to launch
For businesses, time is money. The faster it takes for your eCommerce website to operate properly, the earlier you can begin to utilize this channel to drive sales. 
Because Magento includes a developing phase, it takes at least a month to launch a Magento website. For BigCommerce, the period is shortened dramatically, as store owners can just simply drag-and-drop a storefront, import products, integrate payment options, and finish other necessary tasks within 1 week. 
The winner: BigCommerce
Support
It's not simple to run an eCommerce business, and it's definitely more difficult when your digital store encounters some issues. A responsive support team with a high problem-solving attitude can save store owners from many complicated troubles.
Magento's support
Adobe does not offer any support for the Magento Open Source version users. However, being one of the most popular eCommerce platforms for more than 10 years, Magento has a large community of store owners and developers on its official forum. If you face some issues, chances are that some store owners have experienced the same thing, and they can provide you with some help.
Moreover, after site installation, if you are happy with your Magento development team, they can be a reliable expert to come to when you need help.
BigCommerce's support
When it comes to supporting, BigCommerce is doing better than Magento. The platform offers 24/7 support via message, phone, and ticket for all plans. 
It also has a community, a help center, and a knowledge base for store owners to equip themselves. 
The winner: BigCommerce
Which is better for your business?
BigCommerce or Magento? The right platform is the one that helps maximize your strength and minimize any unwanted troubles for your businesses. 
BigCommerce is great for…
BigCommerce, with its simplicity and great start-up pricing, is amazing for small and individual businesses whose budget is limited. They can launch their stores in a matter of hours, without spending time and money on technical development. 
Therefore, if you are a full-time worker who is trying to build a side business or if you have a local shop & trying to increase your online presence, BigCommerce is the best fit for you. 
Magento is great for…
Magento, on the other hand, impresses with its high customizability and unlimited scalability, which makes it the go-to platform for middle and enterprise companies. Small business owners, who intend to scale up their stores fast, would also prefer Magento to skip the sales thresholds. 
Furthermore, if your store needs a more complicated structure than a standard eCommerce (E.g. you intend to open internationally, you are targeting B2B & B2C at the same time), then Magento with its open-source nature would enable better customization and stability. 
If you are thinking "I am that store owner", build a Magento site with us today!
Wrapping up
Most of the differences come from the fact that Magento is an open-source platform while BigCommerce is a software-as-service platform. 
To capture it briefly, a software-as-a-service platform provides software using a cloud-based system. You can access the software via the internet and do not have to download it to your computer. It's like you are buying an apartment. It's cheaper with many facilities available, but you will face some restrictions. 
Building open-source platforms, on the other hand, is like buying a whole plot of land, which is more expensive, more effort but also means more freedom. 
After understanding these, finding the right platform for your business is easy as pie. 
We have compared Magento and BigCommerce from many different perspectives in this article and we hope that you have found the information you need. 
Note: even if you see that the chosen platform doesn't meet your current business needs & objectives – you can always migrate your store database to another shopping cart solution with Cart2Cart.