Smartphones have come a long way since its early days, as it's now become a must-have in the travel industry. With the help of smartphones, you can do virtually anything—from reading guidebooks, navigating with apps, to booking services within seconds of wait-time.
Whenever you want to explore a new destination, make currency conversions, or book a local tour guide, there's an app for you. However, low-quality networks or lack of internet connection are some unpleasant drawbacks that may deter these apps from working smoothly. And no user has enough patience for applications/websites loading for ages.
So how can we fix it?
The solution is Progressive Web App, an innovative technology that enhances mobile loading speed rate and still works perfectly well in bandwidth-limited environments. If you have not heard about PWA yet, we have an exclusive article for you to learn all about this amazing technology.
International top-brand companies like Uber or Trivago have realized the importance of PWA and integrated this new technology into their webpages. Their implementations have resulted in significant boosts in customer engagements, conversion rates, and just a whole new look and feel to the user experience.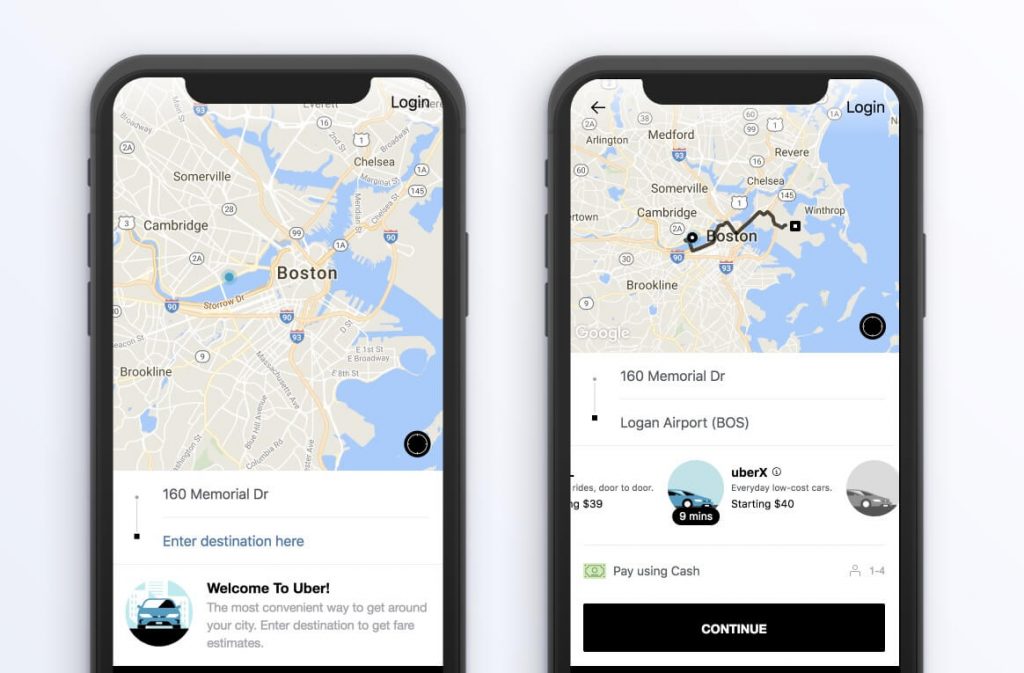 When it comes to Uber, most of us often associate it with the famous Uber car-hailing mobile app. But many people may not know that Uber also took a priority to continuously improve their mobile website experience.
Making the switch to PWAs, a lighter and more platform-agnostic version of their app, the company recognized an instant result with its new quick, accessible service regardless of network quality or device.
The new super-lightweight, 50kB PWA allows for speedy loading even on 2G networks and works efficiently on any older technology device. This version provides an excellent, fast-paced, and friendlier alternative for new and current users. Madhur Chadha – Uber senior product manager proudly shares the remarkable result achieved with the new PWA: time to first byte reduced (from 1.5s to 1.26s) and respectively, time for the page to become interactive (from 2s to 1.45s).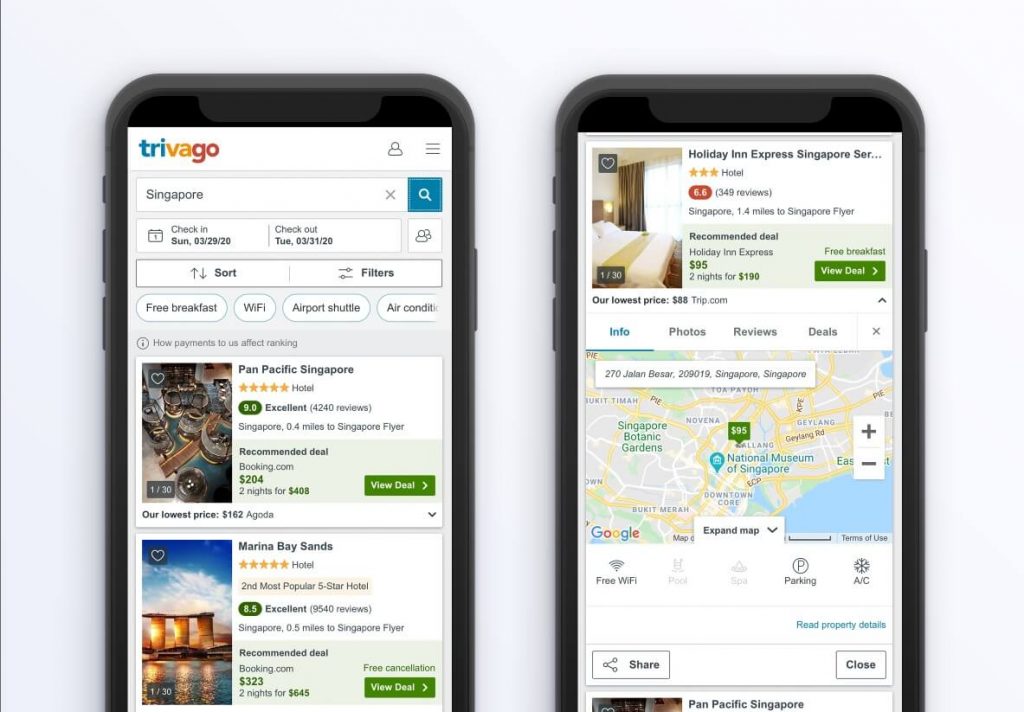 Trivago is one of the world's leading hotel search engines on the market. Available in 33 languages, it provides a platform where users can find the best hotel recommendations that are user-reviewed and packed with all the details you could possibly ask for, such as hotel locations, pictures, etc.
In recent years, Trivago has witnessed an unusually large number of users accessing their service through mobile devices, compared to the desktop and laptop devices. Letting no opportunity go to waste, the hotel search engine then decided to find a way to make the mobile experience better, more effortlessly. Native apps made its way into the consideration stage, but it wasn't ideal as users—on-the-go, hotel-staying users—are much less likely to download an app just to get information about a hotel.
After many considerations, Progressive Web App was the solution for them as it provides offline access, push notifications, and home screen shortcuts, with which the search engine was able to perform similarly, if not better than native apps while still being present on the web.
Results:
The webpage's engagement increased by 150% as more than 500 000 people added a Trivago shortcut to their home screen.
Progressive Web App attracted far more users than the previous version of their mobile websites (only 0,8% repeat visits were recorded before PWA implementation, now this number has increased to an average of 2%).
Push notifications turned out to be a perfect means of communication – they helped to increase conversion – the number of clicks in the PWA on hotel offers increased by 97.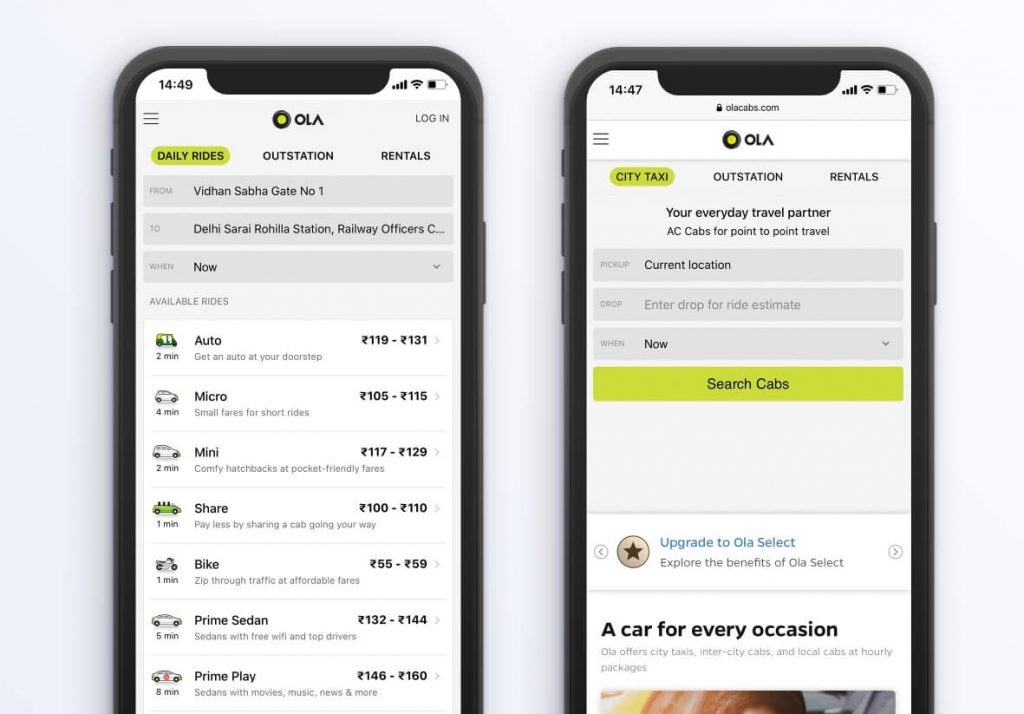 Founded in January 2011, Ola is the number one ride-hailing aggregator in India, operating more than a million daily rides with 25000 drivers in 110 cities.
One huge problem with Ola faced is its availability on limited bandwidth situations and its app size which takes up too much space on the users' devices, all of which are often the deciding factors for connection-deprived, hardware-limited types of users. Some non-frequent app users don't bother storing native apps on their smartphones, which moves Ola to figure out a different approach to these users.
In 2017, Ola launched a PWA partnered with Google to provide a solution with light and agile functionality. The new PWA has a smaller footprint (50 KB), which is 300 times smaller compared to its original mobile app, which takes up about 60 MB of space after installation. This is ideal for users with slower networks because the PWA website delivered low data consumption, allowing pages to load faster, and offer all the features of the native app in a less resource-intensive format.
Results:
Since the PWA introduced, Ola has effectively re-engaged with their previous app users and helped reach a broader set of users in new cities. The company has seen an outstanding increase of 68 % in mobile traffic and a 30 % rise in conversion rate.
PWA has also changed the user's habit as 20 % of users who book in their PWA had previously decided to uninstall the app.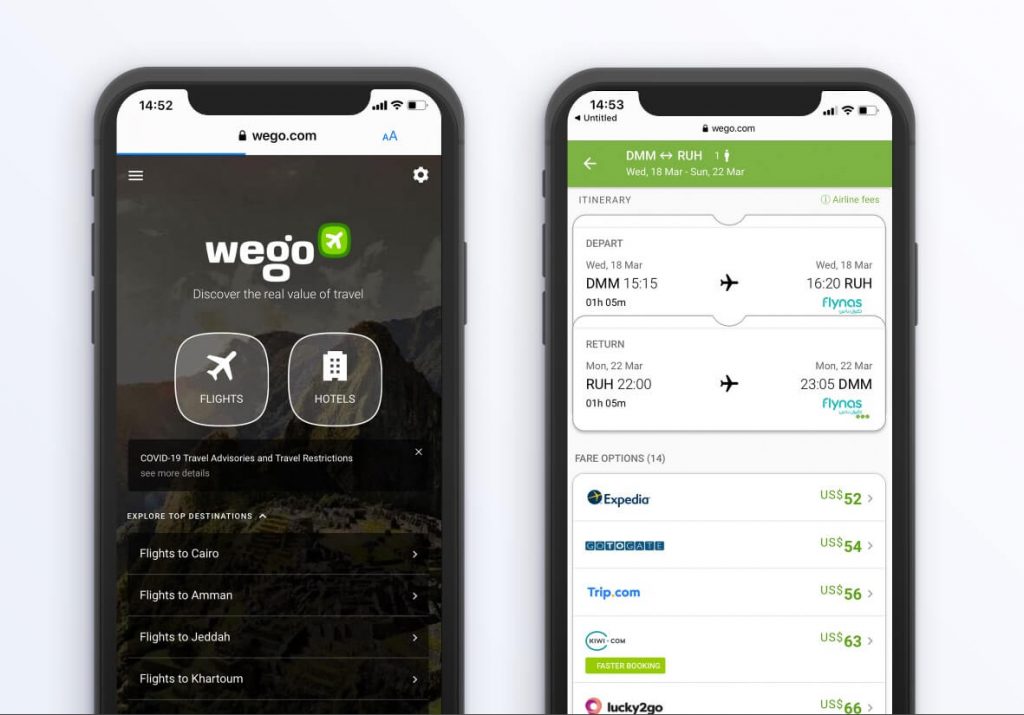 Wego is a well-known travel marketplace in Asia and the Middle East, offering a platform to compare travel costs in an instant from hundreds of global and local partners, including airlines, hotels, travel agents, and travel suppliers.
The company took a successful role in harnessing amp-install-service-worker to create a smooth transition into their PWA. This brought significant speed improvements to Wego's mobile web experience – Load time for new users is 1.6s, and under 1s for returning one. In addition, by integrating the Credential Management API and Polymer-built foundation, users can also gain several benefits like accessing saved credentials and surfing the website on a full-screen, app-like interface.
Results:
Wego noticed not only 26% more visitors and 95% more conversions, but also a 50% increase in conversions on iOS devices, and a 35% increase in average session duration.
The PWA can be accessed from a home screen icon – no install, no friction, and no commitment.
Makemytrip is an India pioneer travel company with nearly 8 million visitors to the site every month. Mobile has become the most preferred booking platform on Makemytrip, making up over two-thirds of the site's traffic.
Similar to Ola, the company realized a large portion of their potential users only have intermittent connectivity and visit the site from low-end phones with data limitations. These two factors made it difficult to navigate users to its data-heavy native app because these users preferred to use the service on their mobile browsers.
To satisfy this audience's needs, MakeMyTrip came up with a tailor-made solution for the majority of low-end smartphones in India. The solution was to go with PWA as it was the more suitable choice at the time—and still is—with which the site expected to see a fast, reliable, and polished mobile-web experience. With the added benefits of offline capability that comes with PWA, users of the site are guaranteed to not miss out on any deal when their phones are out of data. The site was certain that PWA was going to be a huge boost to their bottom lines. And it was.
Results:
Makemytrip saw a marked improvement in conversion rate, which is three times that of the previous one.
Page-loading time is now faster than ever, increasing 38% in terms of speed.
The site is also closing more sales with a 160% increase in shopper sessions.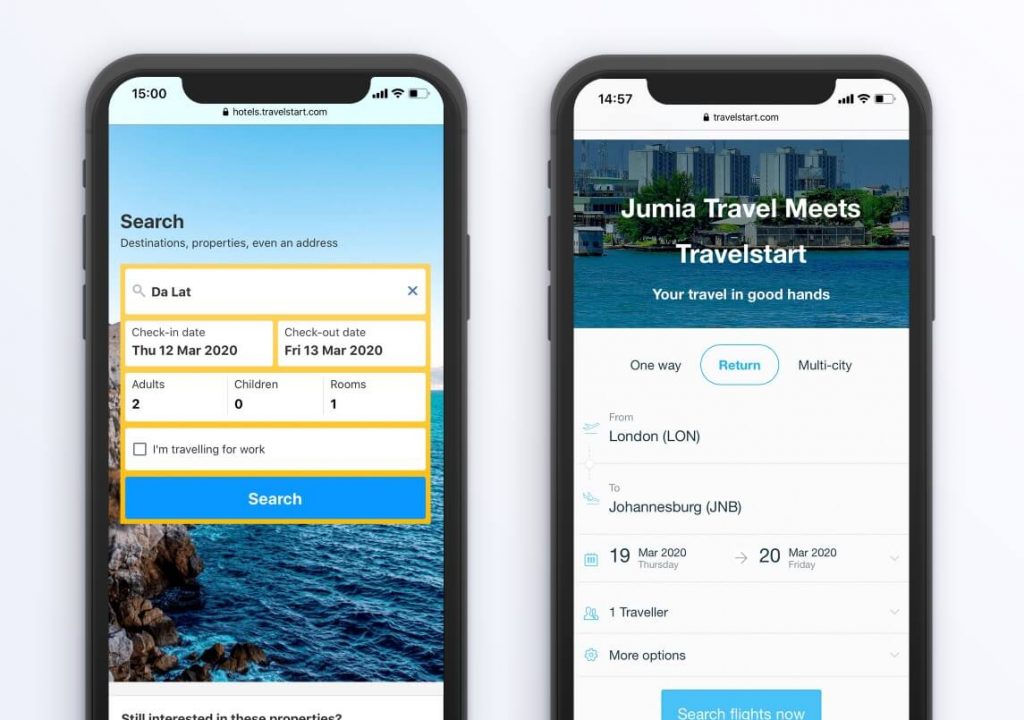 Founded in 2013, Jumia Travel is a travel branch of the bigger Jumia e-Commerce website specializing in hotel reservations across Africa. The website is available in multiple languages including English, French, and other African languages (Yoruba, Ibo, Hausa, and Swahili).
Back in early 2017, the company recognized that its current core audience primarily (75%) consisted of data-limited, connection-deprived audience with lower-end smartphones. The importance of a PWA was then recognized as vital to their business since it was set to provide the much-needed boost for its website to operate smoothly and engagingly even in unfavorable conditions.
Results:
By having the site integrated with PWA features, Juma Travel saw a drastic 33% increase in conversion rates compared with the previous mobile website.
Compared to traffics to its native apps on iOS and Android, traffics on their PWA site has increased twelvefold. Jumia also saw a 50% bounce-rate decrease.
"Africa is a mobile-intensive market, we are just getting started, and believe that creating more conducive and friendly ways to experience mobile [using PWAs] is a great stride in meeting customer needs."

Paul Midy – CEO of Jumia Travel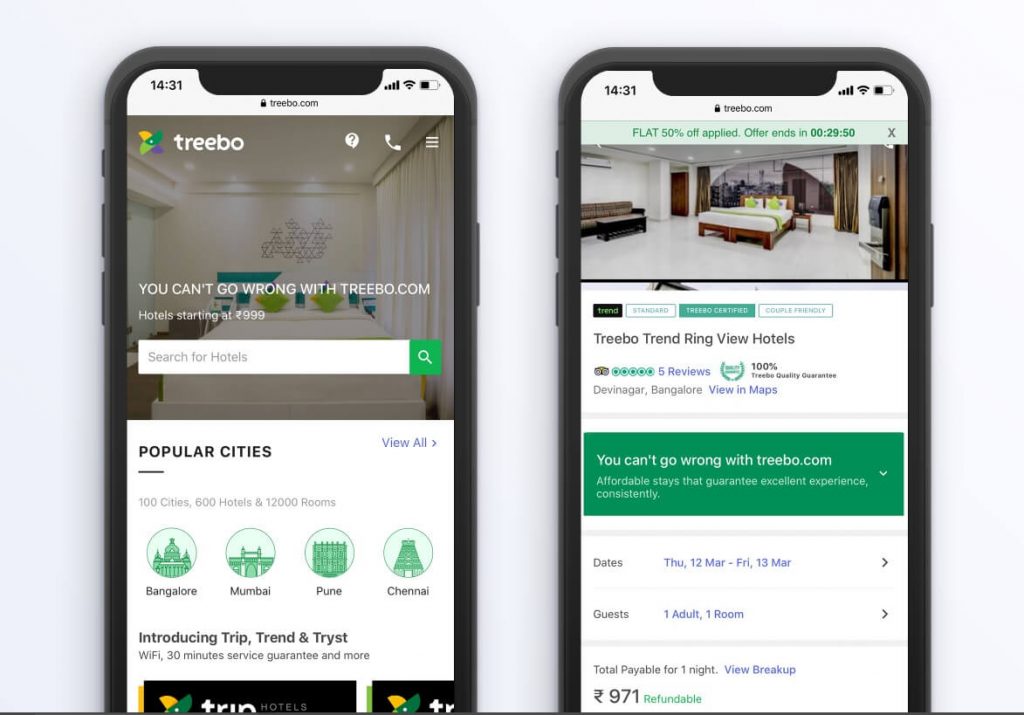 Treebo is an India top-rated franchising budget hotel chain, operating in a travel industry worth $20 billion. However, the company—as many others—found it a struggle to deliver an engaging, completely hassle-free experience for mobile users.
Furthermore, Treebo's developers were also concerned that, even in a favorable condition, their website still takes as much as 6 seconds to load, which is way higher than the average of 3 seconds that the typical viewer has the patience for.
PWA was the answer that they were looking for. It functions like a conventional mobile app is but does everything in the most non-app like manner. After launching their PWA, their page load time is improved immensely (1s on the desktop and 1.5s on mobile) and as a result, their organic traffic and conversion rate went up as well.
Results: extracted from pwastats
The Year-over-Year conversion Rate increased by 4 times.
The Monthly conversion rate rose by 2.5 times.
The Year-on-Year Conversion rate for repeat users increased by 3 times.
Conclusion
It's no doubt that the typical users of today's world have vastly different expectations from travel websites—from the way they look to their performance. This is partly due to the fact that customers are now all too familiar with better-performing travel websites who have all gone for the PWA approach which has been proven time and time again to drastically increase engagements as well as conversion rates.
Are you impressed with these results of PWAs from the travel industry? Share with us your thoughts in the comment section below.
For more inspirations, don't forget to check it out our other articles: