Good reviews of an eCommerce store are as important as great recommendation letters for students. According to Trustpilot, 89% of buyers read reviews before buying a product. From gaining customers' trust to upselling dramatically, a good product review app will make a huge impact on your business. This article will explore the best product reviews apps for Shopify in detail so you can make a smart purchase.
We believe that there are no such things as the perfect app, but only the most suitable one. For that reason, we compare the pros & cons thoroughly. No matter what your business size is, you can easily find the best product review app for your Shopify's store.
What makes the best product review app for Shopify
After examining dozens of product review apps on the Shopify app store, we come to the conclusion. A good product review app for Shopify must meet these criteria:
Easy to use and migrate: Since the majority of Shopify store owners are not tech-savvy, a smooth, friendly drop & drag interface is a must.
Featuring photo & video reviews: Photo & video in reviews undoubtedly makes it more reliable and captivating.
Easy to integrate with other apps: Especially with common Shopify apps that you might have already had such as Klaviyo or Omnisend
Beautiful aesthetics: the review section must be pleasant to the eyes of the customers so as to engage them to read and write more reviews.
Great value for price: It must have effective and unique features that are worth your hard-earned money.
Amazing customer supports: Store owners may struggle with new apps installation, troubleshooting and customization. They need an eager and responsive support team.
Featuring rewards and loyalty incentives: Three out of four customers will prefer a store with loyalty programs. Rewards incentives have proven to be significantly effective in upselling and keeping loyal customers. Apps failing to bring this feature are one step behind the commercial game.
Now, let's dive into the best products review apps for Shopify in 2021.
Comparing 8 best product review apps for Shopify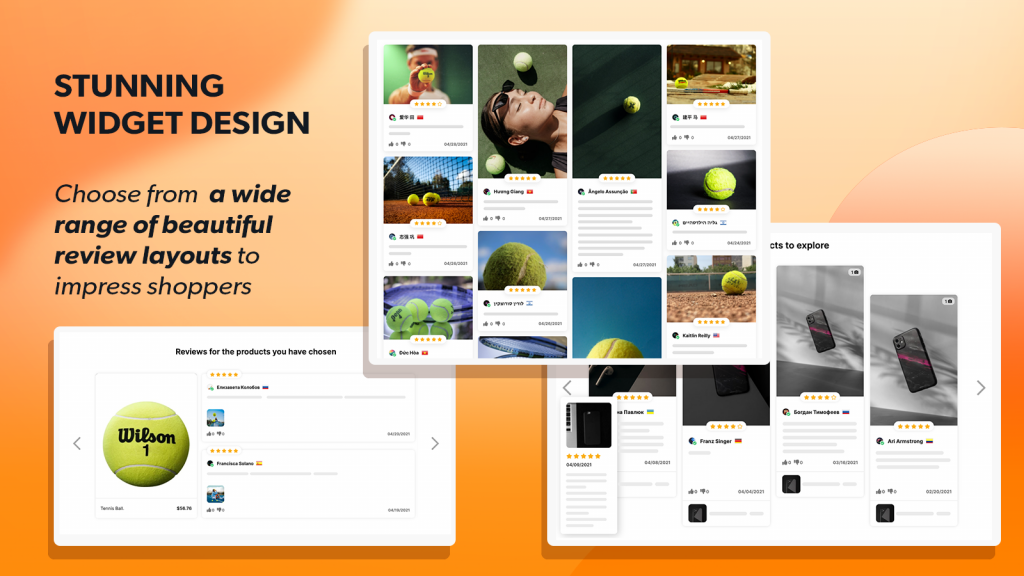 Ali Reviews is a notable name in the list of the best Shopify product review apps. It's a powerful app that helps store owners build a reputation and increase conversions by boosting the visibility of customer reviews. Many useful features, easy-to-use, and 4 different paid plans are available to meet the demands of different types of businesses.
Pros & cons
Pros – highlighted features:
Collect reviews by sending customizable and automated review requests via email and SMS
Feature reviews on Home, Cart, or any page with diverse widget styles to boost product discovery and encourage buyers
Reward customers with discounts for photo reviews, increase retention and repeat purchases
Schedule email review reminders to ensure customers get your sincere request
Display personalized reviews based on customer info and on-site behavior
Highly customizable
Bulk edit country, move & copy reviews
Effortlessly migrate reviews from other reviews apps
Show product reviews and ratings on Google Shopping ads
Work perfectly on any store theme, mobile-friendly & fully responsive
Cons:
Cheaper plans come with fewer features
There is no video review
Can't share reviews on social pages – Not yet, it's in their upcoming plan
Pricing plans:
7-day free trial
Starter: $9.9/month + Free $0.3 SMS credits
Essential: $19.9/month + Free $5 SMS credits
Premium: $49.9/month + Free $15 SMS credits
Enterprise: $99.9/month + Free $35 SMS Credits
Ali Reviews is good for:
Medium and new stores want an app that helps display reviews professionally from the get-go. Give Ali Reviews a chance to wow you and take you to new heights.
Stamped.io is one of the most sought out product reviews apps in the Shopify market. The extension is powerful with not just essential features but also unique ones that can boost sales numbers dramatically. For example, check out reviews or the feature allowing one review for the same product to appear on multiple websites simultaneously.
Stamped.io: the pros & cons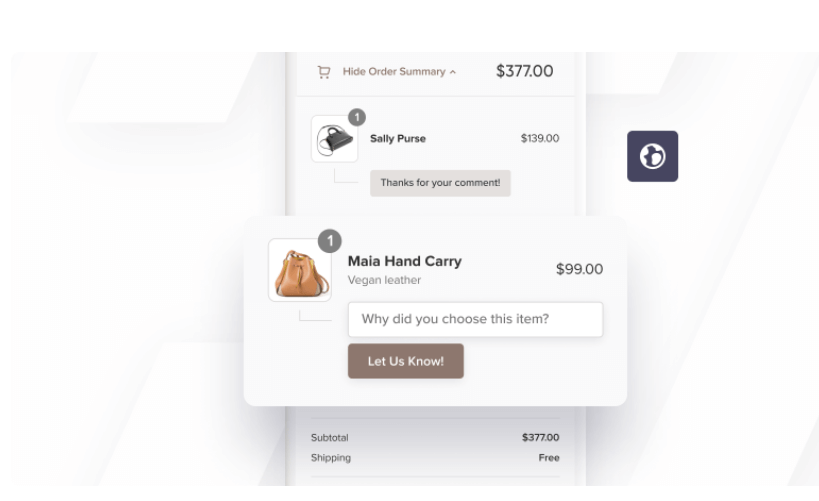 Pros
Collect reviews from multiple sources: email, SMS, Facebook Messenger, Aliexport.
Various displaying widgets allowing reviews to sit on most store' important pages.
Easily moderate reviews on a large scale by preventing sensitive words made on a list in advance.
Enable SEO-friendly structured data (rich snippets) .
Allow reviews to appear on Google Shopping.
Easy to integrate with lots of apps.
Shoppable Gallery that greatly generates UGC from Instagram, add tags in Insta photo linking back to websites and easily to moderate.
NPS (net promoter score) that measure customers' satisfaction rate.
Great analytic tool powered by AI.
Allowing Q&A on the product page.
Amazing customer support. Even the free plan features 24/7 support.
Cons:
The number of orders is limited depending on each plan. The most popular plan limit the numbers of order to 500/ month
The free plan does not have photo reviews, while the basic plan can only be integrated with Stamped apps. Generally, the free and basic plans lack lots of essential features.
The reward and loyalty program is separated. Thus, you have to purchase a different app or full suit apps.
The Shoppable Instagram feature is only available in the Professional plan.
Pricing:
Lite: Free
Basic: $23/mo
Premium: $49/mo
Business: $119/mo
Stamped.io is good for
The premium plan is great for values for mid-sized businesses with less than 500 orders/ month that need a powerful, full-of-featured app with great technical support.
3. Loox – ⭐ 4.9 (7,400+)
Loox is another senior product reviews app in the market with high compliments. It offers a minimalist's approach for app reviews with its well-performing basic features, great aesthetics and money-worthy plan.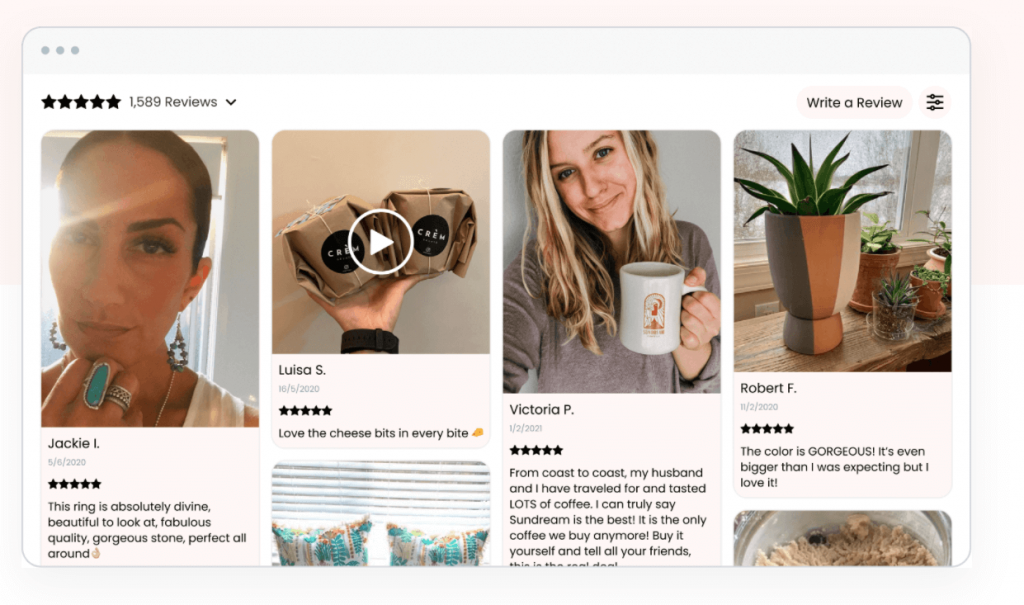 Loox: the pros & cons
Pros & highlighted features:
Advanced customization from fonts to emails, text and colour that fits your brand
Various beautiful Loox widgets enabling reviews to show up on many different eCommerce pages.
Powerful integration
Have rewards incentive and referral program
Automatically collect reviews from customers via email, fb, SMS, Aliexport,
Enable rich snippets and Google Shopping
Unlimited reviews from the premium plan
Competent reviews function from happy customer widget (show overall reviews on top of the product page) to public replies to reviews.
Integration with Google Analytics for further Marketing and Sales research
Moderate review by choosing which one can appear on your site
Cons:
Basic reward program only. The referral program only comes in the most expensive plan. Also, you can only use a loyalty program by integrating with another app. This feature is accessible in more pricey plans only.
Lacks many interesting features such as Shoppable Instagram or powerful AI analysis tools.
Video review comes in more expensive plans only.
Pricing
Beginner: $9.99/mo
Essential: $29.99/mo
Growth: $34.99/mo
Unlimited: $599.99/mo
This app is good for:
Loox is for businesses of all sizes that need a simple yet effective solution for customer reviews. If you have many products and chances are your business can generate tons of reviews a month, Loox is perfect for you too.
4. Growave – ⭐ 4.9 (1,400+)
Growave is not just a product review app, it also provides users with a reward program, wishlist, gift cards in just one installation. Due to its all-in-one integration, Growave saves the hassle of having to buy and install multiple products, and the heavy site's loading that often comes with having lots of apps. What's more? It's also very affordable.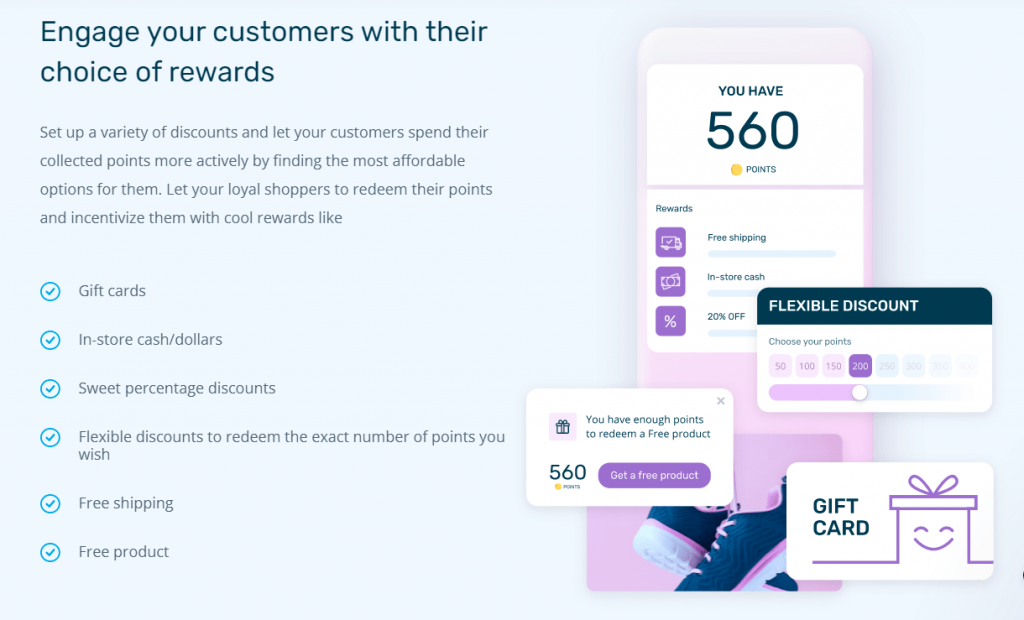 Pros & Cons
Pros & highlighted features:
Light-weight and many useful features fully integrated
Multiple review widget, easy review customizations & verification badge for verified users
Google snippet and Google Shopping.
Q&A: let your team or your loyal customers answer questions under product pages
Shoppable Instagram gallery: Instagram tag product, easy to curate, customize and embed everywhere
Let customers log in to your site via social Facebook, Google, Line, Twitter, Yahoo, Tumblr, Instagram or Amazon account. From there, gather real customer data for further insight research
A well-praised loyalty app, referral, VIP program which is customizable with many powerful features.
Shopify POS integration
Cons:
The number of orders is limited. (Only 100 orders/month for starter plan, 500 orders/ month for medium plan)
The integration is not as great as other apps. Integration with apps like Klaviyo and Omnisend is only available in the biggest plans.
Functions in cheaper plans are quite limited
It might take time to migrate your data from previous apps.
Pricing
Starter: 19$/month
Small: 29$/month
Medium: 49$/month
Growth: 99$/month
This app is good for:
Small to mid-sized business, or B2B business with the number of monthly orders not exceeding 1000 who wishes to boost sales through strong social media integration and loyalty programs.
5. Yotpo – ⭐ 4.9 (3,700+)
Being one of the oldest product review apps for Shopify, Yotpo is a well-known name for Shopify experts. The app is more on the pricey side. However, it is absolutely amazing with ultimate features, strong integrations with a huge apps basket, AI-powered analysis and tailor-made plans.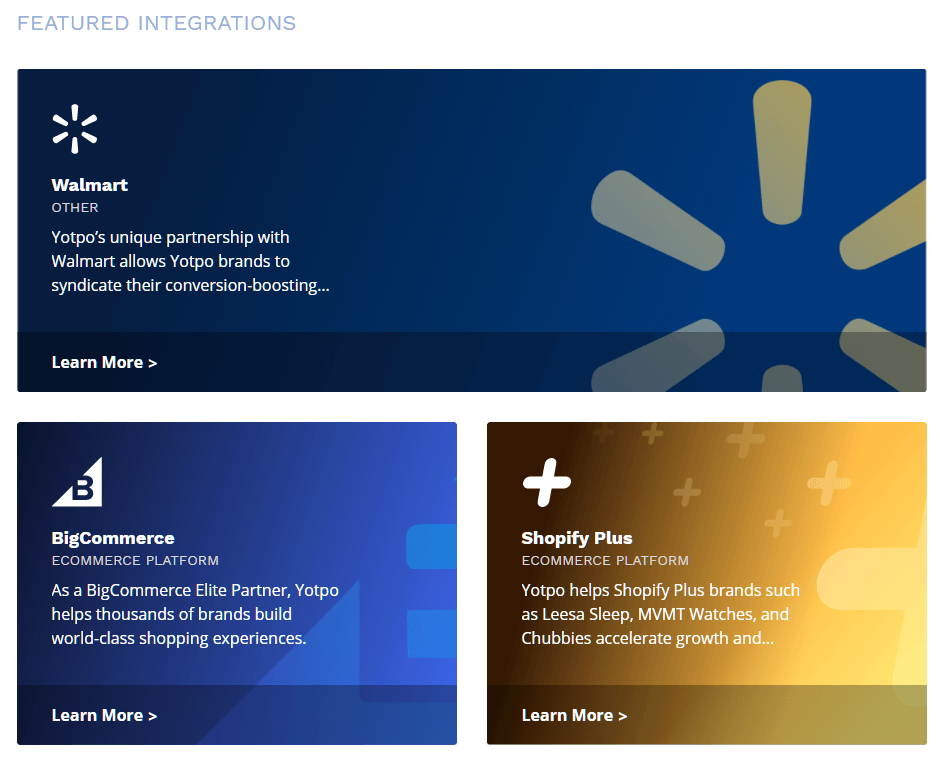 Pros & Cons
Pros – highlighted features:
Strong reviews tool: Request review through emails, SMS, import from existing data; enable site review, multi-product review, AI-suggestion for writing great reviews.
Great review moderation with help desk, profanity filter and more
Multiple widgets with averaged star review badge, Q&A, showcasing high-converting snippets in top product reviews
SEO-friendly with rich snippets and Google Shopping
Strong social integration: embed review on the Facebook page
Great reports and analytics tool
Syndicate reviews to Walmart.com
Collect reviews and manage UGC across stores in one workplace
Fully customizable for premium and enterprise plan
Great support for even free plan
Lots of integration available
Cons:
A huge gap between the Growth plan (19$/mo) and the Prime plan (149$/mo). There are no great-for-value, affordable plans in the middle
The free plan is insignificant with limited features.
Pricing
Free: Free
Growth 50: 15$/mo
Growth 100: 24$/mo
Yotpo is good for:
Big enterprises or matured businesses that need a full-of-featured, powerful reviewing tool with full support and customization.
6. Fera.ai -⭐ 5.0 (3,700+)
Compared to Yotpo, Fera is more on the affordable side. The apps do not offer lots of integrations or unique features but only basic features. However, the company's "simplicity is the best" vision seems to thrive perfectly, as Fera receives an absolute 5-star averaged rating from nearly four thousand users.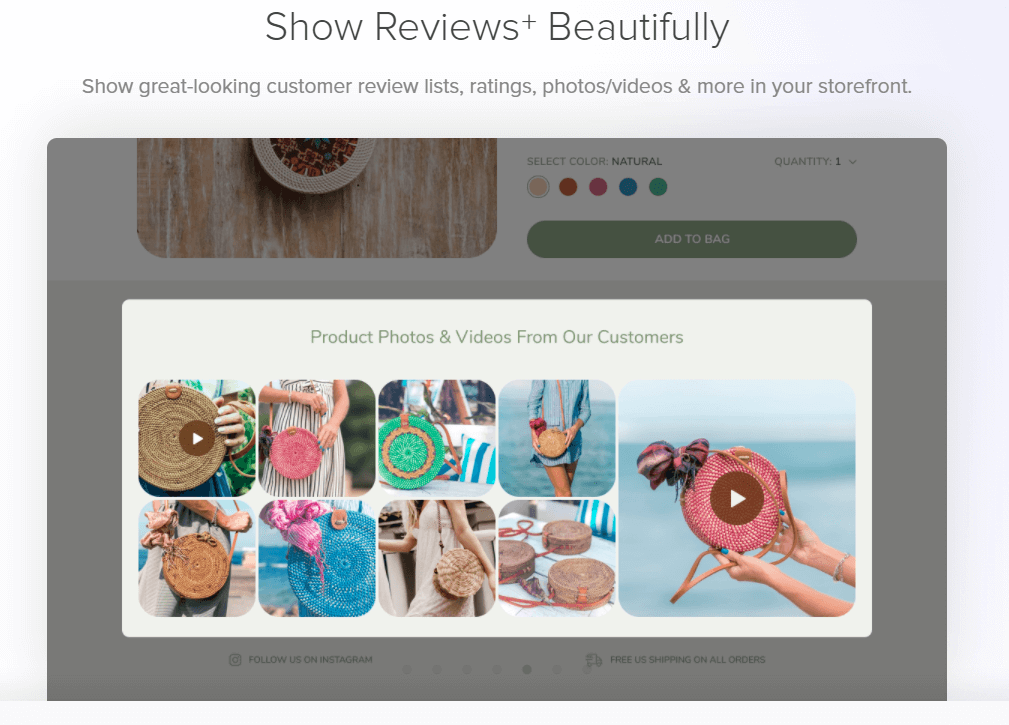 Pros & Cons
Pros – highlighted features:
Unlimited review even for free plan.
Great free & startup plan featuring unlimited review, photos & video review, moderate negative reviews, multiple widgets, reward incentive and more.
Shopper's verified badge
3 Incentive rewards option
Google Snippets
Amazing live support available even for starter plan
Cons:
The number of requests automatically sent is greatly restricted in cheaper plans. (10 to 100 requests per month). Thus, store owners have to request manually or import reviews from other sources.
Lacks lots of great features comparing to other apps such as Analytics, SEO features, etc
Pricing
Free
Startup: 9$/mo
Small: 29$/mo
Medium: 99$/mo
Fera is good for:
Individual newbies and small businesses with a tight budget who seek a cost-effective solution that does its job well.
7. Vitals – ⭐ 5.0 (2,900+)
Not just a review app, Vitals is 40 different apps in one purchase. It's fast, easy-to-use, light-weighted and cost-effective. With an average rating of 5 stars from nearly three thousand people, Vitals is the most interesting product review we have at the moment.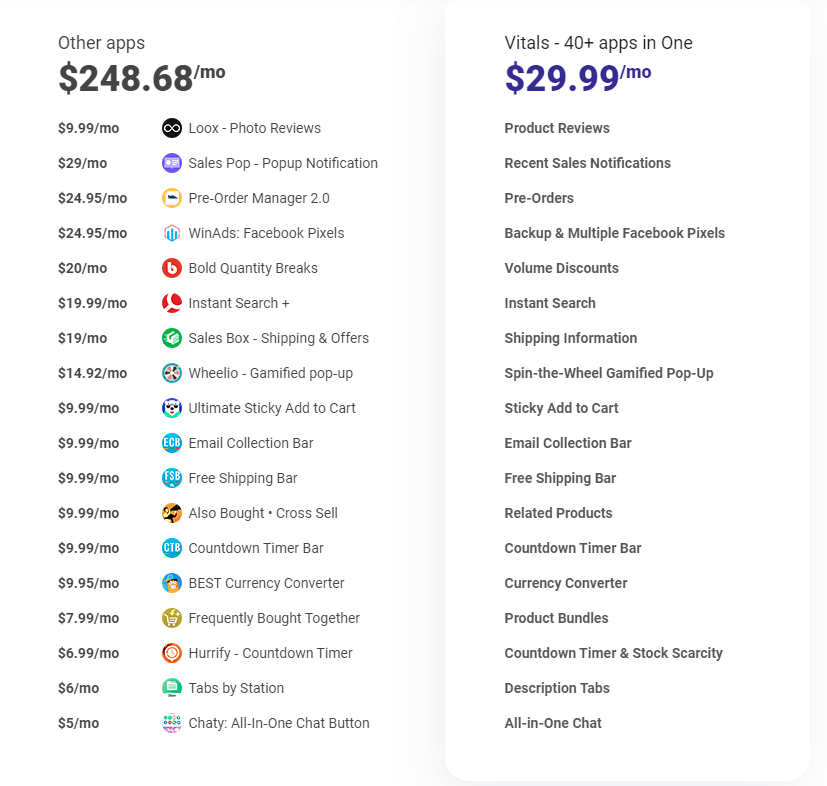 Pros & Cons
Pros + highlighted features:
40 apps integration in just an app with affordable price: from product reviews to wheel of fortunes, to countdown timers, free shipping bar
Photo reviews, replies, verified review badges
Request reviews from email or import from CSV file or Aliexport
Review moderation
Light-weight and won't hurt your website's speed
Great and fast customer services
Fully customizable
Cons
No video reviews
No customer loyalty program
Pricing – 29.99$/mo
Vitals is good for:
Small to Medium business that needs a light-weighted, frictionless solution. Also, if you are interested in some of the many other features Vitals has to offer, it's worth a shot.
8. Judge.me -⭐ 5.0 (5,900+)
Judge.me is the cheapest app on this list. Yet not only does it provide basic and effective reviews functions, it also has a whole lot of small features such as scheduling review requests or Google speed test consultation. These features will surely come in handy once you get down to the actual work.
However, what impresses us the most is that Judge.me has a truly awesome free plan with actually usable functions (no kidding). Individuals and on-budget stores should definitely check this app out!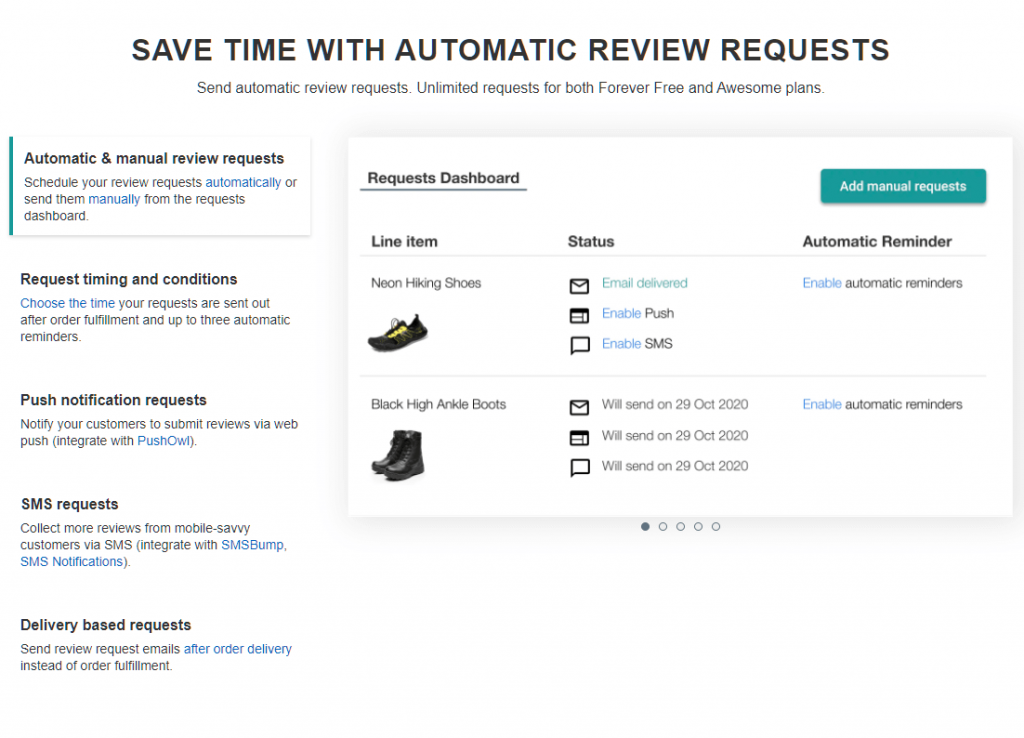 It has lots of small and unique features that will be helpful for your work.
Pros & Cons
Pros – highlighted feature:
Unlimited reviews
Best free plan with lots of worthy functions such as video reviews, unlimited reviews, apps integration
Support 34 languages
24/7 supports for both free & paid plan
Great and unique review function such as average review badge, 6 different review medals to showcase reviews' quality and quantity, Q&A, CSS customization, shop reviews
Rich snippets and Google Shopping
Full customization
Competent review moderation that can curate and edit reviews
Decent analytics tool
Great integration
Cons:
Limited reward program with only coupon code. Need integration with another loyalty app for advanced features.
Pricing
Forever Free plan – 0$/mo
Awesome – 15$/mo
Judge.me is good for
Individuals and small businesses who look for a good basic review app at a really cheap price.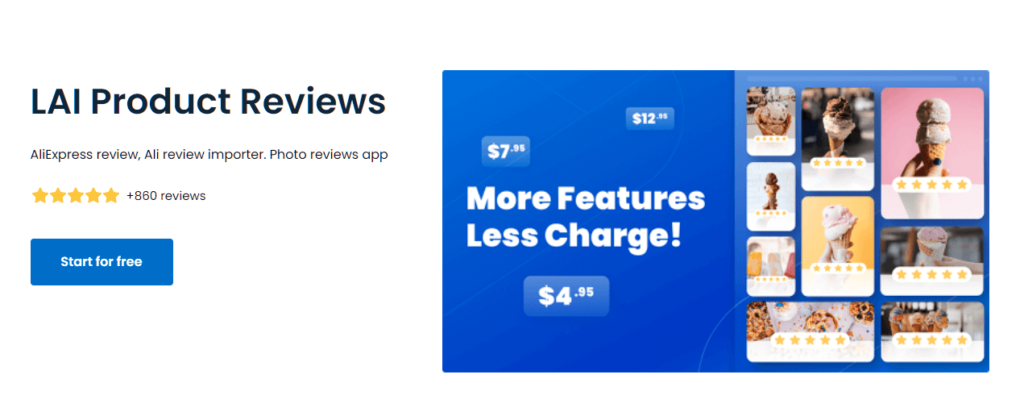 LAI Product Reviews is a favorable and fast-growing review app on Shopify Apps Store. This powerful app helps merchants increase their prestige and boost conversions by displaying authentic social proof as text/photo/video reviews. LAI is easy-to-use, professional and very affordable for a majority of Shopify merchants
Pros & Cons
Pros – highlighted features:
LAI review widget is automatically added to your store after installation.
Available 18 eye-catching layouts and more custom designs; 12 templates for different color swatches (including dark and light modes).
Advanced display settings allow you to customize every element of the reviews widget: sort photo/video reviews first, pin the total reviews on top, edit date & country's flag, and change the widget's width without coding.
Easily sync reviews between similar products.
Build trust with authentic customer proof. After orders are fulfilled, review request emails are automatically sent.
Drive traffic from social channels & Google with social sharing & Google rich snippets features.
Upsell with coupon emails & reviews pop-ups (Encourage customers to write reviews about their purchased products by rewarding discounts, then stimulate them to re-purchase).
No LAI Product Reviews brandmark on any of your pages.
Anti-theft protection: LAI blocks other pages from stealing your hard-earned reviews.
Smart filter: LAI automatically detects and moderates spam reviews.
Light up your Facebook page with a custom tab showing the best reviews.
Share reviews as posts on your Facebook page.
Cons:
Lacks a few exciting features such as Shoppable Instagram or AI analysis tools.
Video review comes in more expensive plans only.
Support is not available 24/7
Pricing plans:
7-day free trial
Free
Essential: $4.95/month
Growth $9.95/month
Expert: $14.95/month
LAI Product Reviews is good for:
Medium and new stores want an app that helps display reviews in stunning widgets.
10. Opinew – ⭐️ 4.9 (1,100+)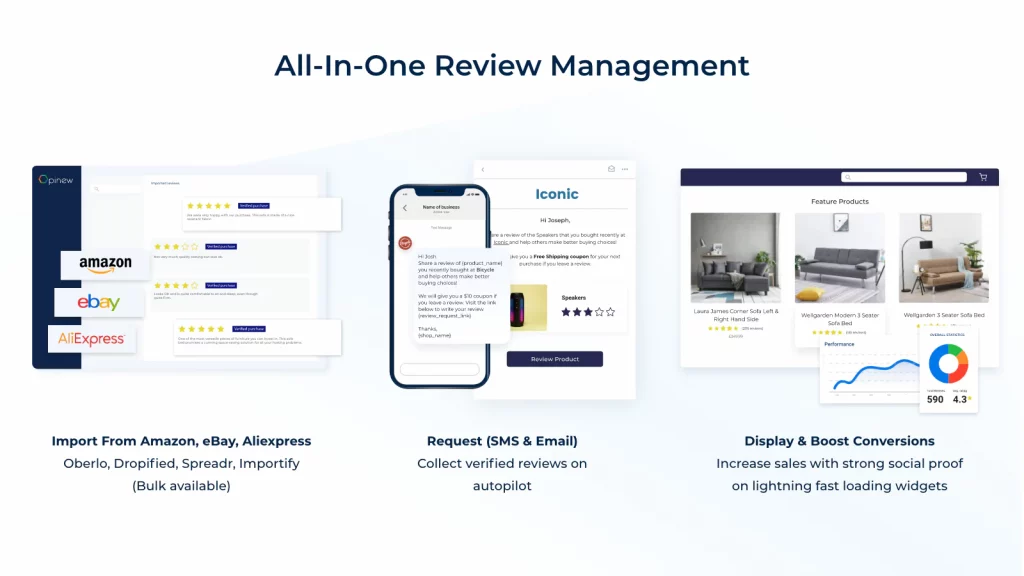 Opinew is an AI-driven review app that offers highly customizable options for Shopify Merchants. The app is a top review solution for importing reviews in bulk from Amazon, AliExpress, and eBay with a powerful Chrome extension that helps collect reviews in 1-click and display them on the storefronts automatically. This is also the most lightweight review app in the market that enables a lightning-fast shopping experience without hassles.
Pros & Cons
Pros:
Bulk import reviews from Amazon, AliExpress, eBay, Oberlo & Dsers, and more using Chrome extension.
8 highly-customizable on-site review widgets that are fully responsive and fit with any themes.
Automated email & SMS request flows with coupons to collect more reviews (and QR codes).
Advanced flows via integrations with a suite of tools like Klaviyo, Omnisend, LoyaltyLion, and more.
SEO-friendly review-rich snippets and integration with Google Shopping Reviews
Reviews syndication from Walmart.com and Bazaarvoice
AI Smart Reviews: An assistant to help feature best-converting reviews on top at all times
Support multiple languages
Customer Success Manager on premium and higher plans
Headless Commerce support
Cons:
More advanced features and customizations are available for premium customers only.
The number of review imports and email requests is limited on lower plans.
Opinew is good for:
Medium to large businesses who want an option to syndicate and manage reviews with large capacity from multiple platforms to Shopify stores. Very cost-effective solution with a dedicated customer success manager and full customization.
Conclusion
Have you found your app-to-go, or at least narrowed them down to some options to take a closer look?
We tried to compile the best product review apps for Shopify ranging from free to paid with varied characteristics and features. Therefore, we hope that you do find the perfect match for your store. We can see reviews coming already!
Also searched for: Best Shopify Mobile App Builders