Benefits of Magento Mobile App Builder
The past few years have witnessed an impressive growth of mobile commerce, in which the global mCommerce revenue is expected to reach $3.56 trillion by 2021. Smartphones have become one of the most dominant methods for browsing products, with 67% of customers have downloaded a retailer app before. Therefore, it is of increasing importance for eCommerce brands to present mobile apps for a better user experience that later boosts up conversion rate at their stores.
Magento mobile app builder is a comprehensive solution to transform your store to a native Android and iOS application that can be published on the app store. This pre-build framework provides all mobile development tools with unlimited features of a native mobile app without comprehensive coding knowledge. Magento mobile app builder is the best tool to deliver a seamless shopping experience for customers through an engaging mobile app.
We have listed the best Magento mobile app builders for your online store, including their features, demo, and price for a detailed comparison.
Best Magento Mobile App Builders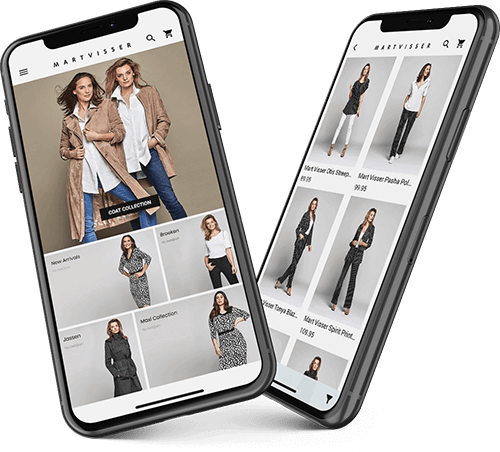 SimiCart offers a complete solution for you to build a native iOS & Android mobile app. Fully integrated with Magento, SimiCart Mobile App Builder will be a perfect tool to employ a new sales and marketing channel to your business model. Building an app with SimiCart requires minimal coding skills as your app's layout and features can be simply configured from the Magento backend.
Sales conversion
App localization
App promotion
Beautiful app design
Engagement & Loyalty
App themes
Integrations
Price: $299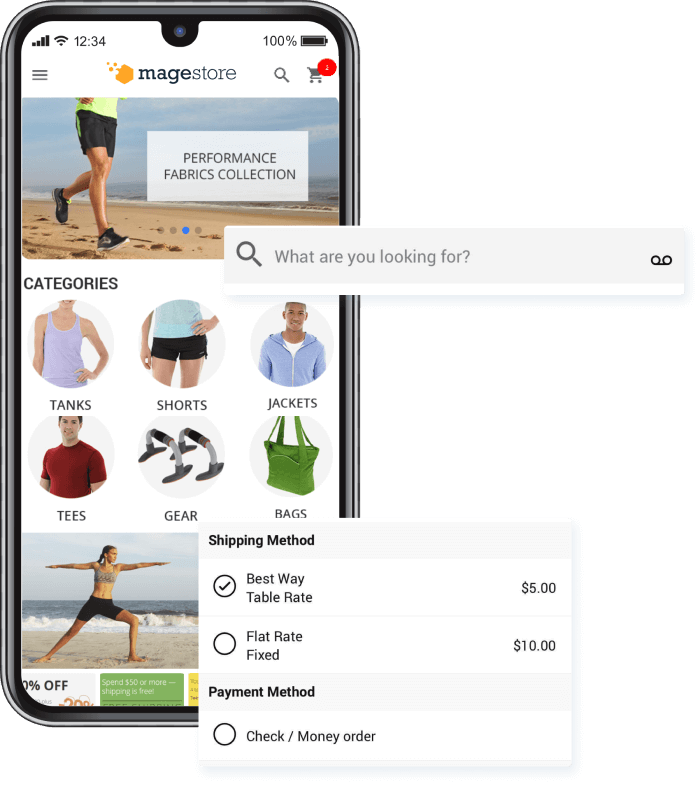 Magento mobile app by Magestore will assist you to flexibly customize your own application that delivers an eye-catching UI/UX design, a smooth checkout process, and excellent customer service. The mobile app's functionalities are optimized to ensure a seamless user experience.
Outstanding features:
Well-designed UI/UX
Fast checkout
Data synchronization
Customer engagement
Global expansion
Demo & Price: Contact Magestore
Mininest supports store owners to create a fully native mobile app from their lucrative websites without much technical expertise. Their iOS & Android versions are built based on Flutter, Google's mobile UI framework for high-quality mobile interfaces, which ensures a smooth customer experience.
Outstanding features:
Ready-to-use templates
Support 6 product types of Magento
Smart search with text search and voice search
Allow customers to login quickly via Facebook or Google accounts
Price: Contact Magenest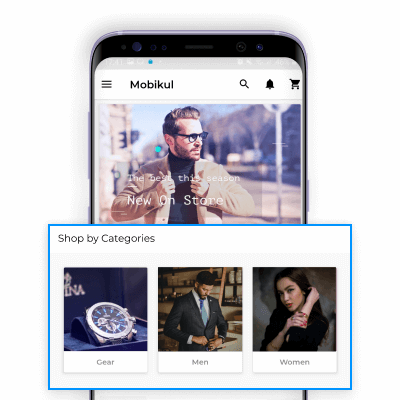 Mobikul let you create a fully native iOS & Android application for your Magento store with the real-time synchronization of products, customers, orders, etc. between your website and mobile app. This ready-made solution is essential to provide customers with a better user experience in your store.
Outstanding features:
Easy configuration
Supports default Magento product types
One-page checkout
Multilingual support
Optimization of search result
Price: $299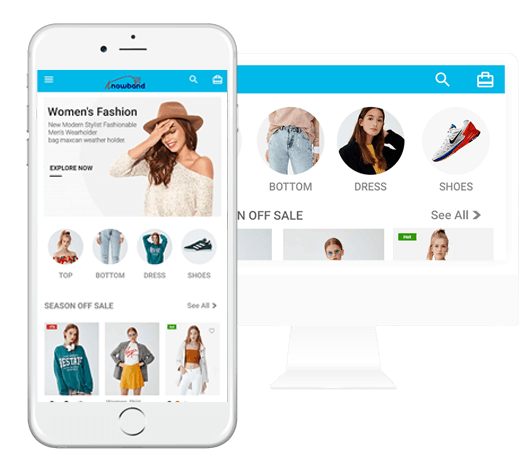 Magento Mobile App Builder by Knowband is a no-code solution to help you easily publish your own native shopping application on App stores. As Knowband mobile app is fully compatible with the latest version of Magento, it is possible to synchronize everything between your website and mobile app.
Outstanding features:
Offline mode
Customizable home screen
Multiple promotion options
Inventory management
Price: $249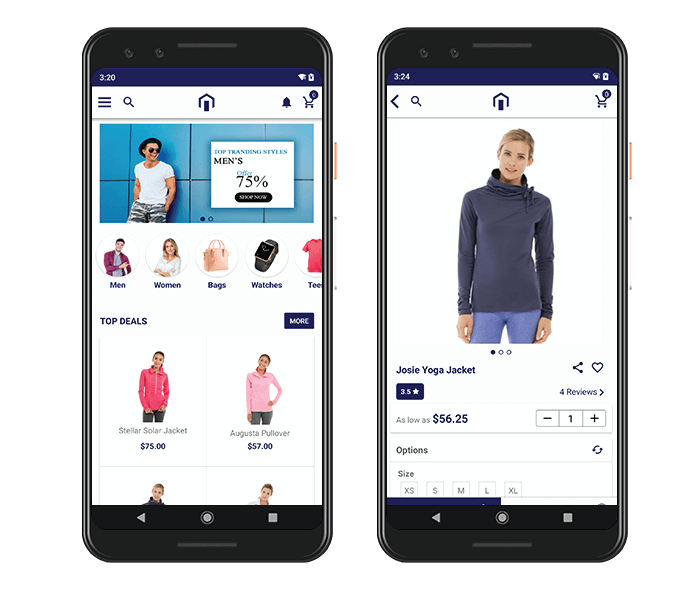 MageMob App Builder is a pre-made tool to help you convert your Magento site to iOS and Android applications in less than a week. Thanks to many available features designed to work with iOS and Android, you can shorten the effort of a long term app building process.
Outstanding features:
Dynamic layout
Order management
Payment gateway support
Promotional features
Real-time sync
Price: $299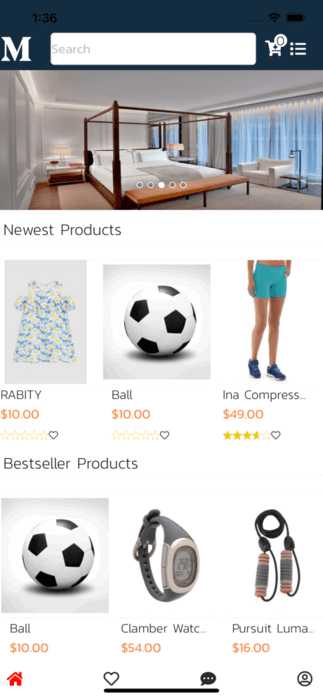 Mobile App Builder provided by Magetop uses REST API to connect with your Magento store. Customers are able to add products to shopping cart, login, view past orders, create a wish list, etc. on your mobile shopping app.
Outstanding features:
Easy customization
Push notifications
User profile management
Multi-language
Multi-step checkout
Price: From $299
Conclusion
We hope that our article can help you narrow your options when it comes to choosing Magento mobile app builder. As each mobile app builder offers a specific feature list that fit a certain business size and goal, it's up to you to determine which provider will be the best option for your Magento store at this moment.