For online businesses, affiliate marketing is a clever and cost-effective approach to acquire new customers. For marketers and advertisers, affiliate programs are estimated to generate 15%–30% of sales (BloggingX, 2020).
Without requiring a lot of time, money and effort put into it, implementing an affiliate program is a low-risk and affordable way to earn a second revenue stream for your Magento store.
A complete affiliate extension provides the tools you need to set commission rules, manage affiliate accounts, configure payout conditions, track transactions and performance… and it can bring more benefits for your online business.
If you're looking for the best affiliate extension for your Magento store, you will find a good fit among our list of top providers in 2022: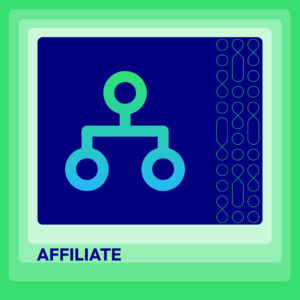 The affiliate program built by Mageplaza extension helps you to boost sales, increase traffic, gain quality leads and achieve better SEO rankings. You can generate unlimited campaigns with smart referral links, which is perfect for multi-level marketing. 
The module allows you to build multiple affiliate programs with a variety of actions for your affiliates to earn their commissions.
Features: 
Packed with all features you need for the Affiliate system:
Multiple affiliate programs
Multiple commission tiers
Various commission payment methods
Refer a Friend
Affiliate banners with links
Compatible with Rewards Points Module, Fast Checkout, Layered Navigation
Affiliate Reports with details
Import/ Export affiliate data
API supported
Pricing: $99 (Standard edition) — $199 (Professional edition) — $299 (Ultimate edition)
Compatibility: Magento 2.1.X, 2.2.X, 2.3.X, 2.4
Demos: 
Standard edition: Frontend | Backend
Professional edition: Frontend | Backend
Ultimate edition: Frontend | Backend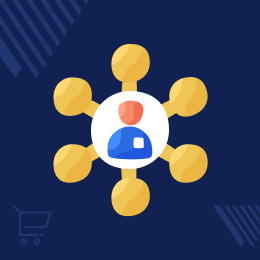 Webkul's Affiliate extension provides a handful of marketing tools for online stores to execute successful affiliate programs. 
The best point about this extension is that it equally encourages customers to become affiliate users and start promoting products using text and image banners. It's a win-win situation for store owners and affiliate users.
Features:
Set up affiliate programs for the online store
Define initial bonus for affiliates
Manage rewards for registration, per click, unique click, buy order
Manage transactions by admin & manage affiliate user, payment, traffic, sales, and statistics by admin
Manage advertisement by affiliate user
Affiliate users can see traffic, sales, payment records, statistics for traffic, and more
Pricing: $99 (Community Edition) – $198 (Enterprise/Cloud Edition)
Compatibility: Magento 2.0.X , 2.1.X, 2.2.X, 2.3.X, 2.4.X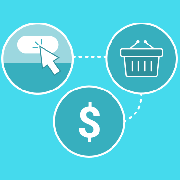 Affiliate by Amasty is a highly flexible tool for Magento 2 store to launch and manage affiliate programs with unlimited features right from your admin panel.
With the extension, you can run full-scale affiliate programs on your website to effectively drive sales from alternative channels. For affiliates, it provides promo materials and detailed stats reports.
Meanwhile, admins can effortlessly manage affiliate accounts, regulate commissions and track withdrawals.
Features: 
Launch affiliate programs in a few clicks
Set a specific commission type for each program
Configure discounts and payout requirements
Provide customers with ready-made promo materials
Manage affiliate accounts and transactions
Pricing: $199 (Community Edition) – $499 (Enterprise Edition)
Compatibility: Magento 2.3.1 – 2.4.X
Demo: Frontend | Backend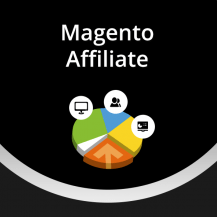 Promote your products more widely and reach for higher revenues with this excellent extension from Aheadworks.
Affiliate Extension by Aheadworks powers well-organized affiliate programs to gain more traffic and sales, generate qualified leads, extend brand awareness, and get better search engine rankings. It allows you to organize advertising campaigns that will help promote your products or services. Track the success of your affiliate marketing to the best advantage.
Features:
Promote products via links or coupon codes
Set flexible conditions for affiliate groups
Recommend products for promotion with predefined commission rates
Encourage customers to apply for affiliate programs with a simple and intuitive application form
Pricing: $199 (Community Edition) – $649 (Enterprise Edition)
Compatibility: CE 2.3.X – 2.4.X; EE 2.3.X – 2.4.X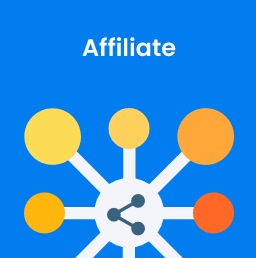 Magento 2 Affiliate extension by Mirasvit allows you to launch fully featured affiliate programs for your store and empower your affiliates to earn additional revenue. The extension offers 4 types of promotion programs (pay per sale, pay per lead, pay per click, pay per impression) and different promotional materials. Your affiliates are free to choose a suitable model for themselves, benefiting both their business and yours.
Features:
For admins:
Implement the most popular affiliate rewards in your store.
Flexibility in defining withdrawal limits.
Advanced options for affiliates to place creatives.
Clear earning rules at a glance for affiliates.
Simple commission process settings in the backend.
For affiliates:
Affiliate can withdraw money from his/her Store Credit Account.
Transactions history is always at a glance both for you and your affiliates.
Take control of withdrawals if it's necessary.
The affiliate provides you with a variety of additional revenue drivers!
Engage your customers in the Affiliate program and let them earn extra money!
Pricing: $149 (Community Edition) – $298 (Enterprise Edition)   
Compatibility: CE 2.3.X – 2.4.X; EE 2.3.X – 2.4.X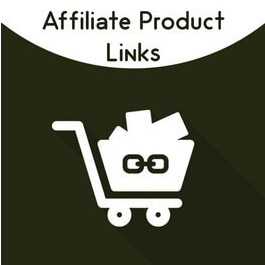 Turning the management of your products and affiliated items into an easy task with this extension from MageComp.
You can now add affiliate products in Magento with external product links to redirect customers to the seller's web store. The affiliate products will be added as a new product type. Thus, the purchase process will not be built up and you are free from managing purchases on your Magento store.
Features: 
Create separate product type in Magento 2 backend
Add affiliate products in Magento store by selecting affiliate product type.
Provide added affiliate products with external product links with a custom text.
Option to open external or affiliate product links in a new window.
Once configured, affiliate products can be seen both in category & product page.
Pricing: $49 (Community Edition) – $198 (Commerce/Cloud Edition)
Compatibility: Magento 2.1, 2.2, 2.3, 2.4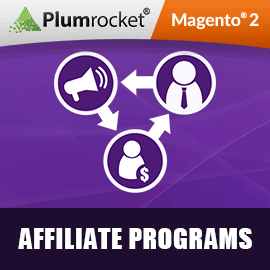 Affiliate Programs Extension for Magento 2 is a unique plugin developed for advertisers who want to create and manage third-party affiliate programs quickly and easily.
It helps to integrate the most popular affiliate programs, like Affiliate by Conversant, Rakuten Linkshare, and ShareASale, into your online store. You can enable two or more affiliate programs at the same time with this extension.
Features: 
Integrates 20+ most popular affiliate networks and marketing platforms such as CJ, Linkshare, ShareASale, PepperJam, Zanox, TradeDoubler & more
Supported program types:
Pay Per Sale (PPS) or Cost Per Sale (CPS) – executed on the Magento checkout page after the order is placed successfully

Pay Per Lead (PPL) or Cost Per Lead (CPL) – executed after each successful user account registration

Admin can specify which order was placed via affiliate link
Multi-store view support
Compatible with Magento 2 Data Feed Generator extension for easy generation of product data feeds for each supported affiliate program
Multiple affiliate programs can be enabled at the same time
100% open code Magento extension
Pricing: $149 (Community Edition) – $299 (Enterprise Edition)
Compatibility: CE 2.3.X – 2.4.X; EE 2.3.X – 2.4.X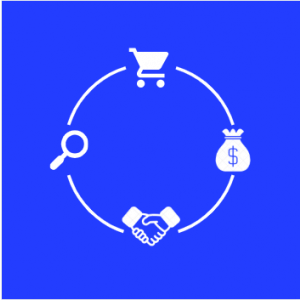 Use Mage World's Magento 2 Affiliate extension for your business marketing, expanding the market and gain more profit. The extension allows store owners to build a huge community with the refer-a-friend feature, multi-level marketing system and unconditional program creation.
Features:
For store owners:
Manage referral accounts
Magento 2 Affiliate programs
Manage withdrawals
Banners and links
Manage transaction
Report
For affiliates:
Sign up Affiliates and manage new accounts
Refer friends and family
Affiliate account dashboard
Withdrawals and payment methods
Pricing: $169 (Community Edition) – $338 (Enterprise Edition)
Compatibility: CE 2.1.X, 2.2.X, 2.3.X, 2.4.X; EE 2.1.X, 2.2.X, 2.3.X, 2.4.X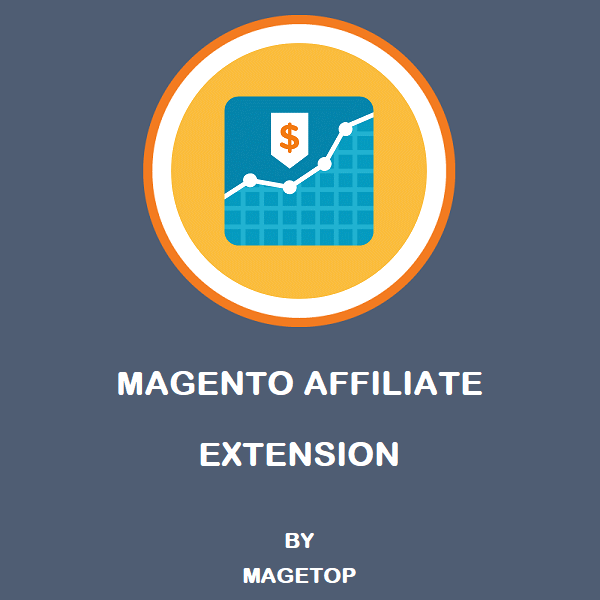 The Magetop's extension is packed with some of the most effective marketing tools for successful strategies.
For online store owners, this affiliate extension will let you drive sales through affiliate pay-per-sale channels. Easily generate unlimited affiliate programs and assign them into specific groups for better management. Track affiliates and reward them with commissions for every purchase within a campaign. 
Features:
Unlimited Affiliate Accounts & Affiliate Campaigns.
Smart Referral Links
Email Notifications.
Multiple Affiliate Programs & Multi-level Marketing.
Support Pay Per Sale & Customizable Affiliate links.
Support Affiliate Groups & Refer a friend.
Lifetime Commissions & Withdraw Commissions.
100% Open-source, support multi-store and multi-language.
Easy to install and customize.
Pricing: $99 (Community Edition) – $149 (Enterprise Edition)
Compatibility: CE, EE 2.2.X, 2.3.X, 2.4.X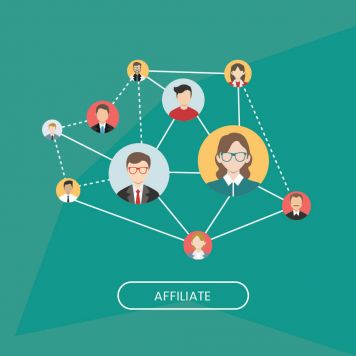 With Affiliate by Magenest, you can create attractive campaigns with your own rules, maximizing the benefit of affiliate marketing.
Campaigns are created using four different types of programs (Pay per Lead, Pay per Sale, Pay per Click, Pay per Discount) which in turn allows for more varied ways for customers to earn commissions.
Features
Manage affiliate programs:
Build your own affiliate campaigns
Manage your programs and users' account
Set different commission tiers
Set a specific time for withdrawal
Improve customer experience:
Generate individual coupons codes and referral links
User-friendly interface with CTA elements
Approve participant request
Offer transparent and effective affiliate workflow
Approve participant request
Request withdraw commission
Detailed transaction report
Others:
Refer a friend
Set withdraw limitation
Subtract commission when refund
Email notification
Pricing: $119 (Community Edition) – $269 (Enterprise Edition)
Compatibility: CE, EE 2.2.X, 2.3.X, 2.4.X
Further Reading:
Magento Community vs Enterprise: A Detailed Comparison
10 Best Magento Development Solutions for Small Businesses
Top 10 Gift Card Extensions for Magento
Best Free Magento 2 Blog Extensions