Your website is equipped with robust functions by Magento 2 for better marketing, and this also includes SEO. But the default Magento 2 functions may not make the best SEO performance.
For instance, you can't customize Robot Meta Tag for each specific page with the default features. Or there's no room for HTML, meaning no HTML sitemaps and Hreflang tag support to avoid issues with duplicate content.
So it's recommended to install SEO extensions to improve your website performance. We've searched high and low to create a list of the best Magento 2 SEO extensions for your website!
Best Magento 2 SEO extensions
Free extensions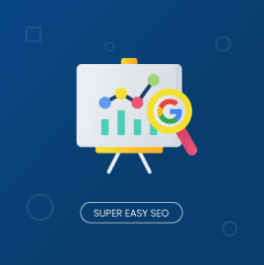 Magenest provides great solutions for SEO issues with their Super Easy SEO extension. With just a click, store owners already create SEO metadata for 10,000 SKUs, saving tremendous time trying to create these data manually. You can avoid duplicate content and control how web crawlers will interact with your website.
Highlight features:
Prevent duplicate content
Manage crawling and indexation
SEO content quality audit
Product SEO template for products
Structured data markup
Create category SEO template
Automatically create image alt tag
Utilize cross-links
Demo: Contact for demo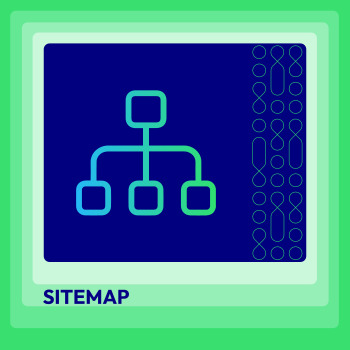 XML sitemap helps search engines understand your site's link structure, thus, speed up the indexing speed. On the other hand, the HTML sitemap let users navigate your size better. Both sitemaps are crucial for the first steps of setting up your Magento store for SEO.
Highlighted features:
Generate HTML and XML map
Easily choose to add or remove any specific URLs
Easily remove product pages and category pages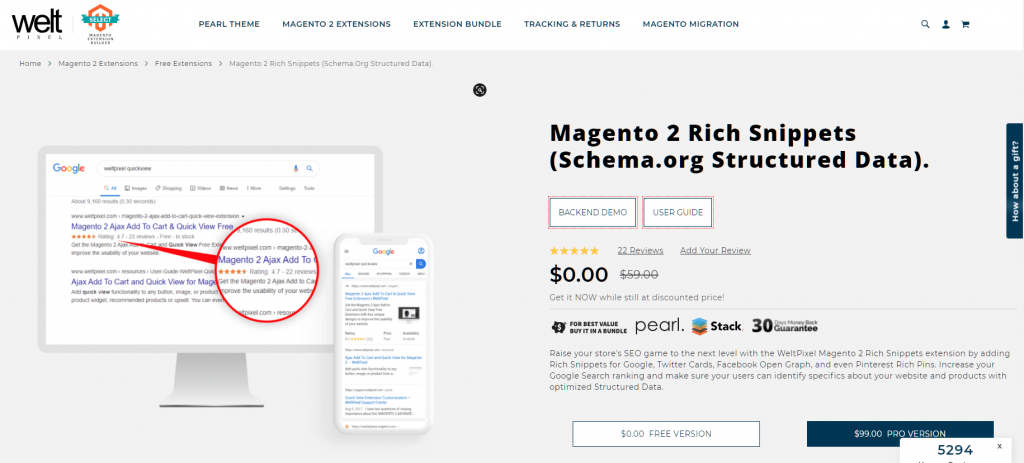 Rich Snippets help key information such as product rating, prices, product sizes and colours display right on their search results. This attracts your truly potential customers to your digital store and helps increase ranking. The free extension by WeltPixels offers a good deal of features to create basic snippets for your store.
Highlighted features:
Structured data for product names, product images, tax, special price, description, brand
Add rich snippets to Google, Twitter and Pinterest rich pins
Show overall review
Demo: Backend
Paid extensions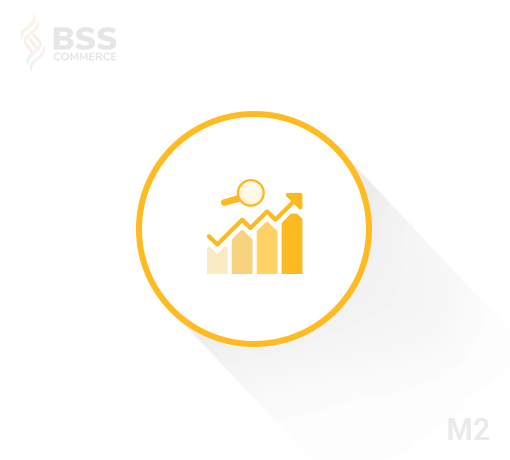 Magento 2 SEO Extension is among the best-sellers of BSS Commerce. It's an all-in-one package that covers full settings to boost up your ranking. Better yet, they offer a free SEO audit service for customers who buy this extension to ensure a consistent SEO performance.
Highlight features:
Rich Snippets
Advanced Breadcrumbs for better site navigation
HTML and XML sitemap
Meta Tag templates
Canonical Tag
Hreflang tag
SEO Toolbar
SEO report & audit
Price: $149 (Open Source edition) – $299 (Commerce edition)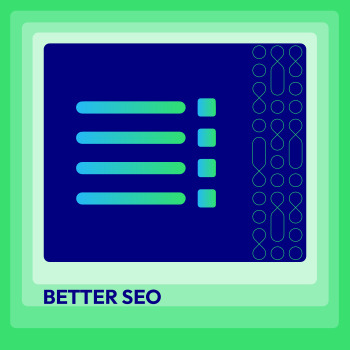 This Magento 2 SEO extension includes great features that are auto-active when you install it. With Mageplaza's advanced SEO extension, you may be able to improve your site's rankings by over 32% and see a remarkable increase in organic traffic. It completely prevents the issue with duplicate content as well. And there are more features that will better your SEO.
Highlight features:
Stop duplicating content issues
Structured data is added automatically
Dynamic and variety metadata template rules
Use Hreflang tags easily
Wonderful SEO report feature
Breadcrumbs are friendly for the site
Smart Page Analysis
Improved HTML/XML Sitemaps feature
Support Crosslinks
Assist multi-stores and multi-languages
Demo: 
Price: 
Standard: $94 (Open Source edition) – $284 (Commerce edition)
Professional: $189 (Open Source edition) – $379 (Commerce edition)
Ultimate: $322 (Open Source edition) – $522 (Commerce edition)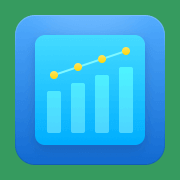 Amasty offers some of the most impressive Magento extensions, and this extension isn't an exception. Improving your SEO is now a lot easier with Amasty's SEO toolkit. It's an all-in-one package with powerful features to make your site rank higher in search results and get more traffic. Some of the advanced tools include one-click SEO analysis, add rich snippets, pagination and redirect, etc.
Highlight features:
Advanced pagination + redirects
Rich snippets in search results
Automated meta tags templates
Unique product URLs against duplicate content
Automated internal and external cross links
Advanced HTML and XML sitemaps
Compatibility with the Jet Theme
Price: $299/first year (Open Source edition) – $599/first year (Commerce edition)

Mageworx sure knows what's important and works to include the best features in their package when it comes to SEO improvement. It's a popular SEO extension that has received great feedback from customers. It has plenty of powerful features that can solve any SEO problem your site is dealing with. This extension has had you covered, from issues with duplicate content, no HTML sitemap to 404 pages, and page navigation.
Highlight features:
SEO templates to mass-optimize ANY meta values
Advanced rich snippets to boost site CTR and visibility
XML & HTML sitemaps for improved crawling & indexation
Automatic redirects to avoid deleted/404 pages
Canonical URLs to eliminate duplicate content
GraphQL API support for easy integration with PWA storefronts
Layered navigation for better access to the filter pages
Price: $298 (Open Source edition) – $598 (Commerce edition)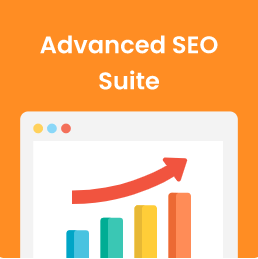 Save a tremendous amount of time and effort on your SEO and still stay at the top place of search results with the Advanced SEO Suite. This extension is an SEO powerhouse. You'll have full control over every SEO-related feature of your online store, from meta tags to the sitemap. It also includes useful features to make you stand out to customers by adding rich snippets, breadcrumbs and company information directly to search results. 
Highlight features:
Advanced SEO templates
Rewrite meta titles, descriptions, keywords, and H1 tags for any store URL
Enable rich snippets in search results
Add crosslinks to a page
Set up 301, 302 or 307 redirects for any site URL
Define canonical and relationship tags for any page
SEO Toolbar to evaluate page's SEO health
Generate advanced frontend HTML sitemap and an XML sitemap for Google
Price: $149 (Open Source edition) – $248 (Commerce edition)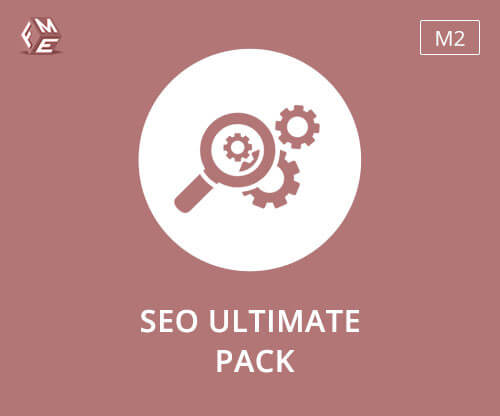 Magento 2 SEO Extension is an all-in-one SEO toolkit for Magento 2 stores that significantly reduces the search engine optimization workload and cost for your digital marketing campaigns. The 8 robust tools automate your SEO and help your site rank higher on SERP. And from the feedbacks, FME provides excellent support for those using their SEO extension, which is another plus point!
Highlight features:
Auto-create SEO Meta Title, Description & Keywords
Generate SEO Optimized Alt Tags for Product Images
Build XML & HTML Sitemaps
Add Extended Google Rich Snippet Tags
Avoid Content Language Duplicates with Hreflang Tags
Add No Index No Follow Tags to Any Page
Add Canonical Tags to Prevent Duplication
Automatically Generate Internal Links on Product, Category & CMS Pages
Price: $279.99 (Open Source edition) – $679.99 (Commerce edition)
Magento 2 SEO Extension provides various tools and options for improving your online store's SEO. Using this extension, you can display Rich snippets for products, categories, and CMS pages. Not only that, you can add content for the Facebook Open Graph and Twitter Cards, which allows customers to share the product on Facebook and Twitter. It also has an SEO meter for Magento stores to show the overall SEO scale of any page and give suggestions for improvement.
Highlight features:
CMS, Product & Category Rich Snippets
HTML & XML sitemap
Hreflang Support
SEO meter for Magento 
Search Engine robots
Sitelinks searchbox
Demo: Live demo
Price: $149 (Open Source edition) – $298 (Commerce edition)
Conclusion
There are a lot of powerful SEO extensions for Magento 2 stores available in the market, free and paid. They provide solutions for most of the SEO issues and reduce your workload significantly with a few clicks. The important thing is to choose the right SEO extension for your business. It's recommended that you look at the features, the support period and the money-back guarantee time that comes with an extension. Also, read the reviews from other users to see if the extension is what you're looking for.
---